The global specialty resins market size was exhibited at USD 8.1 billion in 2022 and is projected to hit around USD 14.57 billion by 2032, growing at a CAGR of 6.05% during the forecast period 2023 to 2032.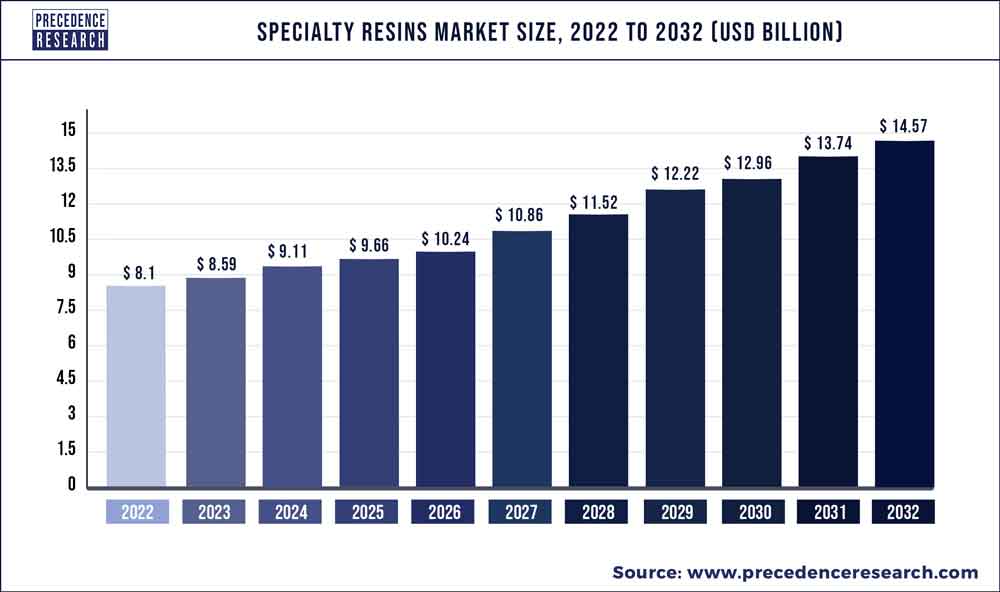 Key Takeaways:
On the basis of type, the epoxy segment led the market and accounted for more than 35.0% of total revenue in 2022.
On the basis of function, the protection segment is dominated the industry and accounted for more than 60% of market sales in 2022.
On the basis of application, the building & construction segment led the market and accounted for more than 38% of market sales in 2022.
On the basis of geography, The Asia Pacific region accounted for the biggest revenue share of more than 62% in 2022.
Specialty resins are also known as commodity resins. Specialty resins are inexpensive plastics that may produce in large quantities. The most common specialty resin is epoxy resin, utilized as a composite material's matrix, adhesive, sealer, and coating binder. These resins can withstand heat and chemicals with ease. The production of specialized resins has grown in popularity over the last few years, witnessing a significant transformation in the global polymers industry. Creating specialized resins is one of the new market segments revolutionizing the world resin market.
Specialty resins have expanded significantly due to consumers' growing attention to product quality and personalization. The need for specialized resins is rising owing to rising demand for flooring, electronics, home appliances, packaging, and sports. Product improvements and new features are also increasing the development of the industry. A comprehensive analysis of the market for the expected term is provided in the report on the global specialty resins market.
Covid-19 Impact
Additionally, the COVID-19 outbreak negatively affected the demand for epoxy resin in several applications, including water treatment, marine, electrical & electronics, and others, due to the stagnant manufacturing activities, supply and transportation limitations, and global economic slowdown in 2020. Additionally, it is anticipated that the resuming industrial action will favor future demand for the specialty resin market.
Report Scope of the Specialty Resins Market
| | |
| --- | --- |
| Report Coverage | Details |
| Market Size in 2022 | USD 8.1 Billion |
| Market Size by 2032 | USD 14.57 Billion |
| Growth Rate from 2023 to 2032 | CAGR of 6.05% |
| Base Year | 2022 |
| Forecast Period | 2023 to 2032 |
| Largest Market | Asia Pacific |
| Segments Covered | By Type, By Function, By Application |
| Regions Covered | North America, Europe, Asia-Pacific, Latin America, Middle East & Africa |

Market Dynamics
The market will likely increase significantly over the forecast period due to rising demand from the building and construction industries. The rising demand for specialty resins is related to rising construction investment for residential development, especially in North America and Western Europe. Specialty resins are resins that have distinct characteristics and are employed in a wide range of applications. Because they have more sophisticated properties, including chemical resistance, water resistance, and resistance to extreme temperatures, special resins cost more than standard resins.
Specialty resins play a significant role in the manufacture of various paints and coatings, which are then applied to multiple products for usage in industries like building and construction, marine, automotive, electrical & electronics, furniture, and home.
Drivers:
Specialty resins are a preferred material for usage in the building and construction sector due to their versatile features, which include excellent thermal resistance, strong chemical resistance, high hardness, and high UV resistance. The future looks promising for the global building sector, and specialty resin demand is increasing as a result. One of the industries in the Asia Pacific region that is proliferating is building and construction. Specialized resins must be used in adhesives, sealants, and coatings (protective, decorative, and architectural coatings) to achieve the quality standards of the building & construction business in Asia Pacific.
Specialty resins have excellent resistance to chemicals and temperature. Resins are likely to be widely used in the construction of infrastructure projects and residential and non-residential buildings in the future. Epoxy resin is used extensively in the aerospace industry, and the improvements in the product and new features will significantly expand the market in the following years.
Food and beverage production is expanding quickly, which will drive market expansion.
The middle-class population's salaries are rising quickly, altering consumer buying habits. In addition, the growing number of working women around the world benefits the food and beverage industry. Evolving lifestyles and fast-paced work environments are surging the demand for packaged food. Food makers want substantial, long-lasting food containers to safeguard products during storage and distribution.
The major players are also creating appealing resins to manufacture flexible packaging to meet the global need for healthy and nourishing products. Customers, particularly millennials, are stimulating demand for food and beverages by buying food with various flavors, which has inspired producers to innovate. This aspect will likely increase demand for specialized resins used in food and beverage packaging across the board.
The electronics segment will dominate the global specialty resins market.
Global demand for electronic devices has increased over the past few years. Due to convenience and a need for more modern technology, people are drawn to smarter, sleeker, and more sophisticated electronic gadgets. The demand for electronic devices is driven by shifting consumer lifestyles, ongoing developments, and the introduction of new items into the market. Numerous flexible polymers are needed by manufacturers for electrical equipment to be produced and function properly. Printed circuit boards (PCBs) and liquid crystal displays (LCDs) are crucial components in many applications, including homes, office buildings, aerospace, and automotive industries.
The creation of integrated circuits and other materials requires the use of specialty electronic resins. The devices' continually evolving designs make the electronics industry's specialty resins market unstable. Electronic manufacturers are looking for vendors who can supply their need for specialty resins as it is constantly changing. Increased investments in additive developments boost the market for this end-user as electronic gadgets become more complicated.
Restraints:
In the chemical commodities sector, the cost of raw materials has been rising. Due to this, the cost of specialized resins has also increased. Bisphenol A (BPA) and bisphenol F are the most often utilized bases for epoxy specialty resins (BPF). Under challenging applications, epoxy resins with high functionality are frequently needed to enhance product performance. For applications in coating, electronic and electric laminating, and composite construction, specialty resins are created especially for those uses.
Essential raw ingredients used in producing specialized resins made from unsaturated polyester include styrene, maleic anhydride, and phthalic anhydride. There has been a significant rise in the cost of these materials. During the projection period, fluctuating specialty resin feedstock prices are anticipated to restrain market growth.
Opportunities:
Over the past few years, the water and wastewater treatment business has seen rapid growth worldwide. Approximately 40% of the treated water does not meet the requirements, and only 60% of the industrial wastewater is treated. Sewage treatment is a severe problem because urban water treatment facilities can treat only 37% of the sewage.
Ion exchange resins are crucial for the purification of water. These are typically produced using acrylic acid and the crosslinking ingredient divinyl benzene (DVB). Ion exchange resins are created by some firms using methacrylic acid or its byproducts. They are frequently utilized in demineralization facilities to de-alkalize water.
Segments Insight
Type Insights
The epoxy-type sector led the market, in 2022 representing more than 35.0% of total revenue. Epoxy resins, unsaturated polyester resins (EPS), vinyl, and polyamide are the four primary categories of specialty resins. Epoxies, often known as epoxy, are thermoset polymers composed of several three-membered rings. Epoxy, used as an adhesive, sealer, bond coat, and matrix for composite materials, is the most popular type of specialty resin. It is utilized in pipelines and tanks, as well as in the maritime and construction industries.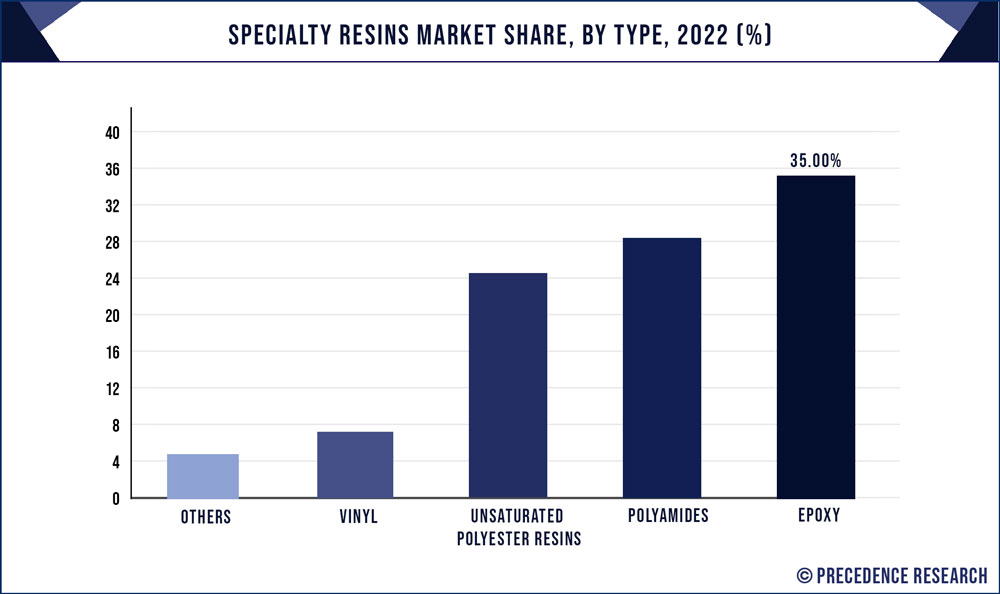 Printed circuit boards, rigid foams, coatings, automotive components, construction materials, metal foil laminates, and fiber-reinforced composites are just a few of the modern industrial uses for vinyl specialty resins. High-density, opaque polymers with exceptional strength and heat resistance belong to the family of thermoplastic polymers known as polyamides. Protection, insulation, and other features are just a few of the specific resin properties.
Function Insights
More than 60% of market sales in 2022 went to the protection function segment, which dominated the industry. This report emphasizes insulation, protection, and other uses of specialty resin. The protection function market will likely have the most market share during the anticipated period.
Applications including building & construction, water treatment, marine, electrical & electronics, automotive, aerospace, and others are driving the market's rising demand. The low-density polymer individual cells make up the specialized resin's cells, which are not cross-linked and have a high strength-to-weight ratio, making them the ideal substance for a protective function.
Application Insights
More than 38% of market revenue in 2022 came from the building and construction application sector, which led the market. Due to the exceptional resistance to cracks, stains, blistering, harsh temperatures, and chemicals, specialty resins are frequently used in residential and commercial buildings, the marine industry, the automotive industry, and wastewater treatment facilities, among other places. Their products have excellent strong anti-corrosion performance, adhesion, and low volatile organic compound concentration.
It is anticipated that increasing demand in the construction sector will propel market expansion throughout the projected period. Building and infrastructure construction, product manufacturing and supply, product disposal, repair, maintenance, and forestry are all included in the expansive construction field.
Specialty Resins Market Share, By Region, 2022 (%)
| | |
| --- | --- |
| Regions | Revenue Share in 2022 (%) |
| Asia Pacific | 62% |
| North America | 14.5% |
| Europe | 12.5% |
| Latin America | 7.9% |
| MEA | 3.1% |

Regional Insights
The Asia Pacific region accounted for the largest revenue share of more than 62% in 2022, in terms of volume and value, the region will likely dominate the specialty resins market globally during the forecast period. Asia Pacific's need for specialty resins is increasing due to rapid urbanization.
Significant customers of specialty resins in the Asia Pacific region include China, India, and Japan. Plastics, adhesives, paints, and coatings are also produced in large quantities in this area. Additionally, the Asia-Pacific automobile market has experienced tremendous growth over the past few years.
Recent Development
In September 2020, The ARALDITE 2000 Adhesive Core Range, developed by Huntsman International LLC, combines three technologies—epoxy, acrylic, and polyurethane—to assist organizations in increasing productivity by meeting up to 80% of all bonding requirements.
In September 2021, the specialty resin & chemical was acquired by Polytek Development Corp., a portfolio firm of Arsenal Capital Partners and one of the top specialist producers of polymers for mold forming, coating, and casting applications.
Major Market Players
The research study also includes in-depth analyses of the competitive environment globally and detailed profiles of the major market participants. The Dow Chemical Company, Pure Resin, Suqing Group, Arkema Group, BASF, Huntsman International LLC, Emerald Performance Materials, Radiant Color NV, International Speciality Chemicals Ltd, and Mitsubishi Chemical Corporation are some of the leading market participants for specialty resins. This section provides a comprehensive view of the competitive landscape and several strategic developments, including significant mergers and acquisitions, capacity expansions, partnerships, financial summaries, collaborations, the development of new products, new product launches, and other events.
Segments Covered in this Report
(Note*: We offer reports based on sub-segments as well. Kindly, let us know if you are interested)
By Type
Epoxy
Polyamides
Vinyl
Unsaturated Polyester Resins
Others
By Function
Protection
Insulation
Others
By Application
Building & Construction
Water Treatment
Marine
Electrical & Electronics
Automotive
Aerospace
Others
By Geography
North America
Europe
Asia-Pacific
Latin America
Middle East & Africa (MEA)