The global epoxy resin market size was estimated at USD 12.5 billion in 2021 and is expected to hit around USD 23.4 billion by 2030 and expanding growth at a compound annual growth rate (CAGR) of 7.22% during the forecast period 2022 to 2030. U.S. epoxy resin market was valued at USD 2.1 billion in 2022.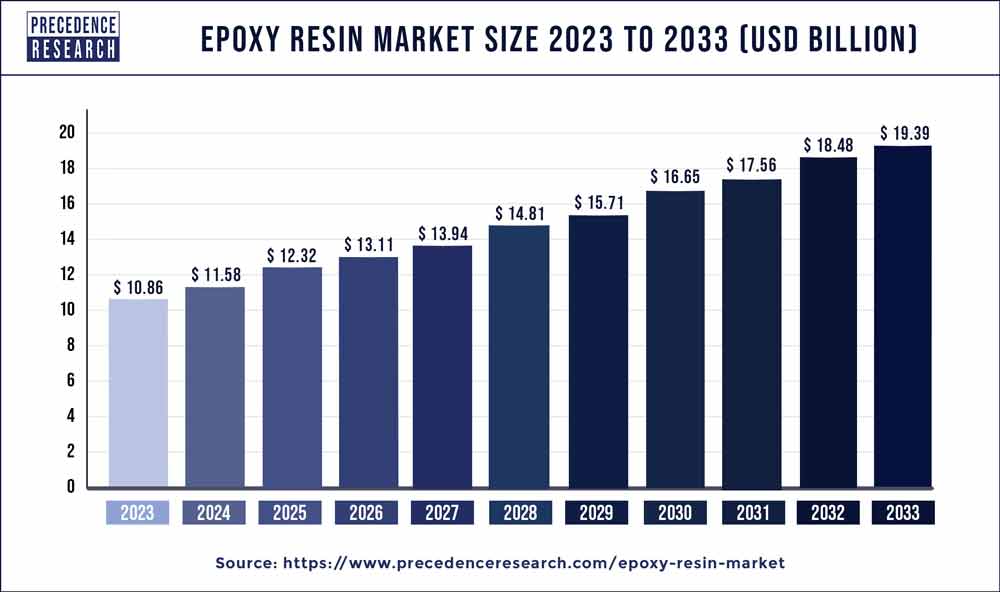 Access our Premium Real Time Data Intelligence Tool, Visit: Precedence Statistics
Key Takeaways:
By application, the paints and coatings application segment hit 41% revenue share in 2021. However, the construction segment is growing at a remarkable CAGR from 2022 to 2030.
Asia Pacific region has made up 62% revenue share in 2021.
By physical form, the solid segment is growing at a CAGR of 7.47% over the forecast period.
By type, the novolac segment is expected to witness notable CAGR of 7.83%.
By application, the adhesives & sealants epoxy resin segment is growing at a CAGR of 8.35%from 2022 to 2030.
By end use, the aerospace segment is registering growth at a CAGR of 8.51% in 2021.
Epoxy resin is the thermosetting polymer created by the copolymerizing the epoxide with another molecule which has two hydroxyl groups. It's mostly employed in non-reinforced applications such paints and varnishes, adhesives, and composites. Lightweight composite materials are now being used by car makers to address the requirement for improved design freedom, flexibility, high strength, and decreased vehicle weight. Epoxy resins have grown in popularity across end-use sectors ranging as of coating to the composites due to their superior physical, chemical, and mechanical qualities. These resins have an excellent adhesion to the wide range of the materials, making them certain excellent choice for their production of adhesives and sealants.
Special epoxies have it with higher heat resistance and endurance which plays an important role in the high-end application like wind turbines and composites manufacture. Leading firms are growing tremendously throughout the Middle East and Africa, where the regional epoxy marketplaces are the best performing. Sika AG, for example, finished the epoxy factory in Qatar and plans to start operations in April 2021. The company wants to capitalize on expected sales for epoxy-based adhesives and flooring in Qatari construction and infrastructure developments with this investment. Such market leaders' initiatives are projected to strengthen the supply chain and lay the groundwork for market development over the forecast period. The bulk of epoxies are produced by the core reactions of the Bisphenol-A with epichlorohydrin (ECH).
Following the announcement of COVID-19 into pandemic, practically all industrial industries ceased output as a precautionary measure to prevent the introduction of new coronaviruses. Strict lockdown resulted in limited accesses to work locations and a labor scarcity. These variables have a deleterious impact on the given productions as well as supply of Bisphenol-A (BPA) and epichlorohydrin (ECH). The downstream epoxy output was reduced in response to the disruption in basic chemical supplies. Furthermore, the shutdown of end-use sectors such as aerospace and electrical & electronics, construction, automotive, and others resulted in decreased demand. The aerospace industry's desire for composite components, which lower wind resistance and weight, is boosting the market share of epoxy resin. Furthermore, the high-performance properties of epoxy resin as a composite adhesive are projected to increase market demand.
Report Scope of the Epoxy Resin Market
| | |
| --- | --- |
| Report Coverage | Details |
| Market Size in 2022 | USD 13.4 Billion |
| Market Size by 2030 | USD 23.4 Billion |
| Growth Rate from 2022 to 2030 | CAGR of 7.22% |
| Base Year | 2021 |
| Forecast Period | 2022 to 2030 |
| Segments Covered | Raw Material, Application, Technology, Sales Channel, End User and Geography |
| Companies Mentioned | 3M, Aditya Birla Management Corp. Pvt. Ltd., Atul Ltd, BASF SE, Solvay, Huntsman International LLC, Kukdo Chemical Co., Ltd., Olin Corp., Sika AG, Nan Ya Plastics Corp., Jiangsu Sanmu Group Co., Ltd., Jubail Chemical Industries LLC, China Petrochemical & Chemical Corp. (SINOPEC), Hexion, Kolon Industries, Inc., Techstorm, NAGASE & Co., Ltd. |
Growth Factors
Furthermore, the very demand for epoxy resins for aerospace sectors has expanded rapidly for the construction of aircraft in which panels and helicopter, in which rotor blades. The lightweight and durability of epoxy resin, as well as its high heat with pressure tolerance, make it perfect for usage in a aircraft sector, which drives growth of the worldwide epoxy resin market. All of these reasons are projected to boost the further growth of this epoxy resin market in aerospace sector during the forecast period.
Epoxy resins, they are also used to shield solar panels from rapid temperature fluctuations. Epoxies are reasonably priced, simple to apply, and require minimal work. Because of their great creep resistance and tensile strength, epoxy thermosets are used to make the blades more robust. The use of epoxy resins mixed with various toughening agent on the wind turbine blades has yielded many favorable results considered in terms of making those blades corrosion resistant also fatigue-proof, resulting in increasing demand for epoxy resins from the wind energy sector.
However, changes in raw material costs affect the manufacturing price of epoxy resin, it might have an impact on market growth throughout the projection period.
Epoxy resins aid in the creation of numerous coating qualities, including strength, durability, and chemical resistance. Their quick-drying, toughness, great adhesion, rapid curing, abrasion resistance, and excellent water resistance make it appropriate for protecting metals and other surfaces. The expanding construction sector is anticipated to help the paints and coatings business develop. In Europe, the German government announced a plan to build around 1.5 million housing units by the end of 2021. Similarly, rising building activity in countries such as Russia, France, and the United Kingdom is likely to propel the epoxy resins market forward.
The report estimates that 21.8 million light commercial vehicles, heavy buses, and trucks as well will be built globally in 2020. As a result, the increasing manufacture of lightweight and commercial vehicles are likely to increase the overall market for epoxy resins utilized in a automotive coatings sector. Epoxy coatings are used like the primers for corrosion protection in those of automotive, marine, and aerospace sectors. The use of epoxy coatings is likely to increase further as requirement from the electric vehicle (EV), marine, and aerospace sectors are on the rises. These factors are projected to have a substantial influence on demand for epoxy resins in the paints and coatings, impacting the positive growth of the epoxy resins market all the way through the forecast period.
Bio-based epoxies were developed to reduce the environmental impact of crude oil resins. Biomaterials which including lignin, vegetable oil, rosin, tannin, and so on replace a portion of the petrochemical products, ranging from 20% to 50%. These materials eliminate this need BPA, which is toxic and therefore must be dealt with caution. Bio-based resins have several uses, including paints, adhesive, composite, and many others.
Entropy Resins, Greenpoxy, and Resin Studies Bio Epoxy, for example, have commercially manufactured bio-based resins that include 20-50 percent bio-based components, according on the epoxy system. Because of the rising need for durability in epoxy end-use sectors, the opportunity for bio-based products can help to grow over the forecast period. Epoxy resins manufacturers are increasing output capacity to grow and capitalize on the revenue prospects in the aviation and construction industry. To fulfill the demanding demands of clients and consumers in the aviation and construction sectors, they are developing in paints, coatings, and adhesives. This is obvious since epoxy resins improve the durability of coating and paint compositions.
Furthermore, there is a rising need in the aviation and construction industry for paint and coating that can survive adverse weather and temperature conditions. Such needs are fueling the expansion of the epoxy resins market, moreover epoxy resins are accepted for their better mechanical strength and hardiness to harsh temperatures.
Segment Insight
Application Insights
In 2021, the paint and coating application category led the market, accounting for much more than 38% of total revenue. Epoxy resin-based paints and coatings are widely utilized in residential housing constructions, maritime industries, automobiles, and sewerage systems due to their outstanding resistance to stains, fractures, temperature extremes, scorching, and solvents, among others. They have the great anti-corrosions performance and also low amount of Volatile Organic Compound (VOCs). inner and exterior surfaces of commercial, housing, institutional, and the industrial buildings are coated with epoxy resin-based paint and coating.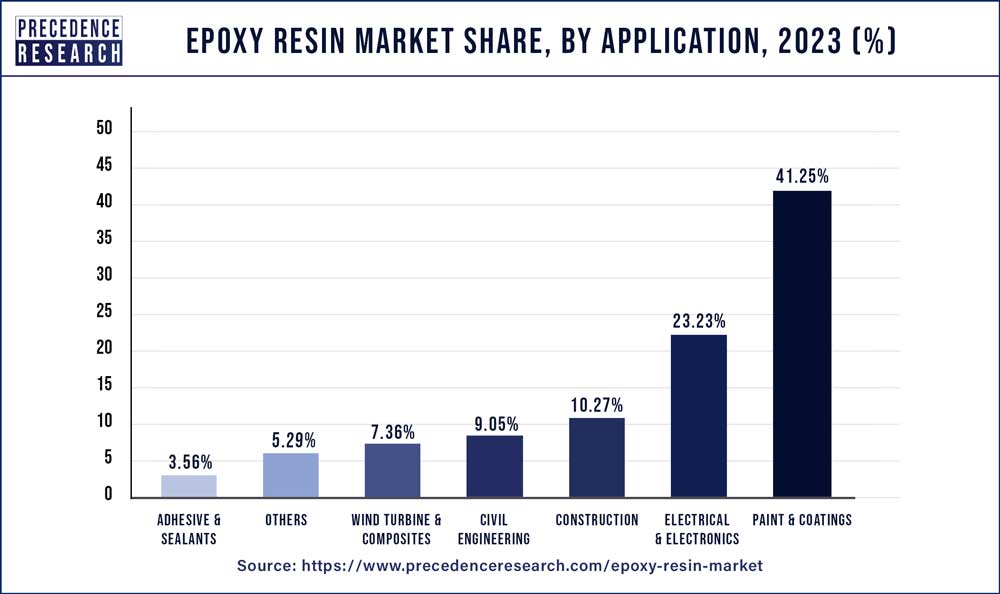 These adhesives and sealants not just to increase the aesthetic attractiveness of surfaces, and yet also preserve them from hot conditions and Ultraviolet rays, avoiding peeling, fading, and breaking. Emerging regions such as Asia Pacific, the Middle East, and Africa are seeing significant growth in quasi businesses such as IT, telecommunications, and retail, which is increasing consumption for coatings and adhesives. Likewise, continued industrialization, expanding government infrastructure expenditure, and rising Foreign Investments (FDI), notably in Asia Pacific, are anticipated to fuel the growth for epoxy resin-based paints and coatings throughout the projected period.
Epoxy Resin Market Share, By Region, 2021 (%)
| | |
| --- | --- |
| Regions | Revenue Share in 2021 (%) |
| North America | 17% |
| Asia Pacific | 62% |
| Europe | 11% |
| Latin America | 6% |
| MEA | 4% |
Region Insights
Attributed to the prevalence of large-scale manufacturers and the widespread access to raw materials, Asia Pacific accounted for the biggest volumes and market share in the global market in 2021. The Asia Pacific market is expected to be worth USD 6.5 billion in 2021. With favorable end-use industry growth in China, India, and South East Asian countries, the region is likely to lead this market during the forecast period. China is the world's biggest epoxies user.
The paint and coatings industry in the nation is well-established, and the majority of epoxy-based coatings are employed due to their excellent qualities. Furthermore, the rapidly growing composites, construction, and automotive sectors are growing significantly for long-lasting epoxies. India is likely to undergo rapid improvement in the foreseeable future as a result of expanding industrialization. Furthermore, countries like as South Korea and Japan hold a substantial portion of the regional market due to a very well epoxy supply chains and manufacturers.
In Europe, automobile, renewable power, and composites are driving the growth of higher and lower cured epoxy resins. Automotive part innovations, increased need for green chemicals in construction operations, and a booming green economy are just a few of the factors boosting epoxies demand in the area.
North America's increased digitization is driving higher demand for electrical and electronic products. To reduce costs and improve performance, these systems use long-lasting and trustworthy epoxy-based components. Furthermore, growing governmental and non-governmental infrastructure direct investment provides significant opportunities for market development. The good growth of the food and beverage sector is setting the stage for solutions such as metals container coatings.
China has the world's largest electronics manufacturing base and competes fiercely with established upstream producers such as South Korea, Singapore, and Taiwan. Electronic devices such as smartphones, OLED TVs, tablets, among others, have seen the most demand rise in the consumer electronics area of the industry. With rising middle-class disposable incomes, demand for electronic devices is expected to rise gradually in the future, propelling the industry under consideration. In India, the government is pushing for massive residential constructions in the next years. India has a USD 1400 billion infrastructure investment budget, with 24 percent going toward renewable energy, 19 percent going toward roads and highways, 16% going toward urban infrastructure, and 13 percent going toward railroads. Till June 2021, 2,734 of the total 5,956 Smart Cities Mission projects have been completed. As a result, expansion in the residential category is expected to boost the Asia-Pacific epoxy resins market.
Key Market Developments
Hexoin Inc. announced the signing of a contractual agreement with Westlake Chemical Corporation in November 2021. Westlake Chemical Corporation had agreed to buy Hexion Inc.'s global epoxy business for about USD 1.2 billion. Subordinate to customary closing conditions, this transaction is scheduled to conclude during first half of 2022.
Covestro successfully acquired the business of Royal DSM's Resins & Functional Materials business in April 2021. (RFM). Covestro will profit from the acquisition by increasing its range of environmentally friendly coating resins.
Key market players
3M
Aditya Birla Management Corp. Pvt. Ltd.
Atul Ltd
BASF SE
Solvay
Huntsman International LLC
Kukdo Chemical Co., Ltd.
Olin Corp.
Sika AG
Nan Ya Plastics Corp.
Jiangsu Sanmu Group Co., Ltd.
Jubail Chemical Industries LLC
China Petrochemical & Chemical Corp. (SINOPEC)
Hexion
Kolon Industries, Inc.
Techstorm
NAGASE & Co., Ltd.
Segments covered in the report
(Note*: We offer report based on sub segments as well. Kindly, let us know if you are interested)
By Raw Material
DGBEA (Bisphenol A and ECH)
DGBEF (Bisphenol F and ECH)
Novolac (Formaldehyde and Phenols)
Aliphatic (Aliphatic Alcohols)
Glycidylamine (Aromatic Amines and ECH)
Other
By Application
Paint & Coatings
Construction
Electrical & Electronics
Wind Turbine & Composites
Civil Engineering
Adhesive & Sealants
Others
By Technology
Solvent Cut Epoxy
Liquid Epoxy
Waterborne Epoxy
Others
By Sales Channel
Direct Company Sale
Direct Import
Distributors & Traders
Retailers
By End User
Building & construction
Automotive, large & heavy vehicles & railroads
Aerospace
Consumer goods (including sporting equipment)
General industrial
Wind power
Marine
By Geography
North America
Europe
Asia-Pacific
Latin America
Middle East & Africa (MEA)