The global aerospace materials market size is expected to be worth around USD 79.42 billion by 2032 from valued at USD 38 billion in 2022 and is poised to grow at a compound annual growth rate (CAGR) of 7.7% during the forecast period from 2023 to 2032.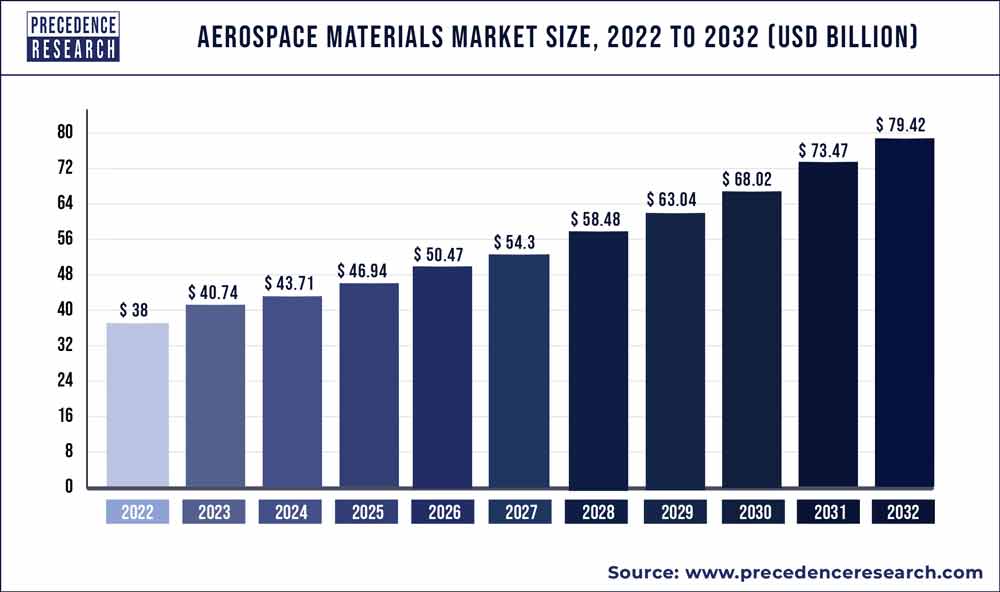 Key Takeaways:
By aircraft type, the commercial segment accounted for 51% market share in 2022.
By application, the exterior segment held an 83% market share in 2022.
By type, the composite segment generated a 69% revenue share in 2022.
Europe region contributed 35% revenue share in 2022.
Materials used for aerospace applications are known as aviation materials because they have improved qualities like as high tensile strength, improved transparency, greater temperature endurance, and hard surface. To build airplane parts including windows, airframes, interiors, engine parts, mirrors, propulsion systems, and ceilings, aviation producers are eschewing traditional metals in favour of substances like sophisticated polymers or glass or carbon-based fibre composites.
The increased need for lightweight and fuel-efficient airplanes is one of the reasons propelling the expansion of the global aviation equipment market. As a result of the aircraft's lighter weight, the operating expenses of the journey are greatly lowered, and the aircraft operator profit from the greater fuel economy.
Additionally, the growth in air traffic in developing regions like Asia-Pacific causes fleet numbers to grow, which increases the demand for aviation materials. Additionally, the industry for aviation components is significantly influenced by the increase in demand for brand-new aircraft. However, the expansion of the airplane materials industry is constrained by the availability of few options for creating complicated structures. On the other hand, as the market for passenger airliners rises in emerging markets, more of these aircraft are being produced, which presents enormous prospects for the maker of material maker.
Growth Factors
Materials used to manufacture aircraft parts are known as aerospace resources. The majority of such substances are alloys made of aluminium and other metals, although synthesized polymeric composites are already taking up a sizable portion of the industry. Different airplane components, like cabin interiors, structural frames, propulsion systems, etc., are constructed using these substances.
High strength, lightweight, and high heat resistance are the ideal characteristics for aircraft materials. These materials have excellent wear resistance and are long-lasting. Historically, titanium alloy and aluminium alloy made up around 80% of all elements used in aeronautical construction. Composite materials like fiber-reinforced polymer and fiber metal hybrid composites are being used more frequently these days. Additionally, the development of aviation materials will change as a result of the expanding usage of nanotechnology in the industry.
Shortly, the market is anticipated to develop as a result of rising government defense spending in the U. S. and the rising use of hybrid materials in the manufacture of airplanes.
Future market need is also anticipated to increase due to the growing need for aviation in the Middle East and Asia-Pacific.
In the upcoming years, prospects for such a market are projected to arise from the usage of nanomaterials and nano-additives using epoxy monomers.
Report Scope of the Aerospace Materials Market
| | |
| --- | --- |
| Report Coverage | Details |
| Market Size in 2023 | USD 40.74 Billion |
| Market Size by 2032 | USD 79.42 Billion |
| Growth Rate from 2023 to 2032 | CAGR of 7.7% |
| Base Year | 2022 |
| Forecast Period | 2023 to 2032 |
| Segments Covered | Type, Aircraft Type, Application, and Geography |
| Companies Mentioned | Alcoa Corporation (U.S.), Aleris Corporation, Allegheny Technologies Incorporated (US), AMETEK Inc, AMG Advanced Metallurgical Group, ArcelorMittal, Arconic, Inc., ATI Metals. (US), Constellium N.V (Netherlands), Cytec Solvay group (Belgium), Doncasters Group Ltd, DuPont de Nemours, Inc. (US), Global Titanium Inc, Hexcel Corporation, (US), Incorporated (ATI), Kaiser Aluminum, Kobe Steel Ltd (Japan), Mitsubishi Chemical Holdings, NOVELIS (US), NSSMC Group, PPG Industries, Inc., Precision Castparts Corp, Rio Tinto Group, Rochling, SABIC, SGL Carbon SE, Solvay S.A. (Belgium), Special Metals, Sumitomo Bakelite Co. Ltd., Supreme Engineering Ltd, Teijin Limited (Japan), Toray Industries, Inc. (Japan) |
Market Drivers:
Increased demand for aviation from developing countries and budget airlines
In a best-case scenario, the aviation & military sector will experience a sharp increase in demand for aviation components after 2021, when aircraft companies begin working at full capacity without travel limitations or supply chain disruptions. Preceding the COVID-19 epidemic, the consumer air transport segment had grown within the worldwide aviation industry.
Low-cost operators have proven to be formidable rivals in the industry, notably in the APAC and South American developing countries. In the APAC and MEA, more travelers Before are likely to travel more frequently. The majority of customers who fly across APAC and Europe are carried by aircraft carriers like Qatar Airways, Emirates, and Etihad Airways, which are amongst the biggest operators in commercial aircraft in Mid East.
Pricing reductions are estimated from low-cost airlines
The requirement for larger aircraft is rising as more people use air transportation. Companies that provide aviation materials and other components needed by the aviation industry would profit from this need. The main driver of need in the aircraft choice of material is the quickly expanding aviation sector.
The Organization for Civil Aviation estimates that air travel is growing by 4.6% yearly. As a consequence, both the requirement for aviation components and the requirement for military aircraft is growing rapidly. Future pricing reductions are anticipated from low-cost airlines, which will also directly support the expansion of the aerospace materials business.
The aerospace sector's more recent innovations
These innovations will also fuel market expansion. The component that encourages growth is an extensive study into alternatives to metal combinations to get around their drawbacks. The fuel efficiency and longevity of airplanes will be greatly improved by the use of new production materials. Additionally, the manufacture of aerospace materials using composite and nanomaterials will revolutionize the sector.
Market Challenges
Due to regulatory requirements, repair, maintenance, and overhaul services are expensive: Concerns and adjustments in the sector are also warranted by the rise in composite utilization. Repair, Maintenance, and overhaul of airplanes made of composite materials are the key issues (MRO). International regional and local government regulators further advance the global norms established by the International Organization for Civil Aviation. The upkeep requirements for the composite are very unique from those for metal, and the majority of MRO businesses lack a lot of knowledge regarding the upkeep of laminated composites. In their newest versions of airplanes, well-known commercial aviation producers like Airbus and Boeing have embraced sophisticated lightweight structures as breakthrough materials. Composites make up the largest portion of the total materials utilized in the Airbus A350 XWB and Boeing 787 aircraft.
The reduction in deliveries of commercial aircraft: The market for aerospace components will be directly impacted by a decline in aircraft deliveries. Since passenger airliners account for more than 80% of all material consumption, a decline in demand for materials brought on by a decline in aircraft orders would be detrimental to the market. As an illustration, contracts for such Boeing 737MAX were canceled as a result of the recent catastrophes involving Malaysian and Ethiopian Aviation. Airbus and Boeing produced 122 and 50 passenger airliners worldwide during the first quarters of 2020, down 22% and 66% from the same period in 2019.
Market Opportunities:
The need for aviation components is being driven by the expanding UAV market: Applications for UAVs (drones) in defense have developed and are now a valuable resource for militaries all around the globe. Although there are a lot of untapped possibilities in numerous applications, the commercial and civil UAV sector is still in its early stages. It is projected that military spending on UAV technology would increase as a proportion of overall defense funding, providing growth prospects for specialized drone producers and computer programmers.
Segmental Insights
Type Insights
Aluminium alloys are used by all contemporary aircraft manufacturers to create the wings, fuselage, and other components of an aircraft. Because aluminium and its alloys have qualities including high tensile strength, oxidation resistance, temperature resistance, and reduced weight, they are favored over iron and steel in the manufacture of airplanes. The largest users of aluminium alloys were commercial and industrial aircraft. The COVID-19 epidemic has disrupted the distribution network, which has led to a decline in the demand for aluminium alloys within the aviation industry. The largest share in the aviation material market is held by aluminium alloys. For many commercial airplanes, around 80% of structural sections are made of aluminium. Aluminum is a popular choice due to its advantageous qualities, which include high strength, lightweight, corrosion resistance, and temperature resistance.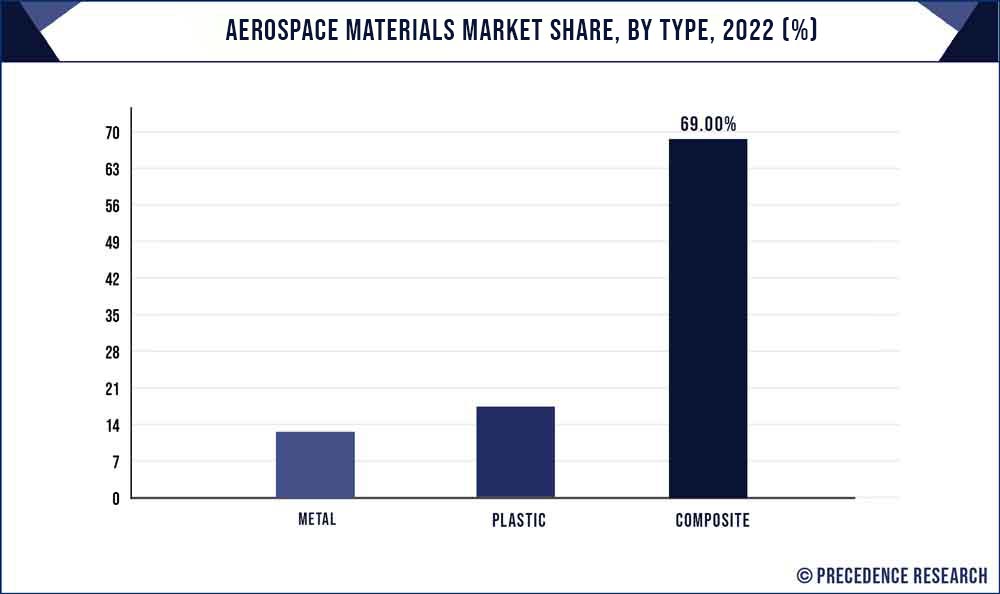 Composites, a new class of materials for making aircraft, are, nonetheless, expanding both in the international market as well as in the utilization of new generations of aircraft. Due to their resistance to corrosion and metal strain, polymeric composites outperform aluminium as well as other alloy steels.
Aircraft Type Insights
Due to its extensive use of different materials including aluminium alloys, titanium alloys, and structural components in its manufacturing, the commercial aircraft sector commands the lion's share of the worldwide aviation equipment market. The sector of commercial planes accounts for more than 75% of the entire demand for components in terms of quantity. As air travelers continue to increase in emerging nations, there is a rising demand for airplanes. The need for new aviation will rise as a result of this growth, as will the desire for aviation components.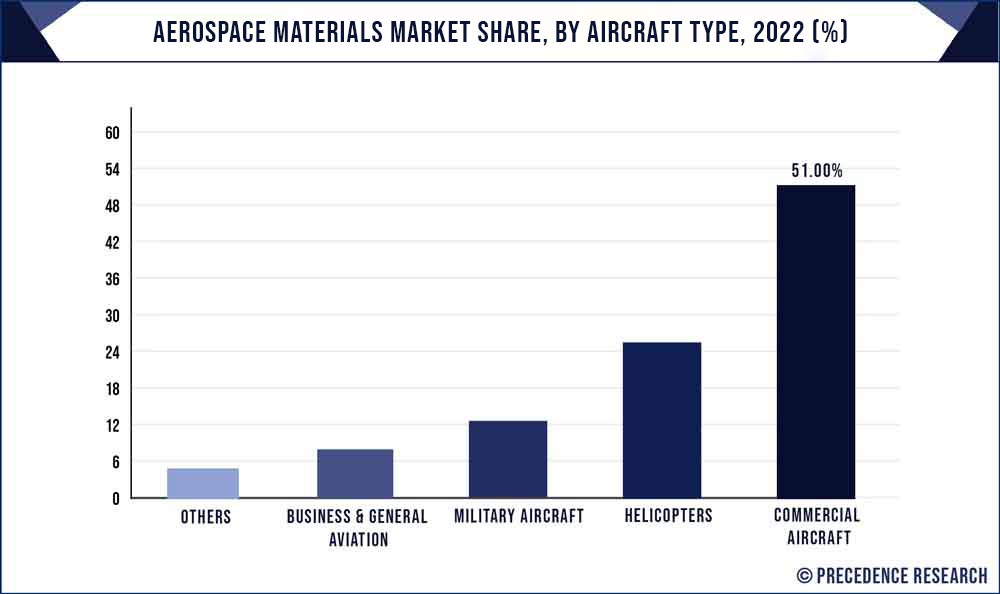 The predominating market sector for aircraft seems to be the business kind. Enormous demand is created by the extensive usage of such airplanes for a variety of functions, including freight transport and passenger travel. The need for commercial planes is expanding as a result of an increase in air travelers and low-cost air transportation. These substances are used in both the inside and construction parts of various airplanes. The aerospace company's need for aerospace components has decreased since the COVID-19 epidemic.
Aerospace Materials Market Share, By Region, 2022 (%)
| | |
| --- | --- |
| Regions | Revenue Share in 2022 (%) |
| North America | 28% |
| Asia Pacific | 23.10% |
| Europe | 35% |
| Latin America | 9.20% |
| MEA | 4.70% |
Regional Insights
A substantial portion of the aviation equipment market was responsible for Europe because of the requirement for commercial and corporate aviation. Germany has supplied most commercial airliners in 2021, followed by the United States and France. Boing 437 Max industry reduction in the US is a result of declining manufacturing. Additionally, it is the location of numerous important producers of aerospace components, including TenCate, Solvay, SGL Carbon, VSMPO, and AMG NV. The demand for composite materials in Europe is mostly driven by a rise in Boeing air transport.
In addition to this, the region produces military helicopters. COVID-19 has a particularly negative impact on the European region, which has led to a decline in industrial and commercial activity in each of the continent's main nations, including Italy, Germany, the UK, and France.
Recent Developments
In July 2021, the Defense Research & Development Institution (DRDI) will mass produce high-quality, thermodynamically stable beta titanium alloys that will be used in several aeronautical component steel products. This metal was developed by the Defense Metallurgy Research Lab (DMRL), one of India's top research institutions that carry out in-depth studies in the area of resources technology, and science. The major function of a laboratory is to manufacture ceramics, alloys, metals, and other composites composite for a range of applications, such as aircraft parts and aviation engines. According to DMRL, the most recent alloy, which combines titanium with aluminum, iron, and vanadium, does have a remarkable power ratio and has the potential to become a sought-after aviation material in the future.
Duncan Aviation announces in October 2021 that its Welding and Machining department has received accreditation under the AWS D1.2/D1.2M Infrastructure Welded Code Aluminum. The business obtained this certificate by showcasing appropriate institutional welding techniques and developing its still-in welding skills. To complete several numbers of structural welding tasks, a recently created effective personal aluminum MiG cables burner with a digital functional monitor has been obtained. Aluminum is a significant aviation component.
The scanning alloy division of Ametek was bought by Kymera Global, a maker of tiny powder metallurgy, in March 2020. The former's metal sector for the aviation material market would benefit from this acquisition.
The very first materials utilizing large-tow moderate elasticity carbon fiber will be available for sale thanks to a joint research contract signed by SGL Carbon and Solvay in December 2019. These resources speak to the desire to lower prices and Carbon intensity, as well as enhance the manufacturing process and industrial aircraft's fuel economy.
Teijin Limited and Boeing settled a settlement in January 2019 for the delivery of omnidirectional which was before tape (TENAX TPUD). The company's success in the aviation industry over the long period was aided by this.
Teijin Limited purchased Renegade Resources Company in February 2019, which provided extremely heat-resistant thermoplastics prepreg to the North American aviation industry. As a result, the business was better able to maintain its position as a top supplier of services for aerospace industries.
Key market players
Alcoa Corporation (U.S.)
Aleris Corporation
Allegheny Technologies Incorporated (US)
AMETEK Inc
AMG Advanced Metallurgical Group
ArcelorMittal
Arconic, Inc.
ATI Metals. (US)
Constellium N.V (Netherlands)
Cytec Solvay group (Belgium)
Doncasters Group Ltd
DuPont de Nemours, Inc. (US)
Global Titanium Inc
Hexcel Corporation, (US)
Incorporated (ATI)
Kaiser Aluminum
Kobe Steel Ltd (Japan)
Mitsubishi Chemical Holdings
NOVELIS (US)
NSSMC Group
PPG Industries, Inc.
Precision Castparts Corp
Rio Tinto Group
Rochling
SABIC
SGL Carbon SE
Solvay S.A. (Belgium)
Special Metals
Sumitomo Bakelite Co. Ltd.
Supreme Engineering Ltd
Teijin Limited (Japan)
Toray Industries, Inc. (Japan)
Segments covered in the report:
(Note*: We offer report based on sub segments as well. Kindly, let us know if you are interested)
By Type
Composite
Metal
Plastic

PEEK
PMMA
ABS
PC
PPS
Others
By Aircraft Type
Commercial Aircraft
Business & General Aviation
Military Aircraft
Helicopters
Others
By Application
Interior

Passenger Seating
Galley
Interior
Panels
Others

Propulsion Systems

Airframe
Tail & Fin
Windows & Windshields
By Geography
North America
Europe
Asia-Pacific
Latin America
Middle East & Africa (MEA)