The global agricultural tractors market demand was evaluated at 3,014 thousand units in 2022 and it is predicted to reach around 5,422.91 thousand units by 2032, poised to grow at a CAGR of 6.05% during the forecast period 2023 to 2032.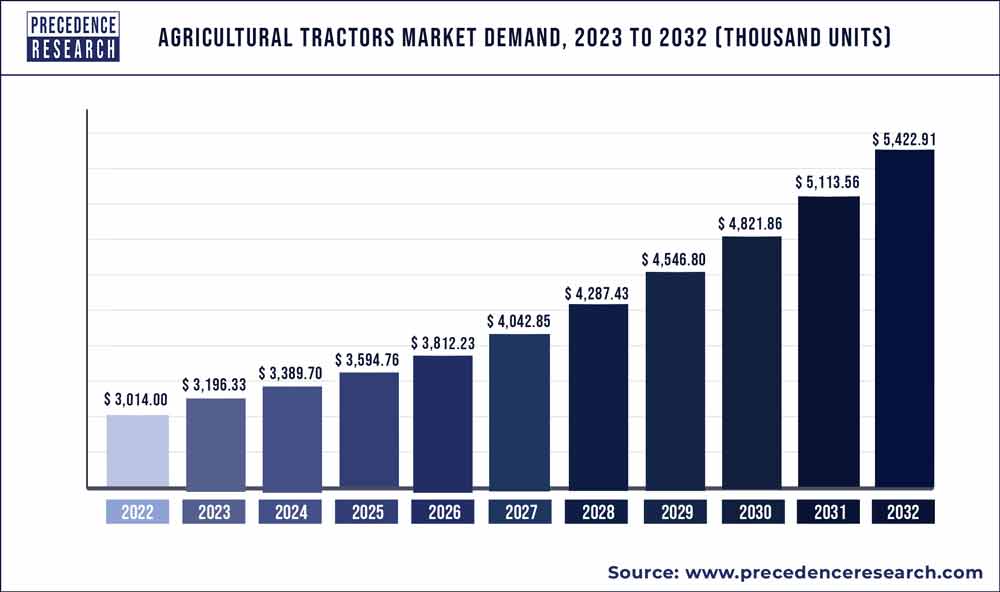 Key Takeaways:
The Asia Pacific region captured more than 67% of the revenue share in 2022, in terms of volume.
By engine power, the less than 40 HP segment generated more than 63% of revenue share in 2022.
By driveline type, the 2-wheel drive segment captured more than 80% of revenue share in 2022.
By application, the irrigation segment is predicted to contribute to the maximum market share.
By operations, the automatic tractor-vehicle segment is projected to hold the biggest market share.
Market Overview:
For various agricultural tasks like tilling, harrowing, ploughing, and planting, tractors are used as agricultural vehicles. Less than 20 HP to more than 60 HP are among the power ranges offered. It is also used in the orchard, row crop, and gardening applications. Furthermore, as the agriculture industry grows, more people in developing nations like India, Brazil, China, and others will require tractors for farming and other agricultural applications.
This, in turn, fuels the expansion of the tractor market worldwide. For example, the India Brand Equity Foundation estimates that 58% of India's population comprises farmers.
Governments in these countries also provide farmers with incentives and loans to encourage them to utilize agricultural machinery, which boosts crop cultivation. However, during the projected period, these factors are expected to work together to generate profitable growth opportunities for the agricultural tractor market worldwide.
Market segments for agricultural tractors include engine power, driveline type, application, and operation during the projected period. Factors including increasing usage of precision farming, support from the government for the expansion of agricultural activities, and improvements in tractor technology are expected to spur industry growth for agricultural tractors.
Moreover, during the projected period, low farmer awareness of effective agricultural tractors and high agricultural tractor prices are anticipated to restrain the market's growth. Additionally, the industry for agricultural tractors is anticipated to benefit from the rising demand for fuel-efficient tractors and increased mechanization of agricultural processes.
Many governments, including those of India, the United States, China, and others, provide assistance for the growth of agricultural activities, including financial aid for purchasing machinery and seeds. The subsidies help to ensure adequate food production, lower the inflation rate for food commodities, protect farmer incomes, and enhance the agricultural industry. To increase agricultural production, developing countries like Brazil, India, and Africa provide a variety of subsidies, loan waiver programs, and other such amenities.
Report Scope of the Agricultural Tractors Market
| | |
| --- | --- |
| Report Coverage | Details |
| Market Demand in 2023 | 3,196.33 Thousand Units |
| Market Demand by 2032 | 5,422.91 Thousand Units |
| Growth Rate from 2023 to 2032 | CAGR of 6.05% |
| Largest Market | Asia Pacific |
| Base Year | 2022 |
| Forecast Period | 2023 to 2032 |
| Segments Covered | By Engine Power, By Driveline Type, By Application and By Operations |
| Regions Covered | North America, Europe, Asia-Pacific, Latin America and Middle East & Africa |

Market Dynamics:
A power-driven vehicle made explicitly for agricultural tasks like pushing or pulling farming equipment or trailers, scrapers, threshers, ploughs, planters, and pesticide sprayers is the agricultural tractor market. Due to their ability to supply power and mechanization for agricultural needs, tractors are now referred to as farm vehicles.
Government initiatives to fund farmers and provide them with lower interest rates on loans are also helping to boost the global market for agricultural tractors. Due to the increase in farm cash receipts, or profit and revenue from farming, tractors become more accessible, which is anticipated to increase the need for agricultural tractors. To help farmers, for instance, the Indian government and state governments have started several programs.
The industry is also expanding due to technological advancements that have changed how farming and agricultural processes are conducted. Self-driving agricultural tractors, for instance, are anticipated to increase industry efficiency and productivity. These are the key factors that are thus projected to fuel the expansion of the agricultural tractor market globally in the years to come.
Restraint:
The market for agricultural tractors may be constrained by several factors. Some of the key factors are as follows:
High cost: Agricultural tractors can be expensive, which may make it difficult for some farmers to afford them, especially small-scale farmers.
Limited access to finance: The market's expansion may be constrained by the fact that many farmers might not have access to financing options for purchasing agricultural tractors.
Lack of infrastructure: The use of agricultural tractors may be constrained in some locations due to a lack of adequate infrastructure, such as adequate roads and storage facilities.
Climate and soil conditions: Tractor usage may be constrained in some areas due to harsh weather patterns or difficult soil conditions.
Regulatory environment: Tractor costs can increase due to governmental regulations, such as import duties, taxes, and other fees, which can also limit the availability of tractors in some markets.
Competition from other technologies: Drones, robotics, and precision agriculture are some of the other technologies that are increasingly used in agriculture, which can lower the demand for tractors.
Overall, these elements may act as market restraints for agricultural tractors, preventing their expansion in certain areas or industries.
Opportunity:
The market for agricultural tractors offers several chances for expansion and improvement. Some of the key opportunities are as follows:
Emerging markets: The agricultural tractor market has significant growth opportunities in emerging markets, particularly Asia and Africa. Tractors and other agricultural equipment are becoming more and more necessary in these areas due to rising food demand and the adoption of modern farming techniques.
Precision agriculture: Manufacturers of tractors now have the chance to create new machinery with cutting-edge sensing and control systems thanks to the growing trend toward precision agriculture, which uses technology to maximize crop yields and minimize waste.
Sustainable agriculture: There is an increasing demand for tractors that are more energy-efficient and emit fewer emissions as more consumers look for food that has been grown sustainably. Manufacturers now have the chance to create brand-new goods that satisfy these needs.
Technological advances: Manufacturers now have the chance to create novel products that satisfy shifting market demands thanks to technological advancements like electric and autonomous tractors.
Customization: The opportunity for manufacturers to provide more specialized tractors that address the specific needs of farmers is increased due to the rise in demand for specialized farming techniques and equipment.
After-sales service: Tractor manufacturers can gain customer loyalty and set themselves apart from rivals by providing maintenance, repair, and spare parts services through after-sales service and support.
Overall, these possibilities offer a positive outlook for the agricultural tractor market because manufacturers can take advantage of new patterns and shifting consumer preferences to expand their industries and serve farmers' needs.
COVID-19 Impact:
Over the past few months, the majority of industries around the globe have experienced adverse effects. This can be explained by substantial disruptions in their respective supply chains and manufacturing processes brought on by precautionary lockdowns and other restrictions imposed by governments worldwide. The same holds for the market for agricultural tractors worldwide.
Additionally, market growth has since decreased as people have become more keen on cutting out non-essential accommodation costs from their individual budgets as the general financial condition of most people has been significantly affected by this outbreak. Throughout the forecast period, the factors mentioned above are anticipated to have an adverse effect on the worldwide agricultural tractor market's revenue trajectory.
Moreover, the global market for agricultural tractors is anticipated to rebound as soon as the relevant regulatory agencies lift these imposed lockdowns.
Segments Insight:
Engine Power Insights
The segment with less than 40 HP is expected to hold the largest share. This is explained by the fact that these tractors have more flexible uses. Farmers typically need access to large plots of land or a lot of extra cash. Since they are more effective, simple, and useful for small farms, they favour tractors with lower Horsepower.
Due to the growing demand from large farmers for larger tractors that can handle various tasks, the market for agricultural tractors with 40 HP engines is also anticipated to grow. The soaring demand for powerful tractors and aggressive marketing tactics is driving this area of the agriculture tractor market.
Driveline Type Insights
The market is divided into 2-Wheel Drive and 4-Wheel Drive according to the type of driver. The segment with the largest market share is expected to be 2-Wheel Drive. The possibility of a smaller turning radius with these tractors explains this. Ballast weights can be used to increase the traction of a 2-Wheel Drive and make it possible for the field to slip less.
Additionally, the segment's 6.1% annual growth rate between 2023 and 2032 will be the highest. The growth of interest in compact 2-wheeler tractors among amateur and professional farmers in developed and developing countries can be attributed to the segment's expansion. Moreover, farmers favor 2-wheeler tractors due to their ability to adapt, low initial cost, and superior mobility on small parcels of land.
A 4-wheeler tractor, on the other hand, has more power, which enhances its performance on marshes and unlevel ground. Furthermore, because of their high price, only large farmers with extensive farm fields can use 4-wheeler tractors.
Application Type Insights
Based on Application, the market is bifurcated into Harvesting, Seed Sowing, Irrigation, and Others. The Irrigation segment is anticipated to account for the highest market share. This can be attributed to the fact that tractors make the task significantly easier and help in saving water.
Operations Insights
The market is divided into automatic tractor vehicles and manual tractor vehicles based on operations. The automatic tractor-vehicle segment is expected to hold the largest market share. This is explained by the fact that manual tractors are simple to operate, need less maintenance, and are generally less expensive.
Throughout the forecast, manual tractors are anticipated to grow significantly. The high availability of manual tractors drives the company's growth. Farmers have access to various manual tractors, which are less costly than autonomous tractors. The autonomous tractors segment is anticipated to expand moderately during the projected timeframe.
To diversify their product offerings, companies are making investments in the creation of electrically-propelled autonomous tractors. The advancement of electrically powered autonomous tractors is anticipated to be fueled by government initiatives to reduce automobile carbon emissions.
Regional Insights:
The Asia Pacific region generated the largest share, with over 67% in terms of volume. This results from growing tractor demand in nations such as India and China. Tractors are essential in India for boosting the nation's agricultural output. Agricultural tractors are sold between 600 thousand and 700 thousand units annually.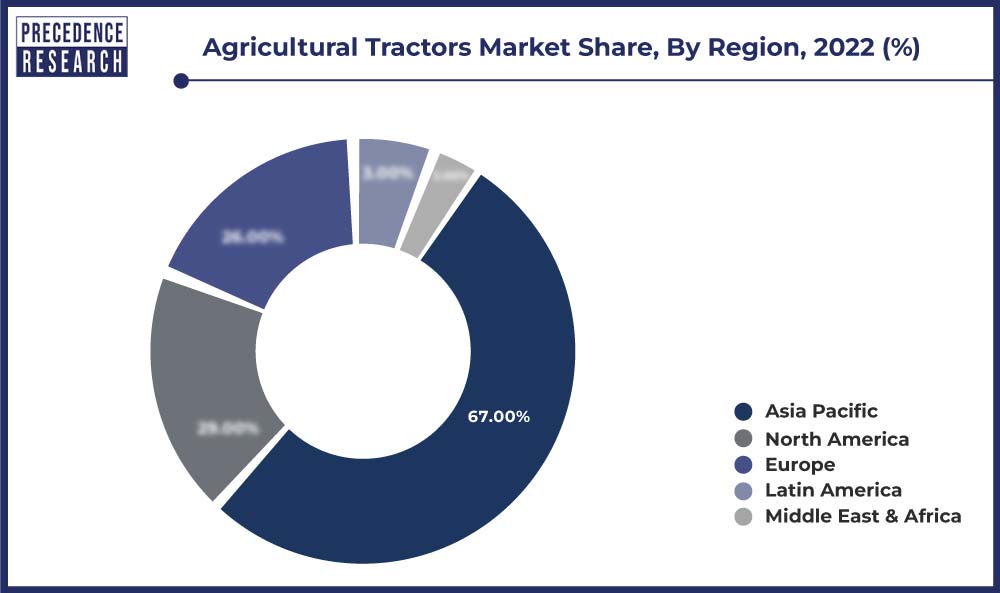 According to estimates, during climate change, Europe experienced major volume growth. Large farms in several European nations, including the U.K., the Netherlands, Hungary, Denmark, and Spain, are primarily to blame for this growth. 38% of all farms worldwide are located in Europe.
Recent Developments:
November 2022- Two best-in-class tractors were launched at the CII Agro Tech India 2022 exhibition by ZETOR TRACTORS and VST Tillers Tractors Ltd.. These tractors in the 50 HP and 45 HP categories were successfully implemented by ZETOR and VST at their facilities in India and the Czech Republic.
June 2022- In the category of tractors with less than 30 HP, the Solis Yanmar company has introduced three new models for Turkish farms that will be imported from India.
July 2021- The T7 Heavy-duty Tractor with PLM Intelligence was introduced by New Holland North America as an expansion of its line of agricultural tractors. The new tractor allows for multi-tasking in a range of field and transportation applications, which is intended to increase farmer productivity.
Key Market Players:
Deere & Company
SAME DEUTZ-FAHR Group etc.
Kutoba Corporation
McCormick International
Mahindra Group
Yanmar
Farmtac
Massey Ferguson
Escorts Group
Kubota
Dongfeng
Jordan Tractor and Equipment Co.
New Holland
AGCO Corp.
Kioti Tractor
SDF Group
Daedong Industrial
CNH Industrial N.V.
Argo Tractors S.p.A.
Valtra Tractor
Segments Covered in the Report:
(Note*: We offer report based on sub segments as well. Kindly, let us know if you are interested)
By Engine Power
Less Than 40 HP
41 To 100 HP
121 HP-180 HP
181 HP-250 HP
Above 250 HP
By Driveline Type
4-Wheel Drive
2-Wheel Drive
By Application
Seed Sowing
Harvesting
Irrigation
Others
By Operations
Automatic Tractor Vehicle
Manual Tractor Vehicle
By Geography
North America
Europe
Asia-Pacific
Latin America
The Middle East and Africa