The global agricultural drone market size was exhibited at USD 1.7 billion in 2022 and is projected to hit around USD 7.9 billion by 2030, growing at a CAGR of 21.2% during the forecast period 2022 to 2030.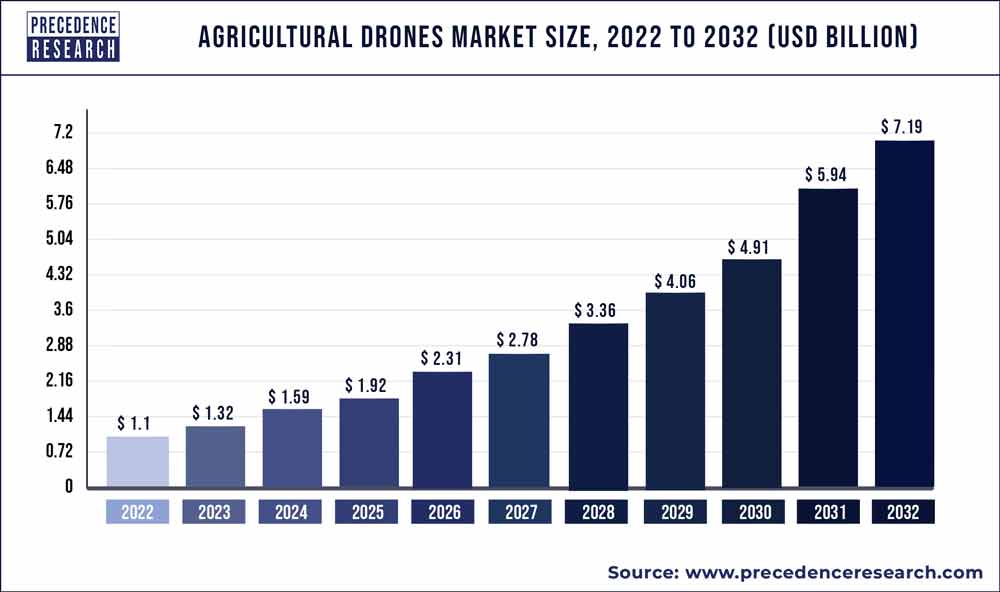 An agricultural drone also known as an Unmanned aerial vehicle (UAVs) used in agriculture can aid with crop monitoring, crop production, and other aspects of optimizing agricultural operations. Drones are being used in precision agriculture for a variety of tasks, including the application of pesticides, planting, and the examination of agricultural fields and soil.
Growth Factor
Given that it must provide for the world's steadily growing population, agriculture is seen as the most promising sector of the economy. The lack of skilled agricultural laborers or farmers, a lack of fertilizers, extreme weather conditions and their ineffective use, illnesses, infections, allergies, and other health issues brought on by the use of chemicals such as pesticides, insecticides, fungicides, or animal/insect stings have all been issues that the agricultural industry has faced. However, the agriculture sector is focused on developing nowadays by using more sophisticated and technologically advanced machinery. The agricultural drone is an autonomous flying cart with the ability to monitor crop development and increase crop yield. Smart sensors and digital imaging capabilities included in the cutting-edge equipment let farmers monitor their fields from a higher vantage point and avoid complications like fungal and insect infestations, irrigation problems, soil changes, and other challenges. Due to the development of sophisticated software solutions for data analytics and field service, favorable government policies and incentives to promote the agricultural sectors, and rising consumer awareness of the advantages of agricultural drones, the market for agricultural drones is anticipated to grow at a significant CAGR over the forecast period.
A rise in venture investment for drone applications in agriculture is expected to result in a large increase in the market share for agricultural drones.
During the projected period, the use of precision agricultural technologies will drive market expansion worldwide.
The market for agricultural drones is expected to grow as costs are reduced as a result of human mistakes.
Drone-related government laws may impede the market's overall expansion.
There are several prospects for drone applications due to an increase in agricultural and farming automation. Additionally, exemptions granted by U.S. federal authorities in the agricultural industry offer a profitable potential for the expansion of the market for agriculture drones.
Report Scope of the Agricultural Drones Market
Report Coverage
Details
Market Size in 2022
USD 1.7 Billion
Market Size by 2030
USD 7.9 Billion
Growth Rate from 2022 to 2030
CAGR of 21.2%
Base Year
2021
Forecast Period
2022 to 2030
Segments Covered

By Component
By Application
By Type

Regions Covered

North America
Europe
Asia-Pacific
Latin America
Middle East & Africa

Key Market Drivers
The use of small drones in agriculture is growing
Numerous technological advancements have positively impacted farming production during the past several years in the agriculture industry. UAVs are one of these key innovations, and they are presently widely used in agricultural operations with the aid of cutting-edge technology and software. Miniature, autonomous, and unmanned rotorcraft have been successfully developed thanks to technological advancement in components, sensors, and sizes. This is one of the key elements that experts think will fuel market expansion.
Key Market Challenges
The creation of drone usage restrictions in response to data privacy issues
Due to farmers' lack of expertise, drone manufacturers find it challenging to contact their potential clients. Additionally, because people lack the skills to use the tools (software programs) that assess and improve efficiency, they find it undesirable to purchase agriculture drones, which hinders the market's growth. Another reason that is impeding market expansion is cyber security worries; if these are resolved, the industry may increase in the near future.
Key Market Opportunities
The growing use of sustainable farming methods to promote the use of agriculture drones
Information and communication technologies (ICTs) are being used by agriculture more and more to address environmental problems. In order to feed the world's expanding population, farming communities must be able to adapt and become resilient in the face of significant challenges brought on by climate change. Utilizing the development and transformational power of ICTs offers a great platform for not only solving some of these problems but also accelerating the achievement of the 2030 Sustainable Development Goals (SDGs). When cutting-edge technology is used, traditional agricultural techniques will see changes in production and efficiency. Farmers that adopt sustainable agricultural practices may be able to expedite their production operations utilizing enhanced data analytics. The market for agricultural drones will also benefit from increased investment in auxiliary equipment and agricultural drones.
Segments Insight
Component Insights
According to the component, the hardware segment is anticipated to have the greatest market share for farm drones in 2021. The expansion of this market is being driven by an increasing requirement for replacement, upgrade, and modification in drone hardware components to extend drone lifespan and performance as well as to gain a competitive advantage.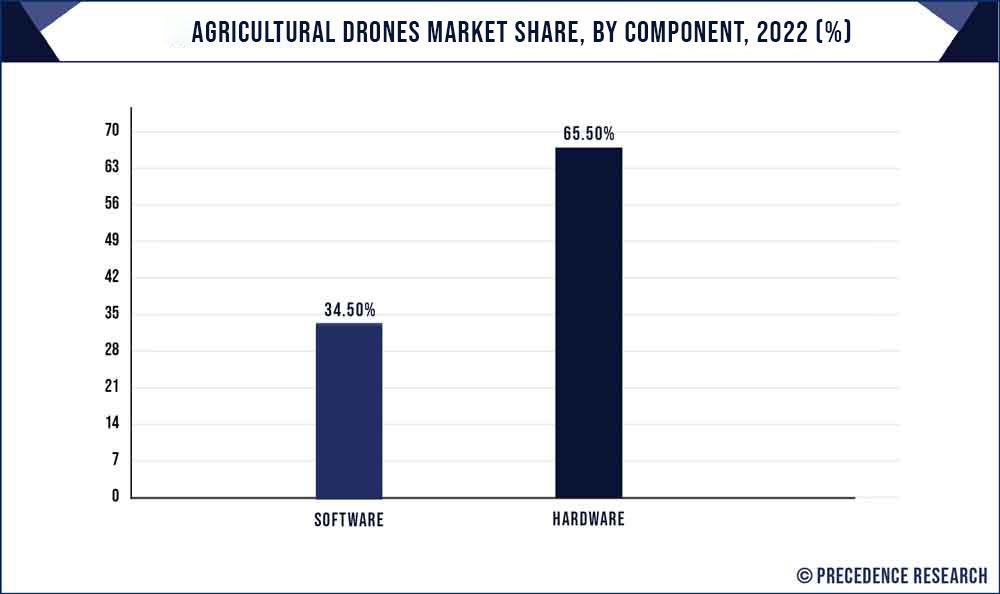 The firms' increasing focus on modifying and creating drone structures to make them operate in any harsh climatic circumstances is also contributing to the expansion of this market. However, due to developing software technology and the rising software need for improved data analysis in precision agriculture, the software sector is anticipated to grow at the quickest CAGR throughout the projected period.
Application Insights
According to projections, the crop spray segment of the worldwide agriculture drone market would develop at the quickest rate in 2021. In drone farming, crop spray drones used for irrigation, fertilizer, and pesticide treatments enable more effective usage in rice paddies, small fields, and other waterlogged systems, as well as steep slopes or difficult-to-access locations. Precision agriculture may incorporate such systems since drones can be fitted with ultrasonic echoes, GPS, and lasers to maintain their height over the crop. These improvements to crop spraying drones will propel the growth of the sub-segment in the coming years.
Crop monitoring drones provide higher resolution data of agricultural conditions than traditional satellite methods fast detection of stressed areas, disease infestations, and real plant counts. In fields up to 50 ha, drones are said to be able to administer fertilizers and pesticides up to 5 times quicker than conventional equipment, and by concentrating only on areas that require treatment, as determined by crop monitoring, up to 60% of materials may be saved. The autonomous drones segment of the worldwide agriculture drone market would develop at the quickest rate and approach $ 2,243.9 million by 2028, up from $512.9 million in 2020. Drones with superior ground control systems that use automatic supervisory procedures to reduce the number of operators needed to manage the fleet are referred to as autonomous agriculture drones. Many agricultural applications, including data-collection missions and drone mapping, are now carried out automatically. The sub-segment is also expected to have impressive growth in the next years because of advancements in autonomous technology like automated seeders and autonomous pollination drones that can operate and assess crop health without the need for humans.
The airborne portion of the drone and the pilot operating it from a ground control station, as well as the sensors mounted on the UAV, and the software that can be used to analyze the data gathered by the sensor, are all included in manually operated drones. Farmers are demanding more manually piloted drones with several sensors to provide a more precise and varied crop management system. The sub-development segments are anticipated to be aided by the relaxation of governmental limitations on the use of drones and assistance for drone startups throughout the world.
Type Insights
Furthermore, it is predicted that throughout the course of the forecast period, the rotary wing sub-segment would have the fastest growth. Rotary drones are the most common variety since they are the easiest to control for direction and elevation. These drones provide the best balance of control, lift, maneuverability, and price. A common example of a multi-propeller drone is the DJI Matrice 200 series, which is sold by DJI Technology Co., Ltd. The DJI Matrice 210 RTK offers a payload of up to 2KG as well as a range of up to 7KM, which is more than enough for the majority of surveying applications in the agriculture sector. With revenues of $387.5 million in 2020 and $1,613 million throughout the forecast period, the fixed-wing drone sub-segment is expected to have a sizeable market share in the worldwide market, increasing at a CAGR of 19.0%. The benefit of fixed-wing aircraft is their capacity to cover large distances on a single battery. Due to their more efficient engines, most commercial versions can fly for an hour or more and cover an area of about 400 hectares, making them perfect for inspecting oil pipelines or electrical pylons.
Regional Insights
Over the course of the projection period, the market for drones used in agriculture in Asia-Pacific is anticipated to rise significantly. To accelerate the deployment of agriculture drones, countries in the area are consistently boosting their R&D expenditures. Additionally, the expansion of venture finance provided to UAV makers in the area has aided in the growth of the sector. Many businesses in the area are creating affordable, effective UAVs for a wider range of agricultural uses.
The global market for agricultural drones is dominated by the North American continent. The growing trend of using UAVs for anything from mowing to plowing to increase production is anticipated to have an impact on the industry's expansion. Farmers have begun using UAVs in their operations as a result of rising interest in precision agriculture for crop scouting and field mapping.
Key Market Players
DJI (China), 3DR (US)
Ondas Networks (AMERICAN ROBOTICS) (US)
ideaForge (India)
DroneDeploy (US)
MICRODRONES (Germany)
PrecisionHawk, Inc. (US)
Yamaha Motor Corporation, U.S.A. (US)
AeroVironment, Inc. (US)
AgEagle Aerial Systems Inc. (US)
ISRAEL AEROSPACE INDUSTRIES (Israel)
Delair (France)
senseFly (Switzerland)
Sentera (US)
Trimble Inc. (US)
THANOS (India)
Recent Developments
On November 16, 2021, DJI, a top producer of agricultural drones, announced the release of two new products, the T40 and T20P, which are designed specifically for agricultural tasks like applying pesticides and fertilizer to fruit plants.
On January 27, 2021, AgEagle Aerial Systems Inc., a US-based manufacturer of drones, announced the purchase of MicaSense, Inc. from Parrot, a European consortium of drone manufacturers, for more than USD 23 million. Numerous top fixed-wing and multicopter drone manufacturers, including DraganFly, senseFly, Quantum-Systems, and Wingtra, have relationships with the acquired firm. Additionally, MicaSense has obtained a patent for its very accurate thermal and multispectral sensors used in aerial mapping and analytics that meet the requirements of the agricultural sector.
Segment Covered in the Report
(Note*: We offer reports based on sub-segments as well. Kindly, let us know if you are interested)
By Component
Hardware

Frames
Control System
Propulsion System
Navigation System
Payload
Avionics
Others

Software

Imaging Software
Data Management Software
Data Analytics Software
Others
By Application
Crop Monitoring
Soil & Field Analysis
Planting & Seeding
Crop Spray
Others
By Type
Fixed-Wing
Rotary-Wing
Others
By Geography
North America
Europe
Asia-Pacific
Latin America
Middle East & Africa (MEA)