The global fertilizer market size was valued at USD 207 billion in 2022 and is expected to hit USD 285.01 billion by 2032 with a registered compound annual growth rate (CAGR) of 3.30% over the forecast period 2023 to 2032. Asia-Pacific fertilizer market was valued at USD 99.85 billion in 2022.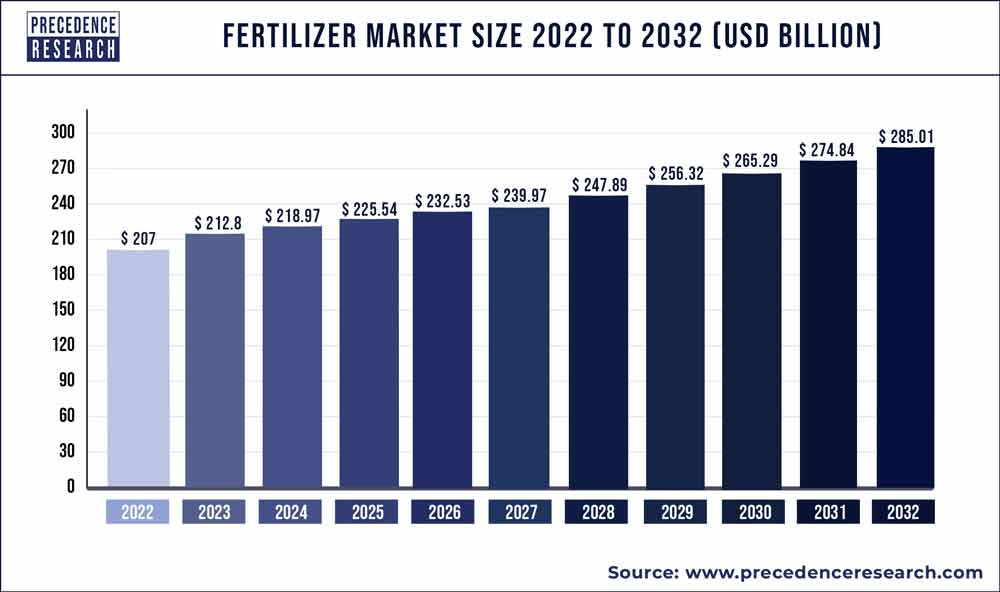 Access our Premium Real Time Data Intelligence Tool, Visit: Precedence Statistics
Key Takeaways:
The Asia-Pacific market is expected to grow at a CAGR of 4.2% from 2023 to 2032.
The agriculture segment was estimated at USD 84.2 billion in 2022 and projected to reach USD 111.04 billion by 2032.
The dry fertilizer segment was estimated at USD 176.37 billion in 2022 and to reach around USD 234.54 billion by 2032, growing at a CAGR of 4.3%.
In 2022, the global inorganic fertilizer market was accounted at US$ 172.65 billion in 2022 and is expected to hit USD 318.56 billion by 2032.
Latin America fertilizer market will reach 4.1% CAGR from 2023 to 2032.
Gardening segment is predicted to reach at USD 17 billion by 2032.
By form, the dry fertilizer segment has garnered 84% market share in 2024.
By application, the agriculture segment accounted largest market share 46.1% in 2022.
By product, the organic segment accounted markets share of around 94% in 2022.
Growth Factors
The growing population is emphasizing the expansion of agriculture sector. As per the United Nations, the worldwide population will surpass nine billion people by 2050. In addition, as per the Food and Agriculture Organization, more than 70% of the global population will live in cities by 2050. The farmers are being forced to use fertilizers to enhance their agricultural output due to loss of arable land across the globe. As a result, the growing population is expanding the global fertilizer market over the forecast period.
As the need for smart agriculture grows, different governments in emerging and established nations have taken steps to encourage farmers to convert their land to organic. For example, the European government has set aside 30% of its CAP policy's rural development budget to assist organic farming. The governmental activities that is likely to benefit the sales of organic fertilizers in the coming years to come include market findings, capacity growth, targeted subsidies, and research assistance for organic farming. Thus, the surge in demand for organic fertilizers is contributing towards the growth of global fertilizer market.
The growth of global fertilizer market is also being driven by the expansion of various industries such as agriculture and horticulture.
The government all around the world is highly investing for the development of global fertilizer market.
The global fertilizer market is diversified with several fertilizer producers around the world. As fertilizers are such as crucial element for increasing crop yields, the key market players are forming strategic alliances and strategies such as partnership, product launch, joint venture, and collaboration to expand their regional presence and product portfolio. In addition, government is also collaborating with market players for expansion of the market all over the world.
Report Scope of the Fertilizer Market
| | |
| --- | --- |
| Report Coverage | Details |
| Market Size by 2032 | USD 285.01 Billion |
| Growth Rate from 2023 to 2032 | CAGR of 3.30% |
| Asia Pacific Market Share in 2022 | 47% |
| Organic Segment Market Share in 2022 | 94% |
| Base Year | 2022 |
| Forecast Period | 2023 to 2032 |
| Segments Covered | Form, Application, Product, Geography |
| Companies Mentioned | Haifa Group, Nutrien Ltd., Yara International ASA, CF Industries Holdings Inc., Syngenta AG, Bunge Limited, Israel Chemicals Ltd., Indian Farmers Fertilizer Cooperative Limited, Sumitomo Chemical Co. Ltd, Gemlik Fertilizer Inc. |
Market Drivers
Growing Global Population and increasing demand for food
The global human population has experienced a staggering increase, surging to over three times its size in the mid-twentieth century. According to United Nations, as of mid-November 2022, the estimated global population reached 8.0 billion, a significant leap from 2.5 billion in 1950. In just over a decade, the world population has grown by 1 billion people, and in just over two decades, it has skyrocketed by 2 billion. Projections indicate that the world's population is expected to continue to rise, with an estimated increase of nearly 2 billion individuals over the next 30 years, reaching 9.7 billion by 2050 and possibly peaking at nearly 10.4 billion in the mid-2080s.
As the world population continues to rise, there is a pressing need to increase agricultural productivity to meet the expanding demand for food. Fertilizers play a critical role in modern agriculture as they provide essential nutrients to crops, improve soil fertility, and enhance crop yields. Moreover, changing dietary patterns and the shift towards more protein-rich diets in emerging economies are fueling the demand for animal feed, which, in turn, is boosting the need for fertilizers used in forage and pasture production. Furthermore, the adoption of modern agricultural practices and technologies, such as precision agriculture techniques, is increasing the emphasis on using fertilizers for optimized crop production.
Rising Focus on sustainable agriculture and environmental concerns
Specialty fertilizers, including organic and bio-based fertilizers, are gaining popularity due to their eco-friendly nature, aligning with the increasing consumer demand for environmentally friendly and sustainable products. Moreover, government policies and subsidies that promote the use of fertilizers to increase agricultural productivity also impact the fertilizer market. Many governments worldwide provide subsidies or incentives to farmers, which accelerate demand for fertilizers and positively impact the market. Additionally, weather conditions and climate change, such as extreme weather events and changing weather patterns, disrupt agricultural production and result in increased demand for fertilizers to restore soil fertility and support crop growth.
Market Restraints
Environmental Constraints
The increasing global population and its demand for resources, energy, and food have detrimental effects on the environment. Overexploitation of natural resources, such as forests, fisheries, and water sources, lead to depletion and loss of biodiversity, disrupting delicate ecosystems and posing long-term sustainability challenges. Deforestation, driven by agricultural expansion, logging, and infrastructure development, contributes to habitat destruction, loss of carbon sinks, and climate change. Pollution from industrial and agricultural activities, including air and water pollution, degrades ecosystems, harm human health, and damage biodiversity. Climate change, caused by greenhouse gas emissions, has far-reaching consequences on weather patterns, sea-level rise, extreme weather events, and natural disasters, affecting agriculture, water resources, and vulnerable communities.
Social and Economic Constraints
Social and economic constraints impede progress and development. Socio-economic inequalities, including disparities in income, education, healthcare, and access to basic amenities, limit opportunities for certain groups and hinder social mobility. Poverty, particularly in developing countries, results in food insecurity, malnutrition, and inadequate access to clean water and sanitation. Unemployment, underemployment, and lack of economic opportunities leads to social unrest and undermining social cohesion and stability. Political instability, conflicts, and legal/regulatory barriers hinder governance, human rights, and rule of law, leading to social and economic constraints.
Market Opportunity
Sustainable and Green Technologies
The development and adoption of sustainable and green technologies present significant opportunities for addressing environmental, social, and economic challenges. Renewable energy technologies, such as solar, wind, and hydropower, offer alternatives to fossil fuels, reducing greenhouse gas emissions, mitigating climate change, and promoting sustainable energy production. Sustainable agricultural technologies, including precision farming, organic farming, and agroforestry, can improve soil health, enhance crop yields, reduce chemical inputs, and promote biodiversity. Circular economy practices, such as recycling, upcycling, and waste reduction, can contribute to resource conservation, reduce pollution, and create economic opportunities. Smart and green urban planning and infrastructure, such as green buildings, public transportation, and sustainable waste management, enhances quality of life, reduce carbon emissions, and improve resilience to climate change.
Form Insights
The dry fertilizer segment accounted largest market share in 2022. Dry fertilizers are solid fertilizers that come in granulated or powdered form, and are widely used in agriculture for field crops, such as grains, cereals, and oilseeds. One of the main factors driving the demand for dry fertilizers is their cost-effectiveness. Dry fertilizers are generally less expensive to produce, transport, and store compared to liquid fertilizers. They can be easily stored for longer periods without the need for special storage facilities, which results in cost savings for farmers and distributors. Additionally, dry fertilizers are easy to apply using various types of equipment, such as spreaders, seeders, and planters, making them convenient for farmers. The most significant advantage of a dry fertilizer is that it absorbs slowly in the soil. It is commonly used in large fields as it lasts longer than any other fertilizer. Furthermore, using a dry fertilizer rather than a liquid fertilizer, which gradually burns plants, has a much lower risk of harming plants and crops.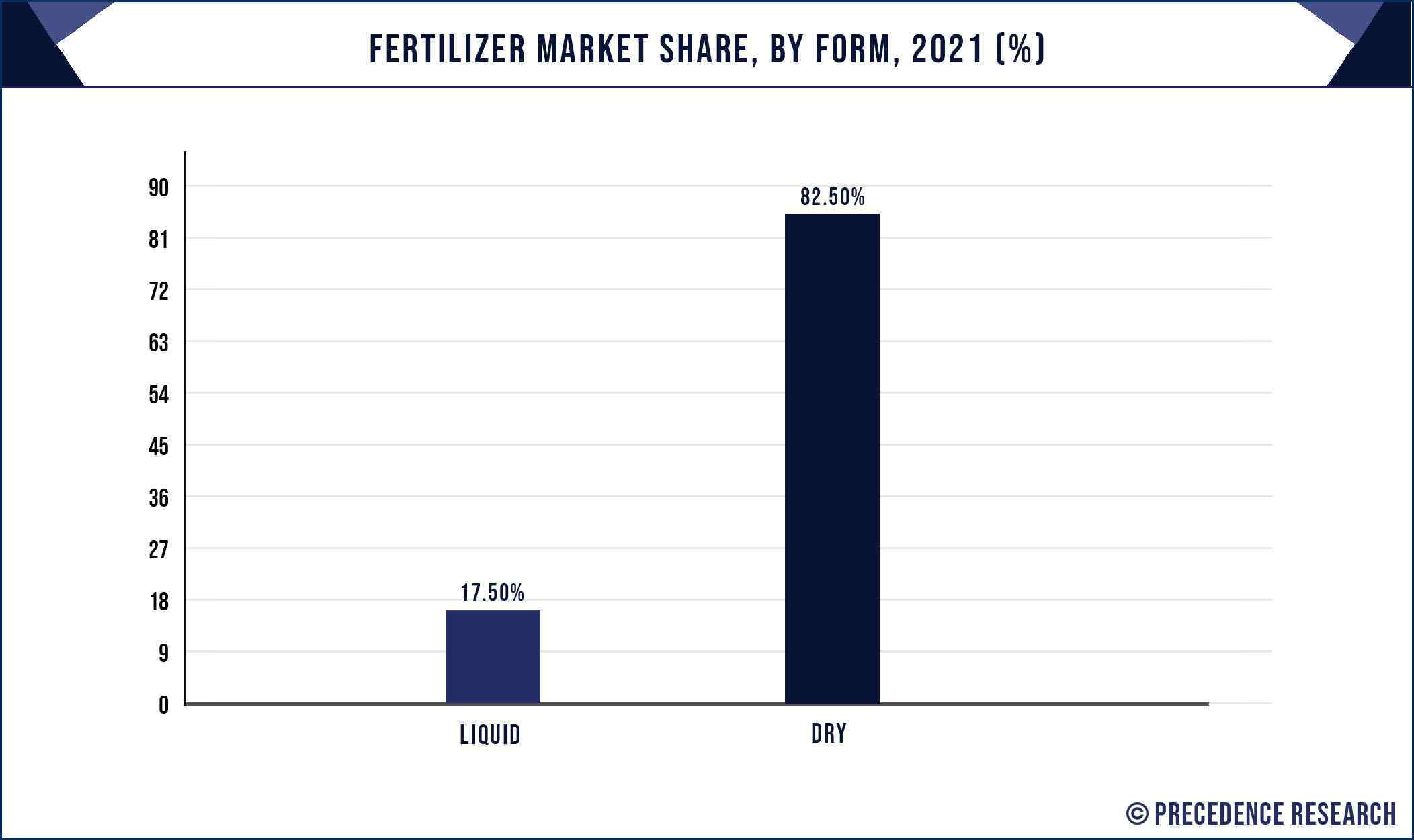 The liquid fertilizer segment is fastest growing segment of the fertilizer market in 2022. The surge in demand for high efficiency fertilizers, the convenience of use and administration of liquid fertilizers, and the acceptance of precision agriculture and irrigated agriculture are some of the drivers expected to propel the growth of the segment.
Product Insights
The organic segment garnered largest revenue share in 2022. The organic fertilizers are mineral sources that are found in nature and include a moderate amount of plant needed nutrients. They are capable of resolving issues caused by synthetic fertilizers. They lessen the need for synthetic fertilizer applications to maintain soil fertility. They slowly release nutrients into the soil solution while maintaining nutritional balance for plant and crop growth.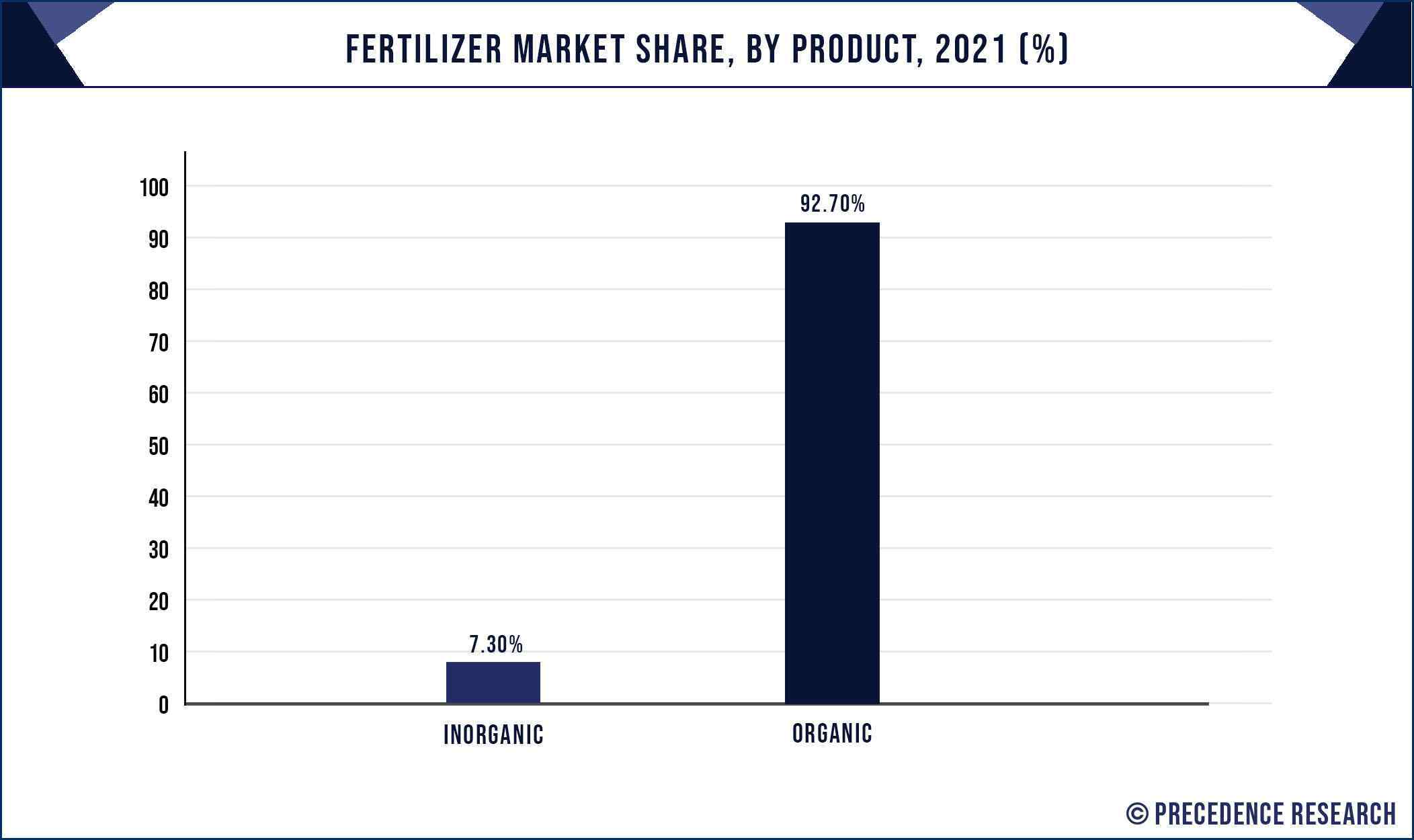 The inorganic segment is fastest growing segment of the fertilizer market in 2022. The minerals and synthetic chemicals are used to make inorganic fertilizer. The petroleum is a popular source of inorganic nitrogen. Inorganic fertilizers are high in macronutrients such as potassium chloride, ammonium sulphate, and magnesium sulphate. Because the phosphorus, potassium, and nitrogen mix can provide quick treatment, some gardeners find inorganic fertilizer useful for rescuing starved plants. Inorganic fertilizers are chemically synthesized and typically contain essential nutrients in concentrated forms, such as nitrogen, phosphorus, and potassium, which are crucial for plant growth. They are widely used in modern agriculture and horticulture practices due to their effectiveness and availability in various formulations that cater to specific crop requirements. Inorganic fertilizers are commonly used in large-scale agricultural production which drives the growth of this segment. Moreover, inorganic fertilizers have a longer shelf life and can be stored for a longer period without losing their effectiveness, making them convenient for transportation, storage, and application. This allows for efficient distribution and use in various agricultural and horticultural practices. The growth of this segment is driven by the high demand for high-yielding and consistent crop production to meet global food demand.
Application Insights
The agriculture segment held highest revenue share in 2022. The three essential plant nutrients, potassium, nitrogen, and phosphorus are found in most fertilizers used in agriculture. The certain micronutrients such as zinc are also present in some fertilizers and are required for plant growth. Natural fertilizers are materials that are put to the ground with the goal of improving soil properties. Fertilizers are primarily used in agriculture to enhance soil fertility and improve crop yields. Agriculture includes the cultivation of various field crops, such as grains, cereals, oilseeds, and fiber crops, as well as specialty crops, such as fruits, vegetables, and nuts. Fertilizers play a critical role in modern agriculture by providing essential nutrients to crops, promoting healthy plant growth, and maximizing crop productivity. Farmers extensively use fertilizers in agricultural practices to optimize crop production and achieve higher yields, contributing to the dominant demand for fertilizers in the agricultural sector.
The horticulture segment is fastest growing segment of the fertilizer market in 2022. The fertilizers used for horticulture are very essential for the growth of plants. They provide large number of nutrients to the crops and results into rapid growth of plants. As a result, the growing importance of using fertilizers is driving the growth of the segment during the forecast period. Furthermore, Horticulture segment is expected to grow during the forecast period. Horticulture involves growing fruits, vegetables, flowers, and ornamental plants. These crops have specific nutrient requirements, and fertilizers are used to supplement them for healthy growth.
Regional Insights
Asia-Pacific dominated the fertilizer market in 2022. The Asia-Pacific region is considered as largest region in terms of rice production. The rice requires nitrogen while cultivation process. The rice production represented for 36% of total fertilizer consumption in Asia in 2017. In 2020, India has projected to export rice worth around US$ 4 billion. Oil palm fertilizer accounted 17% of overall fertilizer consumption and 50% of potash usage.
The region growth is driven by increasing demand for food due to population growth and changing dietary patterns. As the population continues to grow, there is a pressing need to increase agricultural productivity to meet the rising demand for food. Fertilizers play a crucial role in modern agriculture by providing essential nutrients to crops, improving soil fertility, and enhancing crop yields. In addition, the adoption of modern agricultural practices and technologies in Asia-Pacific, such as precision agriculture techniques, is driving the demand for fertilizers.
Precision agriculture involves using data-driven and technology-based approaches to optimize crop production, including the precise application of fertilizers based on crop needs, soil conditions, and weather patterns. This trend is leading to a higher demand for specialized and customized fertilizers tailored to the specific requirements of different crops, which further drives the fertilizer market in the region.
Middle East & Africa Fertilizer market is expected to grow at a CAGR of 4% from 2023 to 2032. Europe, on the other hand, is expected to develop at the fastest rate during the forecast period. The UK dominates the fertilizer market in Europe region. The growth of fertilizer market in Europe region is being driven by the surge in demand for organic products. In addition, rising disposable income are also driving the growth of Europe fertilizer market. Moreover, the technological advancements is creating demand for fertilizer in Europe region.
Recent Developments
Haifa Group added an extra 8,000 MTPA production capacity to its Controlled Release Fertilizer facility in France in 2019. The corporation was able to boost its production capacity by up to 24,000 MTPA due to this method.
Yara purchased Finish colan in September 2021 to grow its organic fertilizer business, demonstrating the company's commitment to a larger position in the organic fertilizer industry.
Vale CubataoFertilizantes Complex in Brazil was purchased for $255 million by Yara International ASA in 2018. The firm was able to improve its nitrogen production assets as well as its market position in the Brazilian fertilizer industry due to these tactics.
Nutrien Ltd. purchased Ruralco Holdings Ltd. in Australia in September 2019. Nutrien would be able to provide considerable advantages to its stakeholders as well as improve the delivery of its services and products to Australian farmers as a result of this transaction.
The Mosaic Company introduced the first DAP fertilizer in Saudi Arabia in 2017, through a joint venture. It supplied a fresh source of phosphate rock, allowing it to gain access to expanding agricultural markets, particularly in India.
Yaralix, a smart agriculture technology released by Yara International ASA in March 2019, allows farmers to measure crop nitrogen needs using their cellphones. The technology comprised of a free to download app that used the smartphone camera to calculate nitrogen requirements for various crops in their early stages of development.
Some of the prominent players
Haifa Group

Nutrien Ltd.

Yara International ASA

CF Industries Holdings Inc.

Syngenta AG

Bunge Limited

Israel Chemicals Ltd.

Indian Farmers Fertilizer Cooperative Limited

Sumitomo Chemical Co. Ltd

Gemlik Fertilizer Inc.
Segments Covered in the Report
(Note*: We offer report based on sub segments as well. Kindly, let us know if you are interested)
By Form
By Application
Agriculture

Grains and Cereals

Oilseeds

Fruits and Vegetables

Others

Horticulture

Gardening
By Product
Organic

Inorganic

Nitrogen

Urea

Anhydrous ammonia

Ammonium nitrate

UAN solutions

Ammonium sulfate

Phosphorus

Diammonium phosphate

Monoammonium phosphate

Triple superphosphate

Ordinary superphosphate

Ammonium polyphosphate

Others

Potassium

Potassium chloride

Potassium sulfate

Potassium nitrate
By Geography
North America
Europe
Asia-Pacific

China
India
Japan
South Korea
Malaysia
Philippines

Latin America

Brazil
Rest of Latin America

Middle East & Africa (MEA)

GCC
North Africa
South Africa
Rest of the Middle East & Africa