The global AI training dataset market size was reached at USD 2.09 billion in 2022 and it is expected to hit around USD 9.89 billion by 2032, growing at a CAGR of 16.82% from 2023 to 2032.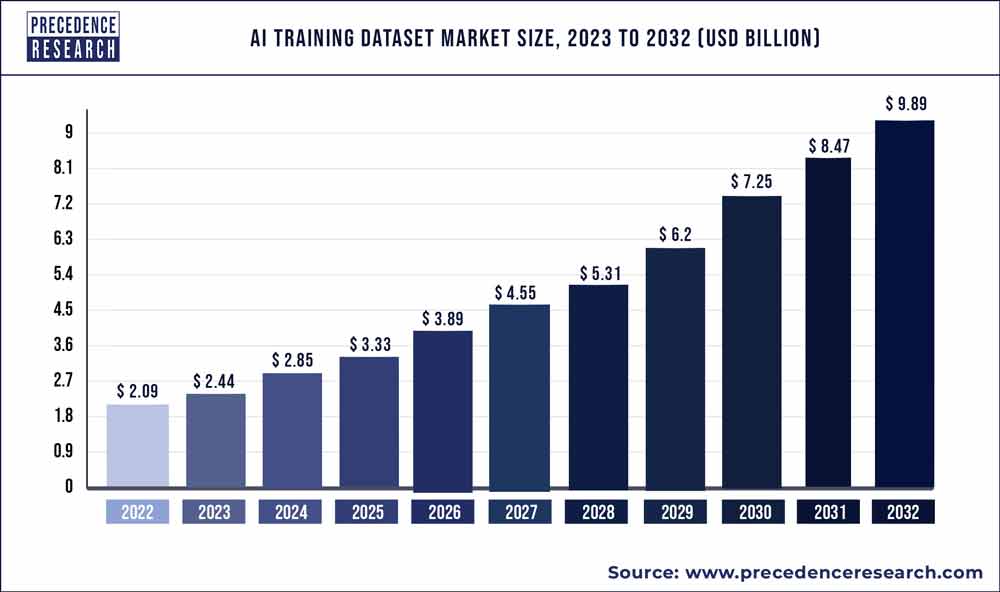 Key Takeaways:
North America generated more than 40% of the revenue share in 2022.
By type, the text segment captured a maximum revenue share on around 30.80% in 2022.
By vertical, the IT segment led the market and generated more than 34% of the revenue share in 2022.
Market Overview:
The use of artificial intelligence technology is expanding. The need for technology is growing as organizations move toward automation. Technological advances have seen unprecedented advancements in marketing, logistics, transportation, healthcare, and many other industries. The acceptance of the technology has been fuelled by the advantages of integrating it into various organizational operations that outweigh the costs.
The demand for training datasets is increasing exponentially due to the quick uptake of artificial intelligence technology. Numerous businesses are expanding their market share by producing multiple datasets operating across various scenarios to train the machine learning algorithm, making the technology more adaptable and precise with its predictions.
These elements have a significant impact on market expansion. Leading industry players like Google, Apple Inc., Microsoft, and Amazon have been concentrating on creating different artificial intelligence training datasets. For example, Amazon introduced a new dataset of rational conversation in September 2021 to support open-domain conversation research.
A training dataset, also known as an artificial baseline, is needed by artificial intelligence programs to instruct models or machine learning algorithms on making informed decisions. Big data is becoming increasingly dependent on AI because it makes it possible to extract complex, high-level abstract concepts through a hierarchical learning process, which calls for data analysis and extraction. The method of the machine entirely depends on the dataset that is provided. Consequently, offering top-notch datasets for training becomes crucial.
This excellent dataset enhances AI performance. Additionally, it helps shorten the time spent gathering data and increases prediction precision. As a result, market vendors are concentrating on acquiring businesses that can help them improve the quality of their data.
The expansion of the market is being fuelled by elements like the creation of new, high-quality datasets that will hasten the advancement of AI technology and produce accurate results. For example, the technology company IBM Corporation confirmed the release of a new dataset in January 2019 that contains 1 million images of faces.
This dataset was made available to developers so they could use it to train various face recognition systems powered by artificial intelligence. They will be able to improve face identification accuracy with the help of this dataset. For example, IBM introduced a new data set called CodeNet in May 2021, which contains 14 million sample sets and is intended to be used to create machine learning models that can assist programmers.
Report Scope of the AI Training Dataset Market
| | |
| --- | --- |
| Report Coverage | Details |
| Market Size in 2023 | USD 2.44 Billion |
| Market Size by 2032 | USD 9.89 Billion |
| Growth Rate from 2023 to 2032 | CAGR of 16.82% |
| Largest Market | North America |
| Base Year | 2022 |
| Forecast Period | 2023 to 2032 |
| Segments Covered | By Type and By Vertical |
| Regions Covered | North America, Europe, Asia-Pacific, Latin America and Middle East & Africa |

Market Dynamics:
Growing demand for AI applications - As AI applications become more popular, there is a greater need for high-quality training datasets.
The emergence of new AI applications - New applications are being created as AI technology develops, and these applications call for new classes of training datasets.
Data quality is becoming increasingly important - To create accurate and trustworthy AI models, it's essential to ensure the quality of training datasets. Businesses that can offer top-notch training data will have a competitive advantage.
Increasing competition - As new players enter the AI training dataset market and established players broaden their product lines, there is an increase in competition.
Growing use of machine learning - Training dataset creation and curation are becoming increasingly automated thanks to machine learning algorithms.
Growing demand for diverse datasets - To accurately represent the complexity of the real world, AI models need diverse datasets. Businesses that can offer a variety of training datasets will have a competitive advantage.
Data privacy and security issues - As AI applications rely more and more on identifying information, data privacy, and security are becoming crucial factors. Businesses that can address these issues will have a competitive advantage.
The market for AI training datasets is anticipated to expand overall as demand for AI applications rises. To succeed in this competitive environment, businesses that operate in this market must understand the changing market dynamics and find ways to set themselves apart.
Restraint:
Data security and privacy - These issues may affect the availability of data for training datasets as AI applications rely more and more on extensive personal data.
A lack of diverse datasets - The caliber of the training data used to create AI models has a significant impact on their performance. Artificial intelligence models may struggle to accurately represent reality and may even be biased if the training datasets are not sufficiently diverse.
The cost of creating training datasets - Producing training datasets of a high caliber can be costly and time-consuming. Companies might be hesitant to spend money on building their own datasets, especially if they lack the necessary expertise.
Finding qualified personnel is challenging - Skilled personnel are needed to create, maintain, annotate, and curate an AI training dataset. The availability and caliber of training data may be impacted by the lack of qualified workers in this field.
Legal and ethical issues - AI training datasets may raise legal and ethical issues, especially if they include sensitive or private information. When gathering and utilizing training data, businesses must adhere to rules and moral standards, which might restrict the amount of datasets available.
Overall, these limitations may hinder the development and use of AI training datasets, so businesses involved in this market need to be aware of these issues and devise solutions to overcome them.
Opportunity:
Increasing demand for AI applications - The need for high-quality training data grows along with the adoption of AI. Companies that offer services for training data have a chance as a result.
Diverse data requirements - Artificial intelligence (AI) applications may need various types of data, such as speech or image data. Companies that specialize in providing particular types of data now have an opportunity.
A growing demand for annotated data - Many AI applications require annotated data, such as labeled images or speech transcriptions. This presents a chance for businesses that can offer annotation services to assist in training AI models.
Data quality assurance: Ensuring the accuracy and dependability of AI models requires high-quality training data. This presents a chance for businesses that can guarantee the data's accuracy and objectivity through quality assurance services.
Vertically specific datasets - Different industries require different types of data for their AI applications. Companies that have access to industry-specific datasets can seize this chance by offering specialized data services to particular verticals.
The market for AI training datasets is anticipated to expand overall in the upcoming years as the demand for AI applications rises. This will present a number of opportunities for businesses that can offer top-notch training data services.
COVID-19 Impact:
The COVID-19 pandemic's emergence has sparked advancements in numerous industries' use of applications and technology. Additionally, the pandemic has driven up the rate at which AI is being used in fields like healthcare. All industries now face difficulties in operating their businesses due to the crisis.
AI-based tools and solutions have been widely adopted in all industries to respond to this situation. The market's major players are concentrating on transforming their operations into more digital, leading to a massive demand for AI solutions.
Therefore, these factors are responsible for the COVID-19 pandemic's favourable impact on the market for AI training datasets. Additionally, industrialists had to use advanced analytics and other AI-based technological advances to ensure their operations ran smoothly during the pandemic.
Additionally, companies are becoming dependent on cutting-edge technologies, which are predicted to accelerate market expansion in the future. Further, many sectors, including IT & automotive, e-commerce, and healthcare, are anticipated to accelerate the implementation of the AI training dataset. As a result, it can be predicted that the market for AI training datasets will expand more rapidly during the projected period.
Segments Insight:
Type Insights:
The Text, Audio and Image/Video types are the worldwide AI training dataset market divisions. With a 30.80% market share in 2022, the text segment surpassed the market's expectations for AI training datasets. Text datasets are widely used in the IT industry for various automation processes, including speech recognition, caption generation, and text classification.
Because of the extensive range of audio datasets available, the audio segment is expected to serve a good market share. Examples include the Multimodal Emotion Lines Datasets, speech and music datasets, speech commands, environmental audio datasets, and many others.
Vertical Insights:
The worldwide AI training dataset market is classified into Automotive, Healthcare, IT, Government, and other segments based on Vertical. The IT segment dominated the industry with a market share of approximately 34% in 2022. Additionally, AI in healthcare opens up several opportunities for therapies like virtual assistants, wellness and lifestyle management, wearable technology, and diagnostics.
Additionally, voice-activated symptom checkers and improved organizational workflow are two areas where AI is used. A substantial training dataset is required for these applications to produce accurate results. Datasets will grow; as a result, resulting in a high CAGR during the forecast period.
Regional Insights:
Regionally, the global AI training datasets market is divided into North America, Asia Pacific, the Middle East, Europe, Latin America, and Africa. Around 40% of the world market for AI Training Datasets was estimated to account for by North America in 2022. To accelerate the acceptance of artificial intelligence technology in emerging North American areas, market vendors are focusing on launching new datasets.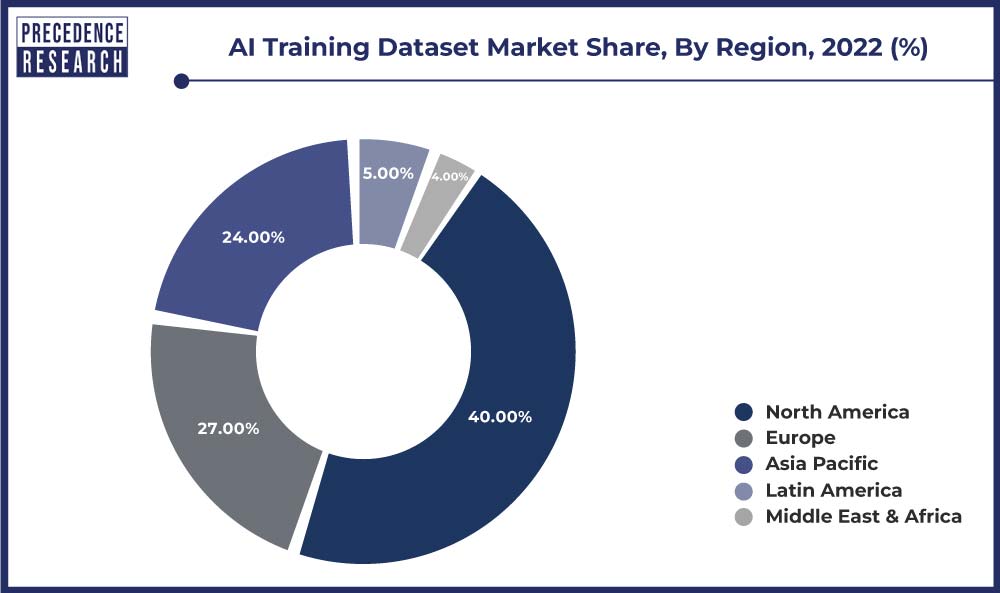 For example, Waymo LLC, a subsidiary of Google LLC, published a special dataset for automated vehicles in September 2020. This dataset or data was gathered using camera sensors and LiDAR in various driving scenarios, including those involving cyclists, signs, pedestrians, and other road users.
Recent Developments:
June 2022- To make it easier for programmers to write code and produce training datasets for their ai - based projects, Amazon Web Services Inc. added new features to its cloud platform.
July 2021- Hugging Face, an open-source natural language processing (NLP) technology supplier, and Amazon have partnered. The goal of this collaboration was to make it simpler for businesses to use cutting-edge machine learning models and to release advanced NLP features more quickly. After this collaboration, Amazon Web Services would be Hugging Face's recommended cloud provider for offering services to its customers.
June 2021- A collaboration between MIT Media Lab, a Massachusetts Institute of Technology research facility, and Scale AI was established. This collaboration aimed to apply ML in healthcare to assist doctors in providing patients with better care.
May 2021- Microsoft partnered with Darktrace, a top provider of autonomous AI for cyber security. As businesses migrate to the cloud, this collaboration aims to provide unmatched defence against sophisticated attacks.
Key Market Players:
Google, LLC (Kaggle)
Deep Vision Data
Cogito Tech LLC
Appen Limited
Samasource Inc.
Lionbridge Technologies, Inc.
Microsoft Corporation
Alegion
Amazon Web Services, Inc.
Scale AI Inc.
Segments Covered in the Report:
(Note*: We offer report based on sub segments as well. Kindly, let us know if you are interested)
By Type
By Vertical
IT
Government
Automotive
Healthcare
Retail & E-commerce
BFSI
Others
By Geography
North America
Europe
Asia-Pacific
Latin America
The Middle East and Africa