The global air ambulance services market size was reached at USD 16.3 billion in 2022 and it is projected to surpass around USD 46.45 billion by 2032, registering a CAGR of 11.04% during the forecast period from 2023 to 2032.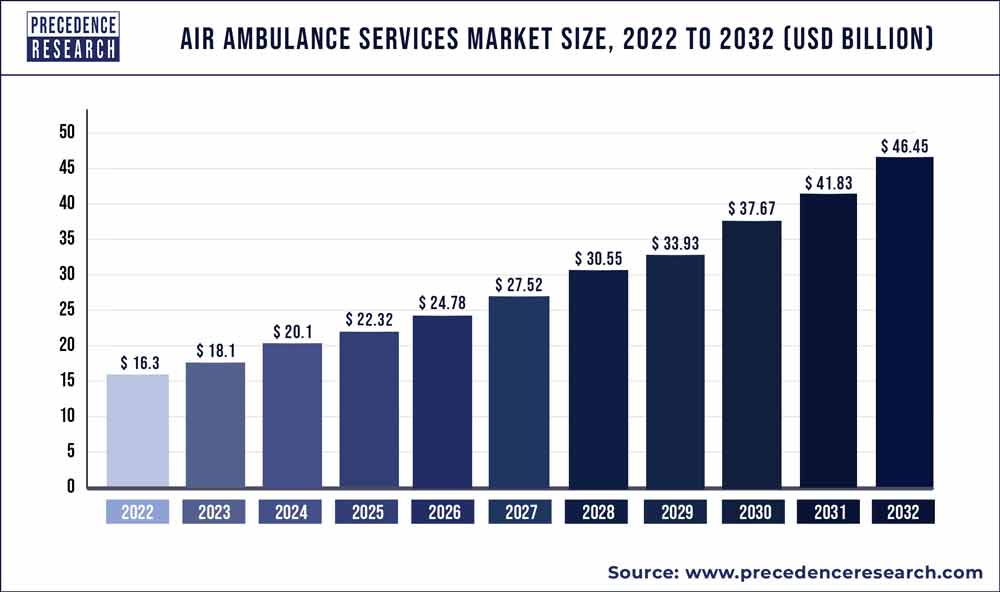 Access our Premium Real Time Data Intelligence Tool, Visit: Precedence Statistics
Key Takeaways:
North America dominated the market with the largest market share of 51% in 2022.
Asia Pacific region is expected to expand at the fastest CAGR from 2023 to 2032.
By Aircraft Type, the fixed wings segment is expected to witness the fastest rate of growth throughout the forecast period.
By Service Operator, the hospital-based segment led the global market in 2022.
Market Overview:
Air ambulances serve as a lifeline for very ill patients, playing an indispensable role in providing swift and vital emergency services, especially during severe situations. Chief responders rely on these services to conveniently transport patients from the scenes of injuries or accidents to nearby hospitals, saving precious minutes that can make all the difference. Moreover, air ambulances are a critical resource for physicians who need to transfer patients between healthcare facilities to access specialized care, such as trauma, cardiac, or stroke treatment that may not be available at the initial location.
In recent years, the air ambulance market, particularly air ambulance helicopters, has undergone remarkable transformations. The median prices charged by air ambulance providers for helicopter transport have experienced a substantial increase, nearly doubling in many cases. This upward trend in prices has been coupled with a significant rise in the number of air ambulance helicopters in operation. These developments have reshaped the landscape of emergency medical transportation, paving the way for more efficient and advanced services.
Various factors have contributed to the changes in air ambulance prices. Transport costs, including fuel, maintenance, and operational expenses, have had a direct impact on the pricing structure. Additionally, the volume of transport has played a role in shaping prices, as demand fluctuates based on geographic location, population density, and the prevalence of medical emergencies. It is evident that these factors will continue to influence the pricing dynamics of air ambulance services in the foreseeable future.
Growth Factors:
The utilization of air ambulances for patient transportation is on the rise, driven by advancements in technology within the air ambulance services sector. These technological developments consist of innovative equipment like advanced ventilator systems and heart monitoring devices, significantly enhancing the likelihood of patients' survival during their transit to the nearest medical facility.
Furthermore, advanced communication systems allow the real-time transfer of patient data to hospitals, enabling doctors to receive crucial information promptly and make informed decisions to save lives. Furthermore, the growing number of accidents and various medical emergencies, including heart attacks and strokes, has also led to a surge in demand for air ambulance services. Additionally, the market's expansion is further accelerated by the increasing collaborations between government bodies and helicopter emergency medical services (HEMS) providers.
As the air ambulance industry continues to evolve, providers are continuously striving to enhance their services and expand their reach. Ensuring the safety and efficiency of air ambulance operations remains paramount, requiring ongoing investments in innovative aviation technology and medical equipment. Furthermore, skilled medical personnel, including flight nurses, paramedics, and experienced pilots, are indispensable for the successful execution of these critical missions. As advancements in medical technology and aviation continue to improve the capabilities of air ambulances, these services will undoubtedly remain at the forefront of emergency medical response, providing vital support to patients and medical professionals alike.
Report Scope of the Air Ambulance Services Market:
| | |
| --- | --- |
| Report Coverage | Details |
| Market Size in 2023 | USD 18.1 Billion |
| Market Size by 2032 | USD 46.45 Billion |
| Growth Rate from 2023 to 2032 | CAGR of 11.04% |
| Largest Market | North America |
| Base Year | 2022 |
| Forecast Period | 2023 To 2032 |
| Segments Covered | By Aircraft Type and By Service Operator |
| Regions Covered | North America, Europe, Asia-Pacific, Latin America, and Middle East & Africa |

Market Dynamics:
Driver:
Rising aging population and prevalence of chronic diseases
The growing aging population and prevalence of chronic disorders is expected to fuel the growth of the air ambulance services market during the forecast period. The world's population is experiencing a significant demographic shift, with a considerable increase in the number of elderly individuals. An aging population is more susceptible to various health issues, such as heart diseases, respiratory problems as well as mobility impairments and often requires more frequent medical attention and is at a higher risk of experiencing medical emergencies. In such cases, air ambulance services are used for transporting elderly patients to medical centers that are equipped to handle their specific healthcare needs.
Furthermore, chronic diseases, such as diabetes, cardiovascular diseases, cancer, and respiratory conditions, are becoming increasingly prevalent worldwide. These diseases need medical management and can lead to acute or life-threatening emergencies. Such patients are likely to experience sudden complications or deteriorations in their health, necessitating immediate medical attention and transfer to specialized healthcare facilities. Air ambulance services make sure the timely transportation of such patients, especially when ground transportation may not be possible due to long distances or time constraints. Thus, the prevalence of chronic diseases is expected to fuel the demand for air ambulance services within the estimated timeframe.
Restraint:
High costs of air ambulance
The high costs are likely to limit the growth of the air ambulance services market during the forecast period. The cost of an air ambulance flight within the United States typically varies between $12,000 and $55,000. Numerous elements influence the pricing of air ambulance services. The distance to be covered is significant in determining the overall cost. Longer distances entail higher fuel consumption, increased crew hours, and additional operational resources, all of which contribute to escalated expenses. Moreover, operational costs, encompassing maintenance, insurance, licensing, and adherence to aviation regulations, also impact the total expenditure of air ambulance services.
Opportunity:
The emergence of AI
The emergence of artificial intelligence is likely to offer growth opportunities for the air ambulance services market in the years to come. The plane will operate autonomously, driven by an artificial intelligence (AI) system overseen by a skilled pilot from a remote command center. The AI technology integrated within the aircraft will navigate it adeptly through challenging urban settings. Upon reaching the site of the incident, a paramedic will provide immediate stabilization for the patient. Subsequently, the patient can be transported to a hospital significantly faster than if traditional land-based emergency response vehicles were employed.
Furthermore, artificial intelligence (AI) holds the promise of enhancing urban air mobility, elevating airline safety measures, streamlining flight scheduling processes, and facilitating predictive maintenance for aircraft. Through sophisticated algorithms, AI can comprehensively analyze diverse flight data, encompassing variables such as route length, altitudes, mileage, fuel consumption, and weather conditions, among others. By leveraging AI's capabilities, the application calculates the most efficient flight trajectory, not only minimizing emergency flight duration but also optimizing fuel consumption throughout the journey.
Segments Insight:
Aircraft Type Insights:
On the basis of aircraft types, the fixed-wing segment is expected to grow at the fastest rate during the forecast period. Fixed-wing air ambulances excel in covering extensive distances due to their superior fuel capacity in comparison to rotary-wing aircraft. Aircraft employing propellers are predominantly utilized for shorter journeys. Some of these propeller-driven planes, commonly referred to as turboprops, are occasionally employed for extended or remote travel.
Additionally, fixed-wing aircraft possess the capability to navigate challenging weather conditions at higher speeds and with extended range, all while ensuring the comfort of patients. Fixed-wing aircraft often carry the capacity to operate even during adverse environments, this element promotes the segment's growth.
Service Operator Insights:
Based on service operators, the hospital-based segment dominated the global air ambulance services market in 2022, the segment is observed to sustain its dominance throughout the forecast period. Hospital-based air ambulance services cater to the urgent medical needs of individuals residing in remote or outlying areas, distanced from urban centers. These air ambulances are staffed by a proficient medical team proficient in adhering to essential pre-hospital care protocols, ensuring efficient responses to emergencies and the needs of critically ill patients.
The helicopters employed by these services are exclusively designed to facilitate the swift transportation of individuals in urgent situations. Also, the medical personnel engaged in these transfers are sourced directly from hospitals. A skilled cohort of emergency physicians and paramedics, meticulously trained for airborne evacuations, is consistently present on all air-transfers. These services extend support to a diverse range of accident and emergency cases, encompassing even pediatric patients. These factors are likely to support the growth of the segment within the estimated timeframe.
Regional Insights:
North America held a considerable revenue share in 2022. The US dominated the North America region in 2022. The growth of the air ambulance services market within the region is being fueled by the increasing frequency of medical emergencies as well as the increasing aging population. Furthermore, the region enjoys a distinct advantage stemming from the availability of progressive medical facilities, and this coupled with the adoption of cutting-edge, technologically advanced air ambulance services, serves as a significant factor in the growth of the regional market revenue.
Furthermore, the United States healthcare system's emphasis on quality healthcare delivery is another factor driving the growth of air ambulance services. Hospitals and medical facilities prioritize efficient patient transfer to ensure that individuals receive appropriate treatments without delay. This is also likely to support the regional growth of the market.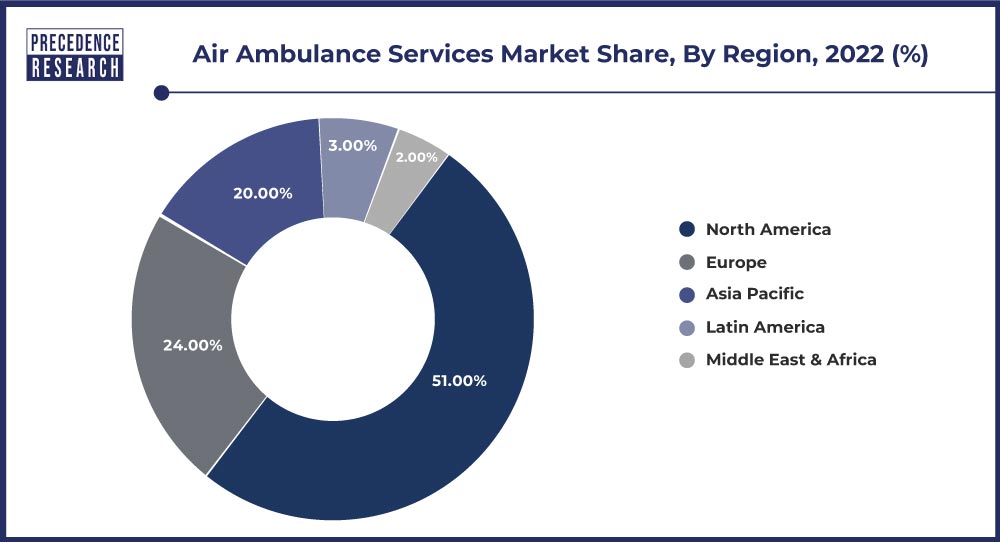 Asia-Pacific is expected to grow at the fastest CAGR during the forecast period. Emerging economies in the countries with the potential of adopting technologies such as China, India and Japan have shown a significant swift. The market in the region is observed to grow with the government's substantial efforts on improving healthcare services. Moreover, the healthcare sector in Asia Pacific is focused on advancing services with more advanced and real-time communication systems for quality care. This factor is observed to promote the market's growth. The presence of potential manufacturers to develop advanced modes of transportation in the region is expected to fuel the market's growth.
Recent Developments:
In August 2023, RED Health introduced its air ambulance service, currently accessible in Hyderabad and more than 550 other cities across India. These air ambulances offer cutting-edge medical technology and are staffed by extensively qualified critical care experts. The fleet comprises eight specialized aircraft, strategically capable of swiftly and effectively evacuating patients from diverse terrains and regions within the nation.
Key Market Players:
Air Methods Corporation
PHI Air Medical
REVA, Inc.
Global Medical Response (GMR)
Acadian Air Med
AMR Air Ambulance (American Medical Response)
Babcock Scandinavian Air Ambulance
AirMed International
Air Ambulance Worldwide
Jet Rescue Air Ambulance
AeroCare Medical Transport System
Lifeguard Air Ambulance
Segments Covered in the Report:
(Note*: We offer reports based on sub-segments as well. Kindly, let us know if you are interested)
By Aircraft Type
By Service Operator
Hospital-based
Independent
Government
By Geography
North America
Europe
Asia-Pacific
Latin America
Middle East and Africa