The global remote patient monitoring software and services market size was estimated at USD 6.9 billion in 2022 and it is projected to hit around USD 68 billion by 2032, anticipated to rise at a CAGR of 25.71% from 2023 to 2032.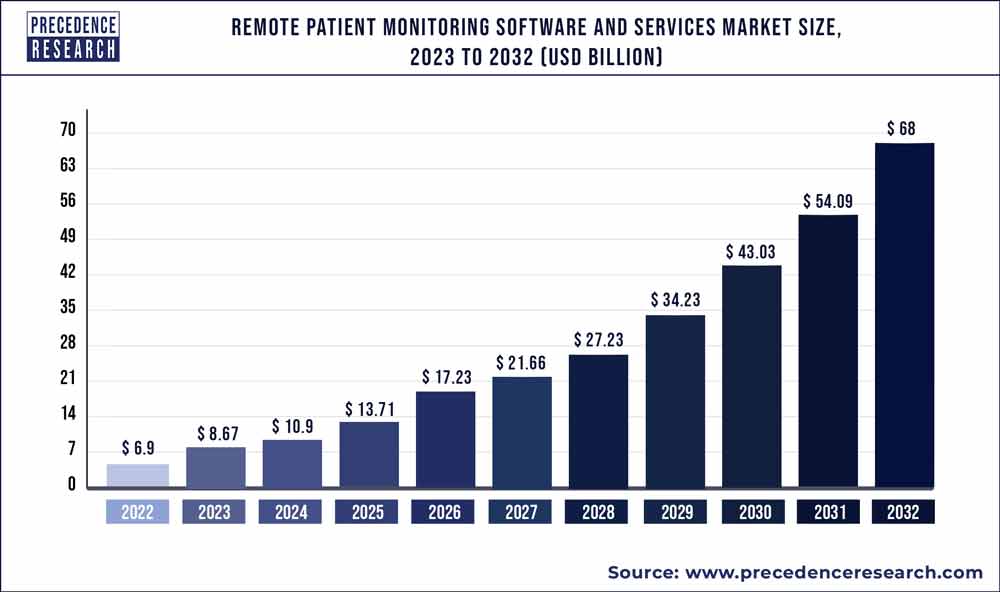 Remote patient monitoring software and services collect medical and other types of health data like clinical data, patient registry, and patient current health status is transmitted to a healthcare provider using digital technologies. In order to save money on treatment and hospitalization, the information might be collected at the patient's home.
Key Takeaways:
With a share of more than 53% of worldwide industry sales in 2022, North America dominated the market globally.
By type, in 2022, the services type segment dominated the global market and accounted for the highest revenue share of more than 82%.
By end use, in 2022, the providers' end-user sector dominated the whole business, contributing more than 45% of the total revenue.
Application Insights, by application, the others segment led the market in 2022 and was responsible for the highest portion of revenue more than 55.10%.
Growth Factor
Healthcare workers may monitor and treat patients outside of hospitals with the use of remote patient monitoring software and services. This is expected to fuel the industry's expansion. RPM software enables patients to communicate with medical staff members around-the-clock from distant places, which boosts patient engagement and leads to improved results. Particularly those individuals who struggle with movement owing to advancing age or certain illnesses like paralysis might benefit from these solutions.
The use of RPM software and services also gives consumers more control over their health and enables regular health updates from their doctors. It is expected that these elements will propel the sector. During the projection period, it is predicted that increasing internet usage in both developed and developing countries would accelerate the uptake of RPM software among patients and physicians. For instance, there were 291.4 million internet users in the United States in 2021 as opposed to 287.9 million in 2020. It is believed that this will improve this software's adoption. Additionally, it is projected that rising government investment in healthcare IT would contribute to the market's expansion.
The use of RPM software is anticipated to be fueled by the increasing prevalence of chronic diseases including arthritis, diabetes, Alzheimer's, and cardiovascular diseases throughout the world. With 58.5 million Americans suffering from arthritis, it is the most common cause of job incapacity, and it is expected that this will contribute to a rise in the usage of RPM software and services. Additionally, the industry is expanding as a result of the growing need to lower healthcare expenses.
The acceptance of these services is also being fueled by the rise of mHealth apps that provide remote monitoring services. The COVID-19 epidemic was beneficial to the sector. Due of safety concerns, the business expanded significantly during the epidemic. Some healthcare institutions were able to treat patients in homecare settings due to staff shortages and a need for hospital beds in the majority of the facilities, which led to a rise in the demand for software and services.
Hospitals implemented RPM initiatives to encourage patients' early discharge. Through the use of this software, the patients who had been released could subsequently be tracked remotely, aiding in the industry's expansion.
The growth of the Remote Patient Monitoring Software and Services Market is being driven by the incidence of lifestyle problems, growing usage of remote patient monitoring devices, and an increase in the population of older people.
The market is expanding due to the rising prevalence of chronic diseases, the aging population, and the rise in demand for home monitoring devices.
There is a growing trend of adapting to patient welfare and choosing home healthcare to avoid paying hospital expenses.
As hospitals' financial burden from a high number of inpatients increases, there is a global surge in the use of remote patient monitoring equipment.
Report Scope of the Remote Patient Monitoring Software and Services Market
| | |
| --- | --- |
| Report Coverage | Details |
| Market Size in 2023 | USD 8.67 Billion |
| Market Size by 2032 | USD 68 Billion |
| Growth Rate from 2023 to 2032 | CAGR of 25.71% |
| Largest Market | North America |
| Base Year | 2022 |
| Forecast Period | 2023 to 2032 |
| Segments Covered | By Type, By Application and By End User |
| Regions Covered | North America, Europe, Asia-Pacific, Latin America and Middle East & Africa |

Key Market Drivers
One factor is the rise of wearable patient monitoring devices
Continual glucose monitoring, temperature monitoring, blood pressure monitoring device, and pulse oximetry are just a few of the many uses for wearable patient monitoring devices, biosensors, and smart implants. Internet of things technology is incorporated into next-generation wearables. Vital indicators including blood pressure, weight, blood sugar, and electrocardiography (ECG) are collected by wearable biosensors and sent to a central server using mobile wireless networks. These specific elements are what propels the market's expansion.
Key Market Challenges
Shortages of experts in the healthcare sector
The absence of adequate reimbursement, tight regulatory requirements, a lack of qualified personnel in the healthcare sector, and unfavorable reimbursement rules will all slow the market's expansion.
Key Market Opportunities
The emphasis has changed due to rising healthcare expenses
Recent years have seen an increase in interest in alternative treatment modalities including home healthcare due to rising healthcare expenditures, particularly in hospital settings. Therefore, there is a significant need for efficient home-use equipment including thermometers, weight scales, pulse oximeters, electrocardiograph (ECG) monitors, event monitors, EEG recorders, and foetus monitors. For governments all across the world, the viability of the existing healthcare system is a key cause of worry.
Segments Insight
Type Insights
The services type segment was the highest revenue holder in 2022. The greater implementation of RPM software and services to lower hospital admissions is responsible for the large share of this market. The utilization of emergency response systems, medication management, and data-driven patient engagement solutions are a few of the services offered. Reduced response times and proper hospital allocation are made possible by emergency response systems, which benefit patients by enabling them to get better care.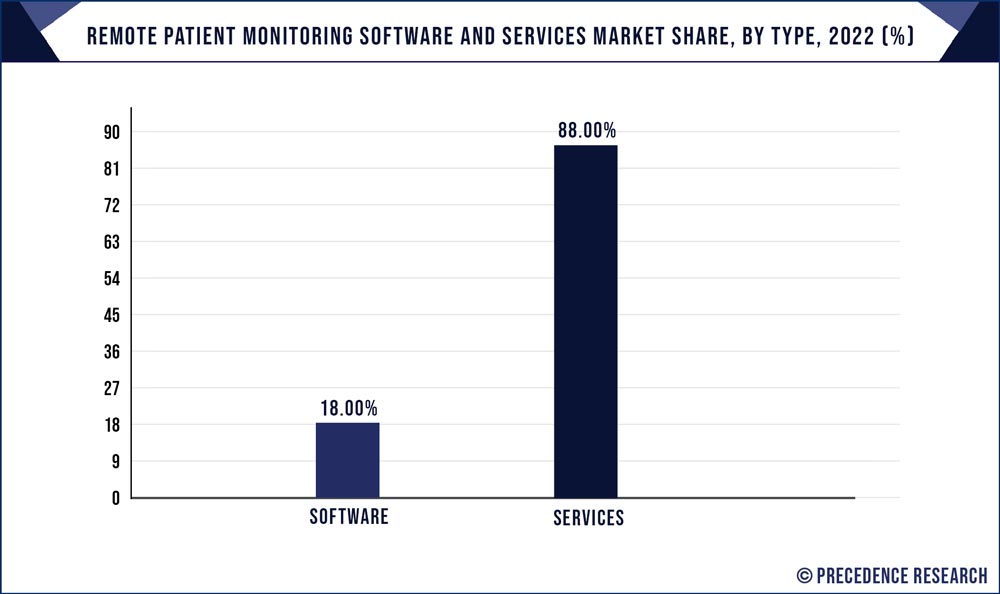 On the other hand, the projected period is expected to see the fastest increase in the software category. Smartphone and internet usage are becoming more widespread, which is helping the category develop. For instance, according to information made public by bankmycell, there were 6.05 billion cell phones worldwide in 2020 and 6.37 billion in 2021. This is expected to accelerate the uptake of RPM solutions. During the projected period, it is predicted that recent advancements in 4G and 5G networks and video conferencing systems would propel the segment's growth.
End Use Insights
The provider segment has held the largest revenue share in 2022. Hospitals, clinics, doctors, and clinicians are some of the providers. The providers' increased use of remote patient monitoring services is one factor that is projected to fuel the segment's expansion. For instance, 53% of doctors expressed interest in employing remote monitoring services to care for their patients in 2021, according to a poll by the American Medical Association.
During the projection period, this is likely to provide the category a significant boost. During the projection period, the patients' sector is predicted to see the quickest CAGR. During the projected period, it is predicted that factors like more usage of the services to cut healthcare expenses and improved doctor interaction would fuel segment expansion. Industry surveys predict that in 2021, 4 out of 5 Americans would support using remote monitoring to provide medical care. According to the research, 85% of those who employed remote patient monitoring for medical purposes were between the ages of 18 and 34.
Application Insights
By application, the other segment led the market in 2022. The segment is expected to be driven by the usage of RPM software and solutions for remote monitoring of chronic illnesses, such as Alzheimer's, arthritis, hypertension, and paralysis. Key elements that are projected to fuel sector expansion during the forecast period include the rising prevalence of these illnesses globally and the growing geriatric population. Patients with ailments including arthritis and paralysis experience mobility challenges, which is predicted to increase demand for these services and support the segment's expansion.
During the projected period, the diabetes category is expected to increase at the quickest rate. Blood glucose levels must be continuously monitored for diabetes, which can be done remotely. The functioning of the liver, eyes, heart, and kidneys can all be impacted by diabetes. In the next years, this is expected to fuel category expansion. Partnerships between public and commercial companies to offer remote diabetes monitoring are predicted to further fuel the industry.
For instance, the University of Mississippi Medical Center and North Mississippi Primary Health Treatment collaborated to expand access to remote monitoring for diabetic care. In eight American cities, including Corinth, Ashland, Booneville, Oxford, New Albany, Ripley, Tishomingo, and Walnut, the initiative hopes to engage at least 1,000 individuals.
Regional Insights
North America dominated the market globally with the highest revenue share in 2022. The region's market is expected to increase as a result of factors including the use of remote patient monitoring services and the accessibility of digital infrastructure. The regional government's initiatives are also anticipated to accelerate the use of RPM solutions.
For instance, the Rural Remote Monitoring Patient Act was presented by U.S. lawmakers in June 2021; it is anticipated that the measure would establish a virtual health pilot program to assist in the provision of remote patient monitoring software and services in rural regions of the U.S. The law will aid in enhancing patient access to remote patient monitoring and assisting healthcare professionals in providing better patient care.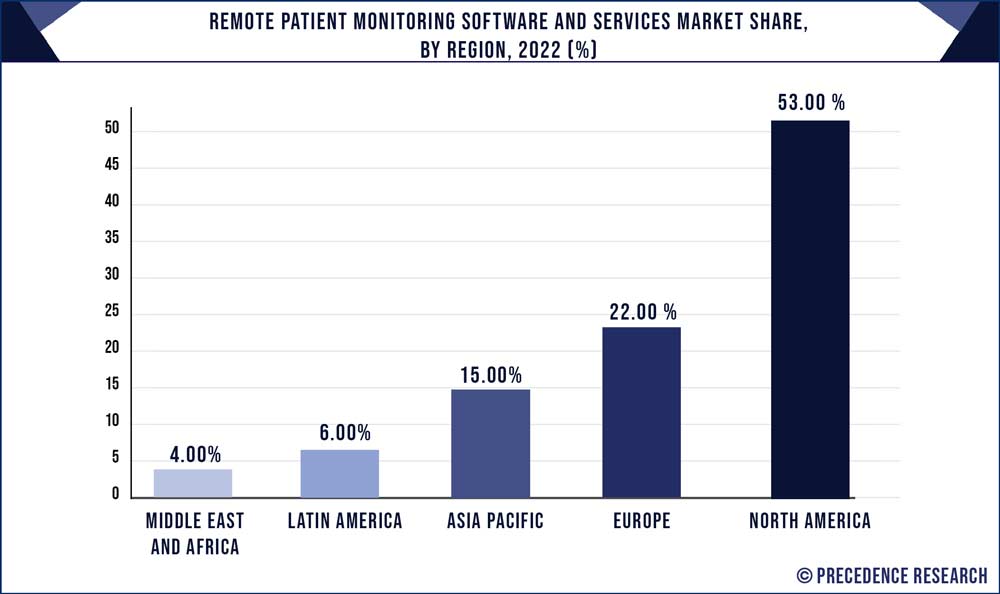 As healthcare expenses rise and the frequency of chronic illnesses like type II diabetes and hypertension rises, the Middle East and Africa area is expected to experience considerable increase throughout the projection period. Additionally, it is projected that the use of RPM to lighten the load on healthcare institutions together with rising expenditures by public and private entities to develop the digital healthcare system would accelerate industry growth in the area. For instance, 30% of hospital spending in the Middle East and North Africa would go toward virtual care, artificial intelligence, and remote patient monitoring, according to a Healthcare IT News story from June 2022.
Recent Developments
Medtronic announced a collaboration with BioIntelliSense in August 2021. Through this collaboration, Medtronic will provide 30-day post-acute hospital-to-home rights and BioButton to hospitals in the United States. A multi-parameter wearable device called BioButton monitors patients' vital signs.
In July 2020, Medtronic reported that the Linq II insertable cardiac monitor (ICM) has received approval from both the European CE mark and the U.S. Food and Drug Administration. The monitor has remote programming capabilities that enable professionals to keep an eye on patients and modify device settings without requiring the presence of actual patients in clinics and hospitals.
Key Market Players
Teladoc Health, Inc.
Medtronic Plc.
GE Healthcare
Siemens Healthineers AG
Philips Healthcare
Caretaker Medical
OMRON Healthcare
BioIntelliSense
Shenzhen Mindray
Bio-Medical Electronics Co., Ltd.
Nihon Kohden Corporation
F. Hoffmann-La Roche Ltd
Welch Allyn
Smiths Medical
Abbott
Boston Scientific Corporation
Honeywell
Johnson & Johnson
LifeWatch, Medtronic.
Segments Covered in the Report
(Note*: We offer report based on sub segments as well. Kindly, let us know if you are interested)
By Type
By Application
Cancer
Cardiovascular Disease
Diabetes
Sleep Disorder
Others
By End User
Payers
Patients
Providers
By Geography
North America
Europe
Asia-Pacific
Latin America
The Middle East and Africa