The artificial intelligence (AI) in packaging market is surging with an overall revenue growth expectation of hundreds of millions of dollars from 2023 to 2032.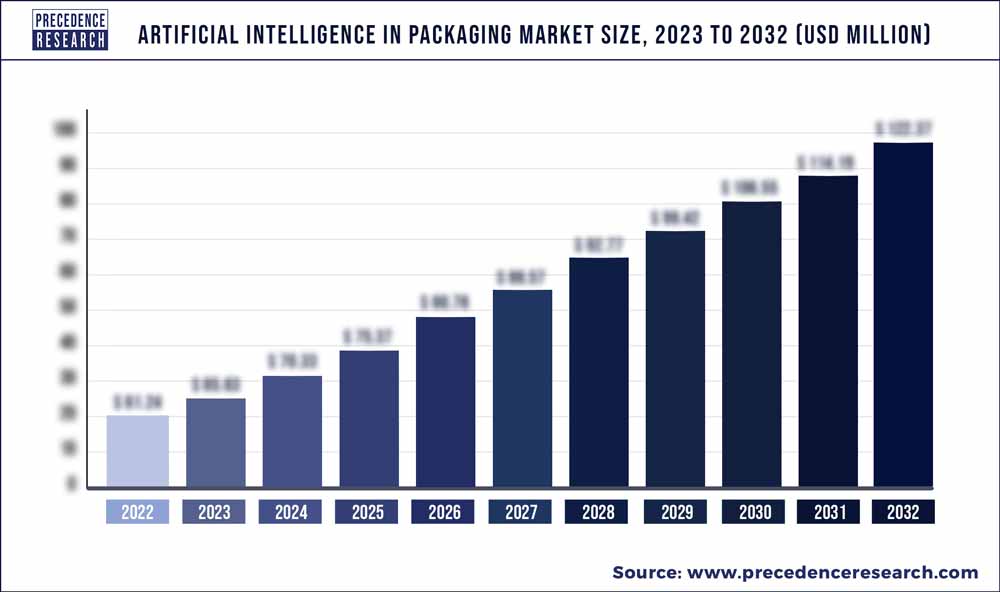 Market Overview:
Constant artificial intelligence integration with the packaging sector and the quickly evolving behavior of the automation-driven packaging market have positively impacted the entire manufacturing process. The incorporation benefits the process and significantly affects the quantity and quality of the product. Rapid globalization and expansion in global trade have increased the demand for faster, more innovative, and more efficient processes in manufacturing warehouses and facilities.
Sorting recycled products is the most common application of artificial intelligence in the packaging industry. In 2022, AMP Robotics Corp. ("AMP"), a pioneer in artificial intelligence (AI), robotics, waste and recycling infrastructure, developed an AI-powered automation solution to enhance film and flexible packaging recovery.
Key Points:
By geography, the North America will dominate the global market from 2023 to 2032.
By technology, the machine learning segment is going to be the fastest-growing segment from 2023 to 2032.
By technology, the machine vision segment is predicted to expand at the fastest pace in 2023.
By application, the smart warehousing segment is projected to expand to the largest in the market from 2023 to 2032.
By end-user, the food & beverage segment is projected to hold on the largest portion.
Report Scope of the Artificial Intelligence In Packaging Market
| | |
| --- | --- |
| Report Coverage | Details |
| Base Year | 2022 |
| Forecast Period | 2023 to 2032 |
| Largest Market | North America |
| Fastest Growing Market | Asia Pacific |
| Segments Covered | By Technology, By Application and By End-User |
| Regions Covered | North America, Europe, Asia-Pacific, Latin America and Middle East & Africa |

Market Dynamics:
Supply chain optimization to drive market growth
Supply chain optimization entails using AI to streamline the packaging production process from start to finish by incorporating numerous milestones such as throughput timeframes, labor costs at every manufacturing step, total cost savings due to the utilization of automated processes vs workforce, and others.
Some businesses have used AI to enhance their manufacturing technology through robotics. Packaging machines are becoming increasingly capable of performing complex tasks without the need for human intervention. One example is a machine that selects pre-designed labels with detailed information based on the order it receives from its human operator.
AI also aids in the identification of defective products, allowing them to be removed easily from the final product. This enables the rest of the batch to move faster through production lines without worrying about missing one piece of faulty product among thousands of others. All this led to a decrease in the chances of errors while manufacturing.
The growing number of complex and large datasets
The growth of large and complex datasets is influencing the popularity of artificial intelligence in packaging. AI improves efficiency by simplifying activities such as converting raw data into valuable marketing insights. Companies produce better products, expand their customer base, and increase profits. For instance, the Mall customers dataset includes information about people who visit a mall in a specific city.
The dataset consists of columns such as gender, age, annual income, customer ID, and spending score. Customers are typically segmented based on their interests, age, and income.
Restraints
Significant capital investment
Installing an automated packaging system in an existing or new packaging line requires a significant financial investment. The food & beverage industry is highly fragmented, with many medium- and small-sized companies offering a wide range of products. Some manufacturers are hesitant to install packaging robots due to the significant financial investment required for installation and maintenance.
Furthermore, local distributors and manufacturers dominate other industries, such as consumer goods and tracking & logistics, which generally need more financial resources to invest in facility-automated systems. The budget restrictions of various small businesses across various end-use industries would drive them to choose labor, which hampers the growth of AI in the packaging market.
Opportunities
Consumers can see what's inside the package without having to open it by using augmented reality (AR) and virtual reality (VR) headsets.
According to eMarketer, there were 57.4 million VR users and 90.9 million AR users in the US in 2020. As interactive VR headsets like the Oculus Rift and HTC Vive become more affordable for small businesses, virtual reality will become a standard component of several companies' customer experience and packaging design.
Major retailers like Target and Walmart are currently using this technology. Home Depot has tested integrating VR into various aspects of their business, from instructing new employees in simulated store layouts to assisting customers in visualizing what furniture for living rooms would look like in their homes.
According to research, global shipments of augmented reality and virtual reality headsets amounted to 5.5 million units in 2020 and are anticipated to reach 43.5 million by 2025. This is further going to support industrial growth by integrating VR and AR.
The abovementioned factors are anticipated to enhance the demand for artificial intelligence in packaging.
Covid-19 Impact:
COVID-19 forced many companies in the AI packaging market to temporarily halt operations to comply with novel government regulations intended to stop the spread of disease. This halt in operations immediately impacted the overall revenue flow of the market. Furthermore, industrial manufacturing ceased due to raw materials shortage and labor throughout the lockdown. Moreover, no new consignments were received by firms in this sector.
Due to this, the global market suffered for several months from a shutdown in manufacturing and lockdowns, and the industry is projected to recover gradually during the projected timeline. Governments prioritize automation acceptance by focusing on cutting-edge technologies such as machine learning, 3D printing, deep learning, artificial intelligence (AI), and machine vision, all of which contribute to long-term market growth. Hence, an increase in demand for contactless delivery and packaging systems led to the development of AI in the packaging market during the post-COVID period,
Segments Insight
Technology Insights
The market is divided into machine learning (ML), machine vision, and others. of this, ML is going to be the fastest-growing market segment from 2023 to 2032. The main reason is the growing demand for ML in data labeling, process automation, and content inspection throughout product QA/QC. Wrongly labeled products can result in inspection failures, customer dissatisfaction, and a reduction in profits.
Date labeling became a standard by utilizing ML, ensuring fewer manual errors and greater process efficiencies. ML is used throughout the packaging supply chain to assist businesses with preventive analytics and cybersecurity. According to a recent Anchore survey, three out of every five companies were targeted by software supply chain attacks in 2021.
On the other hand, the machine vision sector is anticipated to expand at the fastest pace in 2023. Machine vision (MV), a subcategory of computer vision, is a critical AI technology that plays a significant role in manufacturing companies. Packaging companies use MV in their machines to perform visual inspections, ensure correct date labeling, and improve recycling.
For real-time quality control, fast and precise MV systems enable 100% product inspection with low error rates. As more industries turn to artificial intelligence to gain a competitive advantage, MV systems use deep learning (DL) to broaden the scope of inspection types.
Application Insights
Artificial intelligence in the packaging market is classified into quality inspection, data labeling, AIE of packaging, smart warehousing, AI-based recycling systems, and others based on application. From 2023 to 2032, the smart warehousing section is anticipated to expand to the largest in the industry.
The expansion of smartphones for speedier product management, the development of artificial inspection in the eCommerce sector due to COVID-19, the occurrence of multi-distribution channels, and the globalization of supply chain systems are all anticipated to drive the expansion of the smart warehousing segment.
AIE is projected to expand at the fastest rate. Artificial intelligence has proven to be a dependable technology for guiding the industry's next evolution, from manufacturing to packaging to distribution. Growing demands for eco-friendly recyclable packaging, consumer products, and the circular economy are just a few of the crucial factors driving the packaging industry to incorporate AIE.
For instance, Monolith AI is the only product engineering AI provider that works with all types of engineering data to assist manufacturers in developing more sustainable products while maintaining the quality that business buyers and end consumers expect. L'Oreal, Aptar use Monolith AI and other packaging retailers and manufacturers to not only produce more sustainable packaging for products but also to predict the effectiveness of each design.
End User Insights
The market is divided into the food and beverage industry, the medical and pharmaceutical industry, the cosmetic industry, the consumer electronics industry, and others based on the end-user. From 2023 to 2032, the food & beverage industry is predicted to hold on the largest portion of the global market.
Consumer preferences for affordable, fast, non-contaminant, and easily accessible food options assisted the segment in maintaining its market dominance. ML and AI have aided in scaling operations and remaining market relevant. The food & beverage sector is an important market for AI. According to a survey, the global food and beverage market is expected to be worth more than $2 trillion by 2025.
Strong growth in emerging markets such as Asia Pacific, Africa, and Latin America propels the sector. In this rapidly expanding market, artificial intelligence (AI) is used to optimize supply chain management by improving product tracking capabilities throughout the supply chain, enabling companies to enhance the quality of product control before reaching customers. AI can also enhance customer relationships by analyzing sales data from online and physical stores to understand customer purchase behavior better.
On the other hand, the cosmetic industry is anticipated to grow at the fastest pace due to enhanced new entrants into the cosmetic industry that results in increased product and packaging innovation to achieve a competitive advantage. Companies have shifted their sales to online platforms as internet usage has increased. As a result, demand for overall cosmetic products has increased, facilitating the expansion of the packaging industry.
Furthermore, businesses have begun to focus on the economic middle-class consumer segment. This has led to companies introducing small packaging for their products, influencing the packaging industry's demand. Due to the introduction of new packaging methods, the introduction of eco-friendly and sustainable packaging has significantly impacted the industry's overall growth.
Regional Insights
From 2023 to 2032, North America will dominate the global market. The increasing acceptance of AI technologies in the packaging industry and increased public-private collaborations to launch innovative machinery are some drivers fueling the growth of the North American region. With high-end technologies such as artificial intelligence (AI) and the Internet of Things (IoT) capturing the attention of multiple industrial verticals, demand for advanced packaging is expected to rise among IDMs and foundry suppliers.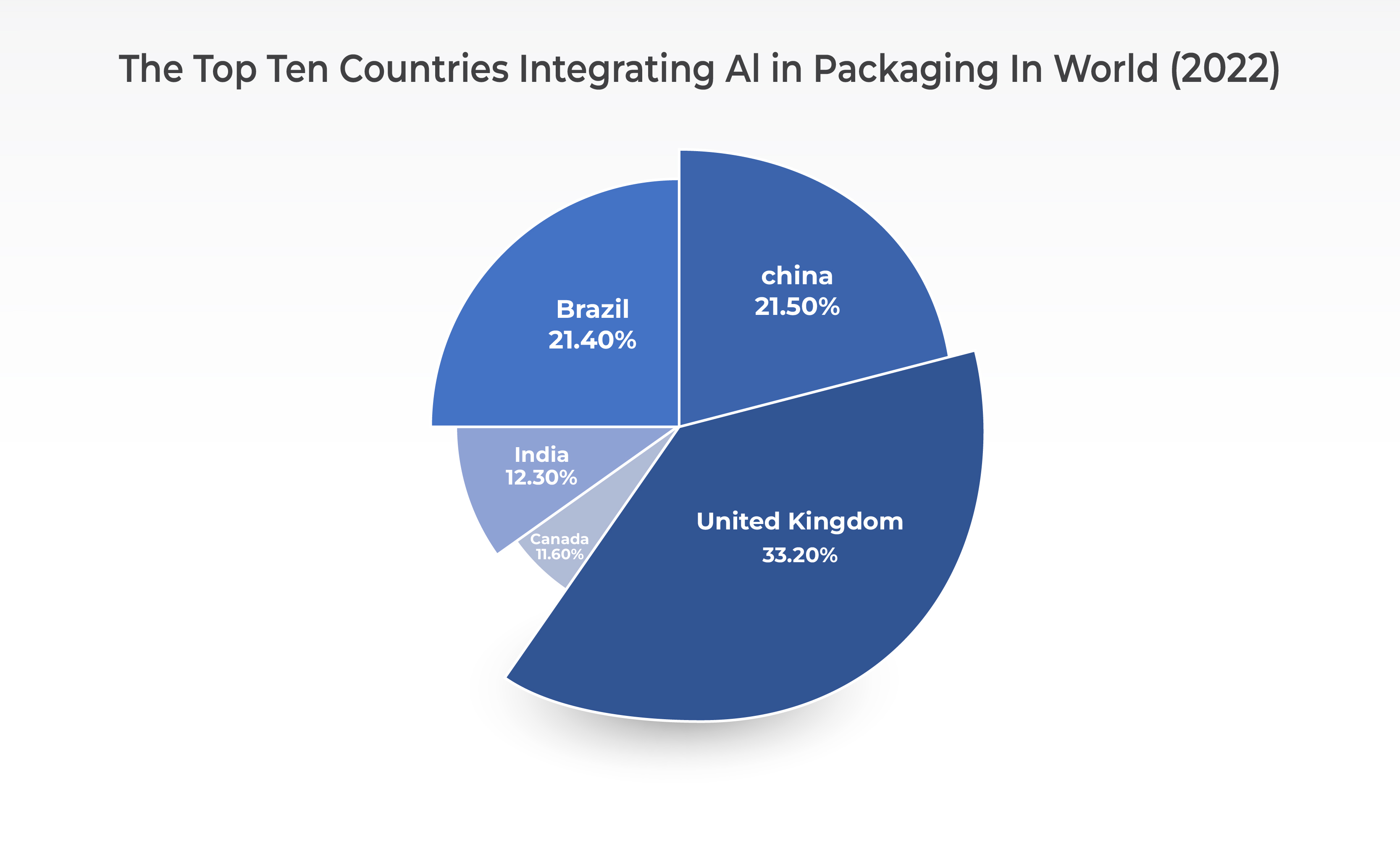 The existence of several renowned market players in the region, including Broadcom, Skyworks, and Qualcomm, will positively influence market development.
Furthermore, the Asia-Pacific region is the market's fastest-expanding region during the projected period. The APAC market is growing the fastest due to rising sales for packaged food items, a thriving pharmaceutical packaging sector, and increasing growth strategies.
Recent Developments:
ABB Robotics collaborated with Zume in November 2021. ABB supplies robotic cells for Zume's global continuous packaging production, limiting the company's reliance on single-use plastics.
In October 2021, Schneider Electric Canada and OptiMach established a collaborative venture. The businesses sought to increase their operational responsibilities so that OptiMach could provide customers with a robotic and autonomous solution that was catered to their demands.
Key Market Players
SIG Combibloc
Tetra Pak
Stora Enso
Metsä Board
Ardagh
Sealed Air
Mondi
Berry Global
WestRock
Verallia
DS Smith
Georgia-Pacific. Amazon
Microsoft
GE Digital
ABB
Otto Motors
Universal Robots
Clarifai
Neurala
Segments Covered in the Report
(Note*: We offer report based on sub segments as well. Kindly, let us know if you are interested)
By Technology
Machine Vision
Machine Learning
Others
By Application
AIE of Packaging
Smart Warehousing
Data Labeling
Quality Inspection
AI-based Recycling Systems
Others
By End-User
Food & Beverage Industry
Cosmetic Industry
Medical and Pharmaceutical Industries
Consumer Electronics Industry
Others
By Geography
North America
Europe
Asia-Pacific
Latin America
The Middle East and Africa