The global alcohol packaging market size was reached at USD 50.14 billion in 2022 and is projected to hit around USD 74.94 billion by 2032, growing at a CAGR of 4.10% during the forecast period from 2023 to 2032.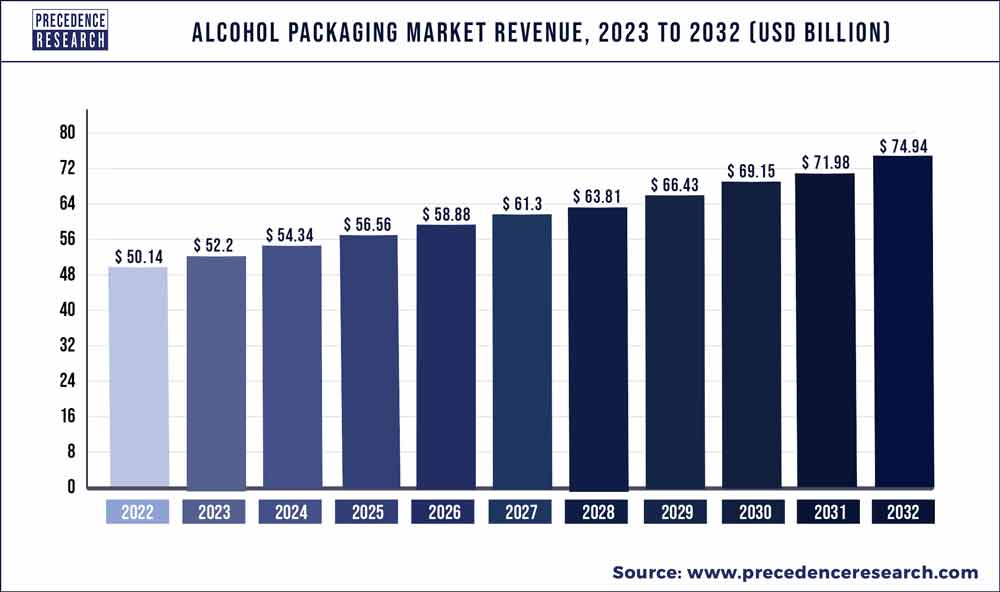 Key Takeaways:
North American region is anticipated to hold a sizable share over the forecast period.
By material type, Plastic containers and bottles are in higher demand than other materials in the food and beverage industry due to their flexibility and ease of use.
By packaging type, primary packaging dominates the market globally.
By End use, since beer accounts for nearly two-thirds of the market value, it will likely dominate the global alcohol packaging market.
Market Overview:
Alcohol packaging uses primary and secondary packaging to package various types of alcohol. The increase in alcohol consumption has raised the demand for alcohol packaging. Similar to how population growth has increased capital income, so has the amount of alcohol consumed globally.
The requirement for alcohol packaging from end-use industries like the alcohol industry is what is fueling the market's expansion globally. In addition, the entry of fresh local competitors into this market and creative packaging that enhances product appeal are anticipated to fuel market expansion internationally.
Growth Factors:
Major alcohol-producing companies use ceramic glass bottles, bag-in-box, whiskey pouches, bag-in-tube, and other eye-catching packaging formats. The market is significantly impacted by shifting consumer preferences. Vendors in the worldwide alcohol packaging market have tapped into the needs and want of the wealthiest customers. These companies also invest in packaging technologies, which are a dependable part of the global market dynamics.
The use of alcohol packaging will increase as trends in drinking alcohol change in the future. Numerous well-known vendors have recently entered the global alcohol packaging market.
Increasing demand in the alcohol packaging market is greatly influenced by the appeal of the brand being purchased. This component has been a significant factor in driving sales in the global alcohol packaging sector. The total amount of money entering the global alcohol packaging market has increased with the introduction of new alcoholic beverages like beer and guinea.
Additionally, emerging nations are consuming more alcohol, and the growing purchasing power of the general public has allowed them to experiment with new alcoholic flavors. These factors all support the growth of the global alcohol packaging market. Additionally, there is little disagreement among businesses regarding alcohol consumption.
Report Scope of the Alcohol Packaging Market:
| | |
| --- | --- |
| Report Coverage | Details |
| Market Size in 2023 | USD 52.2 Billion |
| Market Size by 2032 | USD 74.94 Billion |
| Growth Rate from 2023 to 2032 | CAGR of 4.10% |
| Largest Market | North America |
| Base Year | 2022 |
| Forecast Period | 2023 to 2032 |
| Segments Covered | By Material, By Packaging Type and By End Use |
| Regions Covered | North America, Europe, Asia-Pacific, Latin America and Middle East & Africa |

Market Dynamics:
Driver:
Rising consumption
Major alcohol producers use ceramic glass jars, whiskey pouches, bag-in-box packaging, bag-in-tube packaging, and other appealing packaging designs. The industry under consideration is significantly impacted by changing consumer preferences. Suppliers in the global alcohol packaging market have tapped into the needs and desires of the wealthiest customers. These companies also invest in packaging systems, which have grown to play a significant role in the organization of the world market.
Over the next ten years, as drinking habits change, alcohol packaging will be used more frequently. The global market for alcohol packaging has recently welcomed several well-known suppliers. For the leading sector providers, this growth and advancement dynamic is essential. The appeal of the purchased brands is essential to increasing interest in the global alcohol packaging market. This element has been a significant sales motivator for alcohol-based products in the global packaging industry. The adoption of novel alcoholic beverages like beer and wine has increased the overall revenue of the global alcohol packaging market. Alcohol consumption is also growing in emerging markets, and the general populace's expanding purchasing power has allowed them to experiment with new alcohol tastes. The market for alcohol packaging is expanding globally due to all of these factors.
Restraint:
Harmful packaging waste
The environmental harm that packaging waste causes and the strict regulations on the materials used in rigid liquor packaging are the factors limiting the growth and development of the global alcohol packaging industry. Additionally, fluctuating raw material prices may impede growth.
Opportunity:
New packaging trends
New packaging trends in the alcoholic beverage industry appear as packaging processes continue to advance. These ideas increase brand recall and purchase intent or divert customers' attention from a compelling message.
While being environmentally friendly is a common theme for all categories, each category has its distinctive shifts, such as using pop-top cans, beer and cider bottles, wine, and saki bottles, custom boxes, gift sets, etc.
Segments Insight:
Material Insights:
Alcohol packaging bottles that cannot be damaged or broken during transport are made using plastic bottles and flexible bags in boxes instead of glass bottles. Additionally, they are lighter than glass bottles, portable, and recyclable. So that numerous companies can advertise the benefits of their products and packaging. Their product packaging can offer greater convenience, food protection, and consumer communication easily.
Alcohol packaging design is crucial for a specific product and brand. Then, all alcohol packaging must be water as well as alcohol resistant and must not change the flavor or alcohol content of the product. Bag-in-box beverage packages were introduced to increase convenience while reducing the weight of the package and preventing breakage and damage to glass bottles during packaging.
Packaging Type Insights
The primary packaging type dominates the market. Growlers, liquid bricks, cartons, pouches, bottles, cans, and bags in boxes are just some of the packaging options available for the primary market. Alcohol packaging aims to safeguard, maintain, and inform the consumer.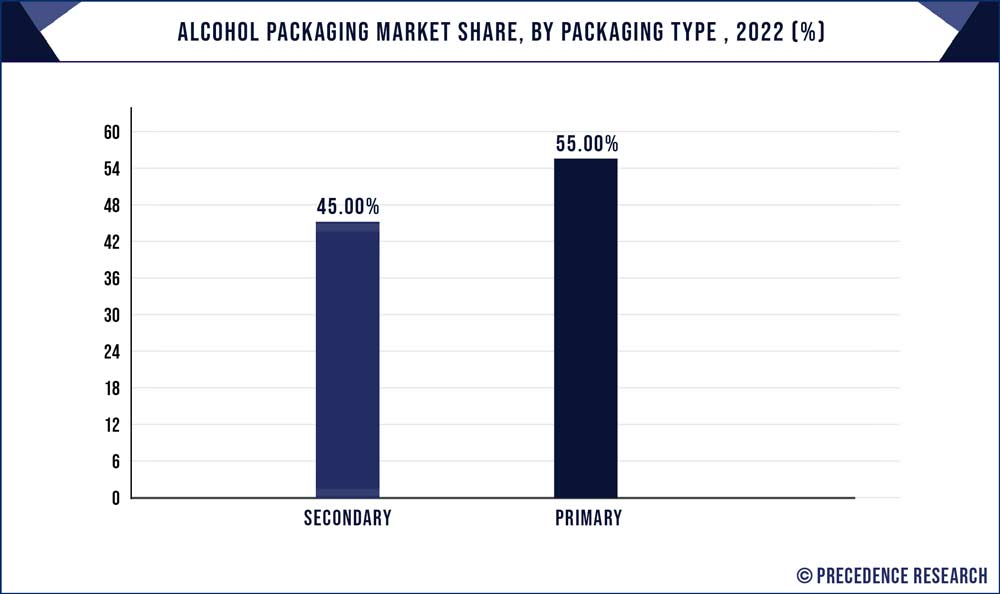 The package that comes into direct contact with the product is the primary packaging, also called the customer's unit. The consumer or end user is typically the target consumer for this kind of packaging. Items are not only made more straightforward for customers to handle but also more appealing and can be used to communicate with customers by giving them written product details.
End Use Insights:
The beer market will dominate the global market for alcoholic beverages. One of the oldest and most popular alcoholic beverages is beer; after coffee and tea, it is the third most popular beverage. Beer is a popular party beverage among millennials, and it is a crucial component of the feast, promoting social group cohesion.
Beer is healthier than any other alcoholic beverage and rich in proteins, vitamins B, and antioxidants. Beers range in alcohol content from less than 3% to 40% by volume, depending on the brand and formula. Beer consumption lowers the possibility of developing kidney stones.
Other advantages of beer include its high silicon content, which strengthens bones, and its soluble fiber, which lowers bad cholesterol. The main factors propelling the global beer industry include the rising number of breweries and the expanding demand for beer globally. The industry has seen an increase in the sale of low-alcohol beers due to growing demand from health-conscious consumers.
Regional Insights:
The increasing preference for beer and craft beer among the younger and elderly population, the North American region is anticipated to hold a sizable share over the forecast period. To rapidly speed up their operations and meet the growing demand for alcoholic beverages, market participants are additionally making more investments and growth initiatives.
For instance, Crown Holdings, one of the top packaging solutions providers, recently announced plans to expand their beverage can manufacturing facility in Bowling Green, Kentucky, USA, to meet the region's growing demand for craft beer and beverage cans in February 2020. The facility in Kentucky Transpark will have a total floor area of 327,000 square feet, and it is anticipated that operations will start in the second quarter of 2021.
Additionally, it is anticipated that the Asia Pacific region's market share will increase significantly throughout the forecast period. This is due to the fact that there are more and more market participants offering improved and cutting-edge solutions to support the beverage packaging industry in nations like Australia and India, among others. This results from the younger and elderly populations in these countries' growing inclination toward various alcoholic beverages.
Recent Developments:
March 2022 - For a price not disclosed, the hybrid packaging firm Berline Packaging purchased the Canadian glass bottle manufacturer United Bottles and Packaging. Berline Packaging will profit from the acquisition by improving its position in the Canadian food and beverage industry and extending its glass capabilities across North America.
June 2022 - The purchase of Scholle IN, a flexible packaging company, was completed by SIG, a Swiss aseptic packaging supplier. In February of this year, SIG and Scholle IP agreed to merge for an enterprise value of USD 1.53 billion and an equity value of USD 1.2 billion. The Northlake, Illinois-based company Scholle IPN provides environmentally friendly packaging systems and solutions for the food, retail, beverage, institutional, and industrial markets.
Key Market Players:
Amcor plc.
Bemis Manufacturing Company, Nampak Ltd.
Crown
Sidel Group
ProAmpac.
Ardagh Group S.A.
Sonoco Products Company
BALL CORPORATION
Krones AG
Diageo PLC
Berry Global Inc.
Saint-Gobain Group.
Brick Packaging
Tetra Pak Group
O-I Glass, Inc.
Orora Packaging Australia Pvt Ltd.
Vetreria Etrusca
Creative Glass
Segments Covered in the Report:
(Note*: We offer report based on sub segments as well. Kindly, let us know if you are interested)
By Material
Glass
Plastic
Metal
Others
By Packaging Type
Primary
Secondary
By End Use
Beer
Wine
Spirit
Other
By End Use
By Geography
North America
Europe
Asia-Pacific
Latin America
Middle East and Africa