The global amino acids market size was accounted at USD 26.55 billion in 2022 and it is expected to hit around USD 57.58 billion by 2032 with a compound annual growth rate (CAGR) of 8.1% from 2023 to 2032. U.S. amino acids market was valued at USD 3.9 billion in 2022.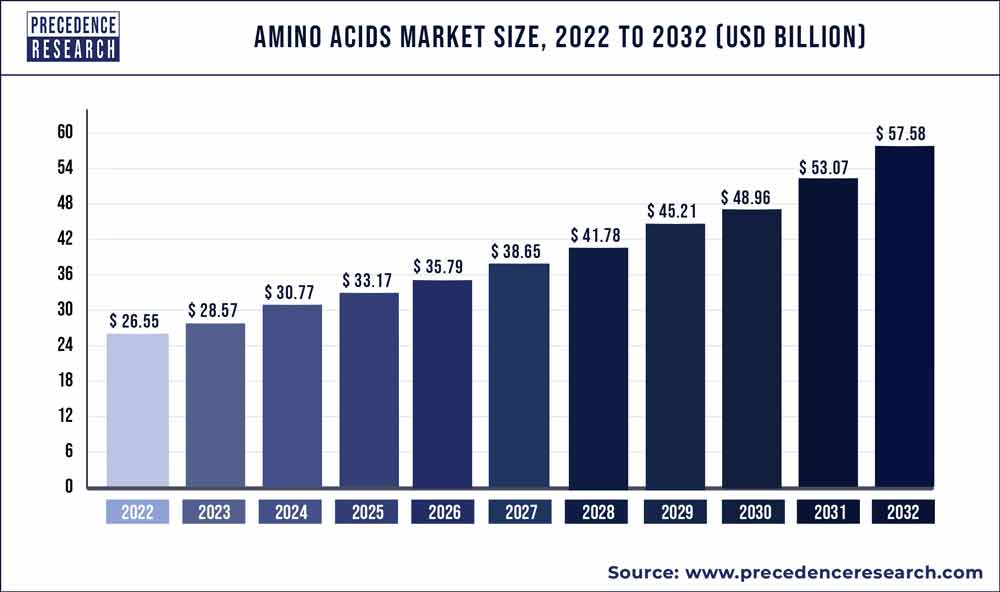 During the projected period, demand for amino acids is expected to be driven by rising consumer awareness of leading a healthy lifestyle and rising meat and animal products consumption. The creation of proteins requires amino acids, which are also responsible for ensuring that the human body functions properly. They advocate for enhancing metabolism, avoiding muscular deterioration, and reducing the danger of cardiovascular diseases. These characteristics make them popular in the healthcare industry for use in nutritional and therapeutic applications.
Commercially, amino acids are produced via fermentation, extraction, and chemical synthesis from a variety of plants and animals, including soybean, corn, wheat, blood, skin, and hair. Globally, research and development efforts are being made to increase the quality and yield of extracted amino acids.
Key Takeaways:
Asia Pacific amino acids market has accounted 49% revenue share in 2022.
By raw material, plant-based segment has held revenue share of 86.5% in 2022.
The plant-based raw materials segment has captured highest revenue share of 86.5% in 2022.
By product, L-glutamate has captured revenue share of 49.7% in 2022.
By livestock, the poultry industry has held revenue share of 44% in 2022.
By application, food and dietary supplements segment accounted revenue share of 57% in 2022.
Growth Factors
Demand for nutritious foods has increased as customers' awareness of their health has grown. This has encouraged food and beverage producers to release goods enriched with important nutrients, like amino acids, which has increased consumer demand for them. In addition, in order to improve their performance and muscle growth, bodybuilders as well as athletes are increasingly favoring protein-rich goods. Sports supplements, nutrition bars, energy drinks, low-carbohydrate foods, and nutritional supplements are a few of these items. Aside from that, amino acids are employed in animal feed to satisfy the animals' needs for protein. Additionally, the creation of proteinogenic amino acids, which are integrated into proteins during translation, has greatly benefited from ongoing biotechnology advancements.
Report Scope of the Amino Acids Market
| | |
| --- | --- |
| Report Coverage | Details |
| Market Size in 2023 | USD 28.57 Billion |
| Market Size by 2032 | USD 57.58 Billion |
| Growth Rate from 2023 to 2032 | CAGR of 8.1% |
| Base Year | 2022 |
| Forecast Period | 2023 to 2032 |
| Segments Covered | Raw Material, Product, Application, Livestock, Form, Function, Purity Level, and Geography |
| Companies Mentioned | 3D Systems Corporation (US), Stratasys, Ltd. (US), Materialise NV (Belgium), Arkema SA (France), Evonik Industries AG (Germany), General Electric (US), The ExOne Company (US), Hoganas AB (Sweden), Royal DSM N.V. (Netherlands) |
Key Market Drivers
Growing awareness of adopting a healthy lifestyle - Growing awareness of adopting a healthy lifestyle, together with an increase in the prevalence of diseases among people, has increased demand for pharmaceutical products, propelling the expansion of the business. Over the projection period, this is predicted to have a beneficial effect on the inclusion of amino acids in pharmaceutical goods.
Increased knowledge about dietary supplements - Increasing consumption of amino acids because of increasing awareness nutritional supplements among the consumers are the primary factors fuelling the growth of Amino Acids Market. The market for amino acids is expanding as a result of rising demand for exotic, fresh animals and plants as a source of amino acids. People are searching for healthier foods and diet supplements as they become more health conscious and desire to live healthy lifestyles. This is yet another important aspect propelling the market for amino acids.
Key Market Challenges
Covid 19 emergence: The spread of the unique COVID strain in many developed and developing countries has had a detrimental effect on the health care industry. Hospital staff, drugs, oxygen beds, and ventilators are in limited supply. Production processes are having issues in a number of different countries due to disruptions in supply networks. This has a detrimental effect on the market for amino acid derivatives.
Key Market Opportunities
Growing in popularity in the pharmaceutical sector
Because of their numerous advantages, amino acids are quickly becoming more well-liked in the pharmaceutical industry. To aid in the treatment of various ailments and illnesses, many amino acids are employed in dietary supplements. Tryptophan, for instance, is used to treat narcolepsy, depression, ADHD, sleep difficulties, and chronic fatigue syndrome. Additionally, a diet rich in all the essential amino acids, carbs, and vitamins is advised for people with inflammatory bowel disease or other digestive disorders.
Availability of ready healthy means and various drink options
The availability of ready-to-use healthy products and a variety of drinks that contain sources of amino acids is also fueling the expansion of the amino acids market. In addition to this, consumer demand for goods to maintain their nutritional value, such as calcium and minerals, has increased the variety of products available on the market, which is boosting the growth of the amino acids market.
Segments Insight
Raw Materials Insights
Due to the growing consumer desire for goods made from organically derived ingredients, the sector of plant-based segment held largest revenue share in 2022, is predicted to rise at the quickest rate throughout the forecast period. Wheat, corn, soybean, potato, and peas are a few examples of plant sources. Currently, because to its high consumption and extensive production, soybean is employed in the commercial development of the product. However, it is well recognised that processing soybeans change the mix of amino acids, which proves to be a significant issue when procuring raw materials.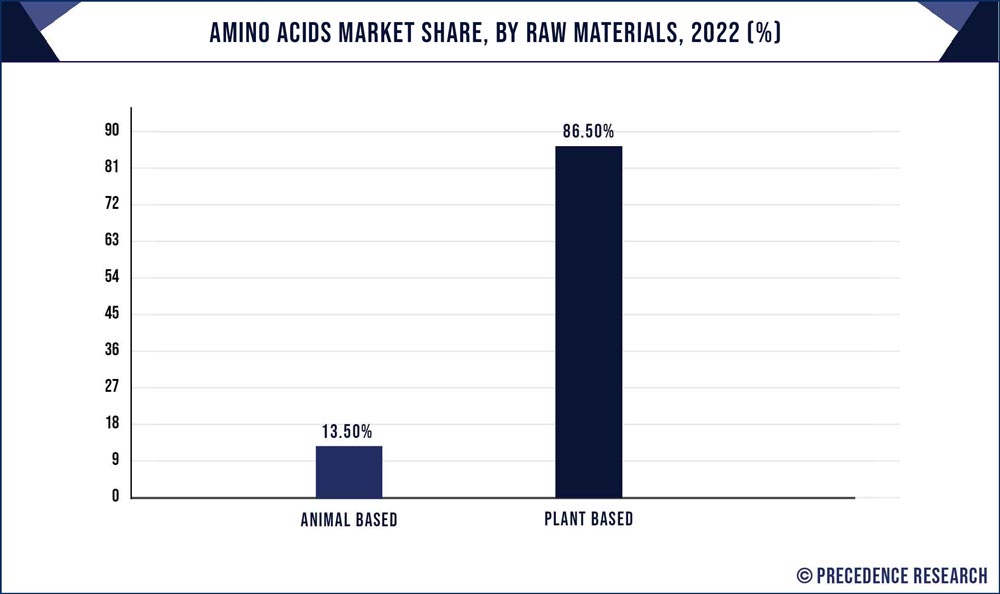 Lysine has lately experienced tremendous growth in popularity due to its significance as an amino acid. Since the human body is unable to generate this acid, demand is gradually rising due to the market for nutritional supplements. In addition to being ingested by humans, the substance has increased in popularity as a component in animal feed. Since lysine is predominantly used for body protein synthesis, an animals capacity for growth is directly impacted by its daily lysine consumption. By changing the dietary lysine concentration in line with feed intake capacity, animal growth, feed quality, and efficiency are maximised. Lysine demand is expected to rise throughout the forecasted period as a result of increased dietary supplement usage as well as expanding consumer demand from companies that make animal feed.
Product Insights
L-glutamate has held largest revenue share in 2022, and it is expected that it will continue to lead over the projected period. It is widely utilised as a feed addition, taste enhancer, nutritional supplement, and as an intermediary in the production of organic compounds. The sodium salt of l-glutamate, monosodium glutamate (MSG), often known as seasoning salt, is extensively used in the food and beverage industry to enhance the flavour of food.
Rising customer requirements for processed food items and expanding product adoption in animal feed are likely to drive product sales in the amino acids market during the forecast period. As it is a vital amino acid, the demand for lysine has increased significantly in recent years. Since the human body is unable to produce this acid, the market for nutritional supplements is gradually driving greater demand for it. The product has grown in popularity as an animal feed ingredient in addition to being consumed by humans. Lysine is majorly used for daily lysine intake and body protein synthesis and has a straight effect on an animal's ability to develop. Animal development, feed quality, and efficiency are optimised by adjusting the dietary lysine content in accordance with feed intake capacity.
Livestock Insights
In 2022, the poultry industry has accounted highest revenue share and is predicted to increase at the quickest rate. Broilers, turkeys, ducks, and chickens make up the poultry market. The poultry feed market is anticipated to be driven by growing demands for chicken and broiler meat in nations like the United States, Russia, and Mexico. This will lead to increased use of feed additives, such as amino acids like lysine and arginine.
The demand for chicken products in Asia Pacific and North America is being driven by the expansion of fast-food restaurants in these regions as well as the rising popularity of processed foods in these markets. Due to this, there has been an increase in poultry farming, which is fueling the need for chicken feed.
Application Insights
The application for food and dietary supplements had the greatest sector in 2022, and it is projected that it would keep the lead throughout the projection period. In the food processing sector, amino acids are utilised as taste enhancers, preservative, and nutrition boosters. As flavour and taste enhancers, glycine & alanine are frequently utilised the market segment for animal feed is expected to hit the largest growth over the anticipated period.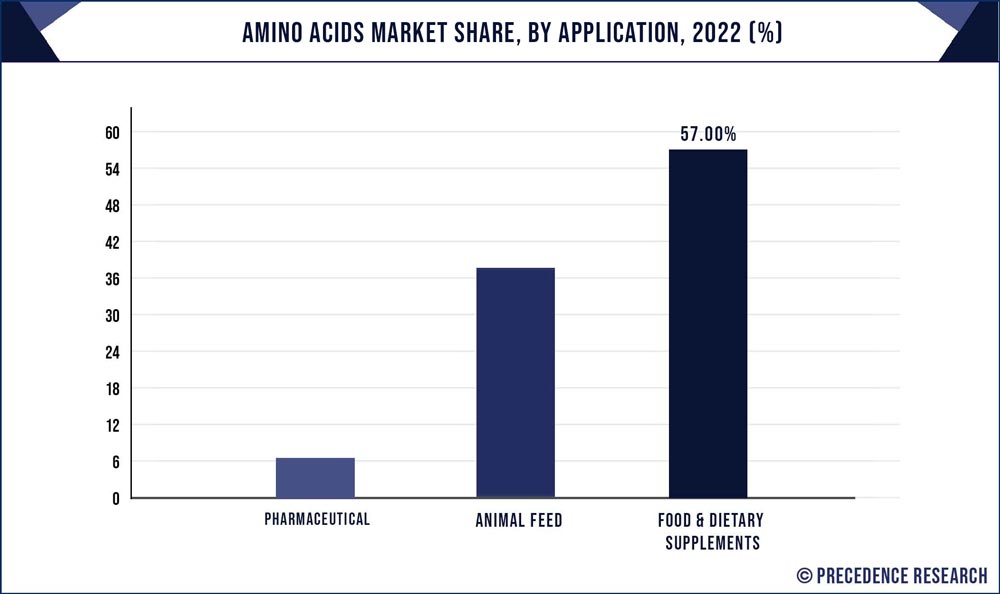 Animal feed segment has held second position revenue holder with a share of 21.8% in 2022. Animals feed formulations include amino acids as supplements to help with growth, reproduction, and their requirement for protein and other nutrients. Supplementing with amino acids improves feed conversion efficiency, which lowers feed costs per kilogramme of gain generated. Varying amounts of amino acids are furthermore needed based on the species or stage of animal development.
Amino Acids Market Share, By Region, 2022 (%)
| | |
| --- | --- |
| Regions | Revenue Share in 2022 (%) |
| North America | 24% |
| Asia Pacific | 49% |
| Europe | 20% |
| Latin America | 4% |
| MEA | 3% |
Regional Insights
In 2022, Asia Pacific has held highest revenue share. This may be attributed to an increase in consumer spending in the region, the spreading of a healthier life, and the rapid expansion of end-use industries including nutraceuticals, personal care, pharmaceuticals, and cosmetics.
Amino acids are primarily used to cure liver and cardiac diseases, as well as to slow down the degeneration and weariness of muscles. Amino acids are in great demand in the aforementioned nations due to the growing populations in rising economies like China and India and the existence of a young population.
Over the past several years, the consumption of meat has surged in European nations including France, the U.K., Germany, and Italy.
Recent Developments
The Leverkusen, a pharmaceutical company Bayer AG based in Germany announced the introduction of Ambition in January 2022, an amino acid-based medication developed exclusively for the Chinese market. The substance includes glycine acid, glutamic, and alanine, and among its 19 various types of amino acids.
ADM launched NutriPass L which is an encapsulated lysine supplement, to boost milk output.
Segments Covered in the Report
(Note*: We offer report based on sub segments as well. Kindly, let us know if you are interested)
By Raw Material
By Product
L-Glutamate
Lysine
Methionine
Threonine
Tryptophan
Leucine
Iso-Leucine
Valine
Glutamine
Arginine
Glycine
Phenylalanine
Tyrosine
Citrulline
Creatine
Proline
Serine
Others
By Application
Animal Feed
Food & Dietary Supplements
Pharmaceutical
By Livestock
Swine
Poultry
Cattle
Others
By Form
Powder
Granules
Liquid
Pellet
Others
By Function
Fortification
Energy Booster
Flavour Enhancer
Preservative
Muscle Growth
Immunity Booster
Others
By Purity Level
Amino Acid 99%
Amino Acid More Than 99%
Amino Acid 90%
Amino Acid 80%
Amino Acid 70%
Amino Acid Less Than 60%
By Geography
North America
Europe
Asia-Pacific
Latin America
Middle East & Africa (MEA)