The global analgesics market size was estimated at USD 82.6 billion in 2022 and it is expected to hit around USD 132.51 billion by 2032 with a registered CAGR of 5.1% during the forecast period 2023 to 2032.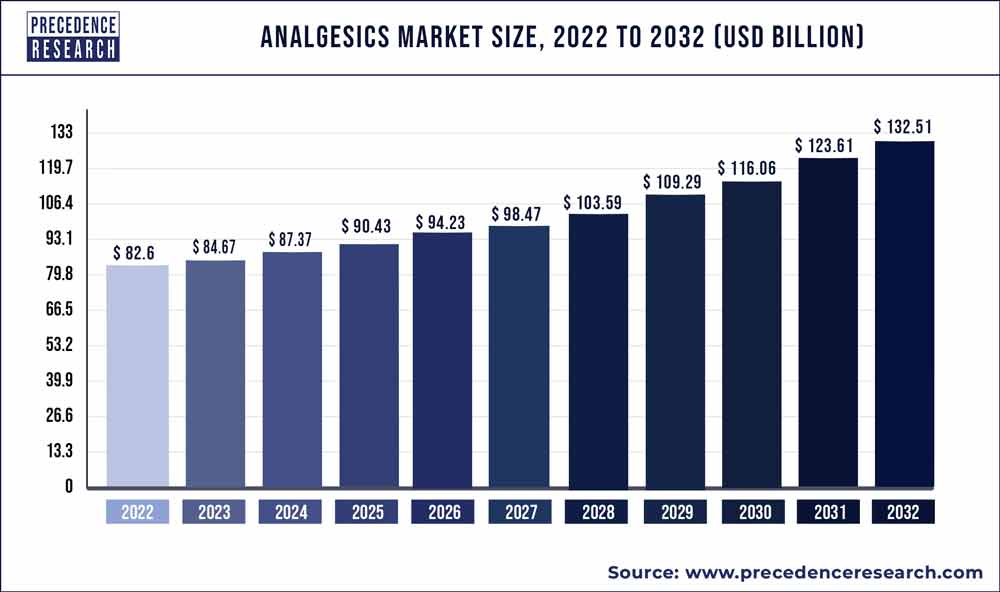 Key Takeaways:
North America region accounted for 42.3% of revenue share in 2022.
Asia Pacific region is expected to grow at a CAGR of 7.8% from 2023 to 2032.
By drug type, the NSAID's segment is expected to reach at a CAGR of 4.5% from 2023 to 2032.
By indication, surgical pain has held a revenue share of over 53.5% in 2022. However, the intravenous segment is expected to grow at a CAGR of 7.7% from 2023 to 2032.
By type, the prescription segment accounted for 71% of revenue share in 2022.
By route of administration, the oral segment has a 48% revenue share in 2022.
Market Overview
Analgesics, commonly referred to as painkillers or pain relievers, are medications that reduce pain without disturbing consciousness, altering sensory perception, or interrupting the conduction of nerve impulses. These medicines include acetaminophen, often known as paracetamol or APAP in North America, salicylates, a class of nonsteroidal anti-inflammatory medications (NSAIDs), and opioids including morphine and oxycodone. Physiological injuries, operations, phantom pains, inflammation, neuropathic diseases, and cancer therapies all cause pain, which is treated with analgesics. The strongest painkillers come in the form of opioid drugs, which are made from opium. They are often used to treat moderate to severe pain and are only accessible with a prescription. Contrarily, acetaminophen is used to make non-opioid medications rather than opium. Another group of medications called NSAIDs (non-steroidal anti-inflammatory drugs) is frequently used to alleviate mild to moderate pain.
Report Scope of the Analgesics Market
| | |
| --- | --- |
| Report Coverage | Details |
| Market Size in 2023 | USD 84.67 Billion |
| Market Size by 2032 | USD 132.51 Billion |
| Growth Rate from 2023 to 2032 | CAGR of 5.1% |
| Base Year | 2022 |
| Forecast Period | 2023 to 2032 |
| Segments Covered | Drug Class, Indication, Type, Pain Type, Application, Route of Administration, Distribution Channel, and Geography |
| Companies Mentioned | Abbott, Pfizer Inc., Eli Lilly & Company, Endo International plc, F. Hoffmann-La Roche AG Bausch Health Companies Inc., Merck & Co. Inc., AbbVie Inc., Novartis AG, Johnson & Johnson Private Limited, GSK plc., Purdue Pharma L.P. |

Market Dynamics
The market for analgesics is growing due to the rising prevalence of chronic diseases such as arthritis, cancer, cardiovascular disease, and TB (tuberculosis). A notable rise in patients is also being caused by infectious diseases such as respiratory, gastrointestinal, and neurological problems. As the incidence of these conditions develops, so does the need for painkillers, which is anticipated to drive the analgesics market share even higher. The development of the analgesic market has also been aided by an increase in R&D efforts for the discovery of analgesic products, as well as increased investment from government and commercial organizations for the manufacture of drug manufacturing sectors. For instance, according to the World Health Organization, AIDS and malaria affected nearly 1.5 million people worldwide in 2020. Moreover, about ten million individuals are infected by tuberculosis each year and killing 1.5 million people annually despite being a preventable and curable disease.
The market for analgesics is expected to grow as a result of an increase in clinical trials being performed to evaluate the efficacy and safety of a wide range of medicinal drugs. In addition, a major factor influencing analgesics market developments is an increase in the geriatric population as well as cardiovascular diseases, cancer, and arthritis. Furthermore, the analgesic industry is expected to have prosperous futures in the coming years because of technological developments made by pharmaceutical businesses to produce sophisticated analgesic medicines. Furthermore, the prominence of large manufacturing companies that produce and distribute analgesic medicines, increasing over-the-counter drug demand, and rising healthcare spending are further factors driving the market growth.
Physical pain is one of the major factor that drive the growth of the market. For instance, according to the NCBI, it is estimated around 20% of the population globally experience physical pain, and approximately 10% are newly diagnosed with chronic pain each year. Moreover, the public health system offers special attention owing to the frequent prevalence and widespread social and health effects. Thus, the rising incidences of physical pain across the globe increasing the analgesic market demand.
Researchers and governments in many countries are monitoring the deaths due to the increasing incidence of drug overdose and other analgesics that might be hampering the growth of the market during the forecast period. For instance, according to the National Institute on Drug Abuse (NIDA), the number of people who died from opioid overdoses in 2019 was more than six times, reached over 50,000. It is crucial to identify the substances implicated in overdoses, how frequently they occur, and how their presence changes over time. Professionals can more accurately determine the best preventative and corrective strategies by recognizing drug usage. The study of overdose mortality data from the National Vital Statistics System has generally adopted the combined categories of semi-synthetic, natural, and synthetic opioids (NVSS-M).
COVID-19 Impact
The worldwide economy was severely impacted by the COVID-19 pandemic. The impact of the pandemic drastically destroyed several enterprises around the world. Additionally, to control the spread of the COVID-19 virus, governments throughout the world were forced to establish lockdowns in their countries. In addition to destroying several sectors, this lockdown scenario also interrupted the global supply system for all goods and services. The need for healthcare services did, however, significantly increase during the COVID-19 pandemic. Hospitals had a sizable patient population during the pandemic. In addition, a large portion of the population experienced persistent chest pain due to the virus's adverse effects. The COVID-19 pandemic contributed to the rise in the demand for pain medications like paracetamol, which had a favorable effect on the world analgesics market.
Segments Insight
Drug Class Insights
Based on drug class, the global analgesics market is divided into Opioids, NSAIDs, Local Anesthetics, and Acetaminophen. The opioids sector has the highest revenue share in the analgesics industry in 2022. The opioids segment will reach at a CAGR of 7.3% over the forecast period. During the analysis period, an increase in the prevalence of chronic diseases including cancer, arthritis, and TB is anticipated to propel the growth of the opioid segment. Opioids contain anti-inflammatory, analgesic, and antipyretic qualities, which help to influence the growth of market.
Indication Insights
Based on the indication, the market is divided into Surgical Pain, Cancer Pain, Neuropathic Pain, and Others. Surgical pain dominated the market with the highest market share in 2022.
Route of Administration Insights
Based on the route of administration market is divided into oral, transdermal, intravenous, topical, and rectal segments. The oral category accounted for the major revenue share in the global analgesics market in 2022. The easy, non-invasive, and efficient delivery of oral analgesics in contrast to other means of administration is credited with the segment's ongoing rise.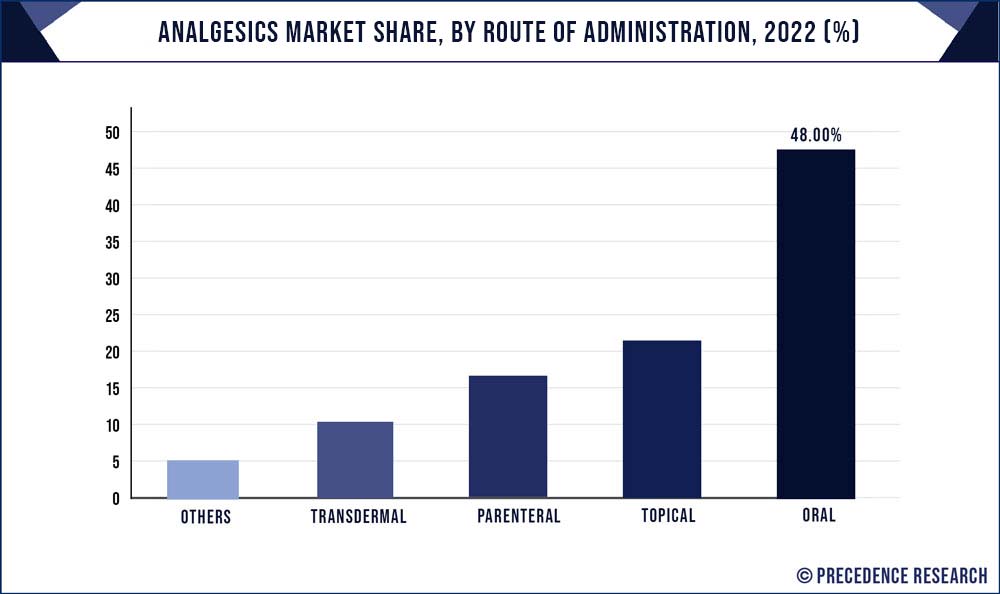 Additionally, an increase in the number of FDA medication approvals as well as advancements in pharmaceutical R&D efforts across various developed nations worldwide are driving the growth of the oral administration segment.
Analgesics Market Share, By Region, 2022 (%)
| | |
| --- | --- |
| Regions | Revenue Share in 2022 (%) |
| North America | 42.3% |
| Asia Pacific | 21.4% |
| Europe | 27.6% |
| Latin America | 5% |
| MEA | 3.7% |

Regional Insights
Based on Region, North America accounted for the largest revenue share of the analgesics market. The increase in demand for painkiller pharmaceuticals, the presence of key players, and the development of R&D activities throughout the healthcare industry all contribute to the growth of the analgesics market in North America.
Asia Pacific region is expected to drive strongest CAGR over the forecast period. The rising demand for analgesics, growing knowledge of their usage, increasing healthcare costs, and growing analgesics product acceptance are all contributing factors to market growth.
Recent Developments
In Jun 2021, Bayer expanded its business in India with the establishment of its Consumer Health division.
In Jan 2021, Eli Lilli and co. came into a licensing agreement with Asahi Kasei Pharma, a Japanese pharmaceutical company.
In Jan 2021, Pfizer partnered with Premier, an American healthcare improvement company. Following this partnership, the companies would offer five essential medications to healthcare practitioners to assist them in fulfilling the long-term and immediate demands for medications essential to a range of patient care interventions.
In Mar 2020, Eli Lilly and Company teamed up with Pfizer, an American multinational pharmaceutical and biotechnology corporation. With this collaboration, the companies increase their efforts for the US FDA approval for a Biologics License Application for its tanezumab 2.5 administered subcutaneously for patients with chronic pain.
Segment Covered in the Report
(Note*: We offer reports based on sub-segments as well. Kindly, let us know if you are interested)
By Drug Class
Opioids

Morphine
Fentanyl
Codiene
Methadone
Meperidine
Oxycodone
Tramadol
Dextromethorphan
Buprenorphine
Others

NSAIDs
Local Anesthetics
Acetaminophen
By Indication
Surgical Pain
Cancer Pain
Neuropathic Pain
Others
By Type
By Pain Type
Musculoskeletal Pain
Surgical and Trauma Pain
Cancer Pain
Neuropathic Pain
Migraine
Obstetrical Pain
Fibromyalgia
Pain due to Burns
Dental/Facial Pain
Paediatric Pain
Others
By Application
Internal Analgesics
External Analgesics
By Route of Administration
Oral
Parenteral
Transdermal
Others
By Distribution Channel
Hospital pharmacies
Retail pharmacies
Drug Stores
Online pharmacies
By Geography
North America
Europe
Asia-Pacific
Latin America
Middle East & Africa (MEA)