The global antifungal drugs market size was exhibited at USD 16.24 billion in 2022 and is projected to hit around USD 22.88 billion by 2032, growing at a CAGR of 3.49% between 2023 and 2032.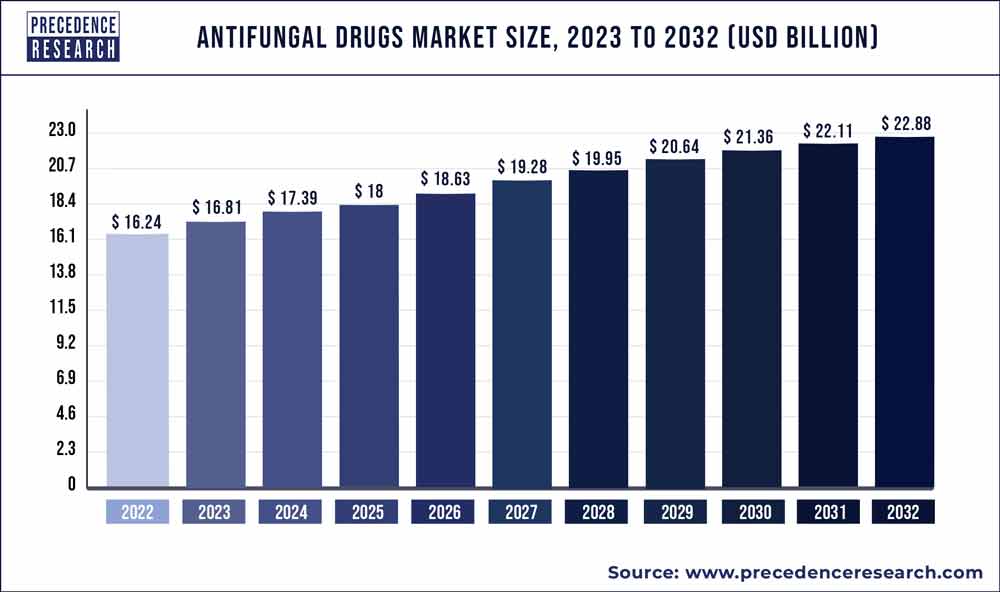 Access our Premium Real Time Data Intelligence Tool, Visit: Precedence Statistics
Key Insights:
North America contributed more than 42% of the revenue share in 2022.
The azoles drug class segment generated more than 48% of the revenue share in 2022.
The candidiasis Indication segment is predicted to have the fastest CAGR between 2023 to 2032.
The superficial antifungal infection type segment is expected to experience notable growth between 2023 to 2032.
Market Overview:
A pharmaceutical fungicide or fungistatic known as antifungal medication also referred to as antimycotic medication, is used to treat and prevent mycosis, including ringworm, candidiasis, and cryptococcal meningitis, among others. To treat fungal infections, a variety of antifungal medications are available. Different antifungal medications exist, and they are administered orally, topically, or intravenously.
As they can affect everyone, fungi illnesses are a public health issue. Fungal infections pose a serious hazard to those with weakened immune systems, such as AIDS patients, and opportunistic fungal infections are more likely to develop in these people. Cryptococcal meningitis, a brain infection that has caused 181,000 annual deaths worldwide, affects about 220,000 new people each year, according to information released by the Centers for Disease Control and Prevention in 2016. Due to the higher incidence of HIV/AIDS in these nations, sub-Saharan Africa is where most reported deaths occur.
One of the main drivers of the market is the rising occurrence of fungal illnesses, including aspergillosis and candidiasis. Systemic and superficial infections, such as skin, eyes, mouth, and vagina, can all be caused by fungi. Ringworm, athlete's foot, and fungal meningitis are just a few of the disorders typically treated using antifungal medicines with fungicidal activity. Additionally, increasing numbers of patients with nosocomial infections, hospital-acquired infections, and infectious disorders will likely fuel the market's expansion throughout the forecast year.
The increase in nosocomial and fungal infections is a major factor in the growth of the worldwide antifungal industry. The market for antifungal medications will likely grow due to an increase in initiatives by private and public groups to raise awareness about various fungal illnesses. Aspergillosis and candidiasis are two other common fungal infections that are becoming more common, and this is one of the main causes driving the expansion of the antifungal market. Skin, eye, and mouth infections caused by fungi include both systemic and superficial infections. Antifungal medications having fungicidal action are typically used to treat various illnesses, including ringworm and fungal meningitis. Therefore, the rise in nosocomial infections and infectious disorders fuels the demand for antifungal medications. Invasive candidiasis is a common bloodstream infection in the United States, and there are approximately 46,000 new cases reported each year, according to the Centers for Disease Control and Prevention.
Additionally, according to a 2019 article from the National Center for Biotechnology Information, there are thought to be 1 million cases of cryptococcosis recorded annually, resulting in 625,000 fatalities around the world. Thus, the market is growing as the number of infectious disease patients rises. Additionally, during the projection period, the rising number of drug approvals offers profitable potential for the growth of the worldwide antifungal medicine market.
Impact of Covid-19
Flight restrictions in the first quarter of 2020 had an effect on the antifungal drugs market. Strict social distancing laws and supply chain disruptions have had an impact on the antifungal drug industry. However, the antifungal medications market, which had been stalled, has been revived as a result of economies unblocking during the second quarter of 2020.
Government officials in most nations have also imposed nationwide lockdowns to halt the spread of COVID-19. Similar issues were plaguing health systems worldwide, making it difficult to keep up supply chains. The supply chain's slowness has also hampered the demand for the antifungal drug.
Report Scope of the Antifungal Drugs Market
| | |
| --- | --- |
| Report Coverage | Details |
| Market Size in 2023 | USD 16.81 Billion |
| Market Size by 2032 | USD 22.88 Billion |
| Growth Rate from 2023 to 2032 | CAGR of 3.49% |
| Fastest Growing Market | Asia-Pacific |
| Largest Market | North America |
| Base Year | 2022 |
| Forecast Period | 2023 to 2032 |
| Segments Covered | By Drug Class, By Indication, and By Infection Type |
| Regions Covered | North America, Europe, Asia-Pacific, Latin America and Middle East & Africa |

Segment Insights:
Drug Class Insights:
In 2022, the Azoles medicine class segment, which includes popular therapeutics like Noxafil, Diflucan, Vfend, and Cresemba, led the market for antifungal medications with a 48% revenue share. The market's dominance can be traced to Azoles's wide-ranging activity. By preventing fungal enzymes from working, these substances support fungistatic actions. Azoles are prescribed to treat ocular fungal infections, systemic candidiasis, blastomycosis, and candidemia. Triazoles and imidazoles, two types of azoles, are also used to treat systemic fungal infections. They provide a wide range of activities and higher levels of safety. Triazoles have better absorption and distribution qualities, fewer side effects, and fewer harmful medication interactions.
The market for antifungal medications will likely develop slowly due to rising drug resistance among Candida and Aspergillus species, particularly to azoles. Synthetic fungicidal compounds called allylamines will likely grow at a CAGR of over 2.2% throughout the projected period. These medications are recommended for ringworm, athlete's foot, jock itch, and nail infections. Following fluconazole, Lamisil is the topical antifungal drug dermatologists most frequently recommend for treating systematic antifungals. As a result, the segment's growth is projected to be further boosted by the increasing prevalence of dermatological illnesses.
Indication Insights:
The most frequent systemic fungal illness, candidiasis, is anticipated to have the quickest CAGR during the prediction period. It is a yeast infection brought on by the Candida genus, and how it is treated has changed over time. Echinocandins and broad-spectrum azoles should be used appropriately to treat mucosal candidiasis, candidemia, and invasive candidiasis, among other alterations. A major driver for the market is the rising number of individuals more prone to fungal infections. Additionally, a rise in patient and healthcare professional awareness will likely fuel the market for antifungal medications.
Due to the increased prevalence of skin illnesses in children, the dermatophytosis category will likely have a sizable proportion of the market throughout the forecast period. Due to an unhealthy lifestyle, the prevalence of this infection has significantly increased over the past ten years. Due to their susceptibility to severe lesions and unusual signs brought on by a fungus, immunocompromised patients have reason to be concerned about this.
Other indications include endocarditis, rhino cerebral mucormycosis, and invasive pulmonary aspergillosis. One of the main issues that physicians must deal with is that fewer treatments are available to treat invasive fungal infections than bacterial infections. Over the past 30 years, only a few therapeutic molecule classes have been created. Developing efficient therapeutic medicines for managing systemic fungal infections in immunocompromised patients is a key area of interest for players. It is anticipated that different public-private partnership arrangements for discovering innovative therapies would offer the industry fantastic growth potential.
Infection Type Insights:
An increase in aspergillosis cases and the production of intravenous and oral medications like voriconazole, which can cure the segment for systemic antifungal infections, drive the invasive type of aspergillosis, the market's growth. However, due to an increase in candidiasis, a yeast-caused fungal infection, the superficial antifungal infection sector is anticipated to experience significant expansion over the projection period.
Regional Insights:
North America dominated the antifungal medication market with a 42% share in 2022. The rising prevalence of infectious diseases can be linked to the region's expansion. Increased incidence has increased clinical urgency to use these medications more frequently and accelerated the development of novel treatments with expedited FDA clearance. Additionally, it is projected that the presence of well-established pharmaceutical businesses, who continually work to expand the commercialization of their products and expand their geographic reach, would play a significant role in accelerating regional market expansion.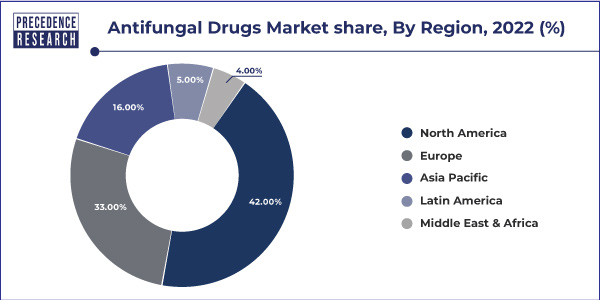 The market for antifungal medications will likely grow at the highest CAGR in Asia Pacific during the forecast period. A sizable base of potential customers, rising disposable income, increased drug availability, and significant unmet clinical requirements are all fostering the expansion of the local market. Global firms are thus concentrating on making significant R&D investments and selling branded medications at a relatively cheaper cost in the region. In 2022, Japan had a sizable market share in the APAC region due to rising healthcare costs and expanded insurance coverage.
Recent Developments:
In June 2021, Posaconazole Gastro, a new medication, was introduced, according to Mankind Pharma. These tablets are used to cure black fungus; they are resistant ones. It has been discovered to be a preferred medicine for disease management that is safer and more effective. The Drug Controller General of India (DCGI) has approved this medication.
In June 2021, Posaconazole, a novel triazole antifungal medicine from Cadila Pharmaceuticals, became effective against various invasive fungal disorders. The medication was also suggested as a backup treatment for mucormycosis.
In June 2021, Brexafemme's approval by the US Food and Drug Administration to treat vaginal yeast infections was announced by Scynexis.
Key Companies and Competitive Landscape
Major players are implementing aggressive measures like product development and cooperative agreements to increase their market share. For instance, Merck and Afferent Pharmaceuticals signed a legally binding agreement to merge in June 2016. NAILIN oral antifungal pills for onychomycosis were also made available in Japan in July 2018, as stated by Eisai Co., Ltd. and Sato Pharmaceutical Co., Ltd. Generics compete fiercely on the market, making up more than 60.0% of the entire sector. Over the forecast period, this can prevent newly created items from entering the market. Therefore, producers must employ product diversification techniques to remain competitive.

Leading companies in the market for antifungal medications include:
Pfizer, Inc.
Novartis AG
Sanofi
GlaxoSmithKline plc
Bayer AG
Glenmark
Abbott
AstellasPharma, Inc.
Enzon Pharmaceuticals, Inc.
Segments Covered in the Report:
(Note*: We offer report based on sub segments as well. Kindly, let us know if you are interested)
By Drug Class
Echinocandins
Azoles
Allylamines
Polyenes
Others
By Indication
Aspergillosis
Dermatophytosis
Candidiasis
Others
By Infection Type
Systemic Antifungal Infections
Superficial Antifungal Infections
By Geography
North America
Europe
Asia-Pacific
Latin America
The Middle East and Africa