The global artificial intelligence in e-commerce market size was reached at USD 5.81 billion in 2022 and it is projected to hit around USD 22.60 billion by 2032, registering a CAGR of 14.60% during the forecast period 2023 to 2032.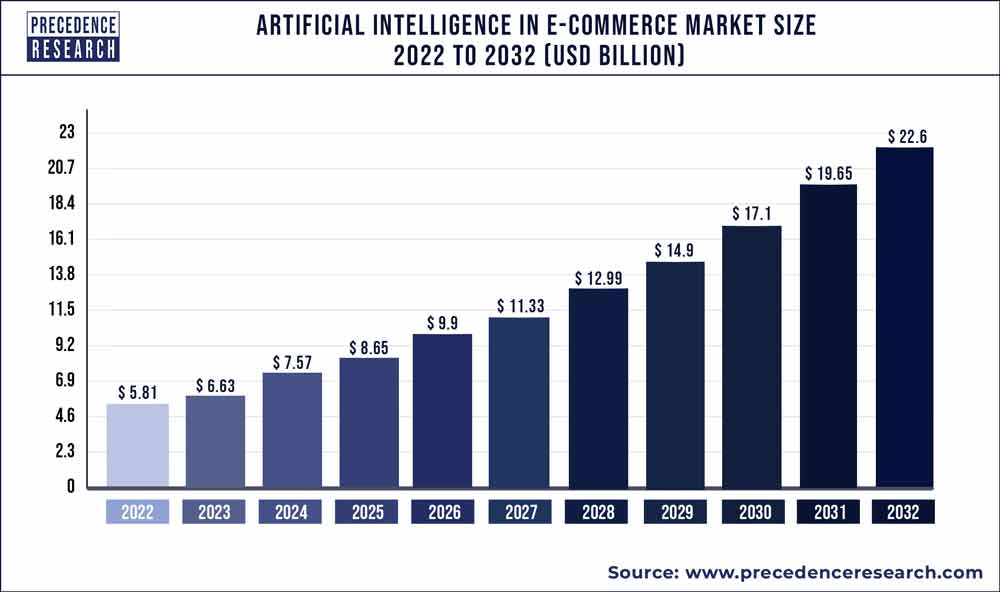 Access our Premium Real Time Data Intelligence Tool, Visit: Precedence Statistics
The e-commerce industry's embrace of AI technology is a crucial step toward corporate growth. A developing trend in this digital era is the use of artificial intelligence in e-commerce. Thanks to AI technology. It produces wonders that are beyond the capacity of human measurement. AI apps are becoming more and more common in a variety of sectors, with the goal of completing tasks that are occasionally challenging for human workers.
E-commerce is another industry benefiting from AI technologies. The main advantage of AI for E-commerce enterprises is its ability to evaluate vast volumes of data and learn from the data provided to offer a better result. Businesses that use AI solutions better understand their clients, deliver more relevant goods, determine the ideal timing and pricing for their business offerings, and collect accurate and trustworthy analytic data.
Customized product suggestions are provided using artificial intelligence based on previous users' behavior and looks. Websites use machine learning to analyses your shopping history and recommend things you might like based on previous purchases. Dynamic pricing using AI is a strategy for changing the price of your product based on supply and demand. With the correct data, today's systems can dynamically compute the minimal discount required to sell when and how to discount. Dynamic pricing using AI is a strategy for changing the price of your product based on supply and demand. With the correct data, today's systems can dynamically compute the minimal discount required to sell when and how to discount.
The degree of product and service personalization available has a direct impact on customer retention. One strategy to improve client retention is to deliver individualized marketing material and shopping experiences to the targeted consumers. E-commerce merchants may analyze consumer behavior, demographics, and other data at scale using AI technology, in particular deep learning and statistical modeling. Retailers may create customized adverts, send targeted emails, suggest items, and set pricing specifically tailored to the customer based on their findings. Intelligent personalization enables online company owners to forge stronger emotional connections with their clients, which in turn boosts customer loyalty and retention.
Report Scope of the Artificial Intelligence in E-commerce Market:
| | |
| --- | --- |
| Report Coverage | Details |
| Market Size in 2023 | USD 6.63 Billion |
| Market Size by 2032 | USD 22.60 Billion |
| Growth Rate from 2023 to 2032 | CAGR of 14.60% |
| Largest Market | North America |
| Base Year | 2022 |
| Forecast Period | 2023 To 2032 |
| Segments Covered | By End User |
| Regions Covered | North America, Europe, Asia-Pacific, Latin America, and Middle East & Africa |

Growth Factors
AI technology has become a great tool for increasing sales and optimizing operations. Many small ecommerce enterprises are also utilizing AI-enabled technology. Amazon has long understood the value of artificial intelligence and associated technologies. Machine learning is used by the massive ecommerce firm to improve product selection and customer experience, as well as to streamline shipping. A recent report from McKinsey & Company and the Retail Industry Leaders Association identified seven imperatives for reimagining retail in 2021, each of which might be enabled in some manner by AI-informed technology. AI and machine learning advancements have enabled deep customization approaches to personalize material by user. It can hone in on what customers actually want and deliver the message that will best resonate by evaluating massive data from purchase histories and client interactions. By creating computer systems that mimic intelligent behavior, the field of artificial intelligence seeks to comprehend the fundamental characteristics of human intelligence. Most fields of research, engineering, education, business, etc. have successfully produced and utilized artificial intelligence products and processes.
According to a 2019 Ubisend survey, one in every five customers is willing to buy products or services from a chatbot, and 40% of online buyers are seeking for excellent discounts and shopping deals from chatbots. The global E-commerce sales were USD 4.8 billion in 2021.
Artificial intelligence in online shopping is revolutionizing the market by anticipating buying trends based on the things that customers buy and when they buy them. Inventory management is another area of e-commerce where AI's predictive analytics are transforming the landscape. Because storage facilities don't have the capacity or the funds to maintain everything in stock all of the time, it's critical to prioritize the things you need, when you need them. Inventory must be maintained up to date, properly stored, and ordered ahead of time based on client demand projections.
According to Narrative Science, 61% of people who are putting new ideas into practice claimed they are utilizing technology to find chances in data that might otherwise go unnoticed. Customers' behavior has been swiftly evolving, and businesses that care about their needs are aware that they must offer a fantastic experience. Constantly learning from consumer behavior and applying that data to make judgments in a variety of areas, including merchandising, selection, price matching, new product ideas, territory growth, inventory and pricing optimization, and many more, is a huge benefit that AI gives.
End User Insights
All three of these often-targeted AI categories – health, marketing, and finance – entail massive amounts of high-volume data and are practically limitless in size. The complex sales cycles and market dynamics in heath care will propel finance, eCommerce, and marketing to the forefront of AI adoption and innovation, albeit only time will tell. What appears clear is that these three industries will be among the most important regions of attention for AI corporations, and that these application areas will inspire numerous scientific discoveries in AI itself.
Re-commerce, as the name implies, is the resale of previously acquired things by others. This application is included on this list because eCommerce stores may collaborate with AI to design, develop, and implement systems that investigate this possibility. With the globe shifting toward sustainability and environmental friendliness, this might be something to keep an eye on in 2022. The e-commerce industry has long faced difficulties such as restricted reachability, poor end-user feedback, inaccurate search results, a lack of customer trust, little to no customization, and an inability to replicate the in-store experience. Organizations are greatly aided in overcoming these obstacles by the use of artificial intelligence in e-commerce. According to Statista, Instagram connects new 1 million monthly accounts those actively sell using their social media handles.
E-commerce is now accessible across a range of devices and product sectors thanks to evolving technologies. Customer segmentation strategy has grown more crucial as e-commerce platforms expand in order to improve interaction. This is due to the fact that before connecting with a consumer, firms should be aware of their preferences, gender, age, demography, and several other factors. By examining elements like semantic analysis, metadata, predictive suggestions, and collaborative filtering, AI may now be utilized to improve client segmentation in order to boost conversion rates and expand the platform. Therefore, businesses should use AI to determine precisely what users are seeking for on their platform. The focus of this paper is on how AI is altering client segmentation strategies.
Regional Insights
North America dominated the market in 2022 and is likely to maintain its position during the forecast period, owing to its high expenditure on artificial intelligence solutions in the government and public sector. Furthermore, throughout the forecast period, the usage of artificial intelligence (AI) technology for the automation of industrial machinery is likely to boost the market for artificial intelligence (AI) technology in e commerce. However, Asia-Pacific is predicted to rise significantly throughout the projection period as a result of the area's economic and technical improvements, which are expected to propel the expansion of artificial intelligence solutions in the region in the future years. Consumers are quite particular about the product's quality, content, and pricing. North America has one of the highest rates of internet penetration. The Middle East, Africa, and Latin America are likely to increase significantly in the next years as a result of a growing young population and a quickly evolving internet purchasing sector.
North America, Europe, Asia-Pacific, and the rest of the world are some of the geographical areas that are used to further evaluate the worldwide AI in e-commerce market. In 2020, North America made major contributions to the worldwide market for AI in e-commerce. From e-commerce to agriculture, the US is considered as the leading adopter of cutting-edge technology in all fields. Many businesses in the US have embraced AI-driven e-commerce solutions, including Netflix, which makes tailored app recommendations using AI. Additionally, the nation is investing a sizable number of money in technology with a focus on developing the uses of AI in every industry. In addition, Asia-Pacific is anticipated to develop at the quickest rate throughout the forecast period in the worldwide AI in e-commerce market. Asia-Pacific is making a mark in AI-driven solutions across several industries, including e-commerce.
Key market developments
LivePerson, Inc. bought German conversational A.I. business e-bot7 in July 2021. The strategic purchase strengthens LivePerson's self-service capabilities, allowing companies of all sizes to swiftly create AI-powered messaging experiences, as well as its continuous expansion across Europe.

LivePerson, Inc. announced A.I. Annotator in February 2021, a new solution that automates brand-consumer conservations quicker than ever before by using agents' knowledge to improve Conversational A.I.

Nike purchased Boston-based predictive analytics business Celect (A.I. platform) in August 2019, the latest in a series of purchases to strengthen its direct-to-consumer strategy. This acquisition enabled Nike to link its inventory with the company's website and app.
Key market players
Segments covered in the report
(Note*: We offer report based on sub segments as well. Kindly, let us know if you are interested)
By End User
IT and Telecommunication
Retail and E-Commerce
BFSI
Healthcare
Manufacturing
Automotive
Others
By Geography
North America
Europe
Asia-Pacific

China
India
Japan
South Korea
Malaysia
Philippines

Latin America

Brazil
Rest of Latin America

Middle East & Africa (MEA)

GCC
North Africa
South Africa
Rest of the Middle East & Africa