The global artificial intelligence (ai) in chemicals market size was valued at USD 1.07 billion in 2022 and it is expected to be worth around USD 16.94 billion by 2032 with a remarkable CAGR of 31.9% over the forecast period 2023 to 2032.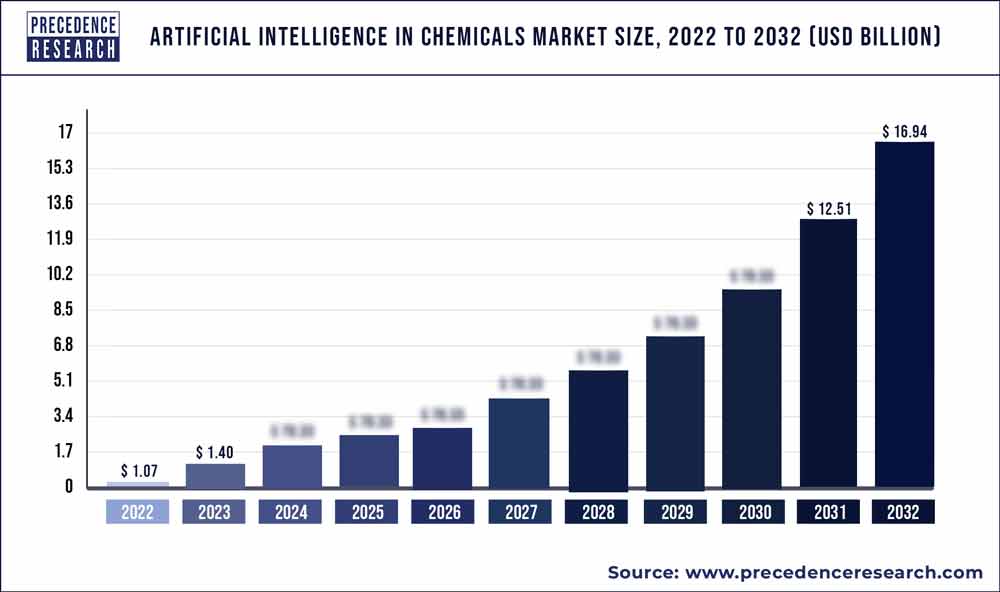 Access our Premium Real Time Data Intelligence Tool, Visit: Precedence Statistics
Key Points:
North America is predicted to have the biggest share 40% in 2022.
The software type segment contributed the revenue share of 37% in 2022.
The hardware type segment is projected to grow remarkably at a 29.4% between 2023 and 2032.
Market Overview:
The surging demand for consistent and effective manufacturing processes, the adoption of innovative digital techniques by chemical industries, the rising demand for better batch production scheduling, and increased awareness about AI solutions are the key factors driving the expansion of AI in the chemical market.
Furthermore, rising government R&D investments in manufacturing process optimization are expected to drive market deployment over the projected period. The increasing adoption of advanced technologies like IoT, 3D printing, and VR is expected to increase R&D activities, fueling the demand for AI across industries.
Report Scope of the Artificial Intelligence (AI) in the Chemicals Market
| | |
| --- | --- |
| Report Coverage | Details |
| Market Size in 2032 | USD 16.94 Billion |
| CAGR | 31.9% from 2023 to 2032 |
| Largest Market | North America |
| Second Largest Market | Europe |
| Base Year | 2022 |
| Forecast Period | 2023 to 2032 |
| Segments Covered | By Type, By Application, By End Use |
| Regions Covered | North America, Europe, Asia-Pacific, Latin America and Middle East & Africa |

Market Dynamics:
Drivers
Design and development of new products
AI is used to accelerate innovation between the process and product development stages. Utilizing machine learning as well as advanced analytics algorithms with historical data, chemical industries are able to accurately formulate costs and performance. Many chemical sectors use customized mathematical algorithms and models to determine the optimal chemical combination and forecast the catalyst aging process and complex dye solubility.
For instance, robots are used by companies such as Novartis to transfer chemical compounds in multi-well plates. They assist the company in running laboratory tests on products and substances 24 hours a day, seven days a week, which accelerates the process of drug discovery and development.
Accurate forecasting
The chemical industry must forecast demand in order to regulate its supply chain accurately. As a result, the chemical business must implement AI algorithms. Deep learning algorithms are capable of identifying the variables that influence product demand. Several chemical industries are using this technology to enhance forecasting accuracy.
For instance, organizations such as Blue Yonder support AI and ML methods to improve forecasting as well as replenishment while also adjusting pricing.
Advancement in the R&D services
Research and development are among the most vital processes for any company to succeed in order to achieve more efficient and faster results. With the help of computerized combinations and permutations, machine learning strategies perform any research and development at a higher and faster speed. Machine learning solutions can recognize the appropriate molecules and generate correct formulas, speeding up the company's research process.
For instance, Pfizer uses data science, AI, and real-world data to develop novel and more accurate treatment options. The company uses artificial intelligence to redefine and accelerate the completion of chemical studies.
Restraints
High cost of new technologies
An important factor to consider when purchasing AI technologies is the cost. Companies that lack in-house expertise or need to be made aware of AI are frequently forced to outsource, which adds cost and maintenance issues. Smart technologies are costly due to their complexity and may incur additional expenses for repair and maintenance. Additionally, there may be costs associated with the computation required to train data models, etc.
Software programs must be updated on a regular basis in order to adapt to evolving business environments, and in the event of a breakdown, restoring is frequently time-consuming and expensive.
Opportunities
Application of generative modeling
Generative modeling could be a game changer for chemists looking for novel molecules with therapeutic benefits or alternatives to widely used substances that have an adverse effect on the environment. Machine learning techniques can help scientists efficiently screen a variety of chemical reactions or combinations and their results.
With such screening/generative capabilities, ML algorithms can also help us get closer to a greener future by allowing chemical firms to manufacture substances that have properties similar to petroleum products or plastic but break down more easily and without waste or pollution.
As per Nature Communications, Artificial intelligence services assist organizations to be approximately 63% more environmentally friendly.
Impact of COVID-19:
Due to its prevalent application by numerous companies for the detection and screening of present medications used in the therapy of COVID-19, the COVID-19 outbreak had a positive effect on the growth of AI in the chemical industry. Throughout the pandemic, markets all over the globe relied on Artificial intelligence-based discovery instead of conventional vaccine recognition procedures, which take months to develop and are equally costly, contributing to market expansion.
Industries are making a variety of strategic decisions in order to recover from COVID-19. Multiple R&D activities are being carried out by the players in order to enhance the technologies. AI can detect active chemicals that are used to prevent HIV,SARS-CoV, SARS-influenza virus, CoV-2, and other diseases.
Regional Insights
North America is expected to have the largest share of the above industry in the coming years due to increased awareness of digitization approaches and increased R&D funding by chemical firms for overall production process advancements. For example, in 2019, US President launched the American AI Project as the country's strategy for boosting artificial intelligence leadership. As part of this approach, government agencies have helped to build the trust of the public in AI-based processes by providing guidance for their advancement and actual application across various sectors.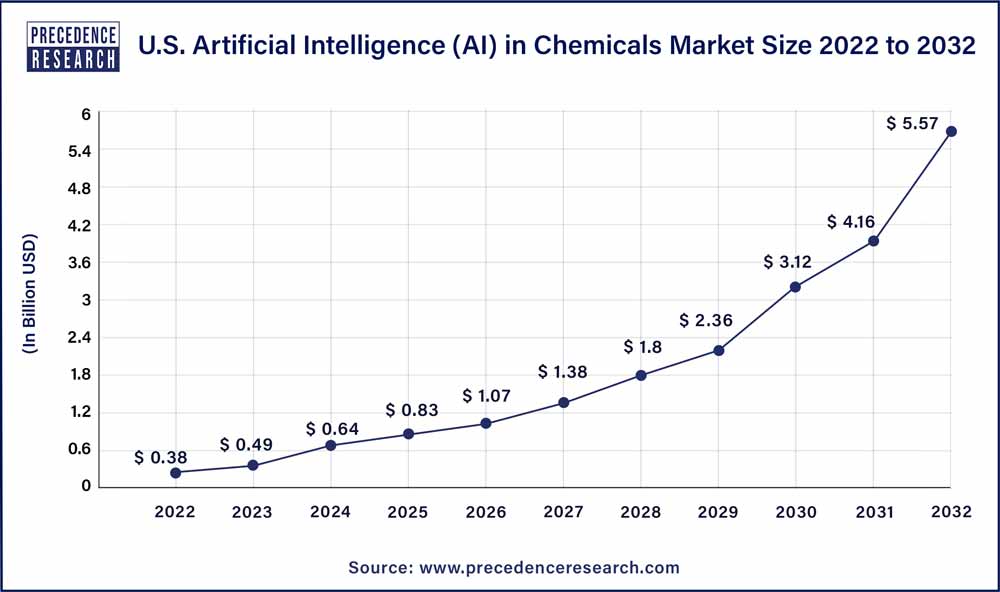 Europe is predicted to expand at the fastest pace during the expected period, owing to increased government funding and plans to establish chemical industries, favorable regulatory environments, and emerging new chemical industries. Europe is the world's second-largest producer of chemicals.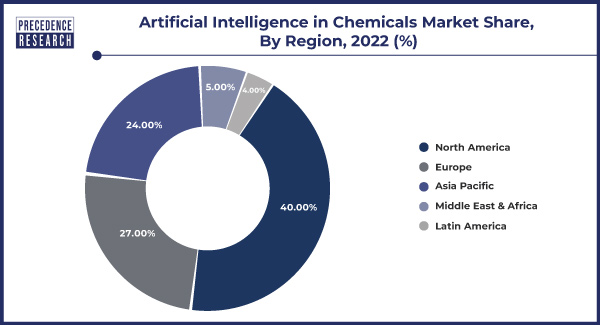 Type Insights
Software - Due to the ongoing software transformation that serves the needs of the chemical sector, the software sector generated the most share in 2022 and is anticipated to continue to dominate throughout the projected period. The growing usage of the software as a result of the increased demand for better storing, managing, evaluating, and sharing data in drug research and development has resulted in this segment's dominance. Furthermore, the software generates various sources of revenue for market players over time and has therefore become the highest sales factor for AI in the global chemical market. For instance, MATLAB is among the best software products for plotting data and performing numerical calculations in chemical engineering.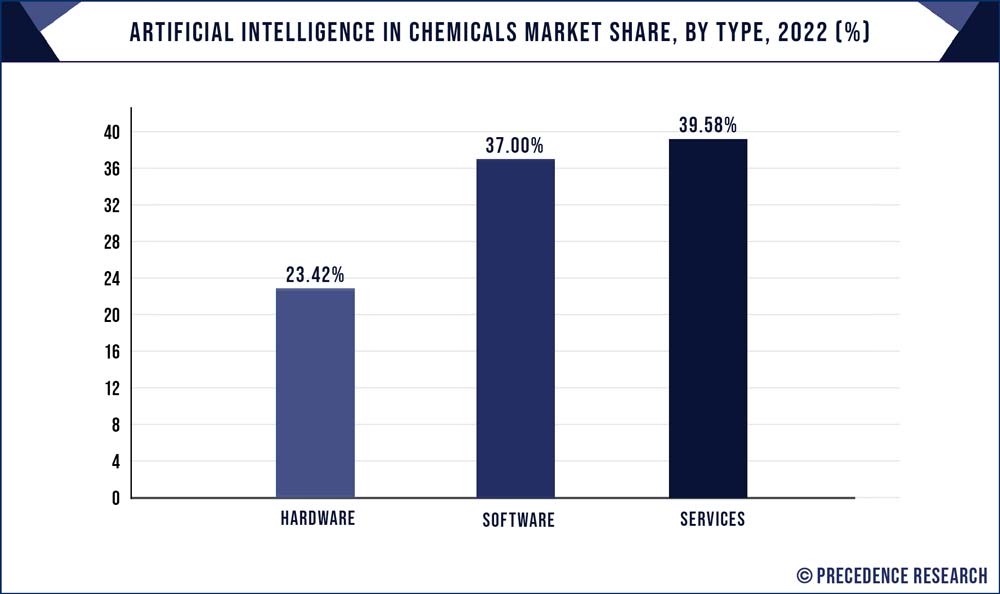 Hardware - The hardware sector is expected to grow significantly during the forecast period due to the increasing use of artificial intelligence algorithms for complex mechanisms and the rising demands for specialized hardware components such as AI memory and processors. Artificial intelligence processors are neuromorphic processing parts that are more effective and quicker than traditional processors. The hardware of the intelligent lab for efficient chemical processes, such as the reactor, separator, and advanced detection, is referred to as the physical system. In order to enable in-/on-line monitoring, real-time information must be integrated into housing and casing using additive manufacturing. AI and machine learning are generating and analyzing an increasing number of mission records in real time, enabling autonomous cognitive digital wars and propelling the hardware segment forward.
Application Insights
Discovery of new materials
Advancements in technology bring about new methodologies, and the field of materials science is experiencing such transformations. Traditional manual and time-consuming approaches in materials discovery are being enhanced by automated, parallel, and iterative processes driven by Artificial Intelligence (AI), experimental automation, and simulation. While the vast materials literature exists, it is incomplete, lacking comprehensive property data for existing and hypothetical materials. Simulation techniques offer the potential to generate this missing data; however, the shift from physical to digital experimentation presents its own set of challenges. One such challenge is selecting the appropriate simulation protocol, as an inadequate choice can hinder the success of a discovery campaign from the outset.
Moreover, the computational cost of executing these protocols can impose limitations on the scope of the design space that can be explored. To address these challenges, the field of AI or ML-assisted simulations has gained significant momentum in recent years. Through the utilization of neural networks, AI has demonstrated the ability to predict increasingly complex properties, including those of energetic materials, solid-state materials, and even protein structures. Furthermore, the development of machine-learned potentials has made it possible to achieve near-quantum-chemical accuracies at a fraction of the computational cost. These advancements in AI-assisted simulations are revolutionizing the materials science landscape, enabling more efficient and accurate exploration of materials properties and accelerating the discovery of novel materials.
Production optimization
Optimizing products is a pervasive challenge across industries, including the chemicals market. The application of artificial intelligence (AI) in this domain holds immense potential for driving product optimization. By leveraging AI techniques, such as predictive algorithms and deep learning, the chemicals industry can enhance its processes and achieve significant improvements. For instance, AI can be utilized to optimize production operations, minimize costs, and ensure the highest quality standards. Through AI-driven systems, chemical manufacturers can optimize performance parameters and reduce energy consumption, leading to more efficient and sustainable processes. Moreover, AI plays a vital role in chemical process control by enabling real-time monitoring and proactive management. Techniques like computer vision and predictive artificial neural networks empower high-speed and precise thermal control of continuous flow chemical reactors, enhancing productivity and minimizing downtime. Additionally, the integration of deep learning and thermal imaging allows for intelligent fault detection in pyrolysis reactor monitoring, contributing to enhanced safety and reliability. These applications highlight the transformative impact of AI in the chemicals market, driving optimization, efficiency, and proactive monitoring for improved performance and competitiveness.
Recent Developments:
Bayer & Google Cloud revealed a collaboration in January 2023 to boost Bayer's quantum chemistry analysis to initiate drug discovery through machine learning.
In 2023, Aramco & Hong Kong AI organization Insilico collaborates on the development of environmentally friendly fuels and materials.
In 2023, a new study will use AlphaFold and AI to boost the development of a new drug for liver cancer.
Chemical.AI announces a collaboration with NovAliX, a global Drug Development CRO firm, on January 16, 2023.
In 2022, researchers at IIIT-Delhi developed an AI-based method for identifying carcinogenic compounds in chemical structures.
In 2022, Sanofi formed a collaboration with Exscientia, contributing $100 million to help generate 15 novel small molecules in cancer treatment and immunology.
Key Market Players
Manuchar N.V
IMCD N.V.
Univar Solutions Inc.
Brenntag S.E.
Sojitz Corporation
ICC Industries Inc.
Azelis Group NV
Tricon Energy Inc.
Biesterfeld AG
Omya AG
HELM AG
Sinochem Corporation
Petrochem Middle East FZE
Segments Covered in the Report
(Note*: We offer report based on sub segments as well. Kindly, let us know if you are interested)
By Type
Hardware
Software
Services
By Application
Discovery of new materials
Production optimization
Pricing optimization
Load forecasting of raw materials
Product portfolio optimization
Feedstock optimization
Process management & control
By End Use
Base Chemicals & Petrochemicals
Specialty Chemicals
Agrochemicals
By Geography
North America
Europe
Asia-Pacific
Latin America
Middle East and Africa