The global artificial intelligence (AI) robots market size was accounted at USD 12 billion in 2022 and is expected to be worth around USD 83.78 billion by 2032 with a registering growth at a CAGR of 21.50% during the forecast period 2023 to 2032.
Access our Premium Real Time Data Intelligence Tool, Visit: Precedence Statistics
Key Takeaways:
North America has noted 33% market share in 2022.
Asia Pacific and Europe held 29% & 25.2% revenue share respectively in 2022.
Industrial robot type segment reported for 62.25% global market share in 2022 due to improved productivity because of analytical maintenance.
AI is a portion of computer science that is used for making machinery smarter. Artificial Intelligence robots are the combination of technology of AI with robots. Allowing them to execute repetitive responsibilities more effectively deprived them of human involvement. Fast change in robot abilities driven by inventions in machine learning, adaptive computing, Artificial Intelligence, and vision systems is advancing the market. Entire of these responsibilities decrease interruption and knowingly improve industrial productivity. Smart appliances can execute intellectual responsibilities in surroundings close or parallel to what a human can do. Applying robotics technology and integrating robotic technology with industrial methods has allowed business establishments to dedicate more devotion to a variety of challenging ventures.
The acceptance of AI robots is to established upsurge at a fast step, contributing to many opportunities for mechanization of responsibilities in numerous important areas like space explorations, domestic services, military operations, medical procedures, and gathering of information about temperature, air pressure, climate, wind. This increases the demand for industrial robots driving the market for Artificial Intelligence (AI) robots during the forecast period. Latest-generation smart robots use present-time, closed controls loop to perform the tasks like transport, contribution to assembly & product fabrication, machinery load & unload in warehouses, and complete products testing and validation. The global AI robots market is likely to rise knowingly throughout the forecast, due to the increase in the importance of artificial intelligence (AI) robots in retail, automotive, industrial, and healthcare sectors.
Report Scope of the Artificial Intelligence (AI) Robots Market
| | |
| --- | --- |
| Report Coverage | Details |
| Market Size in 2023 | USD 14.52 Billion |
| Market Size by 2032 | USD 83.78 Billion |
| Growth Rate from 2023 to 2032 | CAGR of 21.50% |
| Base Year | 2022 |
| Forecast Period | 2023 to 2032 |
| Segments Covered | Offering, Robot Type, Technology, Deployment Mode, Application, Geography |
| Companies Mentioned | ABB, AIBrain, Inc., Alphabet, Argo AI, LLC, Blue Frog Robotics & Buddy - Emotional Robot, Brain Corporation, CloudMinds Technology Inc., DataRobot, Inc., Fanuc, Hanson Robotics Ltd., Harman International Industries, IBM Corporation, Intel Corporation, International Business Machines Corporation, Kawasaki, Microsoft Corporation, Mitsubishi, Neurala, Inc., NVIDIA Corporation, Omron, Promobot, SoftBank Corp., UB Tech Robotics, Inc., Veo Robotics, Inc., Vicarious, Xilinx, Yaskawa |

Growth factors
Many government agencies are taking initiatives to expand the approval of inventions in robotics and artificial intelligence. The growing acceptance of AI robots in the sector of health care as it supports starting a good link between patients and healthcare professionals. These creativities inspire businesses to transmit new expansions to support the delivery of the latest machinery and robotics around different areas. Different industries like healthcare, manufacturing, construction and automobile are progressively accepting industrial automation. AI robots are purposely used to transfer materials in the manufacturing and production industry and also carry several automated responsibilities. The acceptance of AI robots has improved owing to their extremely constant and accurate performance. An important quantity of robots is used for the submission of material management in numerous industries. The main reason for such implementation is to get good quality and protect employees from damages that happen due to faulty machines.
Artificial intelligence is the proficiency that replicates intelligent behavior acquires and accomplishes operations or processes. Robotic structures with artificial intelligence allow industry segments to develop extra flexibility in their actions. So, robots are connected with the technology of artificial intelligence which supports in assisting daily jobs and industries jobs, thus reducing human interference. The growing acceptance of artificial intelligence robots for individual use and growing government initiatives for developing recent technologies will show the major market driving factors.
Growing effort on dropping the human mistakes in the increasing profitability of industrial robots, manufacturing processes, Growing digitization in several businesses like financial services, banking, insurance, and the establishment of IT sector in evolving countries like China and India are showing the highest market growth. Robotics when united with AI, systems of robotic can participate in different events and whole responsibilities separately removing the requirement for human involvement. This benefit will appear as one of the major drivers for AI in robotics in the future growth of the market. Though, the absence of an expert labor force and technical skills person in developing and underdeveloped economies leads to growth limiting factors for the market. The rising distribution of the 5G set-up and the growing demand for smart supporters are factors boosting the market growth.
By Offering Insights
Depending on the offering the market for artificial intelligence robots is segmented into software and hardware. The software segment is sub-divided into AI solutions and AI platforms. The hardware segment is sub-divided into storage devices, processors, and network devices. The hardware segment has a maximum share of 45.8% in 2022. It is projected to continuously advance its position at a maximum growth rate during the period of forecast. Chip producers are competing to develop AI hardware to gain 40-50% of the complete technology price owing to constant development in information accessibility, and the inventor network, and add capacity.
The technological load for AI, with memory, networking, storage, and logic. Developments in sensors, batteries, actuators, and computation are required to advance accurately self-directed robots. Computer idea helps AI to become extra smart by giving correct data that only machine can understand once objects are properly marked with the use of image annotation methods.
Robot Type Insights
Depending on robot types the market of artificial intelligence robots is segmented into industrial types and service types. Industrial-type robots are sub-divided into combined industrial robots and traditional or industrial robots. Old-style industrial robots are more subdivided into cartesian robots, articulated robots, parallel robots, Scare robots, and other robots. Service-type robots are sub-divided into aerial, underwater, and ground.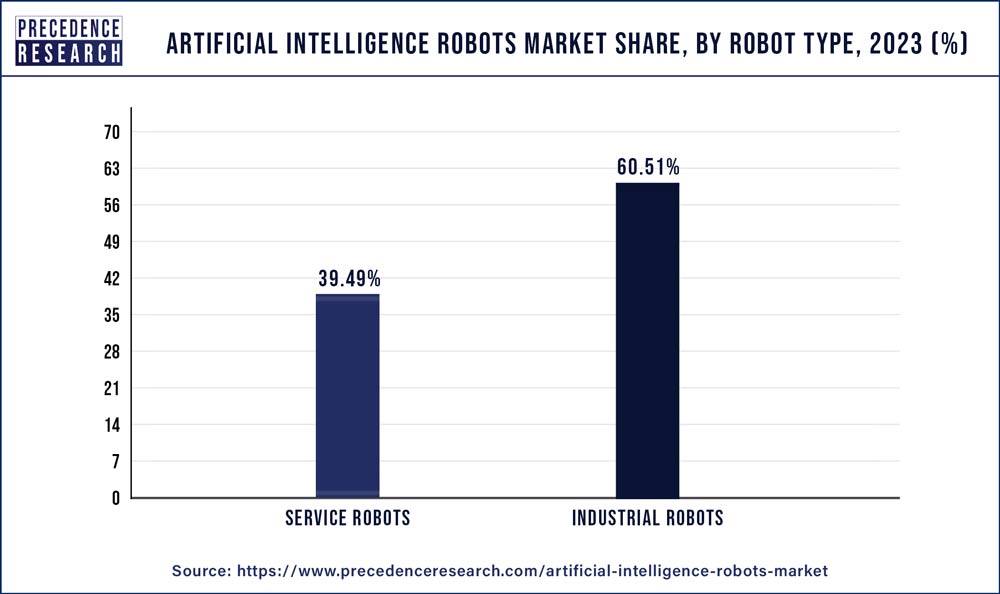 AI- allowed robots to deliver whole automatic methods, thus preceding the necessity for human involvement. Robots can display their performance and exactness due to AI combination with robotics technology so signing when maintenance is essential to avoid exclusive interruption. Industrial development can be observed with the application of robotics and artificial intelligence. AI increases the capacity of robotic structures like Drones, machine interactions, intelligence gathering, human interactions, warehouse logistics, and security monitoring. Though, industries are so far to do use the full latent of robotics and machine learning. This helps to reduce the employees, increase effectiveness, and make simpler the manufacturing organization.
By Technology Insights
Depending on the technology the market for artificial intelligence robots is segmented into computer vision, machine learning, context awareness, and Natural Language Processing (NLP).
The segment of machine learning is anticipated to increase significantly in the Artificial Intelligence Robots market over the forecast period. A huge amount of information is nurtured into the ML procedures, confirming that Artificial intelligence technologies like robotic structures can execute exactly. Machine learning is the progression of training and Optimization methods to deliberate for the situation and accomplish specific responsibilities or actions.
Artificial Intelligence (AI) Robots Market Share, By Region, 2022 (%)
| | |
| --- | --- |
| Regions | Revenue Share in 2022 (%) |
| North America | 33% |
| Asia Pacific | 29% |
| Europe | 25.2% |
| Latin America | 8% |
| MEA | 4.8% |

Regional Insights
North America is a developer and innovator in robotics execution and also the major financial prudence in the world. Automation will be able to feel their environments in the future in actual with the help of learning naturally from their backgrounds, all connected sensors, use original-language reckoning actions, and reserve their computer hardware by predicting disappointments and being restored by other extra robots appreciate to industrial developments. Growing acceptance of automated material developments and management like improved warehouse automation, lights-out automatic developments, and growing usage of these machines across the world businesses are increasing the market growth. These market movements are anticipated to expand for robotics over the period forecast.
Asia-Pacific rules the market of Artificial Intelligence (AI) robots and will dominate the market during the period of forecast due to the increase in acceptance of NLP technologies and deep knowledge of safety and retail importance. The segment of the market of the Artificial Intelligence (AI) Robots description also offers distinct market affecting issues and variations in the guidelines in the market internationally which influence the future and current market trends.
North America will continue to go under significant increase during the period of forecast. This is owing to several applications of implementing AI technology in robots. The availability and existence of international brands and the influence of internal prices and trade directions are taken into consideration during the estimate of analysis of data of country and their challenges handled owing to huge or uncommon struggle from domestic and local product brands. Data opinions like production sites, upstream value chain review, downstream value chain review, price trend review, consumption volumes, cost of raw materials, import-export review, and production volumes are the main factors for specific countries for an estimate the situation of the market.
Key market developments:
ABB launched novel SWIFTI™ and GoFa™ cobot relations, giving more speeds and payloads, to accompaniment Single Arm YuMi® and YuMi® in the line-up of ABB's cobot in Feb 2021. The company's development in more-growing segments is accelerated by these cobots which include food, consumer goods, beverage, electronics, coordination, healthcare, and others, leading to the increasing demand in multiple industries for automation.
CereProc and Hanson Robotics merged for an innovative AI venture, Sophia in May 2020. Using CereProc's melodic TTS organization. This night starring Jimmy Fallon Show, Sophia is the robot singing a duet track with a human. This combined AI project bounces Sophia to an improved AI-based artificial voice. This can carry more entertaining performances and is dramatic in actuality and also allows expressing excitement, humor, suspense, and the odd sassy comment.
Jetson Nano™ 2GB Inventor Kit is launched by NVIDIA in October 2020. The hand on ventures is created for the areas of intelligent IoT and robotics which are intended for learning and teaching AI.
Key market players:
ABB
AIBrain, Inc.
Alphabet
Argo AI, LLC
Blue Frog Robotics & Buddy - Emotional Robot
Brain Corporation
CloudMinds Technology Inc.
DataRobot, Inc.
Fanuc
Hanson Robotics Ltd.
Harman International Industries
IBM Corporation
Intel Corporation
International Business Machines Corporation
Kawasaki
Microsoft Corporation
Mitsubishi
Neurala, Inc.
NVIDIA Corporation
Omron
Promobot
SoftBank Corp.
UB Tech Robotics, Inc.
Veo Robotics, Inc.
Vicarious
Xilinx
Yaskawa
Segments are covered in the report:
(Note*: We offer report based on sub segments as well. Kindly, let us know if you are interested)
By Offering
Software
Hardware
Services
By Robot Type
Service Robots
Industrial Robots
Others
By Technology
Machine Learning
Computer Vision
Context Awareness
Natural Language Processing
By Deployment Mode
By Application
Law Enforcement
Military & Defense

Border Security
Search and Rescue Operations
Combat Operations
Spying

Public Relations

Reception Robots
Tour Guiding Robots

Personal Assistance and Care

Elderly Assistance Robots
Companion Robots

Education and Entertainment
Research and Space exploration
Industrial
Agriculture
Healthcare Assistants
Stock Management
Others
By Geography
North America
Europe
Asia-Pacific
Latin America
Middle East & Africa (MEA)