The global biodiesel market size was estimated at USD 36.48 billion in 2022 and it is expected to hit around USD 79.12 billion by 2032, expanding at a notable CAGR of 8.1% from 2023 to 2032.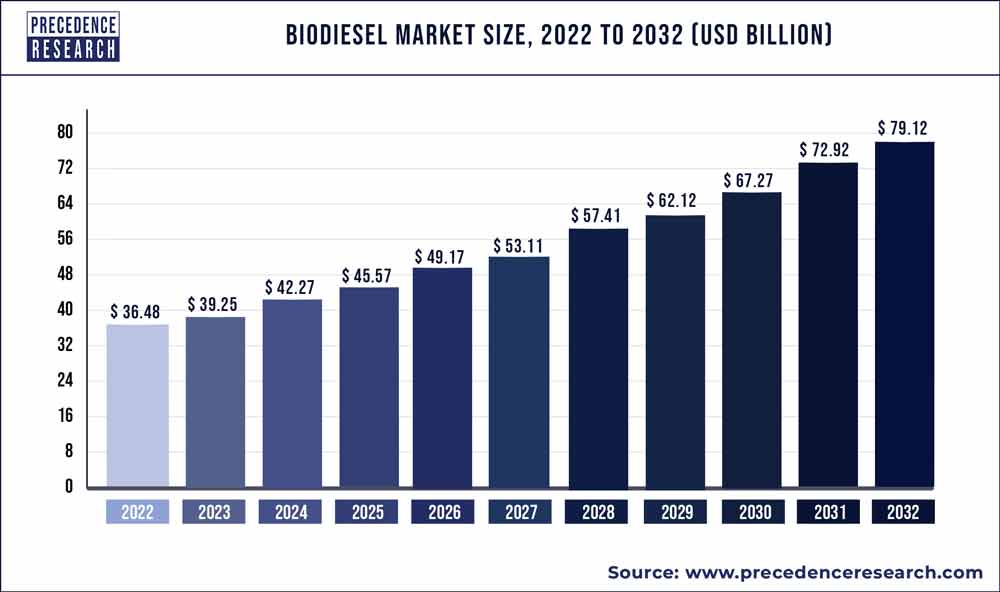 Access our Premium Real Time Data Intelligence Tool, Visit: Precedence Statistics
Key Takeaways:
By feedstock, the vegetable oil category was responsible for more than 96.4% of worldwide revenue in 2022.
By application, the fuel sector dominated the market with 79% of total revenue in 2022.
The Europe region dominated the market with 48% of the total market share in 2022.
It is a renewable and clean-burning diesel alternative that may be utilized in current diesel engines that too without requiring any alterations. It usually includes recycled oils for cooking, feedstock, and animal fats. The market is anticipated to expand as demand for biodiesel to replace conventional fossil fuels in the transportation and power generation sectors rises. The market is quite fragmented since there are so many different suppliers and dealers.
On the other hand, the lack of production capacity and the high potential for R&D in the choice of feedstock for product manufacturing are likely to create chances for new market competitors. An important aspect driving the sector is the increased need for clean fuels that permit complete combustion while reducing Greenhouse Gas (GHG) emissions. Another factor boosting demand is biodiesel's excellent compatibility with modern diesel engines. The demand for biodiesel is anticipated to increase as a result of the growing population, an increase in the number of biodiesel-using automobiles, and other factors. In the automobile sector, biodiesel is highly sought after since it produces less GHGs. As a result, demand inside the United States is anticipated to rise during the course of the projection period.
Growth Factors
A rising preference for biofuel, which is renewable and biodegradable, over fossil fuels, which are associated with higher GHG emissions are influencing the market demand. COVID-19 has an impact on biodiesel usage in the first half of 2020. Furthermore, increased demand for ecologically friendly and GHG emission-reducing gas is likely to drive market growth. Furthermore, government help such as subsidies and mandates suggest that the industry will continue to flourish.
Report Scope of the Biodiesel Market
| | |
| --- | --- |
| Report Coverage | Details |
| Market Size in 2023 | USD 39.25 Billion |
| Market Size by 2032 | USD 79.12 Billion |
| Growth Rate from 2023 to 2032 | CAGR of 8.1% |
| Base Year | 2022 |
| Forecast Period | 2023 to 2032 |
| Segments Covered | Feedstock, Application, Production Process, and Geography |
| Companies Mentioned | FutureFuel Corp, Ecodiesel Colombia S.A., Manuelita S.A., TerraVia Holdings, Inc.,Renewable Biofuels, Inc., Ag Processing, Inc., Archer Daniels Midland Company (ADM), Wilmar International Ltd, Bunge Ltd., Cargill, Inc., Louis Dreyfus Company; Biox Corp, Munzer Bioindustrie GmbH, Neste Oyj, Renewable Energy Group, Inc. |

Key Market Drivers
Increasing demand for cleaner fuels to stimulate the global biodiesel market
Environmental assistance improved regulatory assistance, geopolitical assistance, consumer assistance, and economic and agricultural assistance are all driving market expansion. Biodiesel generated from vegetable oils is popular in a range of sectors because the saturated fat level is minimal, making the production process easy and cutting total production costs. Furthermore, the feedstock needed to make vegetable oils is much more easily accessible than that required to produce greases and animal fats. The fuel application type segment is predicted to lead the market, followed by power generation.
The product's primary market is expected to be in Europe. The automotive industry's strong product demand, as well as different government attempts to minimise GHG emissions, are likely to drive market expansion. According to the National Biodiesel Board's 2020 report, utilisation will surpass six billion gallons in there on, off-road, civil aviation, power generation, and home heating applications by 2030, resulting in an annual reduction of approximately 35 million metric tonnes of Carbon dioxide equivalents greenhouse gas emissions. Advances in feedstock will raise consumption to 15 billion gallons by 2050. As a result, the market is likely to expand in the near future.
Growing demand by the automotive sector
The increased demand from the automotive industry is expected to boost the growth of the Biodiesel Market over the forecast period. Rising demand for gas in commercial trucks to replace crude oil is predicted to help the business. The fuel is healthy for the environment since it emits fewer greenhouse gases than conventional diesel because it contains fewer VOCs. However, the market's development is likely to be restricted by a rise in the sale of electric cars throughout the forecast period.
Tesla, for example, launched electric vehicles in the Indian market in 2017, noting the country's fourth-largest auto sector and the fact of electric vehicles will significantly reduce pollution levels. As a result of this invention, product demand in fuel applications is expected to be impeded. Furthermore, as OEM support for biodiesel grows and there is increased usage for crude glycerine through biodiesel production, prospects for market expansion are predicted in the coming years.
Key Market Challenges
Expensive feedstock costs for biodiesel production - The agricultural commodities market influences demand for biodiesel as well as clean-burning fuels above regular petroleum-based fuel. The most frequent feedstock for biodiesel manufacturing is vegetable oil, including such canola oil, soybean oil, and palm oil. Feedstock expenses comprise around 80-85% of overall production costs. The high volatility of feedstock prices, on biodiesel manufacturers rely, jeopardises their financial stability in a longer term. The prices of feedstock will grow in lockstep with prices of biodiesel, reducing profit.
Key Market Opportunities
Depleting petrochemicals
The worldwide petroleum stockpile is expected to last until roughly 2050. This has encouraged researchers to seek for the finest replacements and develop new growth channels for the overall biodiesel sector. Nonetheless, the call-supply imbalance caused by insufficient production capacity and the vast opportunity for R&D in feedstock selection for production process is expected to provide doors for new market competitors. Furthermore, the market is expected to include collaborations and partnerships between producers in order to generate large product quantities in order to fulfil the need for bio diesel.
Environmental concerns as well as depleting conventional energy sources
In response to public demand to cut emissions and replace fossil fuels owing to environmental concerns, the largest-ever spectrum of biofuels, including biodiesel, ethanol, bio-methanol, as well as other green fuels, has been produced. Biodiesel raises the cetane number of the gasoline and enhances its lubricity. The majority of the world's energy requirements are now fulfilled by fossil fuels. These sources of energy are non-renewable and are rapidly decreasing. However, because biodiesel is really a renewable energy source (renewable fuel), it may be utilised in place of traditional energy sources.
With the expanding population and rising demand for vehicles, there is an increase in demand for conventional fuels. There will be plenty of chances when governments regulate conventional fuel usage and impose limits on dangerous gas emissions. Biodiesel is miscible in all quantities with petroleum diesel and may be used straight in diesel engines or combined with petroleum diesel. All of biodiesel's environmentally favourable features, as well as toxicant emission laws, are major elements driving market potential for leading biodiesel makers.
Segments Insight
Feedstock Insights
The feedstock segment for vegetable oils is further subdivided into soybean oil, canola oil, palm oil, corn oil, etc. Concurrently, animal fats section is divided into tallow, poultry, white grease, etc. The vegetable oil category accounted 96.4% of global revenue in 2022. But selection of raw materials usually varies by area, depending on feedstock availability and cost. The palm oil, which has been widely utilised in the manufacturing of biodiesel in nations such as Thailand, Germany, Indonesia, France is likely to be a key feedstock for the industry.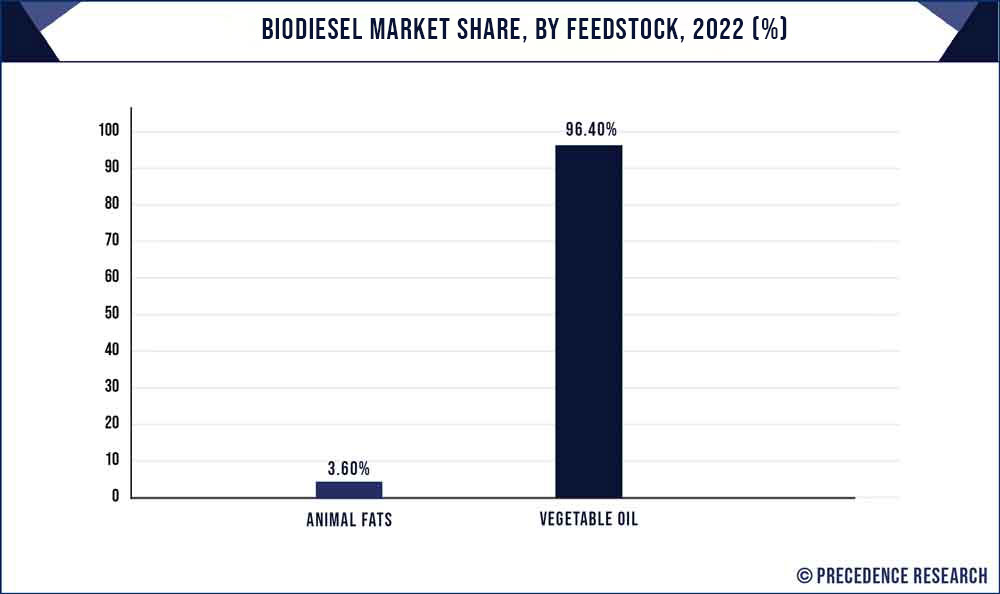 Indonesia & Thailand dominate production of palm oil, contributing for more than 79% of global output, along with a significant amount of the commodity utilised to produce biofuel. Whereas Europe was relying on feedstock imports from these Asian countries for biofuel manufacturing.
Application Insights
Based on application the fuel application sector accounted highest revenue share in 2022. In 2022, the automobile gasoline industry dominated product demand. Because it emits less Volatile Organic Compounds (VOCs) than traditional fuels such as diesel, the sector is projected to gain from rising demand for fuel in commercial automobiles as a substitute for crude oil.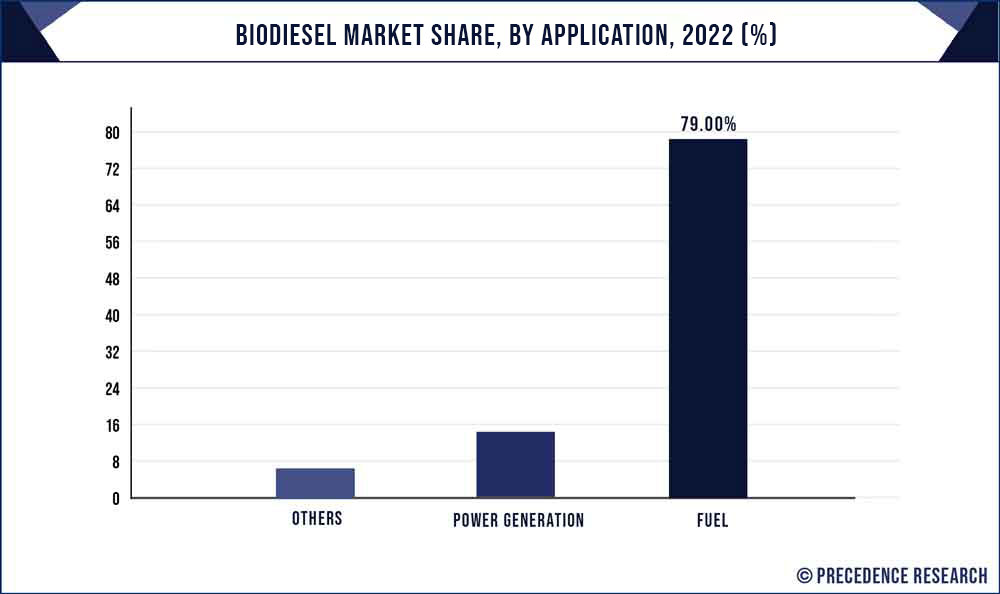 The product is used in the marine industry and is anticipated to grow at a sizable CAGR throughout the course of the forecast period due to its biodegradability, lack of aromatics and sulphur, and lack of hazardous properties. Additionally, during the projection period, product sales in agricultural applications are projected to be driven by the development of the agricultural sector and increased automation. Governments all over the globe are constantly working to reduce GHG emissions by generating power from renewable sources. The demand for the product in power producing applications is therefore anticipated to grow at a high CAGR between 2023 and 2032.
Biodiesel Market Share, By Region, 2022 (%)
| | |
| --- | --- |
| Regions | Revenue Share in 2022 (%) |
| North America | 21% |
| Asia Pacific | 25% |
| Europe | 48% |
| Latin America | 4% |
| MEA | 2% |

Regional Insights
The Europe region has captured highest market share in 2022. It has traditionally been the major market for the product due to early acceptance of the product in the region and government focus on switching to bio-based sources from carbon-emitting ones. In Europe, urea-coated oil, palm oil, animal fats, rapeseed oil, soybean oil, and sunflower oil are the most often utilised feedstocks for the production of biodiesel. Germany, the European country with the highest percentage of feedstock production, is the main driver of the region's product demand.
The less interest rate for procuring raw materials is predicted to increase consumption, accelerating market growth throughout the projection period in the region. Asia Pacific is similarly expected to grow at a rapid pace between 2023 and 2032.
It is anticipated that production would rise, which will probably fuel market expansion throughout the course of the projection year. However, market growth is anticipated to be constrained because palm oil is also used in the food industry. In order to reduce pollution and dependence on crude oil, the government's drive to promote green fuels is expected to spur market development throughout the anticipated timeframe. Additionally, by 2022, the Indian government plans to blend more than 5% biodiesel, which is anticipated to spur development during the course of the projection period. South and Central America will generate 10,960.1 million liters in 2022. The rise was attributed to higher domestic consumption as a result of higher levels of blending to use up extra palm oil production.
Recent Developments
January 20, 2022: ExxonMobil announced a 49.9% ownership in Biojet AS, a Norwegian biofuels startup that seeks to turn forestry and wood-based building waste to lower-emissions biofuel and biofuel components.
Purefuel Energy said in November 2021 that it will open 1000 fully certified biodiesel retailing fuel stations in India over the following year. Purefuel Energy collaborates closely with government officials to achieve the Government of India's aim of making India less reliant on fuel imports and lowering the country's carbon impact. Purefuel's first step in realising this objective will be biodiesel retail outlets.
Segments Covered in the Report
(Note*: We offer report based on sub segments as well. Kindly, let us know if you are interested)
By Feedstock
Vegetable Oil

Canola Oil
Soybean Oil
Palm Oil
Corn Oil
Others

Animal Fats

Poultry
Tallow
White Grease
Others
By Application
Fuel

Automotive
Agriculture
Marine

Power Generation
Others
By Production Process
Alcohol Trans-Esterification
Hydro-Heating
By Geography
North America
Europe
Asia-Pacific
Latin America
Middle East & Africa (MEA)