The global bioplastics market size was estimated at USD 12.42 billion in 2022 and is expected to hit around USD 63.55 billion by 2032 and registering growth a compound annual growth rate (CAGR) of 17.80% between 2023 to 2032.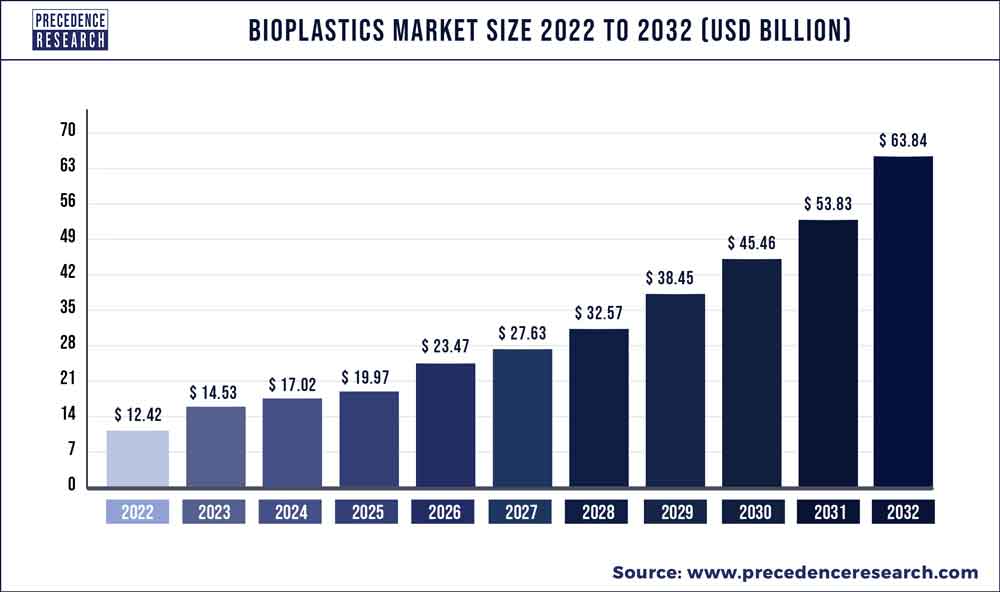 Key Takeaway:
The Asia Pacific bioplastics market is growing at a CAGR of 14% over the forecast period.
The biodegradable product segment is expected to grow at a CAGR 17% from 2023 to 2032.
Bioplastic is a long-lasting polymer created from renewable raw materials that may be used in place of petroleum-based polymers. It has the potential to reduce carbon dioxide emissions by 30 to 70%. It yields a 42% reduction in carbon footprints. Bioplastic production requires 65 percent less energy than traditional petroleum plastic. The global bioplastics market is evolving, with competitors increasingly focusing on enhancing and consolidating R&D activities, resulting in expanded production capacity.
Bioplastic has experienced quick adoption across a wide range of applications due to its remarkable technical traits and capabilities. Because of favourable rules enacted by a number of countries around the world, the industry for bioplastics has grown significantly in a range of plastic applications. Some of the major market drivers for bioplastics include their environmentally friendly characteristics, greater consumer affirmation of bio-based commodities, regulatory frameworks for making degradable containers, and the availability of clean energy raw material sources for bioplastics manufacturing. Bioplastic production is an energy-efficient technique since it consumes 66% less energy than regular plastic. Bioplastics do not affect the earth or the environment because they are non-toxic and readily decompose. Furthermore, the greenhouse gas emissions of bioplastic are negligible throughout the decomposition process.
The bioplastics are used to reduce the carbon footprints approximately by 42%. Hence, key players in the market such as Nestle, Nike, Coca-Cola, and Ford are investing in the manufacturing of bioplastic materials for wide range of applications such as plastic bottles, automotive components. Bioplastics are becoming more popular in a variety of uses, including catering, packaging, agricultural, and automotive. Bioplastic is also a good material for organic farming. Biodegradable mulching films are being used by farmers in agriculture and horticulture. Bioplastic is the packaging material and is preferred by consumers over a synthetic plastic packaging because that may disintegrate with food. Moreover, governments all over the globe are establishing favourable laws and regulations to promote bioplastics resilience and degradability. The European Union is the major political backer of the bioplastics industry. Furthermore, maize, grain, corn, and sugarcane are common feedstock's for bioplastics production. These are extensively available in almost every country on the earth. As a result, fluctuations in the global crude oil price have no effect on the expansion of the bioplastic sector. All of these reasons contribute considerably to the growth of the bioplastics market.
Report Scope of the Bioplastics Market
| | |
| --- | --- |
| Report Coverage | Details |
| Market Size in 2023 | USD 14.57 Billion |
| Market Size by 2032 | USD 63.65 Billion |
| Growth Rate from 2022 to 2030 | CAGR of 17.80% |
| Base Year | 2021 |
| Forecast Period | 2023 to 2032 |
| Segments Covered | Product, Application and Geography |
| Companies Mentioned | TEIJIN LIMITED, TORAY INDUSTRIES, INC., Toyota Tsusho Corporation, Avantium, PTT MCC Biochem Co., Ltd., An Phat Holdings, NatureWorks LLC, SABIC, BASF SE, Futerro, Trinseo S.A., Braskem, Total Corbion PLAIR, SUPLA (JIANGSU SUPLA BIOPLASTICS CO., LTD.), Solvay. |
Growth Factors
Plastic users now include all of the major food and beverage manufacturers who are as of well-positioned to transition with bioplastic packaging for the goods. As a result, the bioplastics industry is expected to expand once a fully commercial bioplastic is ready. A significant R&D investment is necessary to commercialise this breakthrough, and research should continue to improve material efficiency, simplify synthesis, and optimise the use of promising biomaterials. With this advancement, producers will be able to generate more value and less expensive bioplastic. Company such as PepsiCo, & Coca-Cola, for example, are working on bio-based polyethylene bottles, nylon based bottles, and PET plastic bottles for the packaging. Bioplastics are used in goods like POS terminals and LCD projectors by companies such as NEC Corporation. As a result, a rise in these firms' CSR initiatives is expected to fuel bioplastic demand and enhance investor interest in the bioplastic sector.
Starch- and PLA-based bioplastic classes have grown significantly in recent years, accounting for a major percentage of the bioplastic ingredient business. Bioplastics based on cellulose, polyhydroxyalkanoates, bio-polyamide, and biopolyethylene are examples of possible bioplastics. The market is led by the United States and Europe, with Asia-Pacific and the Rest of the World trailing behind. The industry is expanding fast as more businesses enter it with innovative breakthroughs and applications in automotive and electronics. Because of its limited crude oil deposits, Europe has a greater bioplastic market. Packaging, agriculture, food services, automobile consumer electronics, home appliances, and consumer goods are among the uses for bioplastics. High consumer acceptability, high fossil fuel prices, increased reliance on fossil fuels, and the demand for more eco-friendly goods are some of the primary reasons driving the bioplastic industry. Bioplastics are currently in high demand due to their renewability and availability of raw materials, increased functionality and technological qualities, and recycling options.
Bioplastics now account for less than 1% of the more than 367 million tonnes of plastic generated annually. Despite a minor decline in overall worldwide plastic output, the market for bioplastics has expanded steadily. This growth is being driven by increased demand as well as the advent of more sophisticated applications and products. Global bioplastics production capacity are expected to rise from roughly 2.42 million tonnes in 2021 to over 7.59 million tonnes in 2026, according to the most recent market statistics gathered in collaboration with the nova-Institute. As a result, for the first time, the percentage of bioplastics in worldwide plastic manufacturing will exceed 2%. Bioplastics are being utilized in a growing range of areas, including packaging, consumer electronics, catering items, agriculture/horticulture, automotive, and toys, as well as textiles and a variety of other applications. Packaging will continue to be the largest bioplastics market category, accounting for 48 % (1.15 million tonnes) of a entire bioplastics market in 2021. However, the applications of a portfolio continue to diversify. With increasing functional polymer capabilities, segments such as automotives and transportation and building and construction continue to increase.
Segment Insight
Product Insights
Non-biodegradable plastics had a market share of more than 42% in 2022 and are predicted to increase at a healthy rate during the forecast period. Polytrimethylene terephthalate, polypropylene, polyethylene furanoate, Polyethylene, polyethylene terephthalate, polyamide and polyvinyl chloride are examples of non-biodegradable polymers. These polymers are made from renewable raw resources including sugarcane, maize, and castor oil, among others. Non-biodegradable bioplastics are commonly found in carry bags, shopping bags disposables, bottles, food packaging, consumer goods and electronics films, vehicle interiors. The growing propensity of key companies toward sustainable products as a result of increased end-user demand and the growing need to minimise reliance on petroleum-based products is expected to drive category expansion during the forecast period.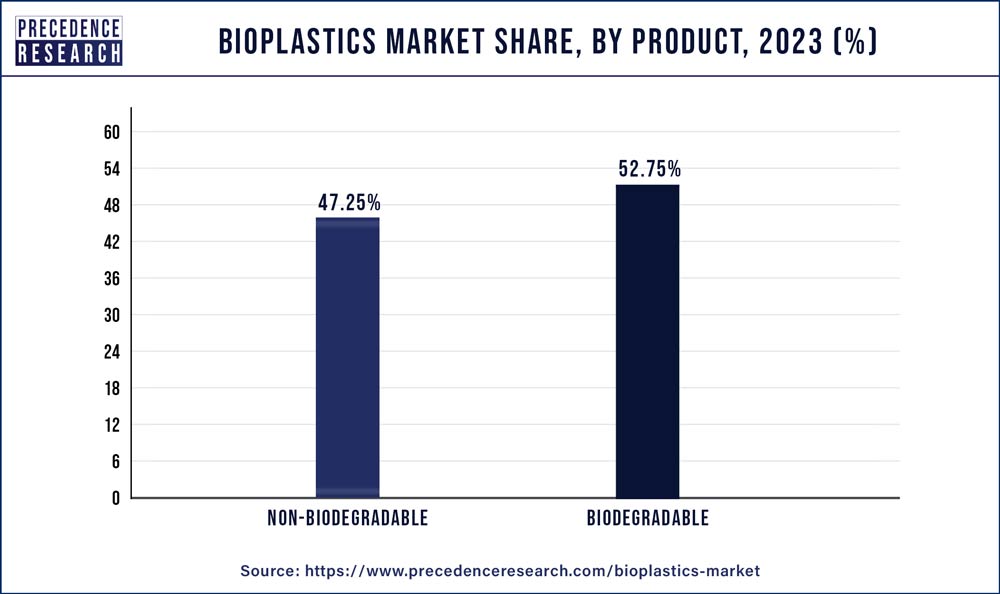 Polylactic acid, starch blends; PBAT, PHA, polycaprolactone, PBS and cellulose acetate are examples of biodegradable polymers. In terms of sales, the starch blends were had the largest biodegradable products group in year 2021. Natural resources like wheat, rice, potatoes, corn, and tapioca are used to make starch-based polymers. Because of the abundance of resources, starch blends are an excellent alternative to traditional plastics.
Application Insights
The packaging application dominated the market in 2022, accounting for more than 64% of total revenue. Bioplastics are widely employed in a variety of packaging applications, including food and beverage packaging, films and sheets, personal care packaging, and household care goods. Some of the most common bioplastics used in packaging include starch blends, PLA, PE, PET, PBAT, and PBS. Consumers' preference for ecological packaging, along with the global trash crisis, is driving manufacturers to incorporate bioplastics in packaging.
Bioplastics are mostly employed in food packaging applications in the packaging sector. Bioplastics are commonly used in the production of bottles, jars, and containers, as well as fresh food packing. PLA plastic bottles are long-lasting, disposable, and have features like transparency and gloss. In comparison to petroleum-based goods, polylactic acid is easily compostable and does not generate harmful gases during cremation. As a result, their packaging demand is likely to stay extremely high during the projection period.
The agricultural sector's need for bioplastics is predicted to develop dramatically as a result of the increased emphasis on decreasing environmental contamination and creating a favourable climate for composting. Biodegradable materials are increasingly being used in nurseries and gardening due to their excellent features such as enhancing plant seedling growth and reducing fruit rotting. This is predicted to have an impact on the spread and penetration of bioplastics in the agricultural sector.
Bioplastics Market Share, By Region, 2022 (%)
| | |
| --- | --- |
| Regions | Revenue Share in 2022 (%) |
| North America | 29% |
| Asia Pacific | 20% |
| Europe | 45% |
| Latin America | 4% |
| MEA | 2% |
Regional Insights
Europe will lead the worldwide market in 2022, with a revenue share of more than 45%. Bioplastics are widely employed in a variety of critical applications, including refuge bags, loose packaging, agricultural mulch films, shopping bags, and bottles. In the European Union, around 100 billion bags are used each year. The widespread consumer acceptance of bioplastics is increasing in all European nations. The market is also expected to be pushed by bioplastics' growing adoption in major end-use sectors such as packaging, consumer goods, textiles, medical devices, automotive & transportation among others.
The rising need for bioplastics is likely to boost the North American industry. Furthermore, the regional market is characterized by a strong desire for sustainability, which has resulted in a significant need for sustainability in packaging. The US Department of Agriculture's attempts to promote ecologically friendly goods are also likely to boost overall demand for bioplastics in North America.
Due to the existence of a well-established food and beverage sector as well as consumers of various forms of packaging, Asia-Pacific accounted for the greatest bioplastics market revenue share in 2020 and is also the fastest expanding region at a CAGR of 12.45%. China, India, and Japan are the region's top income providers. The market environment may alter due to China's reliance on diverse raw resources for the manufacturing of biodegradable plastics.
Due to China's restricted production capacity, the material price for biodegradable plastic is likely to rise. To prevent such high material prices, industry participants are concentrating on extending the lead time.
Key market developments
Plastics and packaging are key product areas for the EU Commission's "Circular Economy Action Plan," which will be released in spring 2020 as part of the "Green Deal." To combat the throwaway society and minimise waste, the EU Commission is planning a plastic tax, limitations on microplastics, and encouragement of plastic recycling, among other things. A new "framework law for bio-based, biodegradable, and compostable plastics" should be in place by the end of 2021, explicitly defining what these categories represent and how bioplastics should be disposed of. A life cycle analysis can help to avoid greenwashing: Biobased plastics should be utilised if they provide actual environmental benefits over fossil plastics and do not conflict with food production.
Key market players
TEIJIN LIMITED
TORAY INDUSTRIES, INC.
Toyota Tsusho Corporation
Avantium
PTT MCC Biochem Co., Ltd.
An Phat Holdings
NatureWorks LLC
SABIC
BASF SE
Futerro
Trinseo S.A.
Braskem
Total Corbion PLAIR
SUPLA (JIANGSU SUPLA BIOPLASTICS CO., LTD.)
Solvay
Segments covered in the report
(Note*: We offer report based on sub segments as well. Kindly, let us know if you are interested)
By Product
Biodegradable

Polylactic Acid
Polybutylene Adipate Terephthalate (PBAT)
Polybutylene Succinate (PBS)
Starch blends
Others

Non-biodegradable

Polyethylene
Polyethylene Terephthalate
Polytrimethylene Terephthalate
Polyamide
Others
By Application
Packaging

Rigid Packaging

Bottle & Jar
Trays
Others

Flexible Packaging

Pouches
Shopping/Waste Bags
Others

Consumer goods
Agriculture
Automotive & Transportation
Textile
Building & Construction
Others
By Geography
North America
Europe
Asia-Pacific
Latin America
Middle East & Africa (MEA)