The global bottled water packaging market size was estimated at USD 99.51 billion in 2022 and it is predicted to reach around USD 195.75 billion by 2032, growing at a CAGR of 7% over the forecast period 2023 to 2032.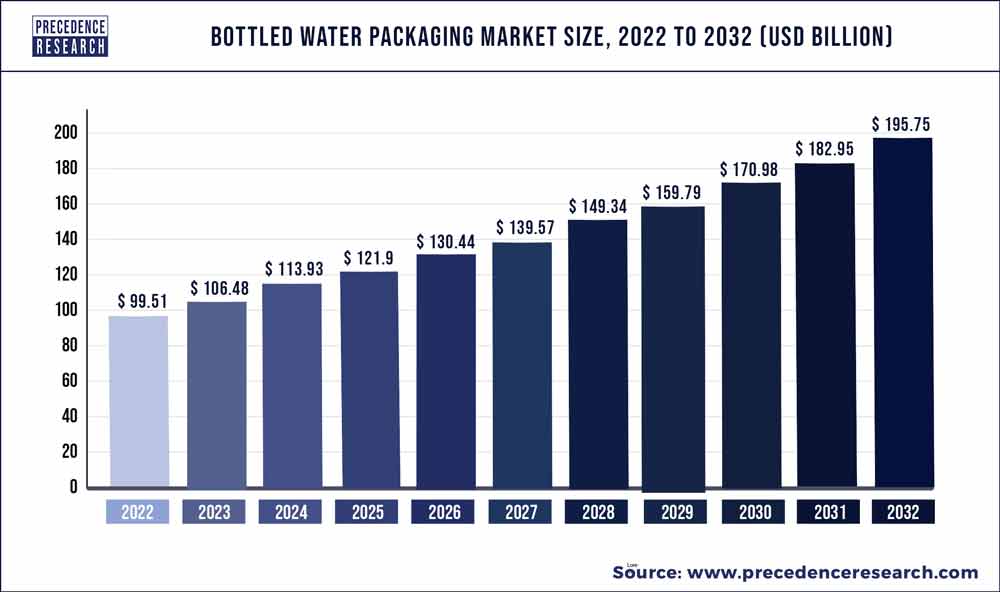 Access our Premium Real Time Data Intelligence Tool, Visit: Precedence Statistics
Key Takeaways:
By region, North American is dominating the bottled water packaging market.
By material, plastic is the most common material used to make water bottles.
By product, the high demand for safe drinking water at a reasonable price drives the market for still bottled water.
Market Overview:
The act of packaging bottled water for sale and distribution is referred to as "bottled water packaging." Bottled water is necessary because of the packaging's ability to protect the water from taint and lengthen its shelf life.
Type, Application, and regional segmentation of the market are all present. With a share of the market more significant than 50%, plastic dominates the market in terms of type. On the other hand, the market for glass bottles is increasing and is anticipated to do so at a CAGR of 6.4% over the forecast period. This can be attributed to the fact that these packaging choices are becoming increasingly well-liked among consumers due to their purported health benefits over competing options like plastic and metal cans.
It is possible to rely on the caliber of packaged water bottles. Drinking water from a packaged bottle is safe because it is pure, filtered, and untainted. A packaged water bottle can be transported in large quantities over great distances and is also simple to handle. Promoting water bottles is no longer a novel idea in light of the rapid depletion of water supplies and increased water-borne illnesses.
The global increase in water pollution is the main factor driving the market for bottled water packaging. The fact that they are easily accessible and reasonably priced, and convenient to use while traveling are two additional appealing market characteristics. The rapidity with which new players enter the market and the increasing expenses of brand advertising and marketing would also impact future outcomes. Because of consumers' improved lifestyles and growing awareness of the benefits of drinking mineral water, the demand for bottled water will rise.
Growth Factors:
The bottled water packaging market has witnessed enormous demand and significant expansion in recent years, the rising production of bottles for drinking water will continue the growth of the market.
In addition to health issues, growing disposable income has supported the market's growth. Bottled mineral water gives customers additional health advantages because it has been filtered and improved with dissolved minerals. Innovative packaging techniques and designs have enhanced packing and decreased weight.
The market is primarily driven by rising concerns about water contamination caused by hazardous waste disposal in water bodies and advances in bottled water production equipment technology.
In restaurants, stores, and food service chains, there will likely be a rise in customer demand for bottled water. The US government recently recognized bottled water as a packaged food product, giving users access to a practical and secure water source.
Consumer demand for nutrition and aromatized water has increased due to significant changes in consumer eating habits, necessitating improvements in the bottled water industry.
Drinking bottled water is a practical way to stay hydrated while maintaining a healthy diet. The US beverage industry has viewed the bottled water market as promising because of its many advantages, including convenience and comfort. Additionally, they view bottled water as a high-quality, healthy water source.
Report Scope of the Bottled Water Packaging Market:
| | |
| --- | --- |
| Report Coverage | Details |
| Market Size in 2023 | USD 106.48 Billion |
| Market Size by 2032 | USD 195.75 Billion |
| Growth Rate from 2023 to 2032 | CAGR of 7% |
| Largest Market | North America |
| Base Year | 2022 |
| Forecast Period | 2023 to 2032 |
| Segments Covered | By Material and By Product |
| Regions Covered | North America, Europe, Asia-Pacific, Latin America, and Middle East & Africa |

Market Dynamics:
Driver:
Rising demand for clean drinking water
Global demand for portable, clean drinking water is growing, fueling the bottled water market's expansion and the market for bottled water packaging. People no longer have to carry water from home while traveling due to the unreliable quality of the public water supply and increasing levels of water pollution. As a result, the remarkable expansion of the tourism sector directly influences the growth of the packaged drinking water sector. Water can be distributed and transported easily, even in complicated terrain, credit to bottle packaging.
The advancements in packaging technologies are producing positive market effects to create lightweight and robust water packaging bottles. Recyclable materials and packaging with low carbon footprints will also fuel the development of the world's bottled water packaging.
Restraint:
Availability of alternatives for bottled packaging
Consumer perceptions and preferences regarding bottled water packaging are evolving as consumers become more environmentally conscious. The use of reusable bottles, water filters, and tap water are some of the alternatives many consumers actively seek to single-use plastic bottles. Companies that package bottled water face a challenge due to this change in consumer behaviour because they must adjust to shifting consumer preferences and changing market conditions.
Opportunity:
Rising demand for premium drinking water
Water bottles are being sold at high prices by manufacturers worldwide who are making drinking water an experience. After naturally occurring spring and mineral water, bottled water is now experimenting with water infused with rainbow colours, moonlight, and water from untouched Arctic glaciers.
Additionally, upscale bottled water can be packaged in precious metals like gold and platinum embellished with pearls, diamonds, and other crystals. One litre of water packaged in these upscale bottles may cost between $60 and $600.Acqua di Cristallo Tributo a Modigliani, Fillico, and Kona Nigari Water, among many other names, are some of the luxury water companies.
Segment Insight:
Material Insights:
Plastic is the most common material used to make water bottles, occupying 97.3% of the bottle market worldwide, with glass occupying the remaining space. Plastic is a cheap, lightweight, and long-lasting material for package manufacturing. The most widely used and fully recyclable type of plastic is polyethylene terephthalate (PET).
Some companies that manufacture bottles have started shifting towards packaging their premium bottles with glass. Sand, limestone, soda ash, and cullet are just a few of the raw materials used to make glass packaging, which results in inexpensive glass containers that are strong, easily shaped, impermeable, and durable. Glass containers made today use 40% less material and weigh 40% less than those made thirty years ago. In the industry, efforts are being made to keep glass containers from becoming heavier. Glass beverages and food containers are entirely recyclable. Glass is always made with recycled material, and the more used, the less energy is required to produce it. Glass can be recycled, but it is up to customers to ensure it is accepted at their local recycling center.
Product Insights:
The market for bottled still water is the largest in the world. The high demand for safe drinking water at a reasonable price drives the market for still bottled water. Consumers are shifting their preferences towards still water owing to the multiple health benefits offered by still water. Protecting from kidney damage, improving skin health, and improving airway function are a few significant health benefits of still water. Moreover, the risk of contamination by tap water and infrastructure concerns associated with tap water are expected to fuel the demand for still-bottled water. Still water is readily available in vending machines, supermarkets, and convenience stores.
The convenience of availability and easy access to clean drinking water are other factors for the segment's growth. Carbonate bottled water is a significantly increasing segment. Carbonated bottled water offers a different and bubbly texture, making it enjoyable for consumers. As people become more health conscious, the demand for carbonated bottled water will rise significantly. Carbonated bottled water is observed to be a healthier option which makes it an appealing choice for consumers that are focused on low intake of sugar. Many beverage industries use carbonated water as a substitute for soda, which is another factor to boost the segment's growth.
Regional Insights:
North America holds the largest share of the market. The presence of capital-intensive bottled water packaging businesses in the area and significant investments in introducing new products present a promising future for the North American bottled water packaging market. Businesses' targeted marketing initiatives and an upbeat economic outlook will support a positive market outlook.
The market for bottled water packaging in Europe is examined across various types and uses. The market's general outlook is bolstered by the ongoing growth of bottled water packaging requirements in Western European nations and rising consumer spending in Central and Eastern European countries. The report analyses and forecasts the market size for bottled water packaging in Germany, Spain, Italy, the UK, France, and other European nations.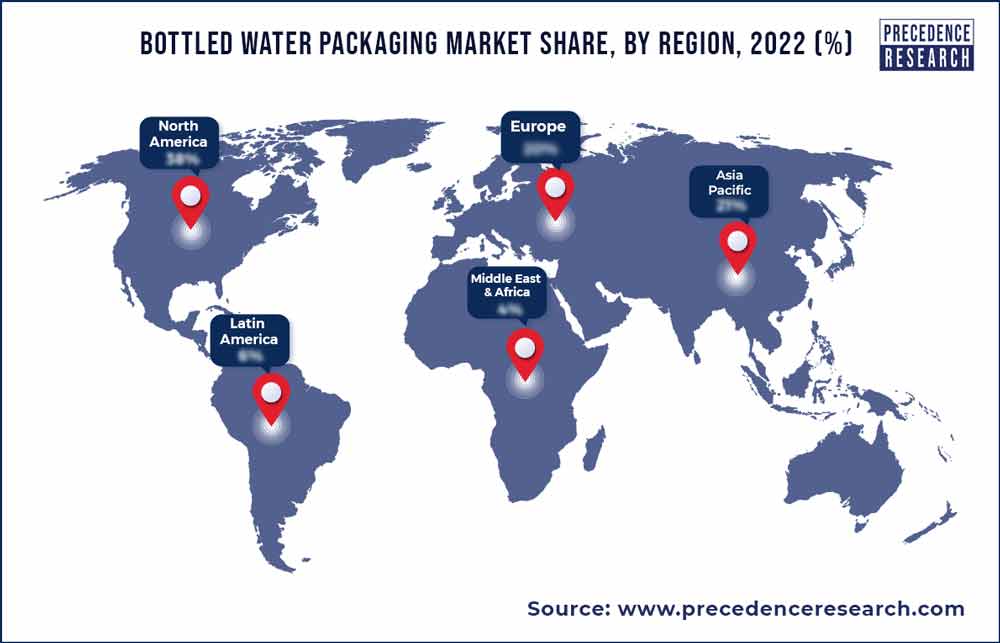 The Asia Pacific region is one of the markets with the most significant potential for bottled water packaging stakeholders in the industry. Market expansion is aided by the economy's rapid development and the individuals' quickening rise in purchasing power. Developing countries like China, Indonesia, India, and others provide lucrative growth prospects in addition to Japan and South Korea.
The market for Latin American bottled water packaging is expected to expand faster than predicted, propelled by strong domestic demand and an increase in exports. The purchasing power of consumers can be significantly impacted by inflation and high-interest rates, which can affect the profit margins of companies that manufacture water bottles.
The requirement for bottled water packaging markets in the Middle East has remained strong as countries have prioritized diversifying their economies. Strong prospects exist for businesses marketing bottled water packaging in the region in Saudi Arabia, UAE, and other nations. A few African countries also present promising business opportunities in bottled water packaging.
Recent Developments:
July 2022 - Aseptic Predis X4s from Sidel International is a blow-fill-cap solution that integrates consolidated Predi dry preform sterilization and is perfect for the expanding market for sensitive PET bottles.
July 2022 - In accordance with the recently approved U.S. Tax and Trade Bureau (TTB) sizes, Amcor Limited has introduced samples of recyclable PET-based spirits bottles. Amcor's new offering aims to give consumers the independence they need to explore new markets.
Key Market Players:
Amcor Ltd.
SKS Bottle & Packaging Inc.
Greif Inc.
Silgan Holdings
ExoPackaging
American Pacific Corporation
Berry Global Inc.
CKS Packaging
Sidel Group
Kaufman Container
Segments Covered in the Report:
(Note*: We offer report based on sub segments as well. Kindly, let us know if you are interested)
By Material
Plastics

Polyethylene Terephthalate
Polycarbonate (PC)
High-density polyethylene (HDPE) plastics

Glass
Other
By Product
Still Bottled Water
Carbonate Bottled Water
Flavoured Bottled Water
Functional Bottled Water
By Geography
North America
Europe
Asia-Pacific
Latin America
Middle East and Africa