The global brain implants market size was reached USD 5.85 billion in 2022 and is expected to hit around USD 14.24 billion by 2032, growing at a CAGR of 9.3% from 2023 to 2032.
Access our Premium Real Time Data Intelligence Tool, Visit: Precedence Statistics
Key Takeaways:
North America dominated the market and generated more than 44% of the revenue share in 2022.
By Product Type, the deep brain stimulators segment contributed to the maximum revenue in 2022.
By Applications, the chronic pain segment led the market in 2022.
Market Overview:
The rising prevalence of neurological diseases such as Parkinson's disease, Alzheimer's disease, and epilepsy, as well as increased awareness of the benefits of brain implants and positive research outcomes, are among the major factors driving the market growth. Additionally, the market is influenced by due to increasing number of neural implants being used to rehabilitate memory, treat diseases, improve memory, and communicate with prosthetic limbs to effectively reduce the symptoms of brain-based disorders.
Furthermore, the growing reliance on deep brain stimulation as a safe and established therapy for Parkinson's disease patients will create additional growth opportunities for the industry in the coming years. Moreover, deep brain stimulation is a surgical procedure that involves implanting electrodes into specific areas of the brain.
The electrical impulses produced by the implanted electrodes then regulate the abnormal impulses. Brain implants are being used to treat a variety of neurological disorders and have emerged as a promising field of study for improving cognitive abilities.
A major market driver is the increasing prevalence of neurological disorders and road accidents. For Instance, according to the WHO, neurological diseases account for 6.3% of the global disease burden and are one of the leading causes of death globally, accounting for 13.2% of deaths in developed countries and 16.8% in low- and middle-income countries.
This has heightened the clinical need for long-term solutions such as spinal cord stimulators and deep brain stimulators. Furthermore, the prevalence of stress and obesity-related depression is rising globally which helps fuel the market growth.
Report Scope of the Brain Implants Market:
| | |
| --- | --- |
| Report Coverage | Details |
| Market Size in 2023 | USD 6.4 Billion |
| Market Size by 2032 | USD 14.24 Billion |
| Growth Rate from 2023 to 2032 | CAGR of 9.3% |
| Largest Market | North America |
| Base Year | 2022 |
| Forecast Period | 2023 to 2032 |
| Segments Covered | By Product Type and By Applications |
| Regions Covered | North America, Europe, Asia-Pacific, Latin America and Middle East & Africa |

Market Dynamics:
Drivers:
Growing awareness of neurological diseases and their treatment is propelling the market
The various measures taken by profit and non-profit healthcare organizations around the world have increased awareness of mental disorders and their treatment. The World Health Organization (WHO) has declared October 10th as World Mental Health Day to raise awareness about various mental illnesses, reduce stigma, increase access to services, and educate people about various treatment options. Similarly, in the United States, the National Alliance on Mental Illness (NAMI) was founded in 1979 to provide support and psychoeducation to those suffering from mental illnesses. NAMI is a mental health organization active in treatment, support, research, and raising awareness about mental diseases. Such initiatives are driving up demand for brain implants.
Old age causes many health problems, particularly those affecting the brains
The growing global elderly population, an increase in the prevalence of target diseases, particularly Parkinson's, epilepsy, and Alzheimer's, as well as significant unmet medical needs, have all contributed to an increase in demand for brain implants. For Instance, according to the national canter of Biotechnology medicine, A traumatic brain injury affects approximately 1.7 million people in the United States, with adolescents aged 15 to 19 and adults aged 65 and older being the most likely to sustain one.
Parkinson's disease is more likely to develop in the elderly population. Patients suffering from Parkinson's disease are unable to produce enough dopamine, resulting in a variety of symptoms such as stiffness, tremors, and difficulty walking. Parkinson's disease is typically diagnosed in patients over the age of 60 and is expected to affect 1% of people over the age of 60 to 4% of people by the age of 80, according to the CDC.
According to a WHO 2021 study, the population of people aged 60 and older is expected to grow from 900 million in 2021 to 2 billion by 2050. The elderly are more vulnerable to Parkinson's disease, which is expected to have a significant impact on the demand for brain implants.
Restrains:
High surgical and post-surgical costs may hinder the brain implant sales
High surgical costs are likely to impede global brain implant market growth. People with brain implants may need to undergo several treatments and additional procedures in the future to replace them. As a result, the high cost of brain surgery may be a major factor affecting brain implant sales. For Instance, Brain-interface technology company Neuralink will start implanting chips into the brains of humans by 2022.
Opportunities:
Product launches and approvals are key market trends
Globally, the brain implant market has seen a significant number of product approvals. For example, the Food and Drug Administration (FDA) approved Boston Scientific Corporation's fourth-generation Vercise PC and Verse Gevia deep brain stimulation devices in December 2020. By varying the amplitude, pulse width, and frequency, these implantable devices deliver low-intensity electrical pulses to brain nerve regions. When medication fails to control the signs and symptoms of advanced levodopa-responsive Parkinson's disease, patients turn to these systems for help.
Investments in R&D Activities in Brain Implant Product Development Will Create New Opportunities
The market for brain implants is expected to grow profitably as the number of research activities going on and increases technological advancements. Memory chips and self-charging implants are two examples of technologies that are expected to boost market growth prospects during the forecast period. For Instance, Synchron's on 15th December 2022, raised $75 million for a drill-free brain-computer interface implant.
Covid 19 Impact:
The COVID-19 pandemic emphasizes the importance of neurology in global public health and broader global health dialogues. Service disruptions, medication inaccessibility, vaccination program interruptions, and increased mental health issues have all added to the burden of those with neurological disorders. More specifically, neurological manifestations of COVID-19 infections were present in both the acute and post-COVID-19 stages. Certain underlying neurological conditions, particularly in older adults, were risk factors for hospitalization and death due to COVID-19.
The intersectoral global action plan on epilepsy and other neurological disorders 2022-2031 represents an unprecedented opportunity to address the impact of neurological disorders throughout and after the pandemic.
Furthermore, according to a study published in Frontiers in Neurology in 2020, motor and psychiatric symptoms in Parkinson's Disease and dystonic patients treated with deep brain stimulation worsened during the lockdown restriction measure, leading to increased stress in the management of neurological disorders. Furthermore, according to a study published in JAMA Neurology in 2020, neurologic symptoms were seen in 36.4% of 214 patients with COVID-19.
As a result, COVID-19 patients were at a high risk of developing neurological disorders during their hospital stays. Due to strict lockdown restrictions and measures taken to contain the viral transmission, the chronic stress and burden of neurological disorders increased, necessitating the urgent opening of neurological outpatient services, and thus the brain implants market is expected to have been significantly impacted during the pandemic.
Segments Insight:
Product Type Insights:
Based on product type the brain implant market is categorized into deep brain, stimulator, vagus nerve stimulator, and spinal cord stimulator. The deep brain stimulators segment dominated the market for brain implants and accounted for the largest revenue in 2022. A key growth driver of this segment is the increasing use of DBS for the treatment of various neurological disorders such as obsessive-compulsive disorder, Parkinson's disease, dystonia, essential tremor, epilepsy, and Alzheimer's disease. Furthermore, increasing patient awareness about neurological movement disorder treatment is expected to drive the growth of this segment.
Application Insights:
Based on application the brain implant market is categorized into Parkinson's Disease, Epilepsy, Chronic Pain, Alzheimer's Disease, Depression, and Essential Tremor. The chronic pain segment dominated the market in 2022. The rising prevalence of chronic pain has created clinical urgency for long-term solutions. According to the National Health Interview Survey, the prevalence of chronic pain in adults in the United States was around 20.4% (50 million) in 2016, with 8.0% (19.6 million) having high-impact chronic pain. stimulators are typically used when surgery or other treatments have failed to relieve chronic neck or back pain.
The demand for stimulators is increasing due to an increase in chronic pain caused by conditions such as lumbar and cervical radiculitis, failed back surgery, and neuropathy.
Regional Insights:
North America dominated the brain implant market, accounting for 44% of total revenue in 2022. This dominance can be attributed to a variety of factors, including an increase in the prevalence of neurological disorders, increased awareness of treatment options, the availability of highly skilled physicians, and the presence of well-established healthcare facilities. Furthermore, an increase in government funding and initiatives to raise awareness about movement disorders are expected to drive regional demand for deep brain stimulation devices. For example, the Parkinson's Foundation invested USD 3.5 million in 2020 to fund more than 34 Parkinson's disease research projects. These factors are anticipated to increase demand for brain implants in this region.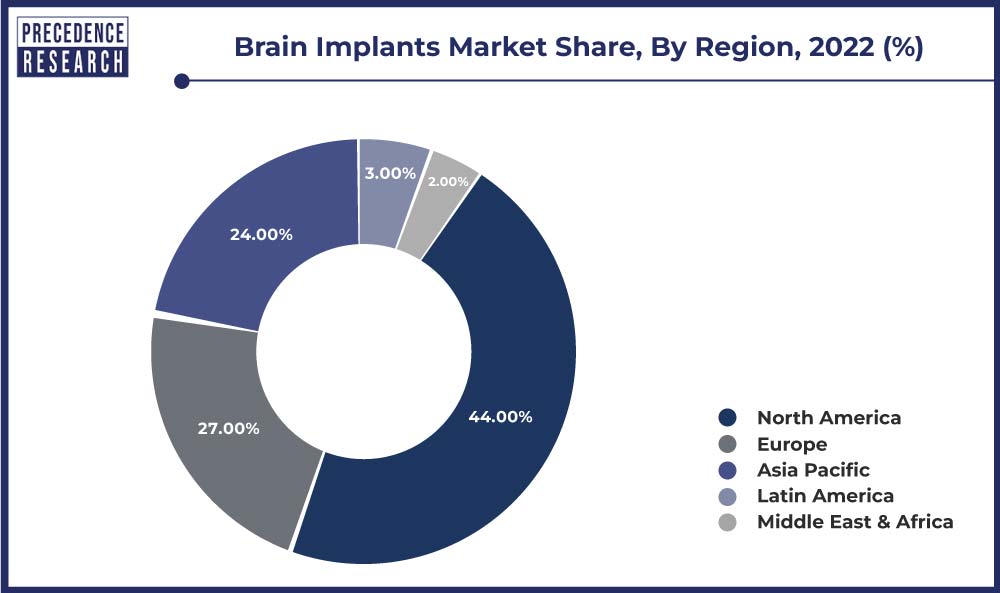 However, Asia Pacific is expected to significantly lead the market from 2023 to 2032, owing to factors such as the rising prevalence of neurodegenerative and psychiatric disorders, unmet need for effective and long-term treatment solutions, increasing affordability, and an increase in the number of awareness programs. Increased efforts by neurosurgeons and neurology clinics to raise awareness about brain implants are expected to present significant growth opportunities for this region's brain implant market. Furthermore, high R&D investments by global market players due to their low-cost structure are among the key drivers of the region's market.
Recent Development:
In April 2022, The FDA has approved brain stimulation software for the treatment of Parkinson's disease. Verse Neural Navigator with Stimview XT will enable clinicians to visualize the lead placement and stimulation modeling, as well as provide patient-specific 3D modeling for therapeutic customization. The software is designed to help with lead placement, reduce programming time, and allow for more informed treatment.
In June 2021, The FDA has approved Medtronic plc's Sen Sight Directional Lead System for deep brain stimulation therapy.
In Jan 2021, Abbot Laboratories has released the NeuroSphere my Path, a digital health app designed to track and report on patients' overall well-being after spinal cord stimulation or dorsal root ganglion (DRG) therapy.
Key Market Players:
Medtronic
Boston Scientific Corporation
St. Jude Medical (Abbott)
NeuroPace, Inc.
Nevro Corporation
Synapse Biomedical Inc.
Aleva Neurotherapeutics SA
Segment Covered in the Report:
(Note*: We offer report based on sub segments as well. Kindly, let us know if you are interested)
By Product Type
Deep Brain
Stimulator
Vagus Nerve Stimulator
Spinal cord stimulator
By Applications
Parkinson's Disease
Epilepsy
Chronic Pain
Alzheimer's Diseases
Depression
Essential Tremor
By Geography
North America
Europe
Asia-Pacific
Latin America
The Middle East and Africa