The global deep brain stimulation devices market size accounted for USD 1.2 billion in 2022 and is projected to hit around USD 3.21 billion by 2032, poised to grow at a CAGR of 10.4% during the forecast period 2023 to 2032.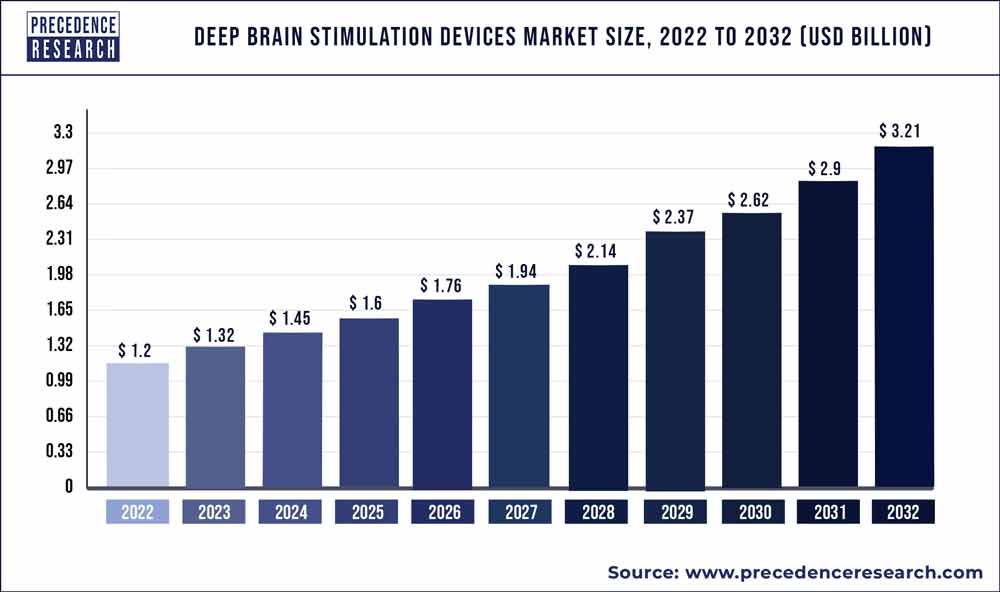 Access our Premium Real Time Data Intelligence Tool, Visit: Precedence Statistics
Key Takeaways:
The North America region has captured a market share of around 52% in 2022.
By product, the dual-channel segment held a market share of around 58.2% in 2022.
By application, the Parkinson's disease segment has dominated the market in 2022 with a revenue share of around 65.4%.
By end-use, the hospital's segment accounted for 52.8% of the total market share in 2022.
A surgical method called deep brain stimulation involves implanting a device that sends electrical signals to the parts of the brain in charge of controlling movement. A DBS system is made up of three components that are implanted within the body of a patient: a lead, an extension, and a neurostimulator. The lead links the pacemaker device to the brain to synchronize electrical pulses. DBS devises aid in lowering the stiffness and tremor symptoms brought on by a number of neurological conditions, including Parkinson's disease, dystonia, or essential tremor. People can reduce their drug dosage after deep brain stimulation surgery, perhaps removing any negative effects.
Due to the rising occurrence of neurological illnesses, the deep brain stimulation systems market is anticipated to develop profitably throughout the forecasted period. One of the key reasons driving market expansion is the rising prevalence of Parkinson's disease across a number of continents. For example, the Parkinson's Foundation estimates that over 10 million individuals worldwide suffer from Parkinson's disease. Demand for DBS devices will also increase due to the increased prevalence of essential tremors and dystonia. As a result, the aforementioned factor will considerably boost the growth of the deep brain stimulation devices market during the course of the forecast year.
Additionally, neurological problems are more common in adults over the age of 65. Therefore, the incidence of neurological illnesses would be significantly stimulated by the rising rate of the senior population, expanding the market. Another important element driving the use of DBS procedures and consequently boosting market growth is the population's increased awareness of a variety of neurological conditions.
Growth Factors
During the ongoing coronavirus epidemic, telehealth and eHealth applications are becoming more and more popular for frequently monitoring PD patients. The global market for deep brain stimulation devices for Parkinson's disease is growing as a result of favorable reimbursement policies in healthcare institutions. However, implanted pulse generators for DBS devices require technical breakthroughs. Therefore, businesses in the Parkinson's disease market for deep brain stimulation devices should invest more in R&D to maximize battery life, along with patient-related factors like patient compliance with nightly device cut-off or IPG recharging dependability. For medical technology businesses to acquire a competitive edge in the worldwide deep brain stimulation devices market for Parkinson's disease, device-specific aspects including parameter delivery, lead configuration choice, implantation site, and cautious electrode material selection are critical.
Companies that make deep brain stimulation devices for Parkinson's disease are working harder to sell their products internationally. Other businesses involved in the DBS (deep brain stimulation) sector have products, but they are still in the clinical development stage and are not yet commercially accessible. Businesses are eager to release novel goods that are simple for patients and doctors to use. These businesses seek to increase the gadgets' portability, affordability, efficiency, and effectiveness.
Report Scope of the Deep Brain Stimulation Device Market
Report Coverage
Details
Market Size in 2023
USD 1.32 Billion
Market Size by 2032
USD 3.21 Billion
Growth Rate from 2023 to 2032
CAGR of 10.4%
Largest Market
North America
Fastest Growing Market
Asia Pacific
Base Year
2022
Forecast Period
2023 to 2032
Segments Covered

By Product
By Application
By End-Use

Regions Covered

North America
Europe
Asia-Pacific
Latin America
Middle East & Africa

Key Market Drivers
The rising desire for less invasive operations among the general public
The rising desire for less invasive operations among the general public is one of the most important factors propelling the market for deep brain stimulators. DBS is a minimally invasive targeted procedure primarily used to treat dystonia, Parkinson's disease, and essential tremor movement disorders. Compared to conventional surgical methods, minimally invasive treatments provide a number of advantages, including shorter recovery times, smaller incisions, less discomfort, and decreased scarring. Therefore, these operations are highly sought-after due to a variety of patient advantages.
In addition, there are some instances when less intrusive surgery shows a greater accuracy rate compared to conventional surgical techniques. Additionally, these techniques only need microscopic incisions big enough to introduce cameras and thin tubing. Due to the aforementioned advantages, there is a rising demand for such surgical treatments, which is driving market expansion.
Growth in the market will be affected by the unprecedented growth in the geriatric population
One of the key factors boosting the market growth for deep brain stimulation devices is the rising senior population. At this age, people are more susceptible to chronic illnesses. Some of the most prevalent illnesses that can affect elderly persons are neurological disorders. Neuropathy, Parkinson's disease, Alzheimer's disease, dystonia, and other neurological conditions that commonly afflict elderly individuals include these.
According to the National Institutes of Health (NIH), 617 million individuals, or 8.5% of the world's population, are 65 and older. Therefore, the market for DBS systems would see significant development during the period of 2018 to 2026 due to the expanding elderly population and increased frequency of neurological illnesses.
Key Market Challenges
Concerns regarding side effects - Market expansion is anticipated to be hindered by worries about side effects including allergic response and tingling or prickling of the skin. Also anticipated to provide a barrier to the market for deep brain stimulation devices is the availability of alternative treatment alternatives such as pharmacological therapy and surgery.
Key Market Opportunities
The increasing geriatric population is propelling the market growth
The main drivers of the market's expansion are the rapidly aging population, which is raising the risk and prevalence of neurological disorders, the rising demand for the devices due to the growing acceptance of minimally invasive procedures, and the availability of advanced deep brain stimulation devices. As a result of advancements in technology, deep brain stimulation technologies are predicted to become more widespread.
Segments Insight
Product Insights
The market is divided into single-channel and dual-channel deep brain stimulation devices depending on the product. With a market share of 58.2% in 2022, the dual-channel sector is in the lead due to its greater use in surgical operations. One of the safest and most efficient tools used in surgical operations is dual channels. As a result, the increased frequency of debilitating neurological disorders, the rise in PD surgery, and the number of hospitals utilizing dual-channel DBS devices are all contributing to the segment's growth. Additionally, new product introductions and technology developments are fueling category growth. For instance, the U.S. FDA granted clearance for the additional indication of Parkinson's disease to Abbott's Infinity DBS system in January 2020. This method will enable the targeting of the internal Globus Pallidus (GPi), a particular region of the brain linked to the symptoms of Parkinson's disease.
From 2022 to 2030, the single-channel deep brain stimulation device market is anticipated to expand at the greatest compound annual growth rate (CAGR), or 10.6%. Healthcare experts feel that single-channel DBS devices are more popular because neurologists like them since they provide more programming choices. The Parkinson's Foundation claims that older people are more likely to have neurological disorders. For instance, the World Ageing 2019 study estimates that there were around 703 million individuals worldwide who were 65 or older in 2019. Thus, it is projected that the segment would rise as a result of the ageing population, patients' rising knowledge of neurological illnesses, and healthcare professionals' choice.
Application Insights
The market is divided into segments for pain management, essential tremor, epilepsy, depression, obsessive-compulsive disorders (OCD), Parkinson's disease, dystonia, and others based on the applications they are used for. Due to the rising number of deep brain stimulation therapies that have been approved by the U.S. FDA and the high incidence of Parkinson's disease (PD) in the world, the Parkinson's disease segment is expected to dominate the market in 2021 with a share of 65.4%. The Verses deep brain stimulation device system for the treatment of Parkinson's disease was approved by the U.S. FDA in December 2017 for use by Boston Scientific Corporation. The Parkinson's Foundation estimates that 60,000 Americans are given PD diagnoses each year. In the upcoming years, this is predicted to fuel the segment's expansion.
From 2022 to 2030, the epilepsy category is anticipated to experience the greatest compound annual growth rate (CAGR), at 16.4%. In the upcoming years, it is anticipated that rising consumer knowledge of cutting-edge epilepsy treatment alternatives will combine with expanding healthcare infrastructure to further accelerate category expansion. The World Health Organization (WHO) estimates that 50 million individuals worldwide have epilepsy, making it one of the most prevalent neurological conditions. Due to the poor therapeutic response of medications in treating seizures and the low success rates of procedures, DBS is utilized in epilepsy. This will fuel sector growth even further.
End-Use Insights
With a share of 52.8% in the end-use sector in 2022, hospitals led the total market growth. The rise in Parkinson's disease and essential tremor prevalence as well as the rise in DBS procedures conducted in hospitals are the key causes of this market segment's expansion. During the projected period, it is also anticipated that the availability of technologically improved DBS devices along with attractive reimbursement policies would further propel the hospital market. For an instance, Medtronic provides thorough services to establish and maintain coverage as well as payment for a range of DBS devices.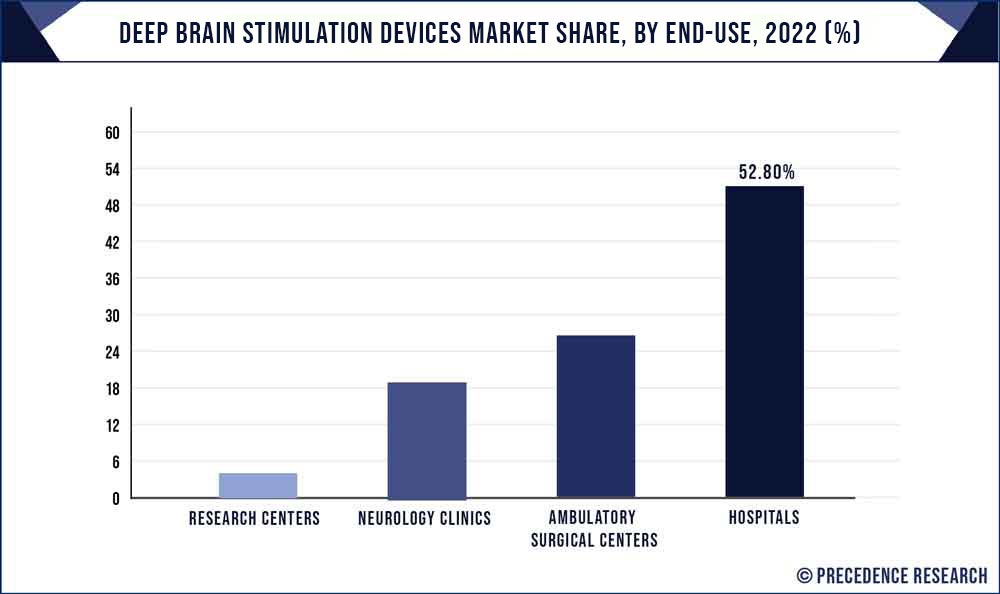 In addition, hospitals are currently improving technologically, and sophisticated gadgets are widely utilized in hospitals to deliver better care. These tools assist produce better, quicker, and more accurate outcomes in addition to streamlining treatment methods. Most neurological problems, including Parkinson's disease, are identified and managed by qualified neurologists who work in specialized facilities and utilize cutting-edge technology.
From 2022 to 2030, the Ambulatory Surgical Centers (ASC) category is anticipated to see the greatest compound annual growth rate (CAGR), at 10.3%. This is because the procedures are less expensive than in hospitals, and patients have easier access to care and wait less time than in hospitals and neurology clinics. Additionally, research by Advancing Surgical Care found that 92% of patients were happy with the medical attention and service they received at ASCs, which helped the segment thrive. Additionally, because the surgical techniques used at ASCs are sophisticated and less invasive, the majority of neurosurgeries may now be completed there.
Deep Brain Stimulation Devices Market Share, By Region, 2022 (%)
| | |
| --- | --- |
| Regions | Revenue Share in 2022 (%) |
| North America | 52% |
| Asia Pacific | 17% |
| Europe | 23% |
| Latin America | 5% |
| MEA | 3% |

Regional Insights
The deep brain stimulation device market study covers a variety of geographical areas, including North America, Europe, Asia Pacific, the Middle East, and Africa. During the projected period, it is predicted that the North American market would take the lead among these. This is due to the expanding research and development operations in the healthcare sector, which have led to an increase in innovations in that field. Major firms in the sector also have a well-established presence in the U.S., which will help the market expand. For instance, big corporations like Medtronic, Abbott, Boston Scientific, and a select few others owned the majority of the market share for deep brain stimulation devices in the United States, boosting regional growth from 2021 to 2030. Additionally, a growing patient base with neurological illnesses will encourage additional market growth in North America.
Due to the rising demand in nations like Japan, China, and India, the market value in the Asia Pacific region is anticipated to rise at the fastest rate. due to rising healthcare costs across the area as a result of rising disposable incomes. The Asia Pacific DBS market size will also be boosted by rising public awareness of a variety of neurological disorders like epilepsy, essential tremors, and Parkinson's disease. A significant growth-stimulating aspect is the expanding availability of medical facilities such as multispecialty hospitals and specialty clinics. A major factor promoting market expansion is the rising ratio of neurologists and other medical professionals employed in the Asian market.
On the contrary side, Europe is anticipated to have considerable market expansion due to the existence of various nations where chronic neurological problems are common. The high growth nations like the UK, Germany, and France will help the European market expand. In contrast to the other areas, it is projected that the deep brain stimulation device market in Latin America would expand very little. However, the industry will be driven in the future by the rising awareness in important regions like Brazil. Due to the increasing frequency and public awareness of neurological illnesses, the Middle East and Africa are predicted to continue seeing consistent growth in the coming years.
Recent Developments
February 2019 - Deep Brain Stimulation (DBS) has been made available in the United States by Medtronic for those with medically intractable epilepsy. This innovative product introduction will help the business increase both its consumer base and its income.
January 2020 - The internal globus pallidus was added as a target for Abbott's Infinity Deep Brain Stimulation (DBS) device.
Key Market Players
Abbott (St. Jude Medical)
Medtronic
Boston Scientific Corporation
Aleva Neurotherapeutics S.A.
Nexstim
LivaNova PLC
Neuropace Inc.
Market Segmentation
(Note*: We offer reports based on sub-segments as well. Kindly, let us know if you are interested)
By Product
Single Channel
Dual Channel
By Application
Pain Management
Epilepsy
Essential Tremor
Obsessive-Compulsive Disorder (OCD)
Depression
Dystonia
Parkinson's Disease
Others
By End-Use
Hospitals
Neurology Clinics
Ambulatory Surgical Centers
Research Centers
By Geography
North America
Europe
Asia-Pacific
Latin America
Middle East & Africa (MEA)