The global brain imaging and neuroimaging market size was estimated at USD 13.5 billion in 2022 and it is projected to be worth around USD 22.99 billion by 2032, growing at a CAGR of 5.47% from 2023 to 2032.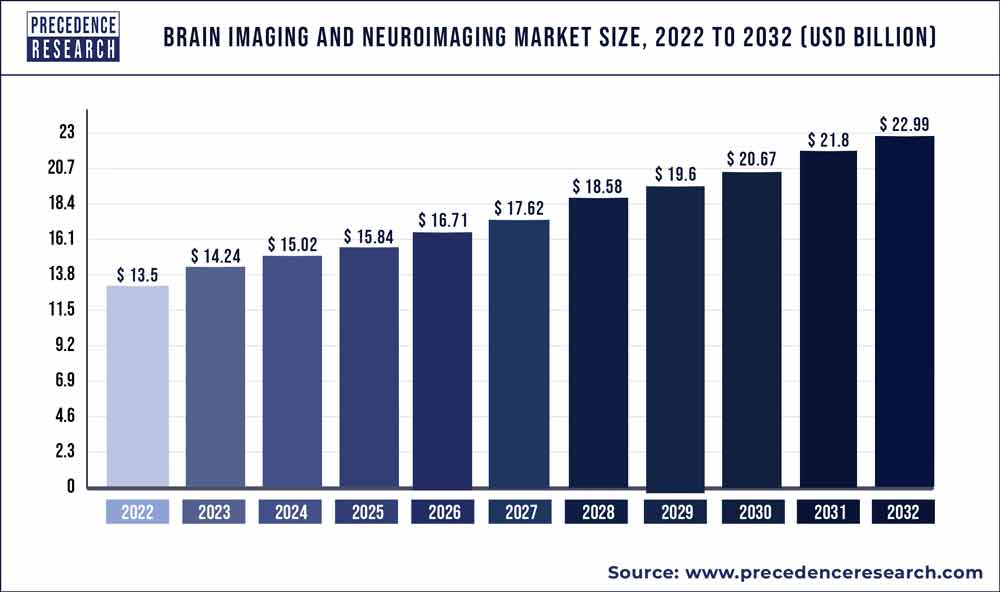 Access our Premium Real Time Data Intelligence Tool, Visit: Precedence Statistics
Key Takeaways:
North America contributed more than 39% of revenue share in 2022.
By imaging type, the functional magnetic resonance imaging (fMRI) segment is expected to generate a significant revenue share during the forecast period.
By end-user, the hospital segment is anticipated to hold the largest share of the market during the forecast period.
Market Overview:
The global brain imaging and neuroimaging market offers computational techniques for the global healthcare and healthcare-associated research sectors. Such techniques play a vital role in studying the function and structure of the human brain and central nervous system, usually done to detect or examine the presence of neurogenerative diseases. Neurodegenerative diseases include Alzheimer's disease, Parkinson's disease, prion disease, Amyotrophic lateral sclerosis, motor neuron disease, Huntington's disease, spinal muscular atrophy, and spinocerebellar ataxia. The global market offers computational and qualitative solutions in the form of Functional magnetic resonance imaging (fMRI), positron emission tomography (PET), computed tomography (CT), functional near-infrared spectroscopy (fNIRS), magnetoencephalography (MEG) and electroencephalography (EEG).
The global brain imaging and neuroimaging market is expected to be accelerated with the rising cases of neurogenerative diseases; the rising cases of accidents and injuries are also considered to fuel the market's growth. For instance, according to the 2023 Alzheimer's Disease Facts and Figures, 5 to 7 million Americans aged 65 and older are estimated to suffer MCI due to Alzheimer's disease and added to the 4.7 million Americans aged 65 and older who have dementia brought on by Alzheimer's disease based on brain abnormalities associated with the disease.
Growth Factors:
The primary driver of the market's expansion is the rise in mortality due to several neurological disorders, including Parkinson's disease, Alzheimer's disease, schizophrenia, and other brain/neurological conditions. Two further significant growth-promoting elements are the rising demand for neuroimaging technologies and the ongoing study and research into brain mapping. Additionally, the governments of various countries are working hard to improve public awareness of neurological illnesses and the variety of available treatments.
Additionally, as more neurologic illnesses are identified using techniques from microscopy, optogenetics, magnetic resonance imaging (MRI), and electrophysiology, the sector is expanding. The best companies are also developing cutting-edge medical devices with increased efficacy and patient compliance to broaden their product offerings and gain a competitive edge.
Report Scope of the brain imaging and neuroimaging Market:
| | |
| --- | --- |
| Report Coverage | Details |
| Market Size in 2023 | USD 14.24 Billion |
| Market Size by 2032 | USD 22.99 Billion |
| Growth Rate from 2023 to 2032 | CAGR of 5.47% |
| Largest Market | North America |
| Base Year | 2022 |
| Forecast Period | 2023 to 2032 |
| Segments Covered | By Imaging Type and By End User |
| Regions Covered | North America, Europe, Asia-Pacific, Latin America, and Middle East & Africa |

Drivers:
Growing prevalence of neurological disorders
The leading causes of physical and cognitive disability, neurological diseases, affect about 15% of the world's population. The total number of patients has dramatically increased in the last 30 years. A neurological condition like Alzheimer's disease is characterized by the death of neurons, damage to brain tissue, and the buildup of the protein beta-amyloid outside neurons and twisted tau strands inside neurons. Brain tissue shrinkage and inflammation are two additional alterations. Age, genetics, and family history are the three main risk factors for Alzheimer's. For instance, some neurological diseases affect more than 1 billion individuals worldwide. Neurological illness accounts for over 7 million fatalities each year.
Such conditions require a precise and qualitative detection or diagnosis method that can offer quicker yet reliable results for the practitioner or healthcare provider to get initiated with the treatment for the respective condition. As the cases of neurological disorders increase, the requirement for brain imaging and neuroimaging devices is observed to grow. Thus, the rising prevalence of neurological disorders acts as a driver for the market.
Increasing traumatic brain injuries cases
The importance of early detection and diagnosis has grown as people's understanding of traumatic brain injuries (TBI) has grown. Computed tomography (CT) and magnetic resonance imaging (MRI) are the two most essential computational brain imaging techniques for diagnosing TBIs and determining their severity. These imaging technologies allow medical personnel to rapidly and painlessly see the structure of the brain and spot any anomalies or injuries, enabling quick medical intervention. The increase in TBI cases has spurred a greater demand for study into brain injuries' underlying causes and effects. Because of neuroimaging studies, researchers can learn more about the changes in the brain after a TBI, including changes to brain structure and function. This information is essential for creating specialized interventions and treatments promoting healing and rehabilitation.
Brain imaging research has received much attention and funding due to the surge in TBI incidence, particularly among military people and athletes engaged in high-impact sports. Since these individuals are more likely to sustain TBIs, there is a greater emphasis on comprehending and lessening the impact of brain injuries. Neuroimaging is crucial for keeping track of TBI patients as they recover. Medical practitioners can monitor changes in the brain's healing process, spot potential issues, and modify the treatment plan as necessary with the help of routine brain scans. The growing need for better TBI diagnosis and therapy has sparked brain imaging technology research and development. As a result, brain imaging techniques have significantly advanced over time, gaining resolution, scanning speed, and sensitivity.
Restraint:
High cost of neuroimaging technologies
Cutting-edge neuroimaging technologies need significant research and development expenditures, which are frequently reflected in the final cost of the services. Neuroimaging equipment, such as MRI and PET scanners, is highly complex and expensive to purchase and maintain. The equipment's initial investment and ongoing maintenance costs influence the overall cost. The cost of neuroimaging may also differ depending on the healthcare system in a given nation or area. In countries with public healthcare, the price may be partially or fully subsidized or covered by insurance, whereas in private healthcare systems, patients may be required to cover a larger share of the cost. Neuroimaging data interpretation and analysis require particular knowledge and experience, which can raise the price of the service.
Opportunity:
Develpoment of different imaging approaches
One uses radiotracers to evaluate cellular activities in the brain, such as glucose metabolism or neurotransmitter activity, using positron emission tomography (PET) imaging. It is essential for identifying and monitoring neurodegenerative illnesses like Parkinson's and Alzheimer's. New radiotracers and hybrid imaging systems (such as PET/CT and PET/MRI) are being developed, improving PET technology's capabilities and making it more widely available for clinical usage. Similarly, in the upcoming years, such developments of various imaging approaches create an opportunity for the market.
Segments Insight:
Imaging Type Insights:
The functional magnetic resonance imaging (fMRI) segment is expected to generate a significant revenue share during the forecast period. Decision-making and memory formation are only a few cognitive processes that can be studied with fMRI. Furthermore, fMRIs can be used to investigate how various illnesses impact brain function. A color-coded map of your brain activity is produced using fMRI scans. Because of its minimal invasiveness, lack of radiation exposure, and relatively general availability, fMRI has emerged as the method of choice in cognitive neuroscience. Due to the widespread use of fMRI, a large body of research employs this method. FMRI has dominated the brain imaging and neuroimaging market because of the continuous development of the technology, which includes higher field strengths, superior picture acquisition methods, and standard data analysis methods.
On the other hand, the computed tomography (CT) segment is registered to grow faster in the brain imaging and neuroimaging market during the forecast period. CT scans are employed to find disease or damage throughout numerous body parts. For instance, CT is a screening method for looking for potential lesions or cancers in the abdomen. When various cardiac conditions or anomalies are suspected, a CT scan may be prescribed. Additionally, it takes images of the skull to identify lesions, tumors, stroke-causing blood clots, hemorrhages, and other problems.
End-User Insights:
The hospitals segment is expected to be dominant in the brain imaging and neuroimaging market during the forecast period. Modern imaging technologies, such as MRI (Magnetic Resonance Imaging), CT (Computed Tomography), PET (Positron Emission Tomography), and SPECT (Single-Photon Emission Computed Tomography), are generally available in hospitals. These innovations make it possible to precisely visualize the architecture and operations of the brain, which helps detect and treat neurological illnesses. Research centers and academic institutions frequently partner with hospitals. They can lead the way in neuroimaging research and innovation. They might participate in clinical trials, create fresh imaging methods, and discover inventive ways to use current technology.
Neurologists, neurosurgeons, and radiologists who specialize in reading brain imaging results are frequently seen working at hospitals. Their knowledge enables precise diagnosis and individualized treatment programs. Hospitals often work with other healthcare providers, researchers, and technology businesses to improve their neuroimaging capabilities. Such partnerships may result in the creation of cutting-edge imaging methods and the sharing of information and resources.
The clinics and diagnostic centers segments show a significant growth in the market during the forecast period. There is an emerging requirement for early identification and precise diagnosis as neurological illnesses and conditions related to the brain become more common. Clinics and diagnostic facilities are crucial for patients seeking a diagnosis and treatment for various neurological diseases with easily accessible and practical brain imaging services.
As more clinics and diagnostic facilities use these cutting-edge imaging technologies, their diagnostic capabilities improve, drawing in more patients and fostering market expansion. Over time, there has been an increase in public knowledge of neurological illnesses and the value of early diagnosis. As a result, more people are visiting doctors and getting brain imaging tests, which helps to fuel the expansion of neuroimaging clinics and diagnostic facilities.
Regional Insights:
North America had the largest share of the market in 2022, the region is expected to sustain its dominance throughout the forecast period. The region's robust healthcare infrastructure makes it possible for the population to have access to cutting-edge imaging facilities. This enables academics and healthcare professionals to efficiently collect and use brain imaging data. The governments of many countries in North America generously subsidize and promote these fields. Support for improvements in brain imaging technology includes subsidies, grants, and other financial incentives. Industry, academia, and healthcare providers work closely in North America. This partnership promotes the creation of novel tools, software, and hardware for brain imaging and translating discoveries from the laboratory into the clinic. Health Canada and the U.S. Food and Drug Administration (FDA) are two well-known regulatory agencies in North America that guarantee the efficacy and safety of medical devices, including equipment used for brain imaging.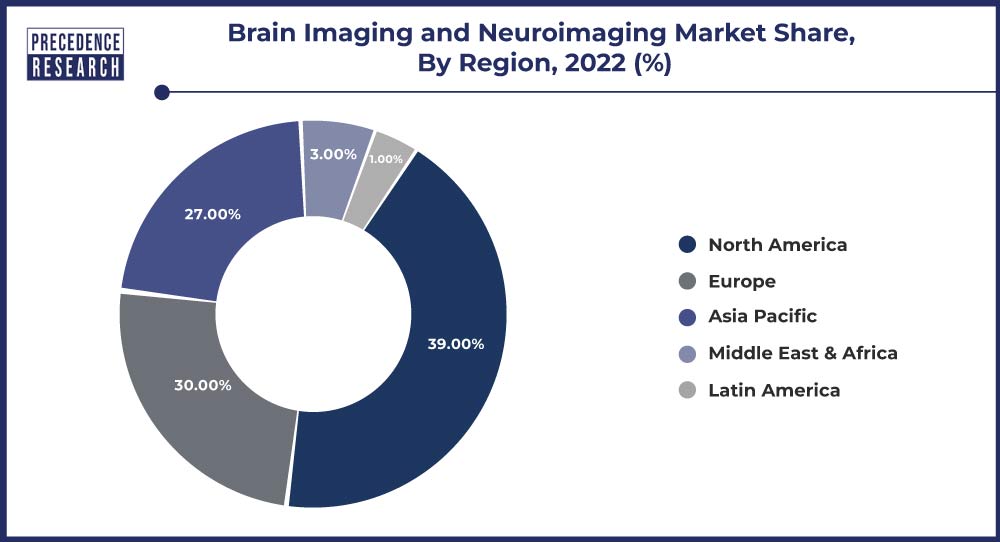 In December 2022, the introduction of 27 innovative magnetic resonance imaging (MRI) devices in hospitals across Ontario was supported by an investment of over $20 million in operating money from the Ontario government. Due to this investment, some small and remote local hospitals will now be allowed to use their very first MRI machine. Additionally, this money will help hospitals in high-growth areas with a growing population meet the ever-increasing need for MRI services.
Western Europe is expected to show a significant growth in the brain imaging and neuroimaging market during the forecasted timeframe. The area has significantly invested in neuroscience development and research, attracting governmental and private financing. Due to the encouragement of business and academic partnerships, cutting-edge brain imaging methods and technologies have been created. The market for brain imaging has benefited from healthy competition and teamwork due to the abundance of businesses and research institutions in Western Europe. This dynamic atmosphere promotes growth and innovation. Western Europe has seen an increase in the number of cases of neurological disorders like Alzheimer's, Parkinson's, and multiple sclerosis, which has increased the demand for cutting-edge brain imaging tools for early detection, precise diagnosis, and continual evaluation of these conditions.
Recent Developments:
In June 2023, the Food and Drug Administration (FDA) authorized Ezra Flash (Ezra), according to Ezra, the software's developer. The pictures produced by a quick MRI technique are improved by software with artificial intelligence capabilities.
In October 2022, at the European Association of Nuclear Medicine (EANM) in Barcelona, GE Healthcare unveiled the Omni Legend positron emission tomography/computed tomography (PET/CT) platform, highlighting improved diagnostic capabilities, increased effectiveness, and characteristics enabled by artificial intelligence (AI).
In September 2022, the National Institutes of Health (NIH) funded a project that Qynapse Inc. is excited to launch in partnership with the University of Miami Miller School of Medicine. The initiative will look at how COVID-19 affects vascular contributes to cognitive impairment and dementia (VCID).
In March 2022, the Sudha Gopalakrishnan Brain Centre was established at the Indian Institute of Technology (IIT Madras), emphasizing high-resolution brain imaging and mapping the brain of people at the cellular and connection levels. The cutting-edge brain center wants to establish itself as a leading research facility by creating unheard-of amounts of information about the human brain, new scientific discoveries, and technological advancements.
Key Market Players:
GE
Siemens
Canon
Hitachi Medical Systems
Medtronic PLC.
EB Neuro S.p.A.
Neurosoft
MinFound Medical Systems Co. Ltd.
Elekta
Varian medical Systems
General Electric Company
Philips Healthcare
Toshiba Medical Systems
Sanrad medical Systems Pvt. Ltd
Esaote SpA
Segments Covered in the Report:
(Note*: We offer reports based on sub segments as well. Kindly, let us know if you are interested)
By Imaging Type
Functional Magnetic Resonance Imaging (fMRI)
Computed Tomography (CT)
Positron Emission Tomography (PET)
Electroencephalography (EEG)
Magnetoencephalography (MEG)
Near infrared Spectroscopy (NIRS)
By End User
Hospitals
Ambulatory Surgical Centers
Clinics and Diagnostic Centers
By Geography
North America
Europe
Asia-Pacific
Latin America
Middle East and Africa