The global breathing circuits market size was evaluated at USD 2.7 billion in 2022 and it is expected to hit around USD 4.24 billion by 2032, growing at a CAGR of 4.62% during the forecast period 2023 to 2032.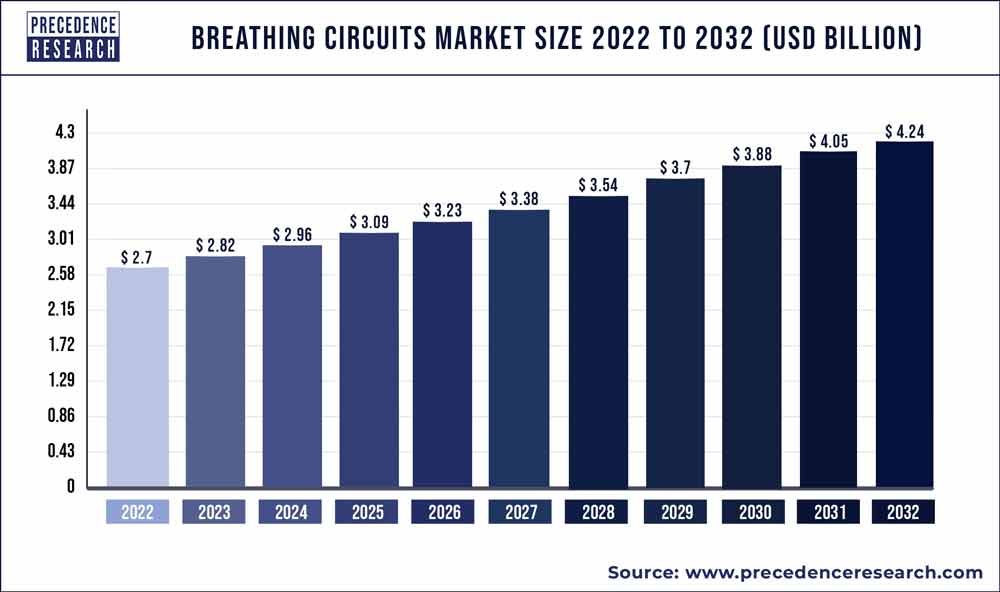 Access our Premium Real Time Data Intelligence Tool, Visit: Precedence Statistics
Key Takeaways:
North America dominated the global market in 2022.
By Circuit Type, the open breathing circuit segment is the predicted to record largest revenue share between 2023 and 2032.
By Application, the anesthesia segment is expected to expand at the fastest CAGR from 2023 to 2032.
By End User, the hospital segment lead the global market.
Market Overview:
The breathing circuit is a medical device used for delivering oxygen and anesthetic agents to patients by the removal of carbon dioxide. The breathing circuit market has grown significantly after the COVID-19 pandemic due to meeting the growing demand for respiratory support, such as ventilators and breathing support devices in healthcare facilities. The emerging trend of miniaturization and portability of breath devices in the breathing circuit market.
In addition, miniaturization involves designing breathing circuits smaller and more compact without affecting their functionality; this enhances patients' comfort during a medical procedure or respiratory therapy, especially for pediatric and neonatal care patients. Additionally, portable breathing circuits provide facilities such as monitoring a patient's respiratory condition at home and allow healthcare professionals to track and evaluate progress based on real-time data provided by breathing circuit devices.
For instance, In April 2023, GE Healthcare, a leading medical technology device company, launched its new Care scape R860 ventilators with a user interface that features a new breathing circuit design to improve patients' comfort and reduce the risk of ventilator-associated pneumonia, with more efficient and provide better gas exchange.
Report Scope of the Breathing Circuits Market:
| | |
| --- | --- |
| Report Coverage | Details |
| Market Size in 2023 | USD 2.82 Billion |
| Market Size by 2032 | USD 4.24 Billion |
| Growth Rate from 2023 to 2032 | CAGR of 4.62% |
| Largest Market | North America |
| Base Year | 2022 |
| Forecast Period | 2023 To 2032 |
| Segments Covered | By Circuit Type, By Application, and By End User |
| Regions Covered | North America, Europe, Asia-Pacific, Latin America, and Middle East & Africa |

Market Dynamics:
Drivers:
Technological advancement in breathing circuit devices
Advances in medical breathing circuit devices are the significant driver of the breathing circuit market, as medical device companies are investing more in research and development to develop innovative technology that enhances user experience by offering innovative design, functionality, and effectiveness of breathing circuit devices in medical uses. Additionally, advanced sensors are integrated into smart sensors and monitoring devices that provide real-time data feedback, oxygen concentration, breathing patterns, etc.
Moreover, advanced breathing circuit devices also provide closed-loop ventilation systems which use sensors to record real-time data and automatically adjust ventilation settings according to feedback. Furthermore, the emerging trend of using innovative materials and coating to produce breathing circuits that improve the durability and safety of breathing circuits, like antimicrobial coating, reduces the risk of contamination and infection in patients.
For instance, In November 2022, Xplore Healthcare Technologies company launched the world's first smart respiratory device called 'Airofit Pro.' This new product helps in personalizing the breathing training experience for patients by making the respiratory muscles more efficient and faster. In addition, Airofit Pro also assists in training inspiratory and expiratory muscles.
Restraint:
Risk of infection
The risk of infection is a significant concern in the breathing circuit market as it can extend hospital stays and increase health expenses and mortality. Moreover, breathing circuit devices are prolonged to contaminating, like the formation of biofilm inside the surface of the breathing circuit device, leading to the transmission of bacteria to patients with the device. In addition, improper handling, transportation, and storage of devices can expose them to other environmental infections, further increasing the risk of disease.
Additionally, the risk of infection is increasing in intensive care unit (ICU) patients, who are more likely to get infected by bacteria due to a weak immune system. For instance, ventilator-associated pneumonia is a common disease spread through the use of contaminated breathing circuit devices in the ICU. Accordingly, a study conducted by the University of California, San Francisco, found that using heated humidification in breathing circuits is 30% less likely to develop ventilator-associated pneumonia than patients who did not receive heated humidification. Furthermore, to ensure patient safety and to maintain healthcare quality, it is important to reduce the risk of infection through breathing devices.
Opportunities:
Disposable breathing circuit devices
The disposal of breathing circuit devices is a significant opportunity in the market as this device helps in preventing the spread of infection through breathing devices. Additionally, the emerging trend of using single-use disposable devices can reduce the risk of hospital contamination, directly contributing to better patient outcomes and safety. In addition, healthcare facilities should identify recycling opportunities to recycle parts from breathing circuit devices, reduce the environmental impact, and save valuable resources.
Moreover, manufacturers of breathing circuit devices should collaborate with healthcare providers to find innovative solutions to control the risk of infection and identify opportunities to recycle some parts of breathing devices like plastic and metal. Additionally, this can drive advancement in both device technology and disposal practices in the breathing circuit market.
For instance, In March 2023, Dragerwerk announced the launch of its new infinity delta breathing circuit. The Infinity Delta is a disposable breathing circuit designed to be more comfortable for patients and reduce the risk of cross-contamination. It also features several new features, such as a built-in CO2 monitor and a pressure relief valve.
Impact of COVID-19:
The COVID-19 pandemic significantly impacted the healthcare industry, including the breathing circuit market. The COVID-19 pandemic was the leading cause of acute respiratory distress syndrome, leading to millions of deaths worldwide. Additionally, it contributed to the demand for respiratory support devices and the urgent need for ventilators and breathing support systems to manage critical patients. Many medical device manufacturers have to rapidly scale up their production of breathing circuit devices to meet growing demand. Moreover, some medical device companies also collaborate with non-medical manufacturers to increase output. In addition, the pandemic also promoted the donation and sharing of breathing circuit devices between countries, leading to increased international collaboration in the breathing circuits market.
Segments Insight:
Circuit Type Insights:
Based on device types, the breathing circuits market is segmented into open-breathing circuits, semi-open-breathing circuits, semi-closed breathing circuits, and closed breathing circuits. Open breathing circuit is the largest segment in the breathing circuit market. This medical device is used in anesthesia machines and ventilators. Additionally, an open breathing circuit allows a portion of the exhaled gases to be released into the surrounding environment. Moreover, the growth of open breathing circuits is due to their simpler design, less maintenance, and ease of use as compared to other types of breathing circuits, making them a cost-effective option for many patients and health providers; furthermore, In many developing countries using open breathing circuit is effective during emergency field setting open circuit is readily available and accessible.
In addition, as open-breathing circuits are simple designs, this creates an opportunity for innovation and provides a more comprehensive product portfolio for manufacturing and meeting the needs of a wide range of patients. Nonetheless, using open circuits for training and education can create a different market segment catering to medical schools, training centers, simulation centers, and rehabilitation.
Application Insights:
Based on application, the breathing circuit market is divided into anesthesia, respiratory support, and others. Breathing circuits are commonly used in anesthesia delivery systems and are the fastest-growing segment in the breathing circuit market. The primary driver of the anesthesia segment is the demand for breathing circuits in medical interventions. In addition, as there is continuous development in medical surgical produce, the need for accurate and controlled delivery of anesthesia gases is essential. Moreover, there is a growing trend of using breathing circuits with minimal airway resistance. This ensures that the patient can breathe comfortably while reducing the risk of complications during the medical producer.
Additionally, specialized design anesthesia breathing circuit is required for pediatric and neonatal patients due to their unique and delicate physiological characteristics and precise dosage of anesthesia. For instance, In March 2023, the FDA approved using the Air Life IQ breathing circuit for adults and children during general anesthesia and mechanical ventilation, as it includes innovations like built-in CO2 monitors and pressure relief valves.
End-User Insights:
The breathing circuit market is segmented into hospitals, clinics, ambulatory surgical centers, and others based on end users. The hospital is dominating the segment in the breathing circuit market as they are the primary user of breathing circuit devices. The demand for breathing circuits in hospitals is due to factors like patient care and treatment. In addition, the intensive care unit in the hospital requires breathing circuits as an integral part of ventilators for patients who are not able to breathe on their own and require respiratory support.
Moreover, apart from ventilators and anesthesia, hospitals also use breathing devices in respiratory therapies like continuous positive air pressure and bilevel positive airway pressure devices to help patients with conditions such as sleep apnea breathe easily. For instance, the University of Pennsylvania Health System announced that it is now using continuous positive air pressure machines to treat patients with sleep apnea. CPAP machines are being used to help patients with ARDS breathe more easily and prevent them from developing further lung damage.
Regional Insights:
North America region is the largest market of the breathing circuit market in 2022. The growth of breathing circuits in this region is due to factors like the prevalence of respiratory diseases, technological advancement, research and development, advanced healthcare systems, and government initiatives. Moreover, the rise in the majority of respiratory diseases like chronic obstructive pulmonary disease, asthma, and sleep apnea. According to the Pan American Health Organization, 35.8 deaths per 100,000 population (age-standardized), which was higher in men (42.2 deaths per 100,000) than in women (31.0 deaths per 100,000 population), is due to chronic respiratory diseases. Moreover, the United States is the leading region of innovation in medical devices, contributing to the growth of the market and investment in the healthcare industry in America. In addition.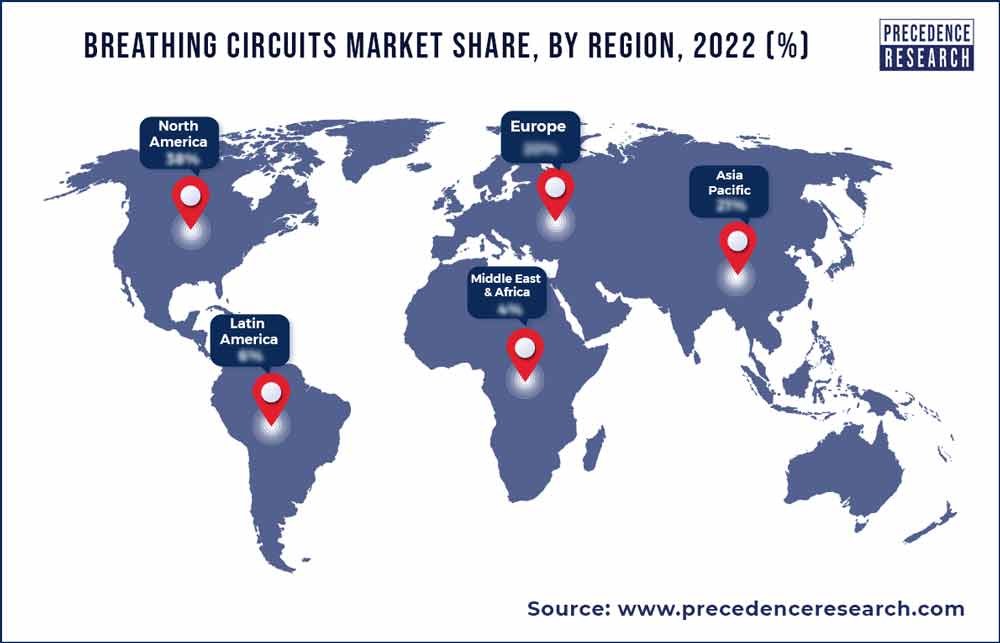 regulatory agencies in North America, like FDA, are also contributing to shaping the breathing circuit market in North America. For instance, In May 20232, the FDA approved a new drug, tobramycin liposome inhalation suspension, for the treatment of ventilator-associated pneumonia.
Recent Development:
In January 2023, Armstrong Medical launched the new 'AquaVENT VT' state-of-the-art heated breathing technology in the Middle East market. The AquaVENT VT is a heated breathing circuit that is designed to provide patients with a more comfortable and humidified breathing experience. It is also said to be effective in reducing the risk of ventilator-associated pneumonia.
In May 2023, Smiths Medical announced the acquisition of Vyaire Medical. Vyaire Medical is a leading manufacturer of breathing circuits and other respiratory care products. The acquisition is expected to strengthen Smiths Medical's position in the breathing circuit market and expand its product portfolio.
In May 2023, Medtronic announced that it had received FDA approval for its new Heated Humidification Module for its ventilator, the Evita V500. The Heated Humidification Module is designed to improve patient comfort.
In March 2023, Teleflex announced that it had received a $200 million investment from Advent International. The investment is intended to help Teleflex expand its respiratory care business, which includes breathing circuit devices.
In May 2023, Air Sep Corporation, a US-based company that manufactures a variety of respiratory care products, including oxygen concentrators and bilevel positive airway pressure (BiPAP) machines, was acquired by Fisher & Paykel Healthcare, a New Zealand-based company that manufactures a wide range of medical devices, including respiratory care products, such as ventilators and oxygen concentrators acquires
Key Market Players:
Ambu A/S
Altera Corp.
Armstrong Medical Industries, Inc.
Becton, Dickinson, and Company
Beijing Aeonmed
Bio-Med Devices
CR Bard Inc
Dragerwerk AG & Co. KGaA
Fisher & Paykel Healthcare Corporation Limited
Flexicare Medical Ltd.
General Electric Company
Smith's Group plc
Teleflex Incorporated
Segment Covered in the Report:
(Note*: We offer reports based on sub-segments as well. Kindly, let us know if you are interested)
By Circuit Type
Open Breathing Circuit
Semi-Open Breathing Circuits
Semi-Closed Breathing Circuits
Closed Breathing Circuits
By Application
Anesthesia
Respiratory Support
Others
By End-User
Hospitals
Clinics
Ambulatory Surgical Centers
Others
By Geography
North America
Europe
Asia-Pacific
Latin America
Middle East and Africa