The global calcium carbonate market size was valued at USD 49.51 billion in 2022 and is expected to hit around USD 72.5 billion by 2030 and is poised to grow at a compound annual growth rate (CAGR) of 4.88% during the forecast period 2022 to 2030.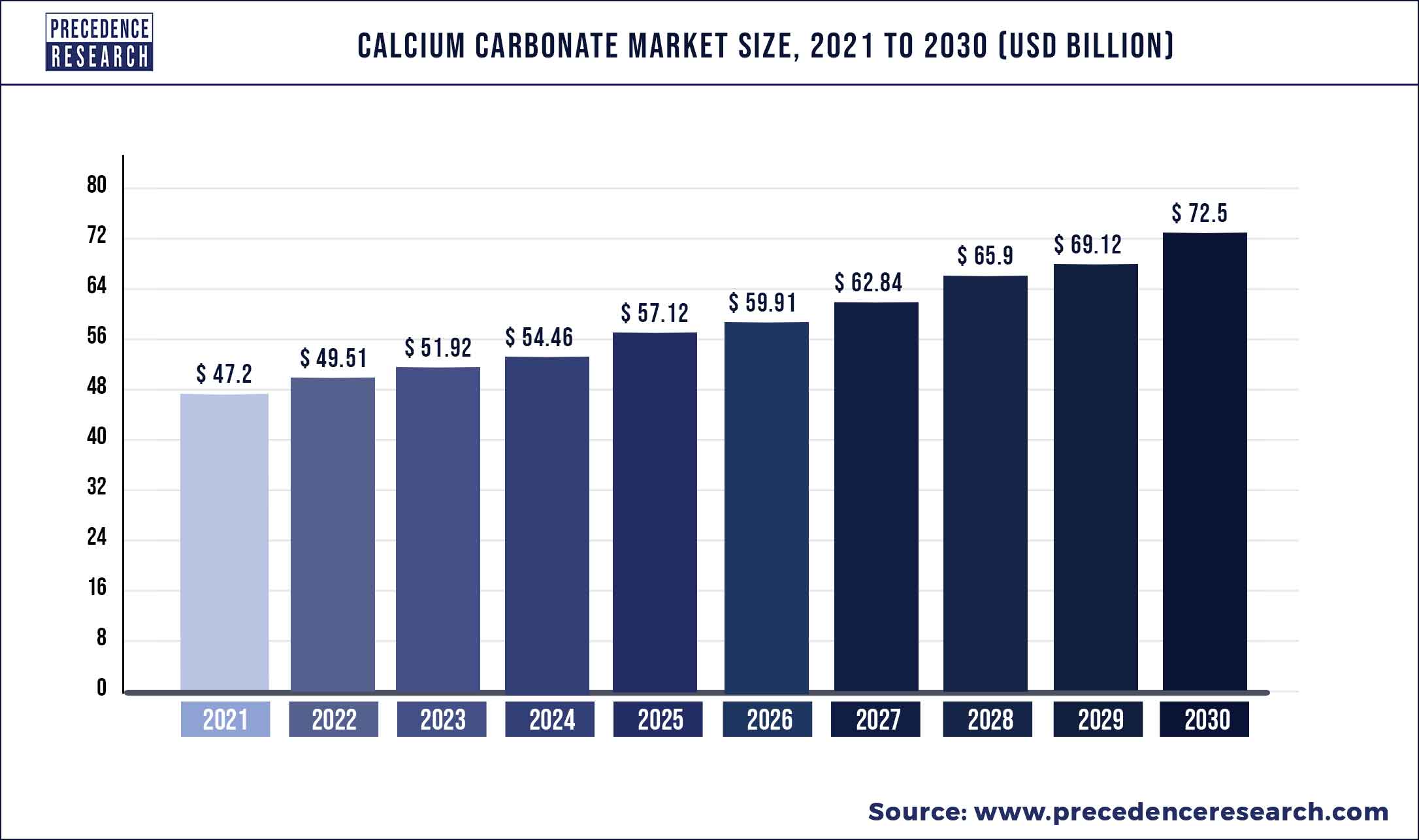 Calcium carbonate is a substance compound addressed by the synthetic recipe CaCO3. It is assessed that around 4% of the world's outside layer is comprised of calcium carbonate. It is found normally as minerals and rocks, some of which incorporate calcite, limestone, chalk, marble, and aragonite. Calcium carbonate is utilized either in its normally happening state or in the unadulterated structure. Unadulterated calcium carbonate is extricated from normal sources by different strategies like mining and quarrying. As of now, calcium carbonate utilized is generally utilized for different capabilities, including as a mineral filler, brightening specialist, and an alkalizing specialist.
Growth factors
Expanding interest for paper from bundling applications and cleanliness related items like tissue paper is a significant development driver for the market. Nonetheless, the item request saw a decrease in 2020 inferable from the episode of the Covid. The pandemic caused far and wide closures across the globe, which essentially affected the economy overall in the main portion of 2020. No sweat in limitations in the final part of the year, organizations are investing additional amounts of energy to continue their tasks, which is a positive sign for market development.
The U.S. has been a conspicuous objective for the item considering popularity from enterprises including paints and coatings, glues and sealants, and paper producing. Paper is the biggest application section of the market and the U.S. is among the world's biggest paper producers. In spite of the pandemic that significantly affected the nation's economy, the interest for calcium carbonate keeps on enduring, particularly in the paper creation area attributable to a developing accentuation on tidiness.
The market for calcium carbonate has been hampered by store network precariousness, a log jam in natural substance creation, exchange development easing back, and a decrease in development, vehicle, and paint and coatings request because of the COVID-19 pandemic. Calcium carbonate request is tied straightforwardly to various enterprises that are seeing business vulnerability, for example, car, plastics, paper, and building and development.
A drop in paper utilization from corporate workplaces, schools, and colleges, and the paper and printing enterprises has hampered the development of the paper business. Nonetheless, new application classes including cleanliness paper items, food bundling, clinical specialty sheets, and folded bundling have given open doors to the business, which is driving up the interest for calcium carbonate, consequently lessening the pandemic's effect on some degree.
As per the American Forest and Paper Association, the U.S. paper and wood items industry kept elevated degrees of tissue creation in February and March 2020. The U.S. factories created around 700 kilotons of tissue in March. Factors like lockdown and additional cleanliness concerns prompted alarm purchasing and storing of tissues and other cleaning items, in this way helping the market development.
Regardless of the interest for calcium carbonate in the paper portion, the market saw a plunge in 2021 attributable to confined transportation, a stop in assembling tasks for unnecessary businesses, and the closure of mines across different locales. A few market players detailed negative deals and benefits for the main portion of 2021.
For example, LafargeHolcim, a coordinated player on the lookout, revealed a 14% benefit fall in Q1 of 2020 as the pandemic made building locales shut down around the world. The organization mines limestone produces calcium carbonate and uses it to fabricate concrete, which is additionally taken care of the development business. The organization needed to stop its mining exercises in March 2020 in Meghalaya, India because of lockdown; nonetheless, the tasks continued following two or three months as mining exercises were permitted by the state government with the requirement of social separating standards and appropriate cleanliness conditions.
Report Scope of the Calcium Carbonate Market
| | |
| --- | --- |
| Report Coverage | Details |
| Market Size in 2022 | USD 49.51 Billion |
| Market Size by 2030 | USD 72.5 Billion |
| Growth Rate from 2022 to 2030 | CAGR of 4.88% |
| Base Year | 2021 |
| Forecast Period | 2022 to 2030 |
| Segments Covered | Product Type, End Use and Geography |
| Companies Mentioned | AGSCO Corp., Carmeuse, Blue Mountain Minerals, Carmeuse Lime & Stone Company, GCCP Resources, GLC Minerals, LLC, Greer Limestone Company, Gulshan Polyols Ltd., ILC Resources, Imerys, J.M. Huber Corp., LafargeHolcim, Midwest Calcium Carbonates, Mineral Technologies, Mississippi Lime, Mountain Materials, Inc., NALC, LLC, Omya, Parchem Fine & Specialty Chemicals, The National Lime & Stone Company, United States Lime & Minerals, Inc. |

Key Market Drivers
Increasing interest from paper and plastic businesses in APAC
Calcium carbonate is a basic unrefined substance for paper and plastics. The interest for paper is expanding in APAC as advanced change is moderately sluggish. The financial development saw in the non-industrial nations of APAC has prompted an expansion in the utilization of paper bundling. China, India, and South Asian nations are the biggest buyers of paper in the district. Also, the development of the online business industry in India and China has prompted an expansion in the interest for layered bundling arrangements. Paper bundling is likewise utilized in ventures like food, medical services, schooling and writing material, and individual consideration. This multitude of elements are expanding the interest for paper in the locale.
The plastic business in APAC is likewise developing at a quick rate. The district is seeing a popularity for plastics for different applications in bundling, car, development, electrical and gadgets, and different enterprises. The rising utilization of plastics in these businesses for various purposes, like diminishing costs in bundling and development enterprises, lessening weight in car parts, and as a cover in electronic items, is driving the interest for calcium carbonate in APAC.
Key market challenges
Declining paper industry because of expanding digitization
The paper business has been seriously impacted by expanding digitalization and electronic distributing. The worldwide paper industry has diminished throughout recent years because of the shift to paperless correspondence and computerized media across most created economies. The interest for newsprint paper has additionally seriously declined as of late because of oversupply issues.
The rising utilization of computerized media is continuously supplanting paper, in this manner hampering the market for office paper and newsprint paper, which is contracting by around 5% each year. As calcium carbonate is broadly utilized as a filler recorded as a hard copy and printing paper, newsprint endlessly paper bundling applications, the rising digitalization acts a test for the market.
Market Opportunities
Potential applications

- Right now, calcium carbonate is significantly utilized in the paper, plastic, paints and coatings and cements and sealants enterprises. What's more, there are a few possible uses of nano calcium carbonate. Nano calcium carbonate has drawn in interest among analysts, particularly for helpful applications. Calcium carbonate-based materials have biodegradable and biocompatible properties, which are ideal as a savvy transporter to convey qualities, proteins, and medications. Studies are being directed to carry out these nanoparticles in helpful applications, including as an antibacterial specialist, for quality conveyance to target disease cells, and for malignant growth drug conveyance. These potential applications present different open doors for the development of the calcium carbonate market from here on out.
Segmental Insights
Type Insights
The ground calcium carbonate ruled the item type fragment, representing over 70.5% in 2021. Ground calcium carbonate is normally utilized as a modern mineral. It is utilized in paints and coatings, paper and plastic fillers. GCC additionally tracks down application in concrete and can be changed over into calcium oxide and calcium hydroxide. It builds the pH in soils or water and can be utilized to kill ignition fumes.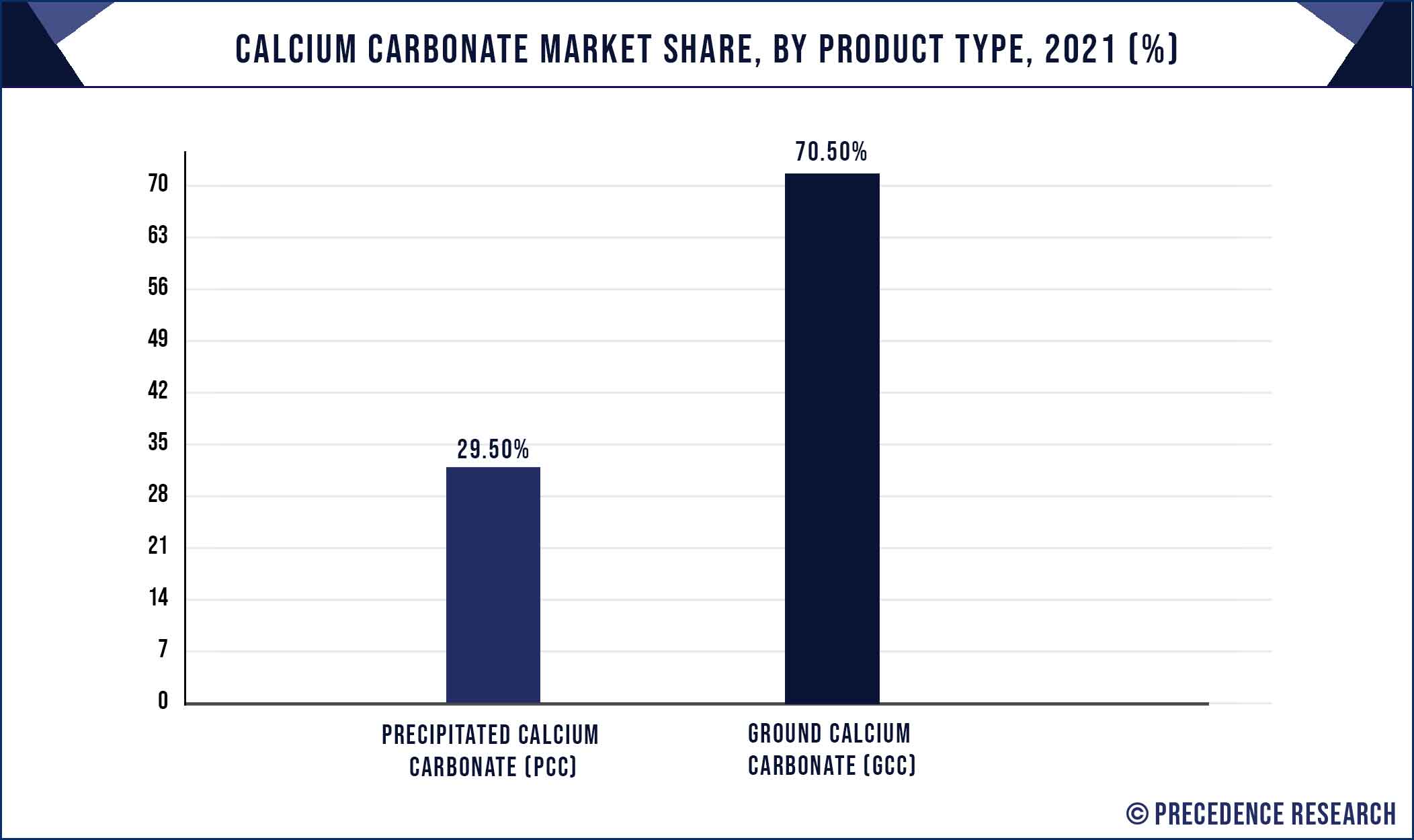 Subsequently, different favorable properties of GCC drive the development of item type segment. Precipitated calcium carbonate (PCC) is expected to enlist the highest CAGR of more than 4.5%. The different state of PCC permits them to go about as a utilitarian added substance in glues, sealants, elastic, plastic, inks, paper, drug, and nutraceutical, helping the development of this portion.
End User
Plastic to be the quickest developing end-use industry of calcium carbonate over the forecast period. This is because of the rising interest for calcium carbonate-supported polypropylene from the auto business and the capacity of calcium carbonate to upgrade the properties of plastics and help in better intensity dissemination. Additionally, the rising utilization of plastics in different end-use ventures like bundling, building and development, and electrical and hardware has expanded the interest for plastics. These elements add to the development of the calcium carbonate market in the plastic business. The plastics application segment is growing at a CAGR of 6.6% between 2022 to 2030.
The ongoing pandemic has constrained makers to increase their creation to take special care of the rising shopper needs. For example, in August 2020, Celulosa Argentina declared an expansion in its development of paper bundling by 30%. The organization's emphasis was on the food business as the interest flooded in this area. With the development of the web-based business area and the developing utilization of tissue papers, the paper application fragment is expected to keep up with its lead over the estimate period.
The paints and coatings portion hit as the second-biggest application section in 2021. The item is utilized in a few applications in the paints and coatings area. It goes about as a specialist for decreasing or upgrading shine, as an extender, and as an added substance for expanding thickness. In spite of many purposes, the item request was influenced in this application portion in 2021 inferable from an end in the assembling tasks, which upset the whole presentation and store network of the paints and coatings industry.
Albeit the creation has continued effortlessly in limitations, the rising instances of COVID-19 and activities at negligible limit are still matters of worry for the market players. Certain organizations have taken on techniques to adapt to this situation. For example, Asian Paints, a main player in Asia, has sent off another scope of items in the wellbeing and cleanliness section. The organization is running a "Protected Painting Campaign" to help its deals. Moreover, the organization has started a "San Assure" administration for disinfecting homes, working environments, and shops. Such drives are expected to build the interest for paints and coatings, accordingly prompting market development.
Calcium Carbonate Market Share, By Region, 2021 (%)
| | |
| --- | --- |
| Regions | Revenue Share in 2021 (%) |
| North America | 31% |
| Asia Pacific | 39.7% |
| Europe | 22% |
| Latin America | 4% |
| MEA | 3.3% |

Geography Insights
APAC to overwhelm the calcium carbonate market during the estimate time frame. The development in the APAC locale can be credited to the developing interest for calcium carbonate from different end-use businesses like paper, plastic, glues and sealants, and paints and coatings. In any case, because of the pandemic, the assembling tasks and production network have been monstrously affected. Aside from China, any remaining significant Asian nations have detailed negative GDP development for the second quarter of 2021.
Economies are investing additional amounts of energy for the legitimate working of activities in various areas by keeping up with fundamental conventions expected during the pandemic. As the tasks continue, certain ventures have announced positive news; for example, auto deals in India went up in the beyond two months. What's more, the interest for paints and coatings and vehicles is expected to increment, which, thusly, will increase the interest for calcium carbonate.
North America held the second position in 2021. However, the area has been seriously affected by the pandemic, the end-use businesses of the market have started their activities at negligible limit considering the ascent in purchaser interest. Businesses including clinical, bundling and DIY are helping the interest for items, for example, cements and paper, which is a positive sign for the market.
The U.S. held the biggest income share in the North American market in 2021 and is supposed to keep up with its lead over the figure period. Taking into account the item interest in the nation, organizations are participated in supporting their creation limits and growing their presence in the country. For example, in March 2020, Anglo Pacific Group PLC declared going into a supporting concurrence with Incoa Performance Minerals LLC for subsidizing the development of a calcium carbonate-related framework in the Dominican Republic.
Key market players
AGSCO Corp.
Carmeuse
Blue Mountain Minerals
Carmeuse Lime & Stone Company
GCCP Resources
GLC Minerals, LLC
Greer Limestone Company
Gulshan Polyols Ltd.
ILC Resources
Imerys
J.M. Huber Corp.
LafargeHolcim
Midwest Calcium Carbonates
Mineral Technologies
Mississippi Lime
Mountain Materials, Inc.
NALC, LLC
Omya
Parchem Fine & Specialty Chemicals
The National Lime & Stone Company
United States Lime & Minerals, Inc.
Segments covered in the report
(Note*: We offer report based on sub segments as well. Kindly, let us know if you are interested)
By Product Type
Ground Calcium Carbonate (GCC)
Precipitated Calcium Carbonate (PCC)
By End Use
Paper
Plastic
Others (rubber, environment, pharmaceutical, cosmetic, food, oil & gas, and others)
By Geography
North America
Europe
Asia-Pacific
Latin America
Middle East & Africa (MEA)