The global car wash service market size was estimated at USD 31.06 billion in 2022 and it is expected to hit around USD 43.81 billion by 2032, poised to grow at a CAGR of 3.5% between 2023 and 2032.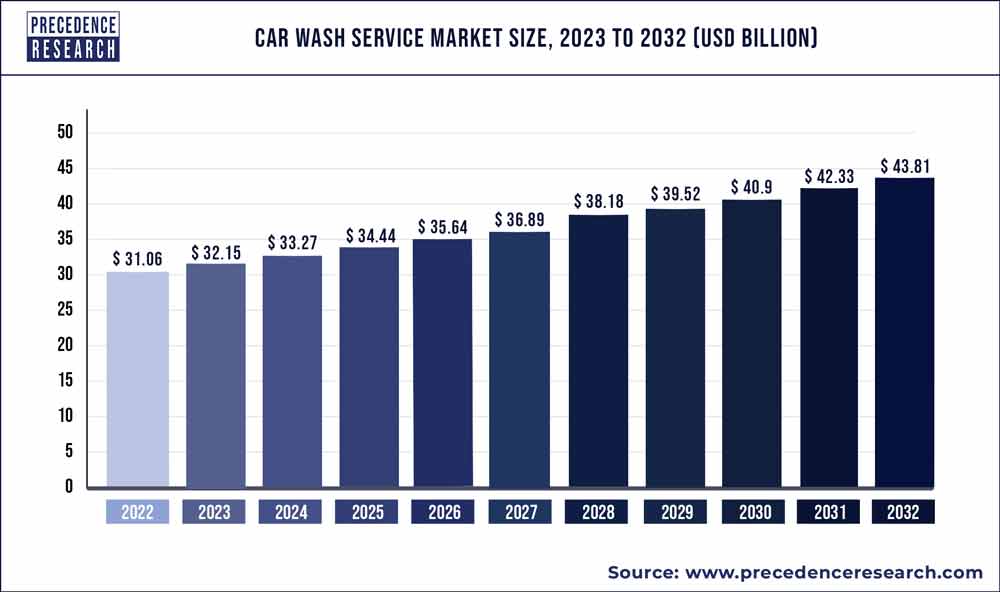 Access our Premium Real Time Data Intelligence Tool, Visit: Precedence Statistics
Key Takeaways:
The North America contributed more than 51% of the revenue share in 2022.
By type, the roll-over/in-bay segment generated more than 51% of revenue share in 2022.
By mode of payment, the cashless payment segment is projected to record the biggest CAGR of 4.8% from 2023 to 2032.
Market Overview:
Increases in the number of vehicles on the road and customer disposable income are the main factors fueling the market's sales growth. The rising demand for car washing and detailing services is another major factor. The increasing importance placed on sustaining the appearance and valuation of cars is fueling the market's sales growth for car wash services.
Additionally, there is an increasing demand for waterless and environmentally friendly car wash services as problems with water shortages and environmental concerns worsen. Waterless car wash services significantly lessen their environmental impact by employing cutting-edge cleaning methods that don't use water. Due to the development of new vehicle washing techniques and the increased adoption of green practices, the industry is seeing revenue growth.
Additionally, the use of cutting-edge technology, such as automated car wash systems, is what is driving the sales rise in the marketplace for vehicle wash services. One of the main factors influencing the market's revenue growth is the potential of these systems to provide quick and efficient car washing services through the use of cutting-edge sensors and artificial intelligence. A growing number of people are using automated car wash systems because they are convenient and time-saving.
The increasing demand for luxury car washing and detailing facilities is another important factor boosting the market growth in revenue for car wash services. Customers are becoming more willing to spend for high-quality car washing and detailing facilities that provide their vehicles with a higher level of care. The effect of premium services is being fueled by a growing focus on sustaining the appeal and worth of cars as well as increasing preference for easy and quick services.
The demand for mobile car cleaning services is expanding, fueling an increase in revenue. Mobile car washing services offer the comfort of on-demand services delivered to the customer's door. This particularly appeals to busy professionals who appreciate their time because they can wash their cars while working or take care of other things.
Report Scope of the Car Wash Service Market
| | |
| --- | --- |
| Report Coverage | Details |
| Market Size in 2023 | USD 32.15 Billion |
| Market Size by 2032 | USD 43.81 Billion |
| Growth Rate from 2023 to 2032 | CAGR of 3.5% |
| Largest Market | North America |
| Base Year | 2022 |
| Forecast Period | 2023 to 2032 |
| Segments Covered | By Mode of Payment and By Type |
| Regions Covered | North America, Europe, Asia-Pacific, Latin America and Middle East & Africa |

Market Dynamics:
Growing customer spending power and a greater emphasis on car maintenance to prevent requiring later, expensive repairs are the main drivers propelling the expansion of the worldwide car wash service market. Customers increasingly rely on professional car washing facilities instead of rinsing or washing their cars at home due to hectic lifestyles, time restraints, and busy lives. Metal parts and components of cars can corrode due to harsh chemicals, grime, and dirt that builds up on them. It is conceivable to get a hold of a reprint of this article by contacting the author.
Additionally, household cleaning supplies and tools can harm a vehicle's surface. These are just a few of the additional elements that are anticipated to boost customer requirements for expert car washing services and, in turn, fuel the expansion of the worldwide car wash service market. Another element that helps the market expand to some extent is the trust factor, which is gained through effective and trustworthy services and competitive pricing provided by service providers.
Benefits like convenience, quicker service, and increased cleaning effectiveness are credited with encouraging consumer adoption of car wash services. The easy accessibility of on-demand services, the development of mobile apps, and the subscription-based services provided by seasoned car wash service providers are additional factors driving the growth of the global market.
The high cost of establishing fully automatic car washing facilities and rigid government rules regarding water utilization, however, may serve to limit market expansion to some extent.
Market Restraint:
Restrictions for car washes and car care products.
The EPA's advice that car owners use professional detailing services instead of do-it-yourself (DIY) washing processes at home has a direct effect on sales of DIY auto care products. A number of laws and rules must be followed to protect the environment and the employees' well-being while operating a carwash.
Each state or country has specific water runoff laws and regulatory permits, which all abide by the same rule. The market depends on how rigidly the EPA enforces laws like the Clean Water Act of 1972. Subsequently, these regulations have a direct effect on the economy of DIFM and DIY car maintenance products.
Market Opportunity:
Growing demand for water-based cleaning products.
In addition to removing soils by dissolving contaminants, water-based cleaners can react chemically with these toxic elements to make them more soluble in water.
To increase their efficacy, most water-based cleaners also include a variety of other ingredients. Detergents or surfactants, sequestering agents, emulsifiers, builders, saponifiers, and chelating agents are a few examples of substances. Considering their many advantages over solvent-based cleaners in car care products and services, water-based cleaners are becoming increasingly popular.
COVID-19 Impact:
The COVID-19 pandemic significantly affected the sector. Most businesses were shut down when the pandemic was at its worst. In late April 2021, New York State approved the comeback of car washes, but only under strict restrictions that forbade in-person payment and restricted the number of employees who could be present. The pandemic also brought about several vital advancements in the sector. Car washes are starting to use online booking platforms and smartphone applications to make things simpler for tech-savvy customers.
Car washes are beginning to accept payments made with smartphones as well. In a progressively cashless society, not processing virtual wallet payments may be a compromise for some clients. More payment options than just a credit card reader help car washes gain more customers and expand more quickly.
Segments Insight:
Type Insights:
The industry is expected to keep expanding at the highest CAGR while keeping its leadership over the forecast timeframe. Since in-bay or roll-over services use only 10 to 50 gallons per car instead of 14 to 60 gallons per car in a tunnel, they have lower operating costs than tunnel washes. Due to the money and time the client saves, this section is the most lucrative. Moreover, Automatic washes are conceivable with in-bay automated processes that use high-pressure water to wash the car and generate pressure and smooth brushes to polish and wash the car before the washing.
The advantages of in-bay or roll-over automatic vehicle wash services include the capacity to integrate into smaller spaces, impulsive purchases, and easier client interaction. Furthermore, the increasing pattern of tunnel wash system installation in retail stores raises the possibility of marketing opportunities. Additionally, the emphasis on environmentally friendly procedures that adequate vehicle washing facilities place on their services attracts a lot of consumers. Further, the development of automatic wash facilities on auto dealership properties results from the market's expanding use of these facilities.
Mode of Payment Insights:
The implementation of a Point-Of-Sale system across pay stations or integrated payment solutions enables car wash company owners to increase revenue, enhance productivity, and gain comprehensive consumer insights. The younger generation of consumers expects to be able to make payments in whatever way is most practical for them, whether that be with tokens, loyalty cards, debit cards, EMV-enabled purchases made with credit cards, or via a smartphone.
An advanced payment system amplifies a company's business by making it simpler to track providers, assemble essential client information, and accept various payment methods. An integrated system improves the whole car wash process for companies and customers. As a standard method of payment, carwashes have long provided membership programs and loyalty programs. Shareholders and clients have discovered that making people pay a monthly fee for uninterrupted washing access to a website or chain of carwashes has been financially beneficial. Customers are able to buy these subscriptions on the firm's site or through online marketplaces.
Regional Insights:
Because of the large number of car owners and growing public understanding of the importance of keeping vehicles clean, North America generated more than 51% of revenue share in 2022. Due to increased demand for car washing and detailing facilities, the U.S. market for car wash services is anticipated to grow significantly during the forecast period. Additionally, the American government is implementing several initiatives to promote eco-friendly car wash practices, which is expected to spur market growth. Further, the demand for ceramic coating and car cleaning is growing in the U.S., which should create new business opportunities for those who offer car wash services.
With the growing demand for car washing services in emerging countries such as India and China, the market in the Asia Pacific is anticipated to experience the fastest revenue CAGR during the forecast period. Changing lifestyles and rising disposable income drive the demand for vehicle wash services in this local market.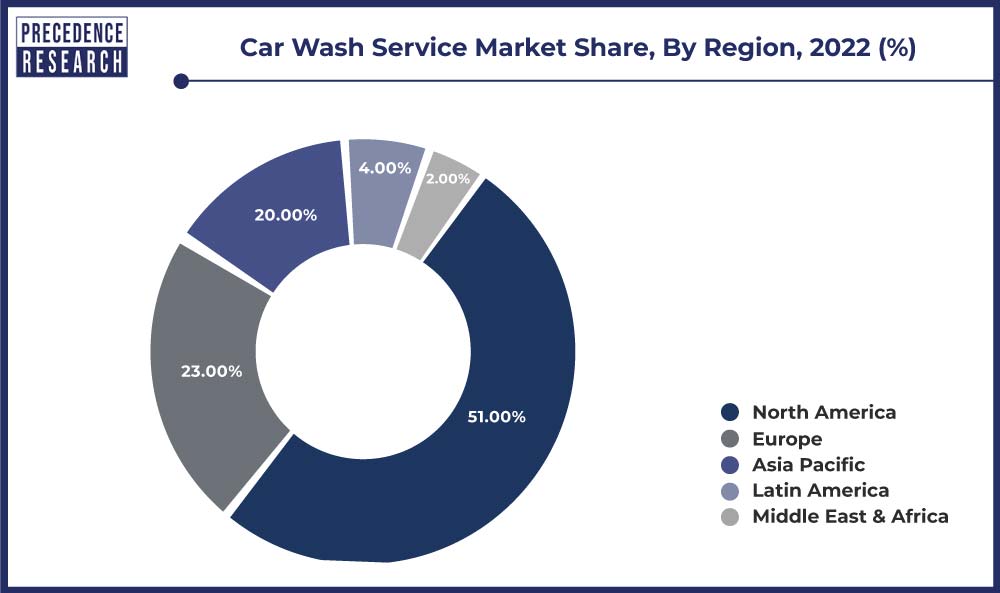 Increasing public awareness of the importance of car maintenance and the number of vehicles on the road contributes to the market's sales growth. Additionally, the availability of cheap labor in the area, which enables car wash service providers to set fair prices for their services, is fueling market revenue development in this region.
Due to the increasing demand for detailing services and car washing in the region, the European market is anticipated to account for a moderately higher revenue share during the projected timeline. The largest market for car wash services in Europe is expected to be the United Kingdom. The demand for car wash services in the UK is anticipated to benefit from the growing trend of environmentally friendly vehicle wash services, which is becoming more prominent as environmental sustainability becomes a more critical concern. Numerous reputable car wash service suppliers and the increased number of car owners in the area also contribute to the market's revenue growth.
Recent Development:
June 2022 - The opening of a new location for Mister Car Wash, Inc. in Oviedo, Florida, was announced. The Platinum package offered at the new services includes many of Mister's recognizable products, along with Repel Shield, Platinum Seal, and HotShine ® Carnauba wax. The new place provides cutting-edge tunnel knowledge with Mister's special cleaning processes.
July 2022 - Warburg Pincus owned El Car Wash, among the leading faster express car-washing businesses in the US.
August 2022 - Mister Car Wash, Inc. revealed the acquisition of Top Wash, three express exterior services in Fridley, Anoka, and Champlin, Minnesota. The purchase expanded Mister Car Wash's reach into the northern suburbs of Minneapolis.
Key Market Players:
Zips Car Wash
Wash Depot Holdings Inc.
International Car Wash Group (ICW)
Hoffman Car Wash
Splash Car Wash
Autobell Car Wash
Magic Hands Car Wash
Super Star Car Wash
Quick Quack Car Wash
True Blue Car Wash, LLC
Segments Covered in the Report:
(Note*: We offer report based on sub segments as well. Kindly, let us know if you are interested)
By Mode of Payment
Cashless Payment
Cash Payment
By Type
Roll-over/In-bay
Tunnels
Self-service
By Geography
North America
Europe
Asia-Pacific
Latin America
The Middle East and Africa