The global centrifugal pump market size was valued at USD 32.50 billion in 2022 and is projected to surpass around USD 53.70 billion by 2032, with a registered CAGR of 5.20% over the forecast period 2022 to 2032.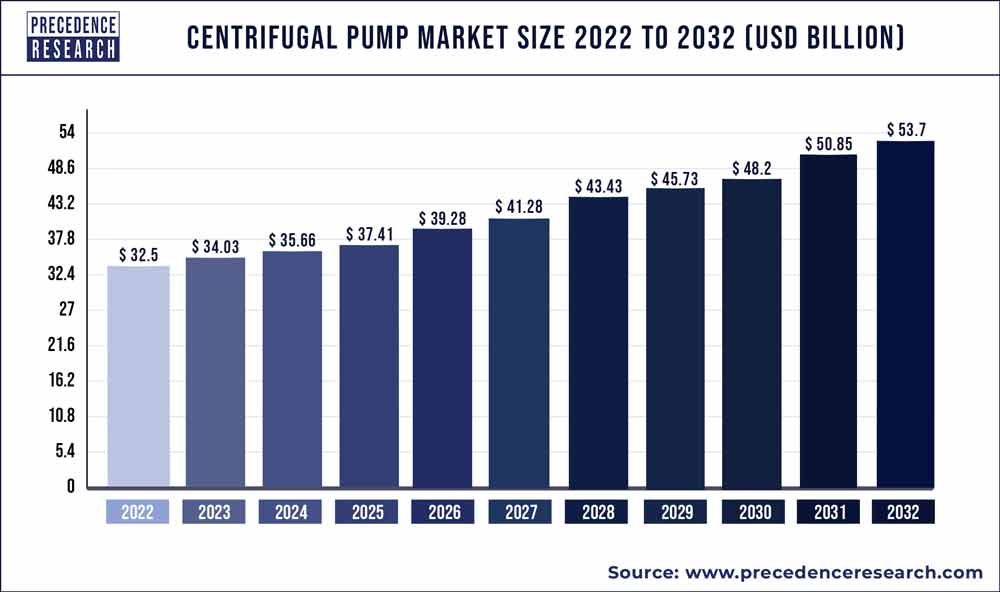 Access our Premium Real Time Data Intelligence Tool, Visit: Precedence Statistics
Key Takeaways:
Asia Pacific centrifugal pump market was accounted at USD 13 billion in 2022.
The radial flow segment has contributed 79% market share in 2022.
The horticulture application segment accounted market share of over 28% in 2022.
The water and wastewater applications segment is anticipated to ascend at a CAGR of 3.9% somewhere in the range of 2023 and 2032.
The Canada centrifugal pumps market is expected to grow at a 5% of CAGR from 2023 to 2032.
Germany accounts for nearly 19% of the market share in Europe 2022.
Coronavirus' overall effect has been remarkable and decimating, with the worldwide market seeing negative interest across all areas. As per our review, the market will extend by generally - 5.3 percent in 2020, contrasted with the typical year-on-year development from 2017 to 2019. The sudden drop in CAGR is because of this market's interest and development, which will recuperate to pre-pandemic levels once the pandemic is no more.
Quickly developing private and business foundation, as well as the extension of the assembling area, will drive the development of the overall centrifugal pump market. The increment is owing to expanded interest in the structure area, which has brought about quick urbanization. The solid interest for these sorts of siphons in the horticultural area is connected to showcase development.
Besides, rising interest for hydrocarbons to meet assorted power producing necessities would support the area viewpoint. A diffusive siphon is one of the most frequently used siphon types in a great many applications. It is connected in various industry verticals to effectively move fluids in mass volumes and proposition ideal powerful head and stream rates to the liquids.
Report Scope of the Centrifugal Pump Market
| | |
| --- | --- |
| Report Coverage | Details |
| Market Size in 2023 | USD 34.03 Billion |
| Market Size by 2032 | USD 53.70 Billion |
| Growth Rate from 2023 to 2032 | CAGR of 5.20% |
| Base Year | 2022 |
| Forecast Period | 2023 to 2032 |
| Segments Covered | Type, Application, Flow, Operation type, End user, Impeller Type, Geography |
| Companies Mentioned | Kirloskar Brothers Limited, ITT Corporation., The Weir Group PLC, Xylem, Flowrox, GRUNDFOS, Flowserve Corporation, Ebara Corporation, Dover Corporation, Sulzer |

Growth factors
The centrifugal pump is inclined to siphoning liquids containing pollutants, which can lessen the framework's efficiency. Subsequently, keeping up with the functioning boundaries of the siphons is basic to supporting by and large effectiveness and item life. To remotely analyze shortcoming circumstances, a few industry players have really demonstrated refined innovations, for example, network-based observing, the Internet of Things (IoT), and numerous others.
For instance, during the overall exchange exhibition ACHEMA Germany, KSB presented their new stage known as "KSB watch" to screen siphon frameworks using network sensors. The imaginative arrangement expects to incorporate temperature and vibration sensors into the siphons to recognize changes in working way of behaving for improved retrofitting and support.
Segmental insights
Centrifugal Pump Market Share, By Type, 2022 (%)
| | |
| --- | --- |
| Types | Revenue Share in 2022 (%) |
| Axial Flow | 7% |
| Radial Flow | 76% |
| Mixed Flow | 17% |

Type Insights
The market is partitioned into three areas in light of stream: hub stream, spiral stream, and blended stream. The outspread stream classification is supposed to have the greatest piece of the pie. These units siphon the functioning liquid opposite to the siphon shaft, with the liquid leaving the impellers radially. This direction of the siphons gives a few specialized benefits, like high proficiency, insignificant upkeep, smaller plan, diminished bearing burden, and some more. The capacity to effectively siphon incompressible liquids with low siphon head and mass stream volume is supposed to drive pivotal stream portion reception. The liquid in hub frameworks is dealt with lined up with the shaft, and the units are regularly utilized for seepage, sewage, and water system, in addition to other things. Subsequently, blended stream type units consolidate the properties of different frameworks and release fluid in both hub and outspread headings. The frameworks are for the most part utilized in rural, water system, sewage, and modern purposes.
In 2022, the electrical fragment will be the best supporter of the centrifugal pump market by working sort. The electrical centrifugal pump classification had the best market size since these siphons can deal with the two solids and fluids and are utilized to upgrade yield in various enterprises. Electrical diffusive siphons are ordinarily used to move liquids. They work the siphon utilizing an electric engine, which builds the motor energy of the liquid. Electrical diffusive siphons are used in different enterprises, including modern, rural, and home. Electrical centrifugal pumps, for instance, are utilized in the oil and gas area to speed up the progression of liquids from wells when a repository needs more energy to deliver at practical rates normally, and to raise result to work on monetary execution. This classification is growing because of rising requirement for high unwavering quality and proficiency, as well as the way that it never must be prepared on the grounds that it is now lowered in liquid.
During the projected period, the single-stage classification is anticipated to contribute the most. A solitary stage outward siphon has just a single impeller and is planned to be a low head or low stream centrifugal pump. It is for the most part utilized for sewage siphoning, home siphoning, general modern siphoning, and slurry siphoning. It is the most famous kind of outward siphon and is fitting for utilization when the all out unique head (TDH) is low-to-direct. The constancy and low support expenses of single-stage siphons in applications with humble powerful heads, for example, water siphoning stations, which are the absolute most common applications for diffusive siphons, are anticipated to increment interest for single-stage siphons universally.
Application Insights
With an income portion of over 28% in 2022, the horticulture application drove the market. Mechanical improvements in water system and cultivating, especially in non-industrial countries, alongside an expansion in the utilization of siphons for various agrarian purposes, for example, water system, crop dewatering, and reuse, are supposed to drive development. The development business is additionally expected to increment fundamentally somewhere in the range of 2023 and 2032. Quick development of lodging edifices and business structures in significant urban communities will require sufficient frameworks for water accessibility, sewage removal, and wastewater treatment. Besides, significant consumptions in open foundations like workplaces, emergency clinics, and lodging social orders are anticipated to increment interest for siphons in the development area.
The water and wastewater applications segment is expected to grow at a remarkable CAGR from 2023 and 2032. The developing requirement for siphon stations in wastewater treatment offices where gravity stream is unfeasible, alongside high stream rate deliverability and high transmission speed, is supposed to drive market extension. Expanded utilization of shale gas in the energy and modern enterprises, as well as expanded shale gas investigation tasks because of specialized upgrades like as even and water powered penetrating, are supposed to bring item interest up in the oil and gas industry. Besides, the rising utilization of petrochemical items in contemporary energy frameworks, like breeze turbine sharp edges, sun powered chargers, batteries, and Electric Vehicle (EV) parts, is probably going to fuel market extension.
End user Insights
During the projected period, the modern business is anticipated to be the best supporter by end client. The modern area contains enterprises like oil and gas, water and wastewater, mining and metal, power age, synthetic substances, drugs, mash and paper, rural, car, food and refreshment, and materials. Diffusive siphons are utilized for dewatering procedure on building destinations, creation exercises in oilfields (fake lift), water and sewage treatment offices, modern plants, and sand, slime, and slurry expulsion in mines. The centrifugal pump market is probably going to see most of its interest from the modern area over the course of the following five years, especially from Asia Pacific, which is quickly turning into the center of worldwide financial advancement concerning both creation and utilization.
The undeniable need to move tremendous measures of fluid starting with one action then onto the next has energized the establishment of siphons in different modern tasks. Water and wastewater, oil and gas, power creation, mining, synthetics, food and refreshment, and a lot more ventures use slurry, oil, fluid, and different synthetic substances to work on the cycle. The rural fragment is supposed to increment essentially in light of the fact that to its broad working reach, flexibility, financially savvy activities for little ranchers, and basic tasks for high-volume surface siphoning. Besides, the business area will hold a huge offer during the gauge time frame because of their far reaching use in open foundations like pools, firefighting stations, sprinklers and wellsprings, seepage frameworks, and an assortment of others to keep up with homegrown warming, ventilation, and cooling.
Centrifugal Pump Market Share, By Region, 2022 (%)
| | |
| --- | --- |
| Regions | Revenue Share in 2022 (%) |
| North America | 22% |
| Asia Pacific | 51% |
| Europe | 15% |
| Latin America | 8% |
| MEA | 4% |

Geography Insights
During the projection time frame, Asia Pacific is anticipated to have the best market size. The Asia Pacific area has been separated into China, Japan, India, South Korea, Bangladesh, and the remainder of Asia Pacific. Malaysia, Singapore, and Australia are remembered for the remainder of Asia Pacific. The strength of the district can be connected to enormous financial extension. Due to the minimal expense of natural substances and work, the locale is drawing in financial backers to lay out assembling plants. Modern action is growing because of decreased creation expenses and neighborhood government backing.
Expanding R&D uses are likewise one of the variables supporting the Asia Pacific centrifugal pump market. As indicated by the World Bank, Asia Pacific is the world's quickest developing region, with consistent monetary extension. China and India are two of the world's quickest developing economies, as indicated by the International Monetary Fund (IMF). This is anticipated to increment modern movement and populace, which will assume a crucial part in expanding interest for water and wastewater treatment offices and supporting the market. The presence of many enormous siphon makers, as well as rigid government endeavors to lessen water contamination and oversee water effluents, would help the European market. Moreover, the sending of room warming and cooling frameworks, as well as the foundation of new power creating offices, would help item acknowledgment. France, the United Kingdom, Italy, Germany, and Russia are central parts in the locale.
North America is supposed to grow consistently, with the United States standing out scene nearby. Expanded development spending, alongside the drawn out extension of modern undertakings, will add to showcase size. Expanding oil and gas creation targets, as well as huge hydrocarbon saves, will likewise add to development.
The Middle East and Africa are supposed to encounter huge development because of critical consumptions to foster existing oil and gas holds. Besides, the expanded accentuation on creating greater power and growing new ad foundation to support the travel industry objections would empower the establishment of current siphons. South Africa and Gulf Cooperation Council nations are central participants nearby.
Key market developments
In May 2020, Wilo will extend its impression in the United States by laying out another central command and assembling plant in Cedarburg, Wisconsin. The new base camp will merge the exercises of Wilo USA, Weil Pump, and Scot Pump into a solitary assembling office.
In November 2020, Ringkbing-SkjernForsyning A/S (a Danish water organization) truly Sulzer an agreement to supply siphons for a critical flood insurance project in Denmark. Two extra siphoning stations have been worked to diminish the effect of rising water levels brought about by downpour, waste, and deluge. One XFP baseload siphon and three VUPX top burden siphons will be provided by Sulzer for the Ringkbing siphoning station, as will one XFP baseload siphon and four VUPX top burden siphons for the close by Skaelbkker station.
Map book Copco delivered a complete assortment of great electric centrifugal pumps especially planned for waste, slop, and slurry siphoning applications in January 2019. The siphons help in the anticipation of item disappointment, human error, sudden voltage drop, and overheating.
Pleuger expanded its activities in Singapore in April 2020 to help its situation in the Asian market.
Xylem presented another item, the Flygt N3069 tempered steel centrifugal pump, in July 2019. It is planned fundamentally for modern tasks with high chloride or serious pH values, and it supports consumption obstruction.
Key market players
Kirloskar Brothers Limited
ITT Corporation.
The Weir Group PLC
Xylem
Flowrox
GRUNDFOS
Flowserve Corporation
Ebara Corporation
Dover Corporation
Sulzer
Segments covered in the report
(Note*: We offer report based on sub segments as well. Kindly, let us know if you are interested)
By Type
Vertically Suspended
Between Bearing
Overhung Impeller
By Application
By Flow
Axial Flow
Radial Flow
Mixed Flow
By Operation type
Electrical
Hydraulic
Air-Driven
By End user
Industrial

Oil and Gas
Water and Wastewater
Mining and Metal
Chemicals
Power Generation
Food and Beverages
Pharmaceuticals
Pulp and Paper
Agriculture
Automotive
Textiles

Commercial & Residential
By Impeller Type
Open
Partially Open
Enclosed
By Geography
North America
Europe
Asia-Pacific

China
India
Japan
South Korea
Malaysia
Philippines

Latin America

Brazil
Rest of Latin America

Middle East & Africa (MEA)

GCC
North Africa
South Africa
Rest of the Middle East & Africa