The global solar pump market size was evaluated at USD 2.44 billion in 2022 and is expected to hit around USD 4.69 billion by 2032 with a registered CAGR of 6.8% from 2023 to 2032.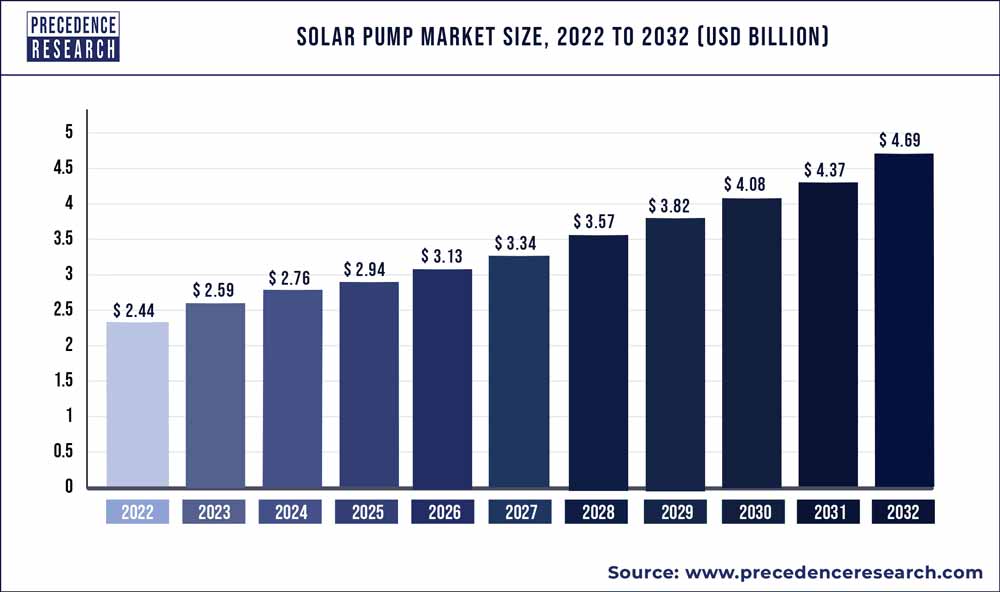 A solar-powered device known as a solar water pump moves water for a variety of uses, including irrigation, community water supplies, and potable drinking water. Utilizing solar water pumps has reduced the need for energy-dependent resources like coal, gas, and diesel. In the upcoming years, increased investment in agricultural applications is anticipated to drive market expansion.
Key Takeaways:
Asia Pacific region has captured 44% of the total revenue share in 2022.
Europe is projected to reach at a CAGR of 8.3% over the forecast period from 2023 to 2032.
By motor, the AC type has accounted highest revenue share of around 67% in 2022.
By application, the agriculture segment has held 61% of the revenue share in 2022.
By product, the submersible segment has contributed 54% of revenue share in 2022.
Growth Factors
The market for these units will increase due to rising interest in reducing carbon emissions and great adoption rates of renewable energy devices. Low operating costs and the depletion of fossil fuel supplies are two major reasons that will propel the expansion of the solar pump industry. Over the anticipated time frame, increased government subsidies provided to farmers and manufacturers as well as the adoption of strict rules to reduce carbon footprint would increase product penetration. Solar pumps will be in high demand due to little access to energy, high reliance on rainfall, and logistical difficulties with fuel delivery in remote locations. Additionally, the fast-falling price of solar photovoltaic PV panels will further boost product adoption. For instance, according to the IEA, the cost of producing PV modules fell by 80% from 2009 to 2016.
The favorable business environment for the solar pump market has been produced by ongoing developments aimed at attaining energy efficiency throughout industrial facilities. Due to the increase in agricultural operations and rising water demand for irrigation, the U.S. solar pump market is predicted to expand. The adoption of these systems will be positively influenced throughout the projection period by federal tax incentives, subsidies, and supportive policies toward the development of renewable energy technology.
Subsidies offered to customers for solar panel purchases and government-supported programs are what essentially fuel the market for solar water pumps.
At the same time, solar water pumps are getting more affordable, which has greatly increased user adoption.
In an effort to slow down global warming, governments all over the world are aggressively putting policies into place to minimize rising carbon emissions.
One of the key aspects driving the solar pump market is the fast-rising demand from the agriculture sector.
Report Scope of the Solar Pump Market
Report Coverage
Details
Market Size in 2023
USD 2.59 Billion
Market Size by 2032
USD 4.69 Billion
Growth Rate from 2023 to 2032
CAGR of 6.8%
Largest Market
Asia Pacific
Fastest Growing Market
Europe
Base Year
2022
Forecast Period
2023 to 2032
By Type
By Motor Type

By Product

Surface Suction

Submersible

Floating

By Application

Agricultural

Drinking Water

Municipal Engineering

Regions Covered

North America
Europe
Asia-Pacific
Latin America
Middle East & Africa

Key Market Drivers
Prices for solar water pumps are decreasing
Around the world, millions of people lack access to safe water. Electric water pumps that are driven by diesel are used to obtain groundwater in many different nations. However, these systems not only demand expensive, ongoing maintenance and fuel purchases, but they also release carbon dioxide into the environment. Photovoltaic water pumping (PVP), another name for solar water pumps, is a tried-and-true solution that is ecologically, economically, and operationally sustainable. Modern solar technology has become significantly more affordable in recent years. Solar panels used in these systems are now up to 80% less expensive.
Additionally, solar panels have a 25-year lifetime and require little upkeep throughout that period. These characteristics make solar water pumping a very practical way to provide access to electricity in developing countries and communities. Additionally, it significantly increases communities' resilience to changes in rainfall brought on by climate change or irregular seasonal patterns. The amount of information that has been communicated about this new technology has increased as a result of certain governments' choice to subsidize the cost of solar pumping.
Rising government initiatives
The market is anticipated to increase significantly over the course of the forecast period as a result of new government initiatives and subsidies to support market growth. The market in the targeted regions is anticipated to grow in response to the rising need for clean and renewable energy sources. The market is expected to be driven by rising solar pumps in the agricultural sector and bettering living conditions. These elements are anticipated to guarantee market expansion for solar water pumps in the next years.
Key Market Challenges
In less developed areas, there is less knowledge regarding solar pumps
During the projection period, the solar pump market's expansion may be limited to some extent by rural residents' lack of knowledge about solar pumps. Many farmers and owners of agricultural property are still ignorant about solar technology and its capacity to produce power. Farmers are discouraged from switching to solar pumps due to the accessibility of electrical pumps and the reduced maintenance expenses associated with them. Therefore, it is expected that these issues will limit market growth in the years to come.
Key Market Opportunities
Growing emphasis on technological advancement
Rural people's ignorance of solar pumps may, to some extent, constrain the market's growth throughout the forecast period. Many farmers and landowners still know nothing about solar technology's ability to generate electricity. Due of the accessibility of electrical pumps and their lower maintenance costs, farmers are discouraged from converting to solar pumps. As a result, it is anticipated that these problems would restrict market expansion in the years to come.
Segments Insight
Type Insights
Up to 3HP:
The greatest amount of electricity that a solar panel can generate is up to three horsepower (HP). Usually, modest electrical items or residential lighting are powered by this kind of solar panel. Lighting in a home is where up to three horsepower is most frequently used. Small electrical gadgets can also be powered by this kind of solar panel.
Above 10HP:
The other category of solar pumping systems falls over 10 horsepower (HP). This kind of solar pumping system features a motor that can power the pump with more than 10 HP, as the name would imply. As a result, it is the strongest solar pumping system currently on the market. This sort of solar pumping system may be utilized for a number of purposes, including agricultural, drinking water, municipal engineering, and other uses due to the high power output produced by the motor.
Motor Type Insights
Because of its great performance and longevity, A.C. Pumps now occupy the majority of the market. A pump assembled with DC type motor is directly linked to a PV array through a DC controller. Due to the lack of a power conversion process, DC pumps motor possess longer lifespans and are proven to be more effective than an identical AC device.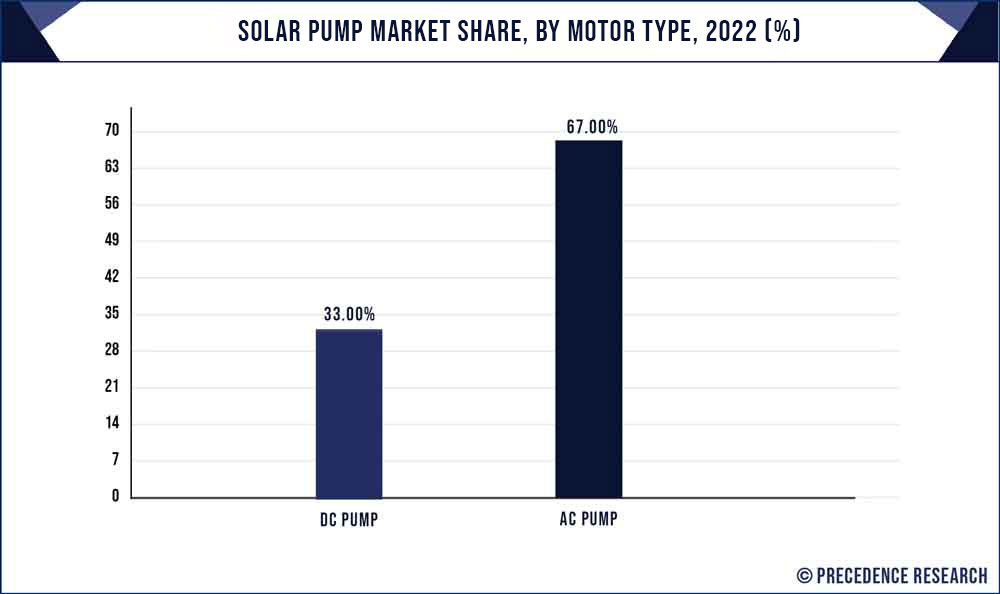 Such pumps are often utilized for lower head or lower volume applications with up to 4KW power requirement because of their limitations in head and flow. In addition, DC-type pumps have had a lower rate of acceptance than AC pumps due to a number of instances of faulty wiring, electronic circuit failure, unsafe DC voltages, and terminals that did not offer a solid electrical connection.
Application Insights
Agriculture:
The rising use of solar pumping systems in agriculture is the main factor fueling the market expansion for these devices. Agricultural uses for solar pumps include irrigation, providing drinking water for cattle, and desalination. Farmers' operational expenses can be decreased and their earnings can rise by using solar pumps in agriculture. Solar pumps can also aid farms in lowering their carbon impact.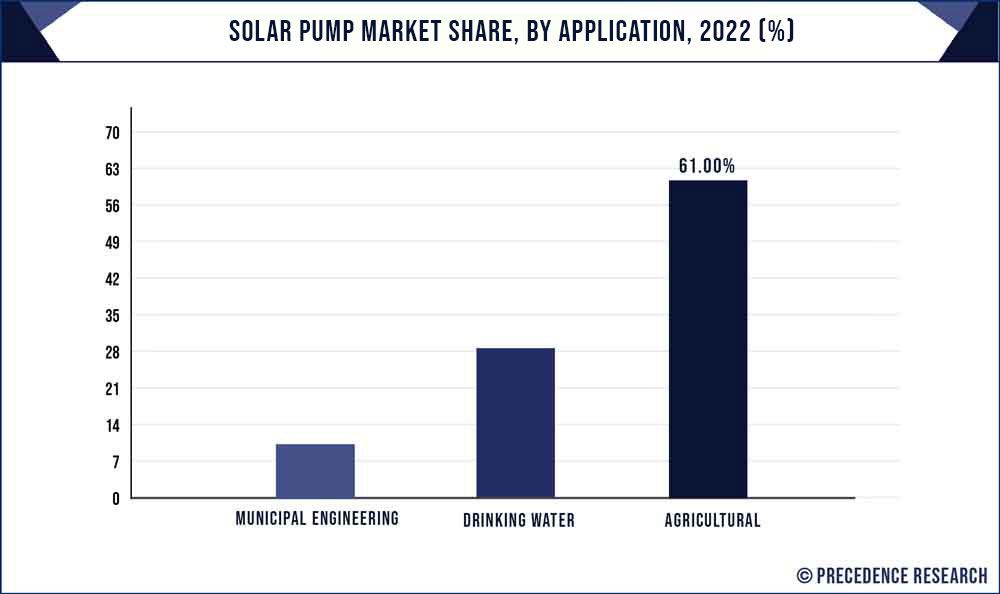 Drinking-Water:
The primary driver of the market development for these products is the growing usage of solar pumping systems in agriculture. Solar pumps are used in agriculture for irrigation, desalination, and providing drinking water for livestock. Using solar pumps in agriculture can lower farmers' operating costs while increasing their income. Farms may reduce their carbon footprint by using solar pumps.
Municipal Engineering:
Municipal engineering also uses solar pumping systems for irrigation, firefighting, fountains, and water purification and delivery. Due to their various advantages, solar pumping systems may be applied in a variety of different situations. In addition, compared to other types of pumps, solar pumps require extremely little maintenance.
Solar Pump Market Share, By Region, 2022 (%)
| | |
| --- | --- |
| Regions | Revenue Share in 2022 (%) |
| North America | 21.6% |
| Asia Pacific | 44% |
| Europe | 27.4% |
| Latin America | 4% |
| MEA | 3% |

Regional Insights
By region, the Asia Pacific market has held the highest revenue share in 2022.
Due to the rising need for renewable energy sources, particularly in the agricultural sector, the United States is one of the key markets for solar pumping systems in North America. Over two million farms, or about 30% of the nation's total land area, are located in the United States, according to the U.S. Department of Agriculture (USDA). Different types of pumps are used on these farms for a variety of tasks, including irrigation and watering cattle. As a result, the market for solar pumping systems in North America is anticipated to increase due to the rising demand for solar pumps from the agricultural sector throughout the course of the projected period.
Solar pumping systems are employed in drinking water applications, such as community water projects and rural off-grid locations, in addition to agriculture. Over two billion people worldwide lack access to clean drinking water, according to WaterAid America. As a result, the demand for clean drinking water in distant locations is increasing, which is anticipated to drive up solar pump demand in North America throughout the projection period. The market for solar pumping systems in North America is dominated by companies like Xylem Inc., Franklin Electric Co., Grundfos, and KSB SE & Co. KGaA. These players are well-established in this area and provide their clients with a large selection of goods. Due to the power-generating component, which has led to a significant increase in clean energy and is therefore expected to fuel the market growth for solar water pumps throughout the area, market dynamics have been favorable in Latin America.
The solar-powered water pump sector is expanding across the Middle East and Africa, particularly in sub-Saharan Africa, as a result of recent technological advancements and falling costs. Traditional forms of water pumps include diesel pumps and electric pumps that are connected to the grid, but with the dramatic reduction in the price of PV panels, solar-powered water pumps have started to gain traction and will continue to expand throughout the projected period.
Recent Developments
In September 2021, Grundfos expanded its line of solar-powered submersible pumps with the introduction of the SQFlex Large. In response to the rising demand for solar energy pumps and the region's varied weather, the firm increased its product line across Asia and the Pacific.
In June 2020, SunEdison signed a framework contract to reorganize and sell its solar business. The completed projects and unfinished projects will be divided according to the planned reorganization strategy, which will primarily target the rooftop solar markets for homes and small businesses.
Key Market Players
Alpex Solar Pumps
Aqua Group
Bright Solar Limited
C.R.I. Pumps Private Limited
Crompton
LORENTZ
Dankoff Solar
Duke Plasto Technique Private Limited
EcoSoach
Ecozen Solutions
Franklin Electric
Grundfos
Jackson Group
K.S.B.Limited
Novergy Energy Solutions Pvt. Ltd.
Shakti Pumps
SunEdison Infrastructure
Surya International
Tata Power Solar
Waaree Energies Ltd
Market Segmentation
(Note*: We offer reports based on sub-segments as well. Kindly, let us know if you are interested)
By Type
By Motor Type
By Product
Surface Suction
Submersible
Floating
By Application
Agricultural
Drinking Water
Municipal Engineering
By Geography
North America
Europe
Asia-Pacific
Latin America
Middle East & Africa (MEA)