The global cheese market size was accounted at US$ 159.81 billion in 2022 and it is projected to surpass around US$ 213.72 billion by 2032 with a registered CAGR of 3% over the forecast years 2023 to 2032.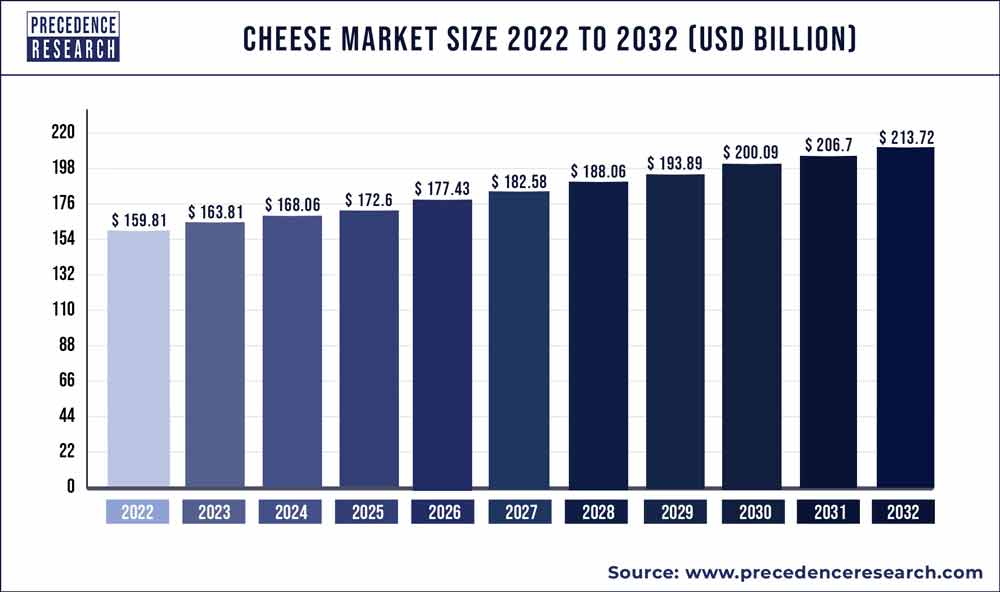 Access our Premium Real Time Data Intelligence Tool, Visit: Precedence Statistics
Key Takeaway
By type, the processed segment would exhibit the highest CAGR of 3.2% during 2023-2032.
By product, roquefort segment expected to exhibit CAGR of 4% during 2023-2032.
By distribution channel, others segment would exhibit the highest CAGR of 4% during 2023 to 2032.
Asia Pacific region is expected to grow at a CAGR of 3% during 2023 to 2032.
The bufflow segment would exhibit the highest CAGR of 5% during 2023-2032.
Growth Factors
Cheese is inferred by handling of curd, which is matured further to deliver it with an unconventional surface, fragrance and flavor. Cheese creation involves corrosive, and enzymatic exercises, and maturing of cheese gives the ideal end result. Gotten from an assortment of milk sources like goat, sheep, bison, and cow, different cheese created incorporate blue cheese, feta, cheese, and mozzarella. The assortments of cheese are isolated based on their maturing period, and handling procedures.
The essential component supporting the development of the cheese market is the relentless requirement for accommodation food around the world. Deficiency of time for making elaborate suppers through customary strategies has been driving the reception of bundled food things, alongside simple and fast feast choices. Cheese market development is additionally impacted by the way that individuals utilize such items for planning quick and basic food things, making it more straightforward for them to adapt up to their everyday speedy system. What's more, a taking off number of working ladies, moving food propensities, and the ascent in buying force of individuals, especially in created economies, have by and large been fuelling the development of the cheese market.
Most of driving cheese market players are zeroing in on the extension of their presence overall by taking on key techniques. The presentation of creative items, appealing bundling techniques, and fascinating advertising efforts are some key extension methodologies of the main cheese market players. The cheese market is driven by the expanded consciousness of good wellsprings of supplements. What's more, the rising impact of western cooking styles and blowing up expendable livelihoods, and the presentation of a few seasoned cheese items including pepper, garlic, red bean stew chips, and oregano pickle, which take special care of the various preferences and inclinations of customers internationally.
The rising impact of western foods, swelling dispensable wages, and presentation of various enhanced cheese items, including pepper, garlic, red bean stew drops, and oregano pickle, drives the cheese market. In spite of the fact that cheese is a staple in Western nations, for example, Europe and the US, its flexibility empowers it to universally take special care of the various preferences and inclinations of purchasers. The foods of Western nations are assorted, despite the fact that there are normal attributes that recognize them from those of different districts. There are many assortments of cheese and other matured milk items utilized in Western foods. The impacts of quick westernization have prompted the rising interest for cheese in nations other than Europe and the US. A sharp expansion in shopper interest for bundled dinners containing cheese and rising interest from the food handling industry are likewise driving the market. In Asian nations, imports offered over 40% of generally speaking cheese consumed in 2020. The rising interest in Asian nations, driven by fast urbanization will drive the development of Asian cheese market.
Be that as it may, the cheese market will observer the controls of key factors, for example, the enormous measure of fat substance, which thusly has restricted its utilization among the corpulent populace. In addition, extreme utilization of cheese brings about different adverse consequences on human wellbeing including heart failures, and an expansion in cholesterol levels. There has been a significant flood in mindfulness about the evil impacts of higher cheese utilization among shoppers over the new past.
The temperamental financial circumstances in creating as well as immature countries further limit the buyer's capacity to spend more on dairy items like cheese, in this way restraining the development of the cheese market. The previously mentioned factors are assessed to check the development of the worldwide cheese market in the impending years.
Report Scope of the Cheese Market
| | |
| --- | --- |
| Report Coverage | Details |
| Market Size by 2032 | USD 213.72 Billion |
| Growth Rate from 2023 to 2032 | CAGR of 3% |
| North America Market Share in 2022 | 79% |
| Fastest Growing Market | Asia Pacific |
| Base Year | 2022 |
| Forecast Period | 2023 to 2032 |
| Segments Covered | Cheese Type, Product, Source, Type, Nature, Distribution Channel, Geography |
| Companies Mentioned | Glanbia (Ireland), Saputo (Canada), Arla Foods (UK), BEL Group (France), Fonterra (New Zealand), FrieslandCampina (Netherlands), Dalter Alimentari Spa (Italy), The Kraft Heinz Company (US), Amul (India), DMK Deutsches Milchkontor GmbH (Germany), Meiji Holdings (Japan) |
Type Insights
Cheese is one of the numerous assortments of cheese, which is grayish and has a sharp taste with a generally hard surface than some other assortment. This classification of cheese is most famous in European nations. Cheese was begun in a modest community called Cheese in the Somerset district, which is in southwest England. This sort of cheese is made through a cycle commonly called chasseing, in which curd and whey are isolated utilizing rennet catalysts. Numerous worldwide dairy cooperatives and organizations presently will generally add various flavors to cheese by adding paprika, spices, oregano, among others. Cheese tracks down application across a large number of ventures, including bread kitchen, soups, sauces, and plunges, prepared suppers, snacks and grains, and other food applications.
Application Insights
Cheese powder is generally utilized in sweet and exquisite snacks to prompt the messy flavor in them and give a more extravagant mouthfeel. In the flavorful tidbits and desserts section, cheese powder is significantly utilized in Mozzarella sticks, Nachos, popcorn, puffed bites, and chips. Cheese powder offers better usefulness and taste over different flavors and better comfort for use in a scope of nibble items. Buyers are presently more leaned toward cheap food and in a curry item subsequently, prompted an expansion in the interest for bites and quick food varieties, which has driven the organizations to think creatively and proactively while making snacks items.
Cheese powder is utilized in prepared suppers to add a particular cheese flavor to the feast or upgrade the current flavor in it. Application adaptability, flavor the executives, encompassing capacity, simple taking care of, and broadened time span of usability are a portion of the key advantages related with the utilization of cheese powders in prepared dinners. Because of the furious timetables and occupied ways of life of buyers, particularly the millennial populace, there has been an expanded interest for in a curry prepared dinner, which can be consumed right away. Adding a particular cheese note or flavor to such prepared suppers gives it a Western taste and nature, upgrading the items' worth and appearance. Food makers across the globe are benefiting from this pattern and putting resources into R&D to concoct inventive cheese based prepared dinners that can take special care of the developing interest.
Sauces, dressings, plunges, and fixings are assessed to overwhelm the cheese market, with a worth of USD 141.2 million of every 2022; it is projected to arrive at USD 190.0 million by 2026, at a CAGR of 6.1% during the conjecture time frame. Cheese powder bestows an upgraded cheese flavor to sauces, dressings, plunges, and fixings. This should be possible with the auces, dressings, plunges, and sauces are assessed to overwhelm the cheese market, with a worth of USD 141.2 million of every 2022; it is projected to arrive at USD 190.0 million by 2026, at a CAGR of 6.1% during the gauge time frame.
Cheese powder bestows an upgraded cheese flavor to sauces, dressings, plunges, and fixings. This should be possible with the utilization of a solitary flavor cheese or a blend of more than one cheese flavors. The utilization of cheese powder likewise offers better taste, accommodation, and usefulness in recipes where high-temperature cooking is required. Sauces made utilizing cheese powder are generally eaten with pasta, vegetables, pizza, and dishes. They are likewise utilized as dressings on plates of mixed greens, vegetables, fish, and other meat items. Plunges and fixings produced using cheese powder is typically consumed with vegetables, wings, and seared snacks.
Region Insights
In 2022, North America and Europe altogether busy with almost 38% of the cheese piece of the pie. As of now, the worldwide cheese market development is driven ascent in number of speedy help cafés (QSRs) in the creating areas and right now settled QSR outlets in the created locales. Furthermore, longer time span of usability of cheese items, ascend in extra cash, and expansion sought after for protein-rich food move the market development. Nonetheless, undesirable added substances and fixings in handled cheese, and transient nature of the items are supposed to hamper the market development during the cheese market gauge period.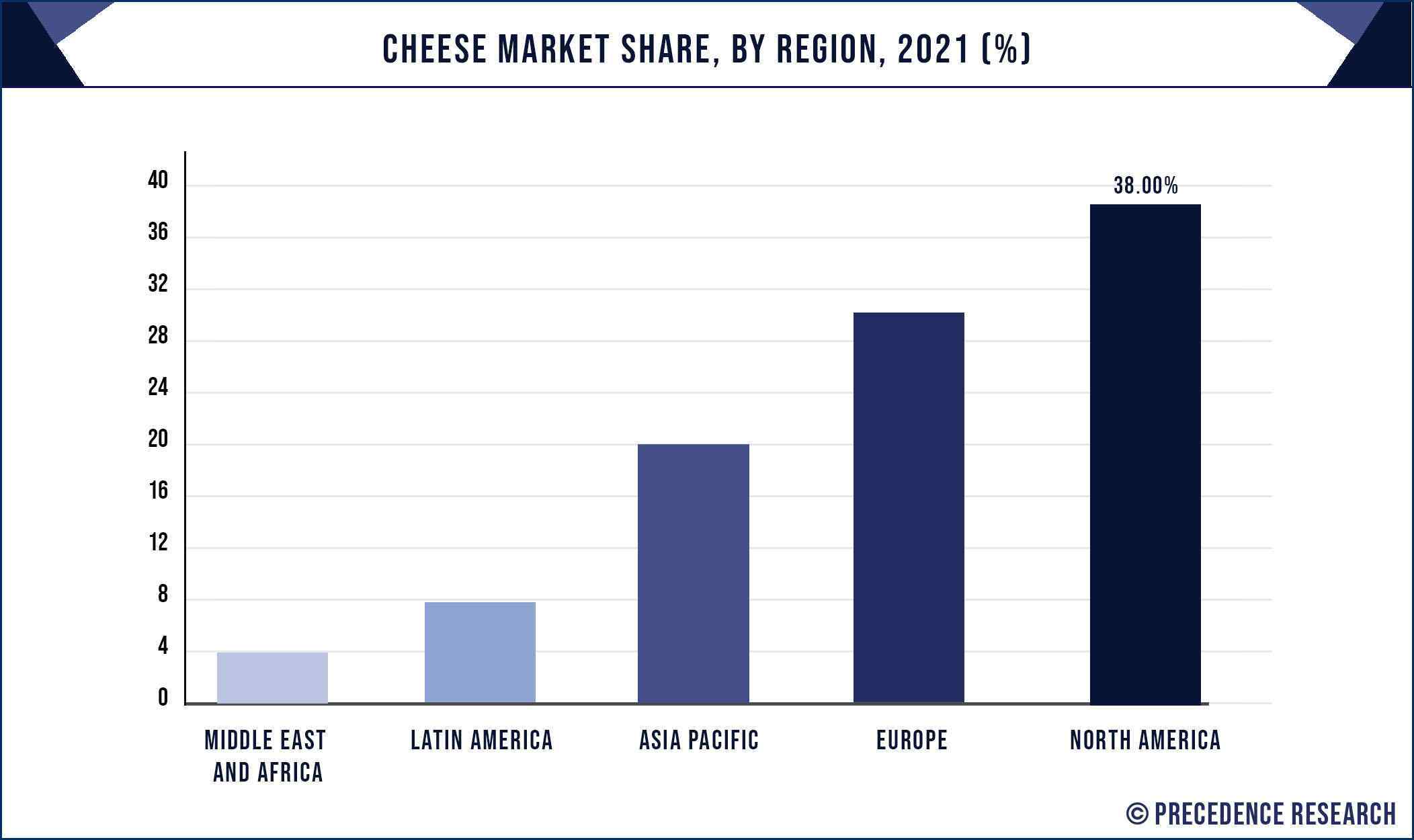 In the US, particular sorts of cheese have brought about flare-ups of food-borne gastroenteritis, food responsive qualities, lactose narrow mindedness, sensitivities, and fatty substance. According to a February 2022 MDPi diary, an everyday measure of 50 g of cheese (a standard serving of hard and semi-hard sorts) was related with a measurably huge 10% to 14% of higher gamble of Coronary Heart Disease (CHD). Purchasers have now become mindful of the relationship of these infections with cheese. This component is acting like a limit for different cheese makers to survive and satisfy the client need for quality food.
The rising utilization of pizza and other European-style quick food varieties shows up as a crucial purchaser pattern, especially among youngsters. Accordingly, the cheese market in Asia is amassed in enormous urban areas, where the normal top level salary portion of the populace essentially resides. A sharp increment has been seen in purchaser interest for bundled suppers containing cheese. Additionally, tax decreases and expanded duty rate quantities have brought down cheese costs, helping imports.
Key Market Developments
In March 2021, Dalter Alimentari Spa presented another item as far as cheese cuts: new cheese matchsticks, an extraordinary slice available intended to ensure the best outcomes. This item takes care of the necessities of food assembling and foodservice enterprises. It is especially utilized as a fixing in prepared suppers, instant servings of mixed greens, soups, sauces, as well concerning fillings and stuffing.
In August 2020, Glanbia finished the obtaining of Foodarom (Germany). The obtaining reinforced Glanbia's capacity in the space of flavors and nourishing arrangements.
In 2020, Land O'Lakes fostered a natural cheese powder formed utilizing various sorts of cheeses like American, Parmesan, Blue, and Swiss cheese
The key market players are constantly engaged in various developmental strategies like partnership, collaborations, new product launches, and acquisitions to strengthen their market position and gain market share.
Key Players
Glanbia (Ireland)
Saputo (Canada)
Arla Foods (UK)
BEL Group (France)
Fonterra (New Zealand)
FrieslandCampina (Netherlands)
Dalter Alimentari Spa (Italy)
The Kraft Heinz Company (US)
Amul (India)
DMK Deutsches Milchkontor GmbH (Germany)
Meiji Holdings (Japan)
Segments Covered in the Report
(Note*: We offer report based on sub segments as well. Kindly, let us know if you are interested)
By Cheese Type
Cheese Products
Cheese Powder
By Product
Mozzarella
Cheddar
Feta
Parmesan
Roquefort
Others
By Source
By Type
By Nature
By Distribution Channel
Retail
Food Service
Food Manufacturers
By Application
Bakery & Confectionery
Snacks & Cereals
Ready Meals
Sweet & Savory Snacks
Sauces, Dressings, Dips, and Condiments
Other Applications (creams & desserts, processed meat & egg products, and side dishes)
By Geography
North America
Europe
Asia-Pacific

China
India
Japan
South Korea
Malaysia
Philippines

Latin America

Brazil
Rest of Latin America

Middle East & Africa (MEA)

GCC
North Africa
South Africa
Rest of the Middle East & Africa