The global clinical chemistry analyzers market size was estimated at USD 14.63 billion in 2022 and is projected to hit around USD 24.8 billion by 2032, growing at a CAGR of 5.42% during the forecast period 2023 to 2032.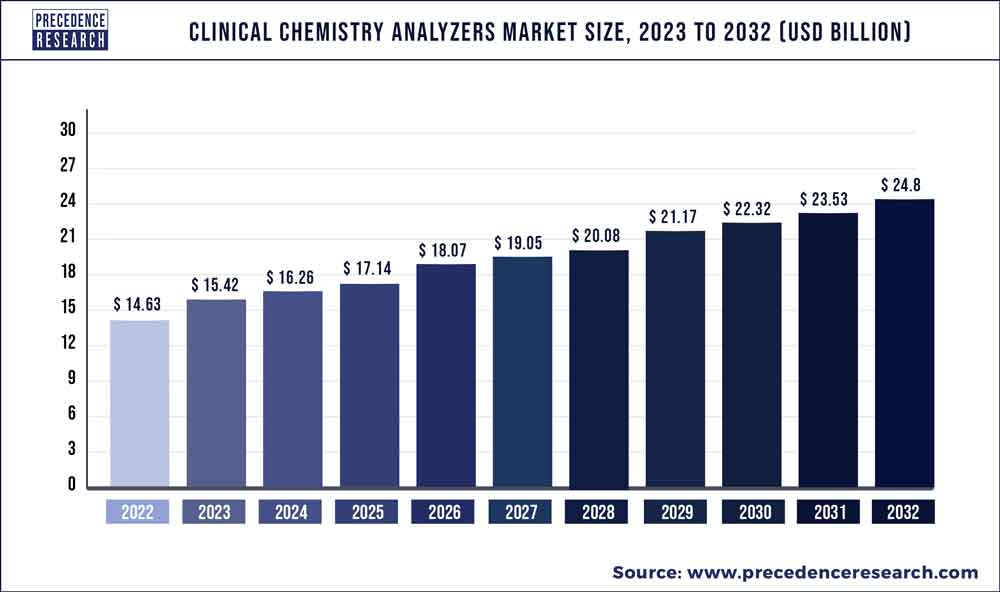 Access our Premium Real Time Data Intelligence Tool, Visit: Precedence Statistics
Medical laboratories use chemistry analyzers to determine the concentration of certain compounds in samples of serum, plasma, urine, and/or other body fluids. These tools can analyze several metabolites, electrolytes, proteins, and/or drugs. Clinical chemistry analyzers can measure a wide range of parameters, including markers for tumors, therapeutic drugs, drugs of abuse, drugs of toxicology, therapeutic drugs used for monitoring, and specific proteins, chemicals, and lipids like cholesterol, cofactors, waste products, glucose, enzymes, and electrolytes. Due to the versatile approach of the clinical chemistry analyzers, they are used to monitor and diagnose a wide variety of disorders which includes cancer, diabetes, heart disease, liver disease, and renal disease. Increasing demand for clinical chemistry analyzers is also being fueled by the growing presence of ailments like cancer, liver disease, and diabetes, and also by the increasing age of the population.
Key Points:
By product, the reagents segment dominated the market with the maximum share in 2022.
By test, the basic metabolic panel segment held the largest market share in 2022.
By end-use, the hospitals segment led the market in 2022 because of their massive sample sizes.
By geography, The North American region is anticipated to considerably contribute to market growth from 2023 to 2032.
Key Factors
Automated clinical chemistry analyzers are becoming more popular
Rising R & D activities
Key players engaged in product development
One of the market's high impacting factors is the rising prevalence of chronic disorders like diabetes. Due to the constant rise in disease prevalence, firms have been forced to manufacture sophisticated analyzers on a wide scale to help with diagnosis. As a result, there is now intense rivalry because of the strong demand for chemical analyzers and the exceptional expansion of new market entrants. Clinical chemistry analyzers' technological advancements have allowed for more extensive testing as well as early disease identification and specialist diagnosis in the fields of cancer, gynecology, and endocrinology. Improved resolution, improved pattern recognition, computer-assisted interpretation, advanced modeling, parameter estimates, and artificial intelligence are some of the developments.
Report Scope of the Clinical Chemistry Analyzers Market
| | |
| --- | --- |
| Report Coverage | Details |
| Market Size in 2022 | USD 14.63 Billion |
| Market Size by 2032 | USD 24.8 Billion |
| Growth Rate from 2023 to 2032 | CAGR of 5.42% |
| Base Year | 2022 |
| Forecast Period | 2023 to 2032 |
| Segments Covered | By Product, By Test and By End-Use |
| Regions Covered | North America, Europe, Asia-Pacific, Latin America, Middle East & Africa |

Key Market Drivers
Automated clinical chemistry analyzers are becoming more popular - Due to considerable technological breakthroughs and expanding healthcare industry demands, the use of clinical chemistry analyzers has rapidly expanded over the past few decades. Clinical chemistry provides precise diagnostic information and generally concentrates on the examination of bodily internal fluids. Modern clinical chemistry has a solid foundation due to traditional manual laboratory techniques. But as technology has developed, testing procedures have changed, many tests may be carried out in automated labs with the help of innovative equipment like chemical analyzers.
The market for clinical chemistry analyzers is expected to rise more quickly due to novel technological developments, enhanced production methods, and the introduction of innovative software during the forecast period.
Rising R&D activities - The market for clinical chemistry analyzers has consistently seen advancements, mostly brought on by the advancement of technology. Clinical chemistry analyzers' future is anticipated to be shaped by ongoing R&D initiatives and the incorporation of innovative software technologies in clinical laboratories. Additionally, it is possible that stakeholders will create new products in line with what laboratories need. Customized analyzers for small-scale laboratories are being developed by industry participants in clinical chemistry analyzers.
Additionally, producers of clinical chemistry analyzers are rapidly creating smaller clinical chemistry analyzers, which creates prospects for better testing capabilities. Hospitals, point-of-care diagnostic facilities, and research labs will all experience increased workflow efficiencies because of the upcoming generation of clinical chemistry analyzers.
Increasing prevalence of chronic & lifestyle faults and the geriatric population - The growing elderly population in developed and developing countries will drive growth in the market for clinical chemistry analyzers. Age-related disorders like diabetes, liver disease, cardiovascular, hypertension, and renal disease are predicted to become significantly more prevalent as the geriatric population increases. The detection and treatment of these problems account for the rising need for tests including the basic lipid profile, renal panel, liver panel, and metabolic panel. As chronic illnesses become more common, so will the need for the tests used to identify, diagnose, and treat them. Clinical chemistry analyzers are in high demand, which is anticipated to rise because of these factors and the move toward preventative healthcare.
Key Market Challenges
The need for large capital investments is growing and aren't enough laboratory technicians with the necessary skills - The only places that are allowed to buy high-volume clinical chemistry analyzers are big hospitals and reference labs with sizable capital budgets. A particularly large or large-sized analyzer may be out of reach for most small labs, clinics, and solo practitioners without incurring capital costs. Because of the high fixed-cost requirements, the market for clinical chemistry analyzers is unable to grow. Both developed and developing countries are currently suffering from a serious shortage of laboratory personnel.
The main factors for this are a rising patient population, retiring technicians, and financially strapped institutions ending clinical lab programs. As a result, a shortage in the number of pathologists and lab technicians is experienced around the world, is predicted to hinder the market's growth.
Key Market Opportunities
Clinical chemistry analyzers are constantly evolving - It is anticipated that the current advancements in clinical chemistry analyzers will present a variety of lucrative prospects for market expansion during the forecast period. At the Medical Fair 2022 in May 2022, Transasia exhibited a variety of IVD products with improved client experiences. The Erba XL 640 is an autoloader-equipped random access clinical chemistry analyzer. The equipment facilitates greater productivity, lessens staff members' manual labor requirements, and facilitates quicker TAT.
Additionally, it is anticipated that the deployment of beneficial government initiatives, programs, and financing that support the growth of labs and diagnostics would provide lucrative prospects for the business during the assessment period. Due to the aforementioned factors, the market is anticipated to have several expansion possibilities over the projected period, increasing market size.
Segments Insight
Product Insights
Reagents dominated the market with the maximum share in the category of product in 2022. The industry's large supply of reagents, which are provided to satisfy a range of clinical demands, is projected to be the cause of the sizeable market share. Lipids, enzymes, specific proteins, substrates, electrolytes, and other substances stand as the main ingredients of these reagents.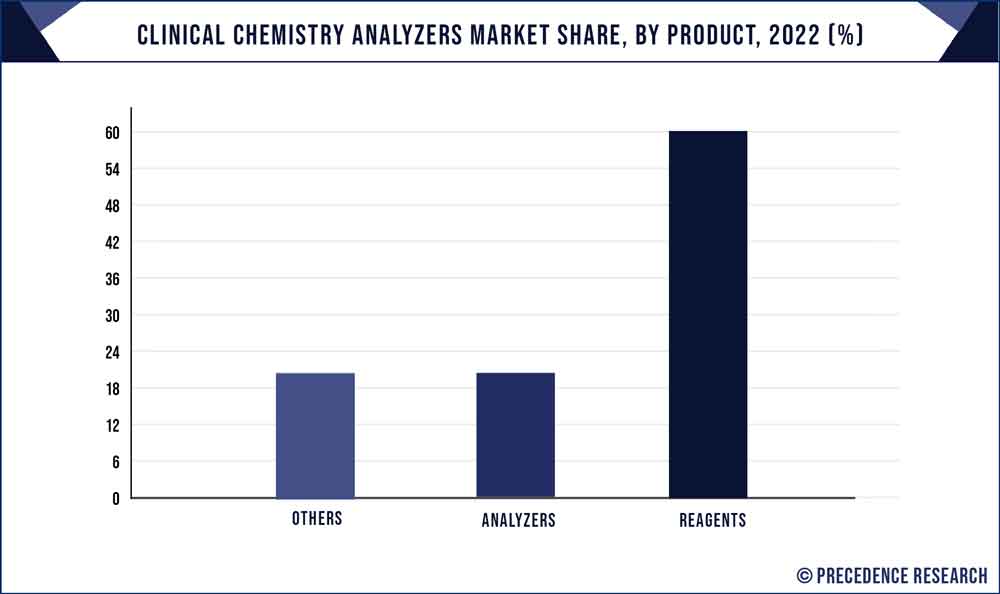 They are essential to achieve accurate results in analytical procedures. Reagents are also regarded as very economical, and excellent in terms of linearity, precision, and sensitivity, which assures little alterations in performance. The benefits listed above are likely to be very influential in encouraging clinicians to employ reagents for precise diagnosis.
Test Insights
The prevalence of lifestyle-related diseases including obesity and other metabolic abnormalities is on the rise, and in 2022, Basic Metabolic Panel (BMP) enjoyed a monopoly in the test market. The growing importance and awareness of point-of-care testing is a crucial factor in the sector share. BMP is a group of examinations that provide medical examiners with clinical information about problems caused by chemical imbalances in the body.
This test's universal acceptance and accompanying benefits have increased its market share over time. Additionally, BMP is being utilized and accepted in a growing number of applications, such as newborn screening, which makes it easier to find metabolic and genetic problems that are present at birth. It has the capacity to identify 30 hereditary metabolic diseases in a single dried filter paper blood spot, according to a study that was published in NCBI.
End Use Insights
Hospitals led the end-use category in 2022 because of their massive sample sizes, high readmission rates, and high patient numbers. Supportive infrastructure, which enables successful diagnostic operations, also contributes to the growth of hospital segment. The increasing number of government initiatives aimed at encouraging efficient diagnostic facilities to produce quick results and increase overall efficiency is one of the main factors causing the segment's sizeable share.
Hospitals are more interested to buy completely automated systems along with built-in quality-assurance features that can analyze many individual samples in a given environment. These multiple factors are expected to positively alter segment growth.
Regional Insights
The North American region is anticipated to considerably contribute to market growth during the forecast period. The rising incidence of chronic diseases, rising healthcare costs, and product developments by the region's leading market players are the main drivers of market growth in the region. The main cause of mortality and disability in the U.S. each year is chronic diseases, according to data on chronic diseases updated by the Centers for Disease Control and Prevention in July 2022. The rise of analyzers for clinical chemistry in North America is aided by the increased prevalence of chronic disorders in the country. Other significant factors propelling the expansion of the market in the region of North America include the high burden of the target and chronic diseases in the area and the rising desire for early diagnosis.
The main market participants are introducing brand-new, innovative products to the marketplace. For instance, Thermo Fisher Scientific and Mindray collaborated to offer a couple of clinical chemistry analyzers for the screening of drugs in forensic and clinical laboratories to customers in the U.S. and Canada in February 2022. Because of a collaboration between Thermo Fisher and Mindray, toxicology labs can now purchase the FDA-cleared and Health Canada-approved BS-480 (400 tests/hour) and BA-800M (800 tests/hour) analyzers. As a result, North America is anticipated to hold the greatest market share for clinical chemistry analyzers.
Recent Developments
In May 2022 – As part of its major clinical research, AVEIR DR i2i, Abbott introduced the first pacemaker which is a leadless dual-chamber patient implant in history. The first global implant produced by Abbott's investigational dual-chamber leadless pacemaker in the pivotal study presents a noticeable technical step for a leadless pacing system.
In April 2022- The XQ-320 XQ-Series Automated Hematology Analyzer, a new three-part differential system from Sysmex Europe, was introduced. The XQ-320 adds a new level of use and dependable technology to a variety of clinical laboratory environments, bringing superior quality.
In July 2019- An entirely automated chemical analyzer called the "Nanolab 200" has been unveiled by the Indian health-tech business Trivitron Healthcare. An automated benchtop chemical analyzer with a throughput of about 200 tests per hour is the new product. The recently released product, which incorporates innovative liquid-level detecting technology, is anticipated to increase clinical laboratories' productivity.
Key Market Players
Abbott Laboratories
Danaher Corporation (Beckman Coulter, Inc.)
Elitech Group
Hoffmann-La Roche Ltd.
Horiba, Ltd.
Johnson & Johnson
Mindray Medical International Limited
Siemens Healthcare Private Limited
Sysmex Corporation
Thermo Fisher Scientific Inc.
Segments Covered in the Report
(Note*: We offer reports based on sub-segments as well. Kindly, let us know if you are interested)
By Product
Analyzers

Small
Medium
Large
Very Large

Reagents

Calibrators
Controls
Standards
Others

Others
By Test
Basic Metabolic Panel
Electrolyte Panel
Liver Panel
Lipid Profile
Renal Profile
Thyroid Function Panel
Specialty Chemical Tests
By End-Use
Hospitals
Academic Research Centers
Diagnostic Laboratories
Others
By Geography
North America
Europe
Asia-Pacific
Latin America
Middle East & Africa (MEA)