The global collaborative robots market size was reached at USD 2.39 billion in 2022 and it is projected to surpass around USD 39.59 billion by 2032, expanding at a CAGR of 32.41% over the forecast period 2023 to 2032.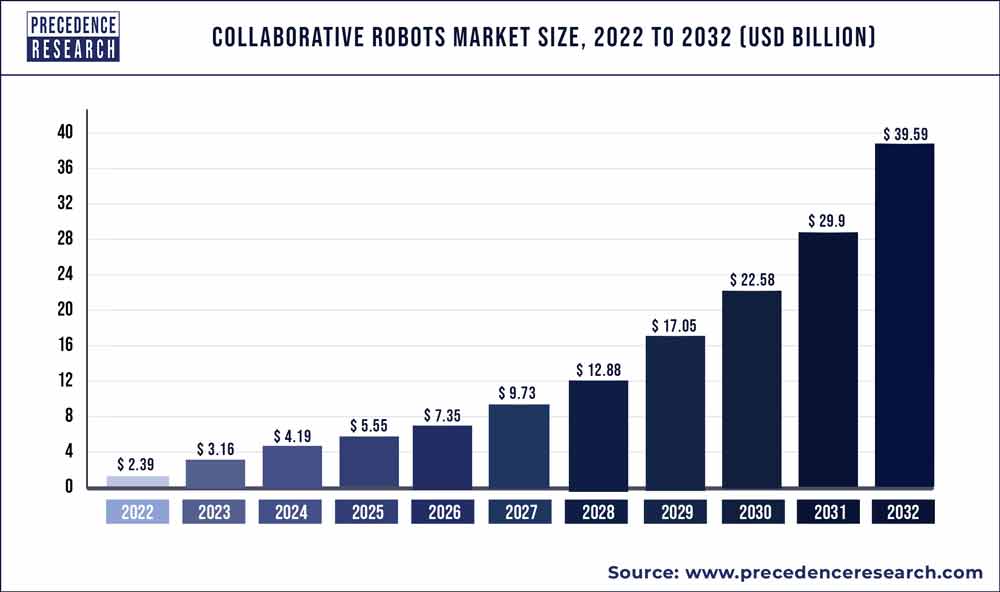 Access our Premium Real Time Data Intelligence Tool, Visit: Precedence Statistics
Key Takeaways:
Asia Pacific is expected to grow at the fastest rate during the forecast period.
By payload capacity, the up to 5kg segment held the largest revenue share in 2022 and is expected to continue the same pattern over the forecast period.
By application, the handling segment is expected to capture the largest market share during the forecast period.
By industry vertical, the automotive segment is expected to dominate the market during the forecast period.
Market Overview:
Known as cobots, collaborative robots, are a kind of robotic system designed to work alongside humans in a shared workspace or collaborate with them on tasks. Collaborative robots which are typically confined to safety cages and require strict separation from human workers, collaborative robots are developed to operate safely near humans. The key characteristic of collaborative robots is their ability to interact and cooperate with humans without causing harm or posing danger. They are equipped with advanced sensors, safety features, and intelligent programming to ensure safe and efficient collaboration. These robots are often designed to be lightweight, compact, and mobile, allowing them to be easily repositioned and integrated into existing work environments.
According to data from the National Bureau of Statistics, China has consistently increased its yearly output of industrial robots by 29.2%.
According to the World Robotics 2022 report, China ranked first in the world for robot density, surpassing the United States for the first time due to enormous investments in industrial robots. In the manufacturing sector, the ratio of operational industrial robots to workers reached 322 units per 10,000 workers.
Growth Factors:
Collaborative robots can be used in a wide range of industries and applications. They can perform repetitive or physically demanding tasks alongside human workers, such as assembly, pick-and-place operations, packaging, quality control, and machine tending. Cobots are also used in research and development settings, healthcare, logistics, and various other domains where human-robot collaboration can enhance productivity, efficiency, and safety. The collaborative robot market is driven by several factors including rising demand for automation in various industries, advancements in robotic technologies, shortage of skilled labor, and growing concern for safety in risky workplaces.
Report Scope of the Collaborative Robots Market:
| | |
| --- | --- |
| Report Coverage | Details |
| Market Size in 2023 | USD 3.16 Billion |
| Market Size by 2032 | USD 39.59 Billion |
| Growth Rate from 2023 to 2032 | CAGR of 32.41% |
| Largest Market | Asia Pacific |
| Base Year | 2022 |
| Forecast Period | 2023 to 2032 |
| Segments Covered | By Payload Capacity, By Application, and By Industry Vertical |
| Regions Covered | North America, Europe, Asia-Pacific, Latin America, and Middle East & Africa |

Market Dynamics:
Driver:
Cost-effectiveness and return on investment (ROI)
Collaborative robots are becoming more affordable and cost-effective, making them accessible to a broader range of businesses. Compared to traditional industrial robots, cobots have lower upfront costs, require less complex integration, and have shorter deployment times. Additionally, their flexible and modular nature enables businesses to easily reconfigure them for different tasks, providing a high return on investment. The potential for cost savings, increased productivity, and improved operational efficiency is attracting businesses to invest in collaborative robots. Thus, the cost-effectiveness and return on investment (ROI) are expected to offer a lucrative opportunity for the revenue growth of the market over the forecast period.
Restraints:
Limited payload and speed capabilities
Collaborative robots are typically designed to handle lower payload capacities and operate at slower speeds compared to traditional industrial robots. While this is necessary for ensuring safe collaboration with humans, it can limit their applicability in industries that require heavy lifting or high-speed operations. Certain industries may still rely on more powerful robots for specific tasks, leading to a narrower market scope for collaborative robots.
Opportunities:
Increasing demand for automation
Due to the rising need for automation, intense competition in the e-commerce sector, and advancements in technologies like the internet of things (IoT) and artificial intelligence (AI), the market for collaborative robots has seen substantial expansion. Robotics utilization has increased worker safety and seen development in this sector as well. Automated obstacle identification, navigation, and cargo transportation have all been made easier for businesses by integrating robots with AI and machine vision technologies. The market for collaborative robotics is being driven by suppliers who are being drawn to automate warehouses and put robots there. For instance, in March 2023, at Promat in Chicago, FANUC America, a pioneer in industrial automation, showcased its newest robots, cobots, and industrial automation for warehousing and logistics. Thus, this type of product launch in the cobot industry is expected to provide enormous opportunities for market growth over the forecast period.
Segments Insight:
Payload Capacity Insights
Based on the payload capacity, the global collaborative robots market is segmented into up to 5kg, up to 10kg, and above 10kg. The up to 5kg segment held the largest revenue share in 2022 and is expected to continue the same pattern over the forecast period. This segment includes collaborative robots that can handle payloads of up to 5kg. These cobots are suitable for a wide range of applications, including assembling, pick-and-place operations, packaging, and small-part manipulation. They are commonly used in industries such as electronics, automotive, consumer goods, and pharmaceuticals, where tasks require precision and dexterity.
On the other hand, the above 10 kg segment is expected to grow at the highest CAGR over the forecast period. The above 10 kg payload capacity cobots segment is designed for applications that involve heavier objects, such as loading and unloading of heavy components, metalworking tasks, and certain manufacturing processes. Industries like automotive, aerospace, and metal fabrication often utilize cobots in this payload capacity range to improve efficiency, reduce manual labor, and enhance worker safety. Thus, this is expected to drive the segment growth over the analysis period.
Application Insights:
Based on the application, the global collaborative robots market is segmented into packaging, pick & place, handling, assembly, quality testing, machine tending, gluing & welding, and others. The handling segment is expected to capture the largest market share during the forecast period. This segment includes collaborative robots focused on material handling tasks. These cobots are capable of lifting, moving, and transporting materials within the workplace. They can load and unload pallets, transport material between different workstations, and organize the inventory. The handling cobots are utilized in several industries such as logistics, warehousing, and manufacturing, where efficient and safe material handling is essential for optimizing supply chains and reducing manual labor.
Industry Vertical Insights:
Based on the industry vertical, the global collaborative robots industry is divided into electronics, metal & machinery, furniture & equipment, plastic & polymers, food & beverage, automotive, pharma, and others. The automotive segment is expected to dominate the market during the forecast period. In the automotive industry, these cobots are used in various application which includes assembly line, material handling and logistics, quality control, and inspection, painting and finishing, and testing and validation.
In the assembly line of the automotive industry, cobots are designed for various tasks including component insertion, screw fastening, welding, and quality control checks. They work with human workers, assisting in repetitive and precise assembly operations, thereby improving productivity, reducing errors, and enhancing worker safety. These cobots are also utilized for various purposes such as engine assembly, interior and exterior component assembly, and electrical system installation. Thus, the growing demand for cobots in various applications in the automotive industry is expected to propel segment revenue growth.
Regional Insights:
Europe is expected to capture a significant market share of the collaborative robots market over the analysis period. The region has witnessed increased adoption of cobots across industries such as automotive, electronics, manufacturing, healthcare, and logistics, in turn, drive the market expansion. Moreover, Europe is known for its strong industrial base, which provides a favorable environment for the deployment of collaborative robots. Countries such as Germany, France, Italy, and the United Kingdom have a robust manufacturing sector, and the automotive industry, in particular, has been an early adopter of cobots in the region.
The presence of an established manufacturing infrastructure and a focus on innovation has contributed to the adoption and growth of cobots in the region. Furthermore, the region places a strong emphasis on safety standards and regulations. Cobots are designed to operate safely alongside human workers, and European countries have stringent regulations in place to ensure the safety of cobots in industrial environments. The development and implementation of safety standards, such as ISO 10218 and ISO/TS 15066, have facilitated the widespread adoption of cobots in the region.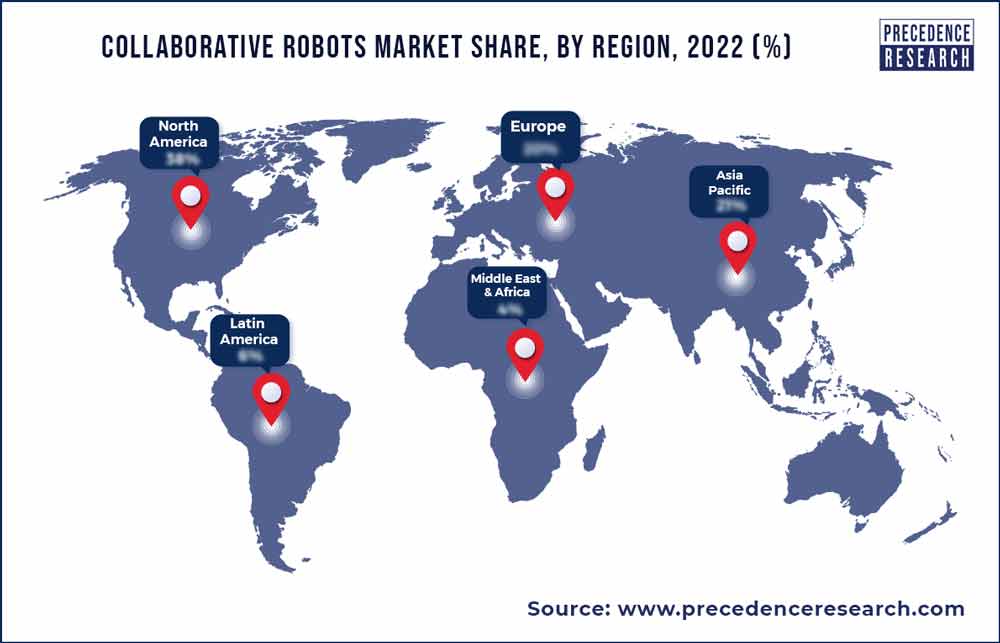 Asia Pacific is expected to grow at the highest CAGR over the forecast period owing to government initiatives. The government in the region recognized the importance of collaborative robots in driving industrial growth and competitiveness. They have introduced initiatives, policies, and funding support to promote the adoption and development of collaborative robots. These initiatives focus on fostering innovation, enhancing manufacturing capabilities, and creating favorable environments for businesses to embrace automation technologies. Furthermore, rising labor costs, aging populations, and changing workforce demographics in the countries like China and Japan have created a need for automation solutions, including collaborative robots. Cobots provide a cost-effective alternative to manual labor, allowing businesses to improve efficiency, reduce reliance on labor-intensive tasks, and address workforce challenges. The ability of cobots to work with human workers and adapt to changing production needs makes them well-suited for the region's evolving labor market. Thereby, driving the market growth in the region.
Recent Development:
In May 2023, the TM AI Cobot TM255, a brand new robot launched by Techman Robot. According to the company, the 25 kilogram maximum payload capacity of the TM255 model of the TM AI Cobot S Series makes it the "ultimate choice" for a variety of industrial applications. The TM255 provides unmatched versatility and adaptability in a variety of operating conditions because of its "longest reach" in the 25 kg payload cobot industry (almost 190 cm).
In May 2023, at the Automate show, Dobot announced the launch of its new CRA Series collaborative robots and the smart camera CRV500. The CRA Series offers a considerable performance gain over its predecessor and is also safe and user-friendly. By utilizing Dobot's self-developed 2.5D spatial compensation technology, the CRV500 smart camera paves the way for a range of vision-based automation scenarios by enabling robots to grasp slanted or inclined products more.
In May 2023, Universal Robots and Denali Advanced Integration, a prominent provider of technology integration announced their strategic partnership. Industry-leading technology and industry-leading services are combined in this alliance. Combining Universal Robots, the market leader in collaborative robots, and Denali, an experienced IT/OT partner, enables them to provide customers with the best automation ideas while generating a significant return on their technological investments.
Key Market Players:
Epson Robots
KUKA AG
ABB Group
Energid Technologies Corporation
F&P Robotics AG
Fanuc Corporation
Yaskawa Electric Corporation
MRK-Systeme GmbH
Universal Robots A/S
Rethink Robotics, Inc
Robert Bosch GmbH
Precise Automation, Inc
DENSO Robotics
Segments Covered in the Report:
(Note*: We offer reports based on sub segments as well. Kindly, let us know if you are interested)
By Payload Capacity
Up to 5kg
Up to 10kg
Above 10kg
By Application
Packaging
Pick & Place
Handling
Assembly
Quality Testing
Machine Tending
Gluing & Welding
Others
By Industry Vertical
Electronics
Metal & Machinery
Furniture & Equipment
Plastic & Polymers
Food & Beverage
Automotive
Pharma
Others
By Geography
North America
Europe
Asia-Pacific
Latin America
Middle East and Africa