The global contact center software market size was recorded at USD 42.67 billion in 2022 and is projected to hit around USD 173.9 billion by 2030, anticipated to grow at a CAGR of 19.2% during the forecast period from 2022 to 2030. The North America market size was valued at USD 12.3 billion in 2021.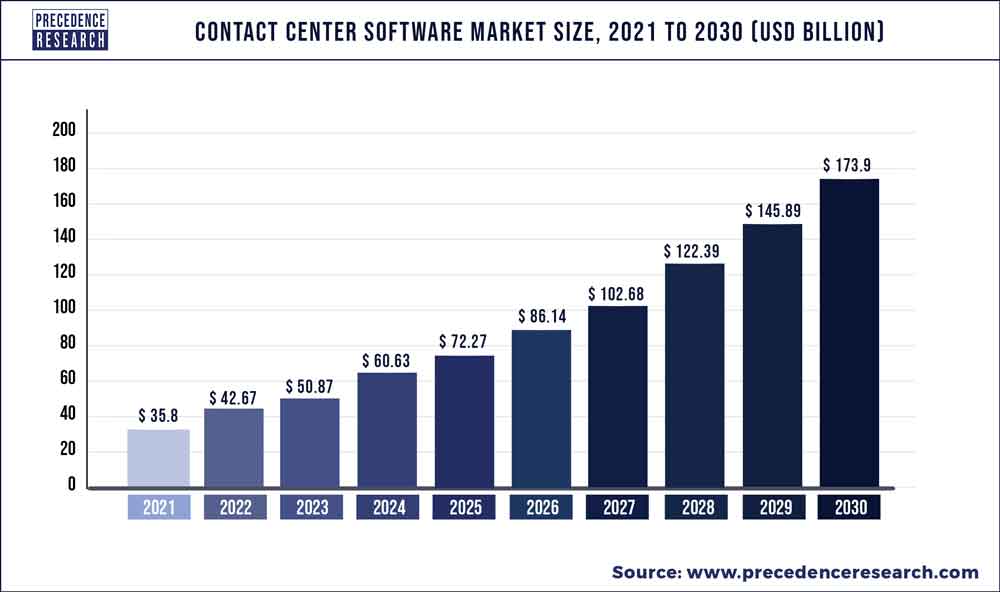 Access our Premium Real Time Data Intelligence Tool, Visit: Precedence Statistics
Key Takeaway
By solutions, the interactive voice response solution segment is expected to reach at a CAGR of 16.4% from 2022 to 2030.
By services, the integration and deployment service segment is poised to grow at a CAGR of 21.5%.
By enterprise size, the large enterprise segment is predicted to reach at a CAGR of 19.6%.
By end-user, the IT and telecom industry is expected to witness at a CAGR of 18.4%.
The contact center software market consists of sales of contact center software and associated services by entities (organizations, sole proprietors, and partnerships) used for streamlining business processes and interacting with customers through real-time call monitoring, assigning customer contacts to agents, and analyzing, tracking, and reporting crucial metrics through a centralized platform. By concentrating on interactions between contact center workers and clients, contact center software is a communication solution that aids in boosting a contact center's efficiency.
The market for contact center software is expanding considerably as a result of the quick uptake of cloud-based contact centers. All inbound and outgoing customer conversations are handled by the cloud-based contact center, which is housed on a web server. The market for contact center software is expanding due to the increasing use of cloud-based contact centers, which offer greater scalability and flexibility than traditional contact centers. For instance, 62% of decision-makers in contact centers have expressed interest in establishing a cloud-based contact center in the next 18 months, according to a poll done in 2020 by Cisco Systems Inc., a US-based networking hardware business. As a result, the market for contact center software is expanding quickly due to the use of cloud-based contact centers.
The primary trends gaining traction in the contact center software industry are technological developments. Businesses are incorporating AI to increase the effectiveness of contact center software. Artificial intelligence (AI) aids in consumer behavior analysis, insight provision, waiting time reduction, and real-time prediction of future behavior. For instance, NICE Systems Ltd., an Israeli software firm that specializes in contact center software, introduced ENLIGHTEN Fraud Prevention in July 2020. This platform for customer engagement uses artificial intelligence and speech biometrics to automatically identify fraudsters. Based on predictive behavioral models, the system aims to identify and rate agent actions to enhance the identification of sales opportunities and customer satisfaction. Without depending on agents to manually record dispositions, it can analyze millions of speech encounters to identify dangerous and aberrant conduct, including authentication techniques and requests for address changes. It aids businesses in preventing the disclosure of personally identifiable information, safeguarding customer loyalty, preventing account takeovers, and lowering fraud losses.
Report Scope of the Contact Center Software Market
Report Coverage
Details
Market Size in 2022
USD 42.67 Billion
Market Size by 2030
USD 173.9 Billion
Growth Rate from 2022 to 2030
CAGR of 19.2%
Base Year
2021
Forecast Period
2022 to 2030
Segments Covered

By Solution
By Service
By Deployment
By Enterprise Size
By End-User

Regions Covered

North America
Europe
Asia-Pacific
Latin America
Middle East & Africa

Growth Factors
New technologies like machine learning, cloud computing, predictive analytics, and artificial intelligence are expected to improve contact center functionality. Customer inquiries have increased across industries as a result of rising consumer rights awareness. Consumer goods and retail, healthcare, the BFSI industry, and other customer service-focused industries are spending more and more in contact centers to enhance the client experience and guarantee service satisfaction. We have included the component services and solutions provided by businesses like NICE CXone, Genesys Cloud CX, 3CX, and Five9 Inc., among others, in the scope of the market analysis.
Technology development made it easier for customers to communicate with businesses through all available channels, including phone calls, video chats, emails, and social media. The contact center solution offers omnichannel solutions to connect consumers through various channels. For instance, Capital One adopted the cloud-based contact center technology from Amazon Connect to deliver a smooth and intelligent client experience. Due to the rising competition to retain repeat customers by providing seamless services, the market for contact center software is being driven.
Key Market Drivers
Artificial intelligence integrated software to drive market growth
The creator is incorporating artificial intelligence to increase the software's effectiveness. AI-based software assists in the analysis of consumer behavior at every level of service. It anticipates consumers' future behavior and provides real-time customer information. The agents may better handle and support clients during calls by using the analysis to inform their decision-making. AI-enabled chatbots reduce customer wait times by engaging and moderating the dialogues. The analytics engine that helps with contact center process optimization receives the data collected throughout the conversation.
Similar to predictive analysis, the sentimental analysis looks for a keyword to forecast the tenor of a customer's expression. NLP and machine learning let operators make decisions that enhance callers' experiences and customer service. By 2022, adding AI and robotic process automation can cut agent assistance time by 25%, according to Kearney, a global management consulting firm.
Increased omnichannel service implementation to ensure customer satisfaction
With the aid of an Omni channel solution, customers may contact the company via a variety of digital channels, including emails, social media, SMS, phone calls, video, live chats, and more. Customer satisfaction rises as a result of the tailored communications it offers with clients. While improving the quantity of customer complaints, the contact center solution lowers customer service expenses. The growth of customer trust is facilitated by service providers' visibility across all channels. Additionally, it offers agents that interact with clients real-time information about them across channels. As a result, the agent may forge better bonds with clients and deliver a superior customer experience. This is expected to hasten the expansion of the contact center software industry.
Due to increased competition and the rising expense of on-premises solutions, businesses are embracing cloud-based software more and more. Compared to conventional contact centers, cloud-based software offers an organization more flexibility and scalability. It offers the agent rapid support so they can give the client better service. To assist the customer within the allotted time, the agents use the data stored in the cloud. As a result, customers wait for less and are more likely to recommend the brand.
Key Market Challenges
High-cost investment to inhibit market demand - The end-user businesses are dealing with difficulties as the price of contact center solutions grows. The on-site contact center solutions demand gear that has to be maintained and serviced on a regular basis. The need for service upkeep and devoted employees lead in significant costs for the organization. Similar to this, prolonged outages for cloud-based software may be quite expensive for the company. Companies that enable cloud systems are forced to offer specialized cybersecurity solutions due to the increase in cloud threats. During the anticipated time frame, this is anticipated to impede the market growth.
Key Market Opportunities
Business appears stronger than market cloud technology suggestions
Administrators and managers of contact centers are embracing cloud technology for a variety of reasons, including improved security & efficiency. Organizations are progressively integrating various omnichannel solutions, such as video chat assistance and Chatbots, based on cutting-edge technology like Artificial Intelligence, to improve the customer experience (AI). Several businesses have already started automating some business processes using AI. Prescriptive AI, the next version of this technology, offers a variety of brand-new functions, from improved case routing to efficient query resolution and schedule management. Prescriptive AI is predicted to enhance customer interactions across the board, from discovery and onboarding to post-purchase support, giving businesses a unique perspective on how to anticipate shifting consumer expectations.
Internal applications of prescriptive AI can include optimizing the utilization of field resources and refilling stockpiles in response to demand. However, Interactive Voice Response (IVR) fraud or fraudulent activity taking place within the IVR systems may restrain the market's growth throughout the projection period.
Segments Insight
Solution Insights
With a revenue share of more than 23%, the IVR sector led the market in 2021. Compared to traditional speech recognition software, interactive voice response systems can recognize tones and accents with more accuracy. Businesses can use interactive voice response systems to assist allocate callers to the appropriate departments or agents as needed. Additionally, IVR services can assist customers in addressing product-related issues independently rather than relying on customer service agents. IVR systems are frequently used by contact centers with large call volumes to handle numerous calls at once without alerting the callers' callers that there are other callers on the line.
Over the projected period, it is predicted that the customer collaboration solution category would grow at the quickest rate. Solutions for customer collaboration help firms communicate more effectively with both current and future customers. These tools assist organizations in acquiring and utilizing customer feedback to enhance their product and service offerings as well as tracking, receiving, and resolving customer care concerns swiftly. Over the course of the projection period, the segment's growth is anticipated to be driven by the significant emphasis on boosting cooperation by using photos and videos to interact with clients.
Service Insights
With a revenue share of more than 43%, the integration & deployment category commanded the majority of the market in 2021. Over the projection period, the market is anticipated to rise as cloud-based contact center software solutions become more widely used. Businesses all over the world are making significant investments to include various apps and technologies, including Customer Relationship Management (CRM), into their business operations, which are fueling the expansion of this market. The fast implementation of cloud-based solutions and the increasing need for business agility are both positive factors for the expansion of the integration and deployment segment. Over the projected period, the managed services category is expected to develop at the quickest rate.
By delegating the company's IT-related activities to managed service providers, managed services enable enterprises to concentrate on their core goods and services. By utilizing configuration management, provisioning, common change management, and patch management solutions, managed services assist enterprises in maintaining they're programmed for end users. Additionally, a variety of value-added services are included in these services to assist organizations in getting the most out of contact center solutions in terms of performance and dependability while limiting operating expenses. The expansion of cloud solutions is encouraging for the managed services market.
Deployment Insights
With a revenue share of more than 58%, the on-premise segment led the market in 2021. The idea behind on-premise deployment is to set up all the gear and software needed to run and manage a contact center on the client's premises. Inerrability, dependability, customizability, and to some extent scalabilities are all features that on-premise systems provide. They can, however, occasionally be highly expensive and difficult to implement. Only when organizations make significant investments in professional services can they appreciate the benefits of on-premise systems' customizability. Over the projected period, the hosted category is predicted to have the quickest CAGR.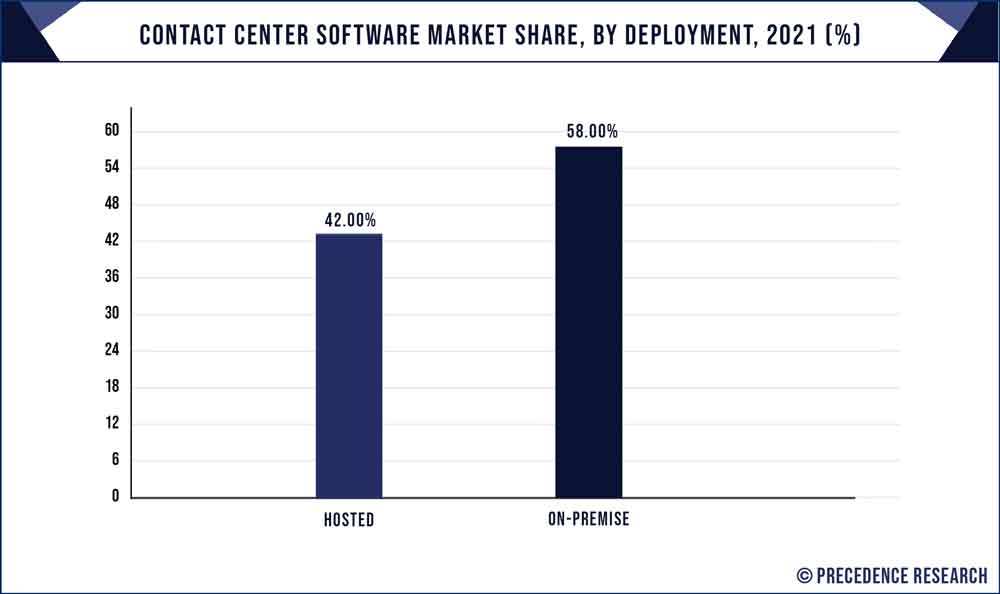 Due to their flexibility to expand services, businesses all over the world are choosing cloud-based contact centre systems over on-premise alternatives. Agents may access centralized contact centre applications using cloud solutions, which also provide a secure intranet for staff collaboration and communication. Executives using on-premise solutions would not be able to track detailed information about the agents and clients that cloud-based systems are capable of providing. The average speed of answer (ASA) can be decreased by as much as 50% while enhancing customer call answer rates by about 5%, according to research by RingCentral, Inc.
Contact Center Software Market Share, By Region, 2021 (%)
| | |
| --- | --- |
| Regions | Revenue Share in 2021 (%) |
| North America | 37% |
| Asia Pacific | 24% |
| Europe | 27% |
| Latin America | 6% |
| MEA | 4% |

Regional Insights
With a revenue share of more than 37% in 2021, North America led the worldwide market. Some of the major market participants are based in North America. Additionally, businesses in North American nations are making significant investments in cutting-edge technology like big data, analytics, and cloud platforms. Both major and small & medium firms in the area have increased their focus on optimizing outgoing and incoming processes to increase efficiency. The quickly expanding e-commerce sector, in conjunction with the more popular omnichannel approach to sales, is further anticipated to fuel regional market expansion.
The presence of several Information Technology-enabled Services (ITES) and IT firms in the area is likely to make Asia Pacific the region with the quickest growth during the projection period. The regional market is expected to increase as a result of the increasing usage of contact center solutions by both small and large businesses. The positive efforts made by local governments to promote the use of cloud-based systems and the automation of corporate operations are also anticipated to play a significant part in propelling the expansion of the regional market. The fact that several businesses continue to be interested in investing in the APAC regional market is encouraging for the development of the local market.
Recent Developments
March 2021: Microsoft Teams integration 8x8 Contact Center for Microsoft Teams was released by 8x8, Inc. Agents and staffs have access to an integrated contact center and a worldwide direct routing solution with the 8x8 cloud contact center and communication solution, which can be simply managed from any Teams endpoint.
Key Market Players
8X8, Inc.
ALE International
Altivon
Amazon Web Services, Inc.
Ameyo
Amtelco
Aspect Software
Avaya Inc.
Avoxi
Cisco Systems, Inc.
Enghouse Interactive Inc.
Exotel Techcom Pvt. Ltd.
Five9, Inc.
Genesys
Microsoft Corp.
NEC Corp.
SAP SE
Spok, Inc.
Talkdesk, Inc.
Twilio Inc.
UiPath
Unify Inc.
VCC Live
Market Segmentation
(Note*: We offer reports based on sub-segments as well. Kindly, let us know if you are interested)
By Solution
Automatic Call Distribution (ACD)
Computer Telephony Integration (CTI)
Call Recording
Dialer
Customer Collaboration
Reporting & Analytics
Interactive Voice Responses (IVR)
Workforce Optimization
Others
By Service
Integration & Deployment
Support & Maintenance
Training & Consulting
Managed Services
By Deployment
By Enterprise Size
Large Enterprises
Small and Medium-Sized Enterprises
By End-User
Healthcare
BFSI
Government
Consumer Goods and Retail
Travel and Hospitality
IT and Telecom
Others
By Geography
North America
Europe
Asia-Pacific
Latin America
Middle East & Africa (MEA)