The global content delivery network (CDN) market size accounted for USD 19.65 billion in 2022 and it is projected to surpass around USD 105.55 billion by 2032, growing at a CAGR of 18.31% throughout the projection period 2023 to 2032.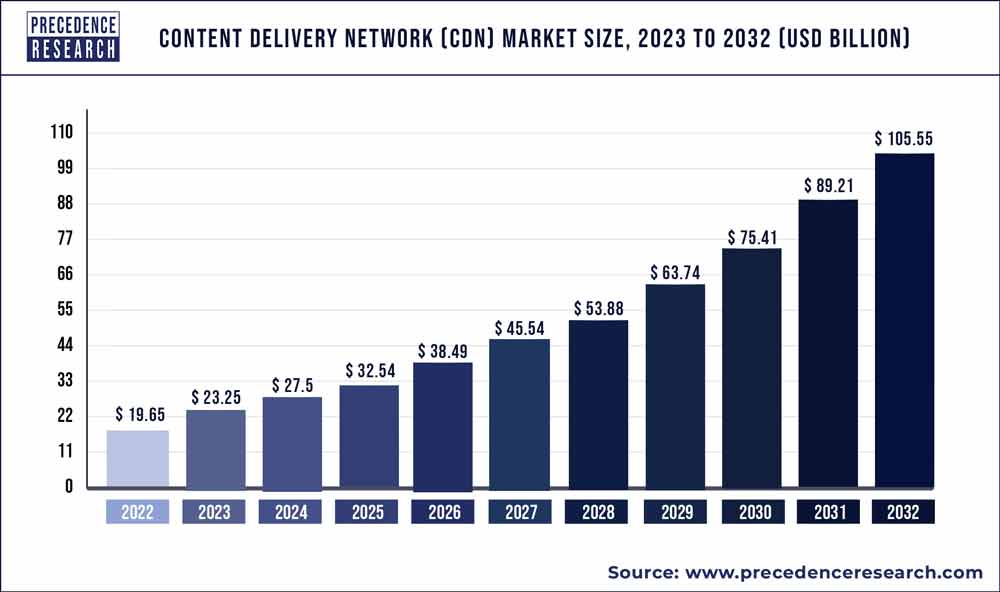 Access our Premium Real Time Data Intelligence Tool, Visit: Precedence Statistics
Key Takeaways:
North America generated more than 31% of revenue share in 2022.
By solutions, the media delivery segment captured more than 36% of revenue share in 2022.
By end-user, the media and entertainment segment generated more than 41% of revenue share in 2022.
Market Overview
A content distribution network or content delivery network is a geographically distributed network of proxy servers and their data centers. The aim of the content distribution network is to offer high performance and availability by distributing the service to various end users. Content delivery is an approach of offering web-based media over a typical medium, such as television broadcast channels or the Internet. The content delivery network offers reduced bandwidth consumption, faster load times, and numerous other benefits for web publishers, which are expected to impact the content delivery network market positively.
Over-the-top (OTT) video consumption is rising rapidly due to consistent digital infrastructure initiatives and improvements. The demand for content delivery network solutions is increasing as VoD and OTT consumers rise in the count. As per Cisco's visual networking index, IP video is estimated to possess 79% of online traffic by 2024. This indicates the rising trend of online video services, which is anticipated to support market growth promisingly.
Report Scope of the Content Delivery Network (CDN) Market
| | |
| --- | --- |
| Report Coverage | Details |
| Market Size in 2023 | USD 23.25 Billion |
| Market Size by 2032 | USD 105.55 Billion |
| Growth Rate from 2023 to 2032 | CAGR of 18.31% |
| Largest Market | North America |
| Fastest Growing Market | Asia Pacific |
| Base Year | 2022 |
| Forecast Period | 2023 to 2032 |
| Segments Covered | By Solutions and By End-User |
| Regions Covered | North America, Europe, Asia-Pacific, Latin America and Middle East & Africa |

Market Dynamics
Increasing adoption of mobile devices and rising internet penetration is creating considerable growth opportunities for the mobile content delivery network. As per the Cisco Annual Internet Report, it is expected that there will be around 5.3 billion internet users (66% of the world population) by 2023, from 3.9 billion (51% of the world population) in 2018. As per Oberlo, as of October 2020, almost 48.62% of all web traffic was through mobile phones. The rising network traffic is leading to the growing requirement for content distribution network solutions for delivering content effectively to end users.
The mobile content delivery network has helped in decreasing mobile data traffic and improving the mobile user experience. The rapid evolution of internet-enabled portable devices, such as tablets, smartphones, and phablets, is one of the significant influences that is anticipated to boost overall internet consumption. The increasing usage of internet services over mobile devices is driving the requirement for mobile CDN for delivering enhanced content and improved end-user experience.
Since the existing CDNs require increased capabilities and innovation to provide an enhanced user experience, there is significant scope for CDN providers to offer high-end mobile CDN solutions in the market.
The acceptance of cloud services and solutions among numerous organizations has decreased the expenses and efforts related to maintenance complexity and hardware installation.
The content delivery network in the cloud is predicted to change the content delivery network and cloud market landscape simultaneously. The requirement for cloud solutions and services is rising in emerging economies drastically. Hence, the communications service providers (CSP) have started deploying content delivery networks to deliver applications, software, and infrastructure services.
This provides clients with better Quality of service (QoS) and Quality of experience (QoE). Additionally, the communications service providers (CSP) manage content delivery networks in their data centers and license and resell such content delivery network services under their brand name.
The trend of content delivery networks for personal usage is anticipated to rise with the demand for cloud services. Furthermore, communications service providers use the content delivery network to provide customer data security, storage, and infrastructure services. Hence, a rise in cloud adoption creates crucial growth opportunities for the content delivery network market.
The U.S. content delivery network market is experiencing steady growth due to the higher adoption rates by small and medium-sized enterprises (SMEs), the high prevalence of smart devices, and the widespread penetration of the internet. Gaming via online channels and the transition from conventional cable media are also significant factors supporting the growth of the content delivery network market in North America.
COVID-19 Impact:
The pandemic of COVID-19 had a positive impact on organizations that were assisted with content delivery network (CDN) technology. Content delivery networks helped these organizations to meet the high-capacity demand of internet traffic. Also, during the pandemic, companies across the globe adopted work-from-home initiatives, which created a considerable opportunity for the content delivery network business.
Additionally, as a result of the pandemic of COVID-19, there has been a rise in demand for over-the-top OTT platforms that leverage content delivery networks to offer high video quality to end users. The content delivery network market is expected to progress steadily during the study period as the amount of data transmitted through the internet rises in line with the deployment of high-speed networks.
Segments Insight:
Solution Insights
Based on the solution, the global content delivery network market is segmented into media delivery, cloud security, and web performance. The media delivery segment dominated the market and generated more than 36% of the revenue share in 2022. As of 2020, approximately 59.6% of the world population was using the internet. The rising count of people using the internet is leading to the growing online content. The advent of high-definition content supporting smart gadgets, UHD/4K televisions, and enhancing connectivity raises the viewers' expectations for high-quality content.
Numerous media organizations are taking a transition toward a digital delivery model. This distribution model avoids stream crashes and buffering by placing copies of media files close to audiences. This caching functionality is making a crucial difference, even for live broadcasts. Furthermore, caching decreases the load on the origin server, which results in a more reliable experience. These transitions generate a big market opportunity for content delivery network vendors.
As per the global internet phenomena report, streaming video accounted for around 53.7% of internet bandwidth traffic, which is almost 4.8% more as compared to the previous year (2022). Organizations that sell access to content delivery networks, which are the collection of servers prepared to boost the transmission of web material, gained remarkably. The data volume of content delivery networks is rising owing to the advent of 5G technology, wearable devices, peer-to-peer technology (p2p), virtual reality, Internet-of-Things (IoT), advancing technological innovation, and augmented reality.
The mobile traffic for media-related services accounted for nearly 45%, which is anticipated to rise. Considering the anticipated growth of consumed data to be approximately 4.5 GB per month, which is currently at around 1.5 GB on average, the requirement for content to be mobile-compatible is predicted to rise in near future. Media content delivery networks are built with artificial intelligence (AI) and machine learning (ML). This gives more control to the viewers regarding how they can experience, view, and interact with content. For instance, sports fans viewing a game are able to obtain real-time analytics and stats.
Cloud Security solution from CDNetworks Inc. combines the performance of a content delivery network with improved security for delivering website content securely and quickly. The cloud security solutions safeguard businesses from a wide range of cyber-attacks, which include automated bot attacks, distributed denial of service (DDoS), SQL injection, ransomware, API Abuse, Cross-Site Scripting (XSS), and other OWASP top 10 attacks. With multi-layered security technologies for applications, websites, and application programming interface (APIs), Cloud Security solutions can offer the scope, scale, and consistency that helps organizations of all sizes as well as budgets to safeguard their business operations in an economical and flexible way.
Cloud CDN from Google ensures reliable as well as fast video and web content delivery with global reach and scale. New users get $300 in free credits for spending on Cloud CDN. CDN enhances web performance as well as improves its reliability and security. The content delivery network achieves this by bringing the web content near the geographic location of end-users. The content delivery network is particularly useful for organizations that attract a large amount of web traffic.
Social media giants such as Facebook, video streaming platforms such as Netflix, and e-commerce giants like Amazon rely on CDNs for delivering their content to end users efficiently. CDNs are able to boost the speed of websites by caching content in various locations across the globe. CDN caching servers are particularly situated closer to end users than the origin server or host.
End-User Insights
Based on End-User, the global content delivery network market is segmented into media and entertainment, e-commerce, advertising, healthcare, financial services, research & education, and other end users. The media and entertainment segment had the highest revenue share of around 41% in 2022. In 2022, Era Hospital, an Indian Healthcare organization with revenue of $1.0 million and 10 employees opted for the Cloudflare content delivery network.
Media organizations are under pressure for developing and deploying innovative experiences at a quick pace. The Media content delivery network is built by developers with automation and observability to integrate management and delivery provisioning into their content release processes. Media content delivery network offers comprehensive application programming interface (APIs) and automation tools such as Terraform.
The Infosys media and entertainment practice provides content delivery network solutions for ensuring uninterrupted streaming of live and on-demand content. Infosys' patented content delivery framework addresses the constraints of network bandwidth in resource-intensive services like video on demand. The automation solutions offered by Infosys dynamically optimize delivery for minimizing load times and boosting performance.
Regional Insights:
North America dominated the market and captured more than 31% of the revenue share in 2022. Asia Pacific (APAC) is anticipated to experience the highest growth rate owing to the rapidly enhancing IT infrastructure and the need to adopt the latest technologies. China provides a distinguished ecosystem for online video content.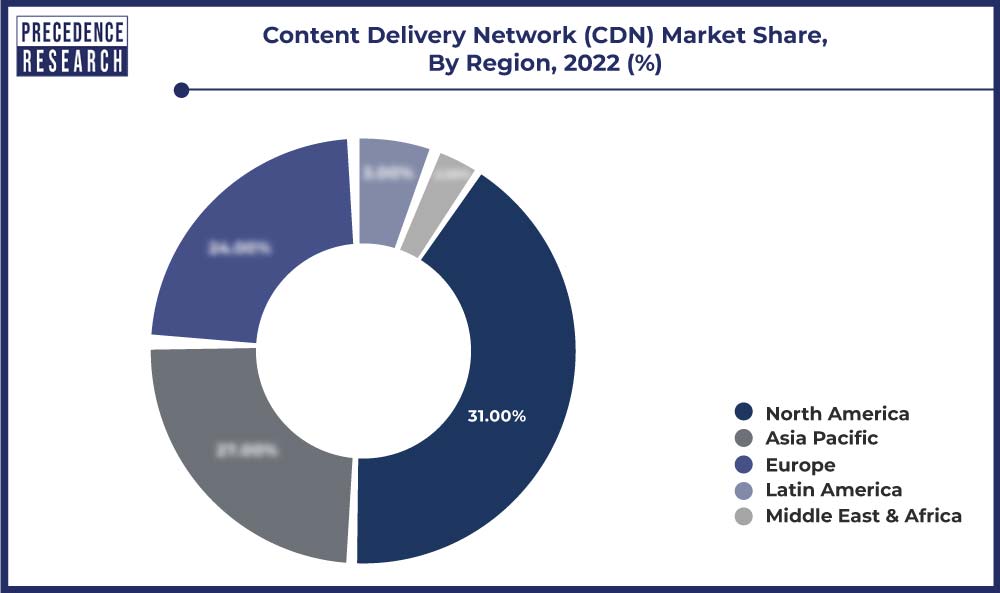 The rising demand for continuous data streaming at the user's leisure and convenience, without downloading, is one of the significant factors which drives the growth of the video streaming industry in China. Consumers are viewing short-form films increasingly due to greater access to the internet and multimedia devices in the APAC region, which has led to a drastic rise in online video traffic.
With growing economies such as Japan, China, India, and South Korea, the APAC region is anticipated to experience high growth in the content delivery market. The fastest growth rate of the APAC CDN market is attributable to the ever-rising content consumption in these countries.
Pay TV consumption has reduced in the United States and more consumers have been found to be inclined towards online media content over pay television. The prevalence of cord-cutting is rising and in the coming years, it is anticipated that there will be around 80.7 million cord-cutting U.S. households by 2026. This development is expected to support the content delivery market as the emphasis towards on-demand entertainment is increasing.
Recent Developments
Content Delivery vendors are emphasizing techniques for web performance optimization to cater to dynamic and mobile content requirements. For instance, in April 2022, Google launched Media CDN for competing in application programming interface API and web acceleration content delivery.
In August 2022, Amazon's cloud arm, Amazon Web Services (AWS) expanded its presence to two major cities in Vietnam, namely, Ho Chi Minh City and Hanoi. In these cities, Amazon Web Services came with offerings such as AWS Direct Connect and Amazon Cloud Front.
In March 2022, Fastly, Inc.; a leading-edge cloud network and content provider acquired Fanout. Fanout is a platform that simplifies the building and scaling of real-time streaming APIs for live chat support, video streaming, e-commerce, gaming, collaborative editing, and much more.
Company Profiles and Competitive Intelligence
The key players operating in the global content delivery network market are:
Amazon Web Services Inc.
Akamai Technologies Inc.
Google LLC
Cloudflare
Limelight Networks Inc.
CDNetworks Co. Ltd.
Fastly Inc.
StackPath LLC
Edgemesh Inc.
Tata Communications
Segments Covered in the Report
(Note*: We offer report based on sub segments as well. Kindly, let us know if you are interested)
By Solutions
Cloud Security
Media Delivery
Web Performance
By End-User
Media and Entertainment
E-Commerce
Advertising
Healthcare
Financial Services
Research & Education
Others
By Geography
North America
Europe
Asia-Pacific
Latin America
The Middle East and Africa