The global data integration market size was evaluated at USD 12.14 billion in 2022 and is expected to hit around USD 39.25 billion by 2032, growing at a CAGR of 12.5% from 2023 to 2032. North America data integration market was valued at USD 4.8 billion in 2022.
The process of combining or merging data from different sources and displaying it in a singular perspective, as well as giving responses to questions based on the combined data, is known as data integration. It guides and streamlines the business's operations.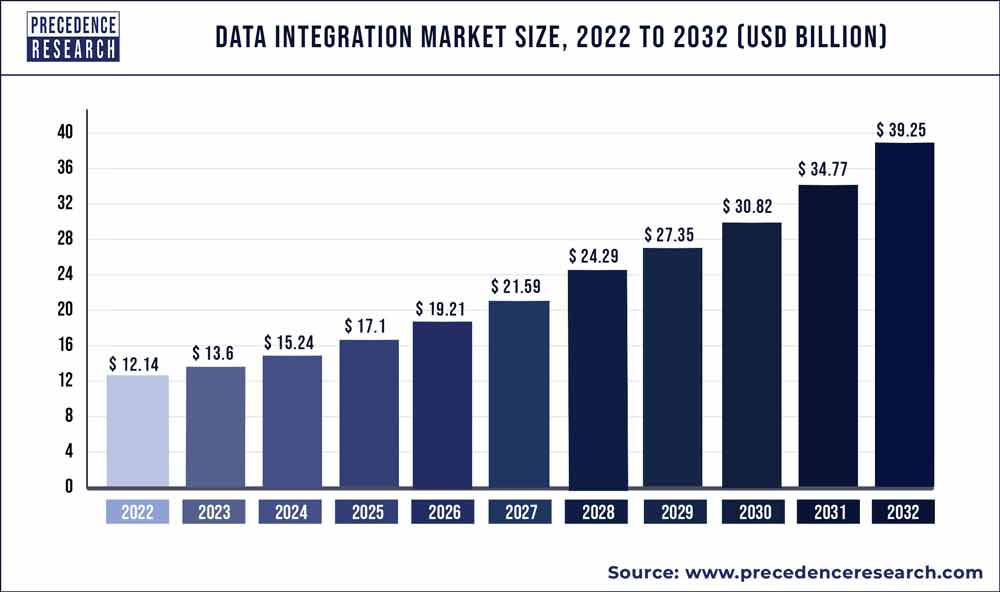 Key Takeaways:
North America generated more than 40% of revenue share in 2022,
Asia Pacific is expected to expand at a remarkable CAGR of 15.6% from 2023 to 2032.
By component, the tool segment captured more than 71% of revenue share in 2022.
By deployment, the on-premises segment generated more than 67% of the revenue share in 2022.
By business application, the marketing segment contributed more than 26% of revenue share in 2022.
By end-user, it & telecom segment generated more than 23% of revenue share in 2022.
By organization size, the large company segment contributed more than 69% of revenue share in 2022.
Growth Factor:
Businesses have recognized that integrating data is the only realistic strategy for optimizing its potential. When businesses have all the information they need in one place, they can find and use the most relevant and true ideas within it. They have an edge over rivals because of their capacity to strategically incorporate these findings into their corporate operations. A crucial use case for data integration goods and services is managing business and customer data. Data integration, which provides integrated data into data warehouses, supports business intelligence, corporate reporting, and sophisticated enterprise analytics. With the most recent updates, businesses now have access to a single data platform that allows them to ingest, store, transform, and control all data in order to carry out different analytical workloads from any source. In addition, the platform has built-in tools for rapidly transforming and uploading data from a user's device to the cloud, support for property graphs, and easy access to data lakes.
Integrated data opens up a layer of connectedness that is necessary for organizations to thrive in the contemporary market. By connecting and integrating systems that hold crucial data across divisions and places, organizations can achieve data consistency and efficient knowledge transmission. It encourages intersystem cooperation for a comprehensive perspective of the business, benefiting the company rather than just a team or a person.
The COVID-19 pandemic scenario and rising hybrid working are anticipated to push the market during the projection timeframe.
The market is boosted by the growing inclusion of data merging with the cloud.
In the upcoming years, it is anticipated that a growing number of businesses will implement a variety of data integration tools that support data transformation.
Growing demand for open-source and self-service data merging presents development possibilities for the major market participants.
Report Scope of the Data Integration Market
| | |
| --- | --- |
| Report Coverage | Details |
| Market Size in 2023 | USD 13.6 Billion |
| Market Size by 2032 | USD 39.25 Billion |
| Growth Rate from 2023 to 2032 | CAGR of 12.5% |
| Largest Market | North America |
| Fastest Growing Market | Asia Pacific |
| Base Year | 2022 |
| Forecast Period | 2023 to 2032 |
| Segments Covered | By Component, By Deployment, By Organization Size, By Business Application, and By End-user |
| Regions Covered | North America, Europe, Asia-Pacific, Latin America and Middle East & Africa |

Key Market Drivers
Usage of mixed data integration growing
Due to its capacity to link apps, data files, and business partners across online and on-premises systems, hybrid data integration has recently gained popularity. Hybrid data integration is used for this reason because it mainly concentrates on the deployment model aspect. A significant network and data transmission option from source to target is data integration. Data integration software is used in systems to safeguard the billions of dollars worth of data that are moved each year.
Key Market Challenges
Weak efficiency and security
Any organization's top concern is ensuring the protection of sensitive data. Businesses must make sure that their info is kept on a secure site. However, there is a chance that the company using data integration tools won't have adequate protection. When using cloud-based data integration tools, the data can be readily viewed from any location. Although this ease is advantageous, there is also a risk of income loss, data leaks, trade license loss, data intrusion, loss of corporate image, government fines, and legal action.
Key Market Opportunities
Increased interest in application-based connectivity
Data integration solutions now include a significant amount of application-based interaction. Industries like banking, healthcare, IT & telecom, manufacturing, retail & consumer products, media & entertainment, and others favor application-based integration techniques to monitor any shady customer activities and financial crimes. Software used for application integration merges and improves data flows between two different software apps. Businesses frequently use application integration software to build a connection between new cloud-hosted applications and legacy on-premises applications, allowing a variety of separately designed applications to cooperate.
Segments Insights:
Component Insights
With a portion of the worldwide revenue of more than 71% in 2022, the tools sector dominated the data integration market. Software tools can be blamed for the high share because they help implement solutions across different sectors to collect, process, and import data quickly. Tools offer a single spot for processing and saving numerous data sets from various sources in one database. These tools support the planning, designing, purging, converting, and saving of data both on-premises and in the cloud.
The organizational framework is provided by the software tools, which also support the operational facets of work in all fields. For instance, automated data integration tool vendor Fivetran Inc. updated its market-available data integration tools in January 2022. In order to extract, transform, and import data from different sources into data warehouses, they incorporated a Software as a Service (SaaS) data integration utility. The business further automates its merger process by integrating data from sources like Salesforce, Inc. with cloud-based data centers like Amazon, Google Cloud, and Microsoft Azure.
In the forecast years, the service sector is expected to experience substantial growth. The expertise and knowledge needed to compile data from various sources into a singular database are provided by services. Additionally, it increases productivity, lowers the possibility of fraud and human error, and handles massive amounts of data rapidly. Professional service providers provide advice, instruction, and technological support, whereas managed service providers take care of infrastructure upkeep and handle complicated operations, enabling businesses to make the most of technology.
Deployment Insights
In 2022, the on-premises segment's sales percentage was over 67%, which was the highest. The large share can be credited to on-premises data integration software's ability to combine data from many on-premises sources using internal software, independent of its structure, style, or number. The program comes with a data replication utility that monitors data consistency between the local network and the cloud. On-premises data integration solutions could be used to combine the data from different on-premises software platforms. One of the company's physical locations will house an on-premises data integration device.
The online market will experience rapid expansion over the next few years. The primary objective of cloud platforms is to establish unified data stores that all users and apps can effectively and openly access. For the purpose of real-time data sharing, cloud data integration refers to the technology and tools that link different systems, IT environments, archives, and apps. Data from various systems that have a cloud source as the destination, such as Google Cloud, Oracle Cloud, Azure SQL, and Amazon RDS, is combined in this process. Data integration software that is deployed in the cloud makes it easier to convert, gather, and clean the data so that users can see all crucial encounters. Additionally, a variety of gadgets can connect to incorporated cloud services via the internet.
Business Application Insights
With over 26% of the total income in 2022, the marketing sector dominated the industry. The growth of the market can be attributed to a number of variables, including consumer behavior research, an understanding of consumer preferences, and personalizing customer encounters. Data fusion is used by marketers to divide their target market into groups according to factors like age, gender, and product preferences. This enables them to make more informed marketing choices, such as developing programs that are specifically aimed at specific demographics.
The HR industry will experience rapid expansion in the years to come. The term "HR data integration" refers to the centralization of data from various sources into one database or the automated sharing of applicant, employee, or job-related data among various HR apps. Data integration enables HR pros to focus on critical problems that support a company's growth rather than wasting time manually entering the same information repeatedly into various HR applications.
End User Insights
With a revenue share of more than 23% in 2022, the IT & telco sector ruled. Data integration allowed the IT and telecom industries to rapidly combine data from internal databases, client records, and external systems. This would aid in assessing data quality and offering suggestions for fixing problems that are spurring the segment's development.
During the forecast era, the BFSI segment is anticipated to experience substantial development. The enormous quantity of data that financial organizations produce every day is fueling demand and driving development. Banks can monitor the customer path and gain a better understanding of how encounters with tellers, call center representatives, websites, and other branch staff influence customers' choices to use financial services by integrating their data. Financial services companies may gain a comprehensive understanding of what their customers want and what prevents them from moving to rivals. By merging information from transactional systems, CRM, and digital marketing automation, they involve them in novel ways.
During the forecast era, the BFSI segment is anticipated to experience substantial development. The enormous quantity of data that financial organizations produce every day is fueling demand and driving development. Banks can monitor the customer path and gain a better understanding of how encounters with tellers, call center representatives, websites, and other branch staff influence customers' choices to use financial services by integrating their data. Financial services companies may gain a comprehensive understanding of what their customers want and what prevents them from moving to rivals. By merging information from transactional systems, CRM, and digital marketing automation, they involve them in novel ways.
In the upcoming years, it is expected that the manufacturing and retail sectors will experience substantial development. Retailers and producers can benefit from the data they are already generating and transform it into useful insights for developing their companies thanks to the increasing demand for data integration software. For every manufacturing or retail section, having a unified and integrated perspective of the company's customers, revenue, and processes could be beneficial.
Organization Size Insights
As a result of large businesses' high usage of data integration software to meet new demands, expand their infrastructure, and keep support for their goods and services, the large company sector accounted for the highest revenue share of over 69% in 2022. It can be difficult for big businesses to combine all their data in order to obtain a competitive edge, but data integration has many advantages for businesses, including raising productivity, improving visibility, lightening the load on IT, and opening up new possibilities.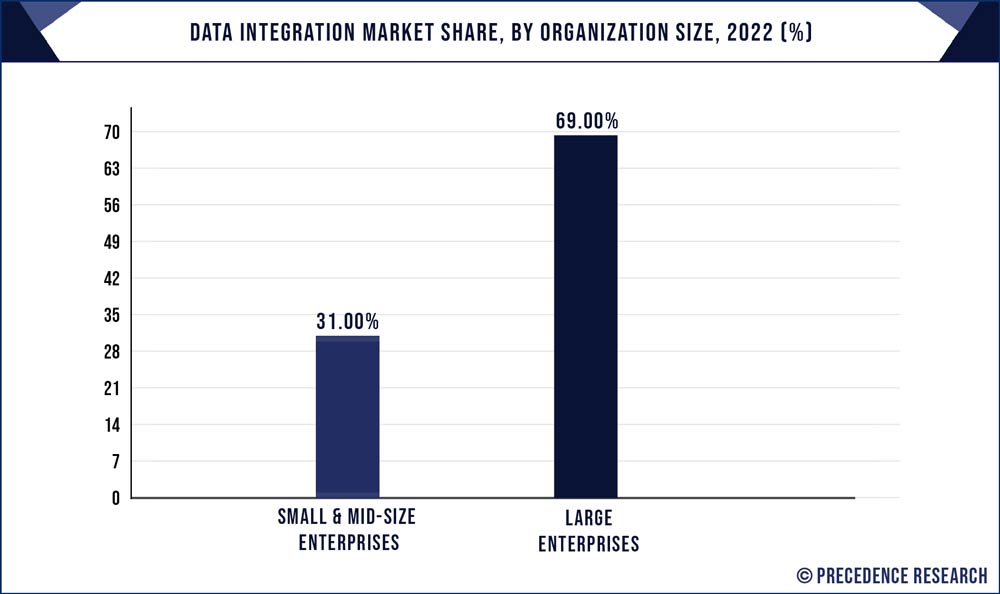 Growing demand for cloud-based software is expected to cause the small and medium-sized businesses sector to experience the quickest CAGR between 2023 and 2032. Additionally, the investment would lower infrastructure expenses and improve productivity. Using the data integration method, small and medium-sized businesses can arrange data consolidation from various sources.
It also transforms the collected data into smart and useful knowledge. For instance, Intellicus, a supplier of business intelligence analytics software and reporting tools, extended its data integration solutions for small and large businesses in December 2021. The COVID-19 pandemic acted as a spark and assistance in the advancement of digitalization. Data integration, business intelligence and analysis, and analytics accounted for a sizeable part of the budget. In 2021, supply chain management, retail, industrial, and FMCG were the sectors with the greatest rates of usage of novel data integration interfaces. Furthermore, a method of automation was introduced to reduce the need for human involvement by extending its data integration and business intelligence solution.
Regional Insights
With a 40% share of worldwide income in 2022, North America ruled the industry. The market's expansion is driven by industrialized nations like the U.S. and Canada. The area is shifting toward more advanced and cutting-edge technologies as a result of the increased usage of digital strategies. Growing technical developments in the region are important drivers of the North American market's growth. The expanding industry will benefit from the increase in worldwide data integration companies.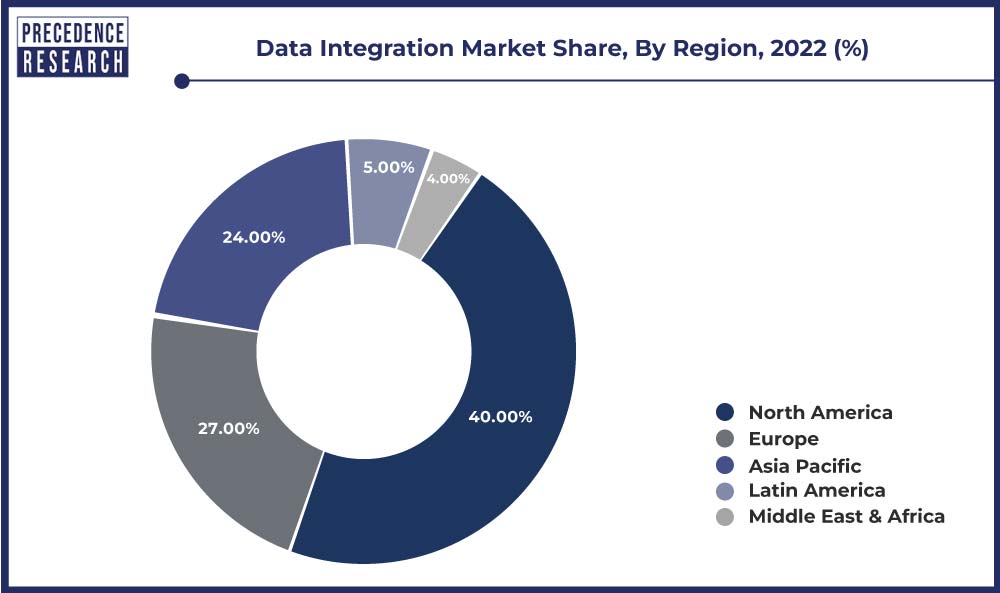 From 2023 to 2032, Asia Pacific is predicted to have the highest growth, at 15.6%. To produce both simple and reliable features, the top competitors are concentrating on expanding their product portfolios, increasing investments, and forming effective alliances. Along with this, a number of efforts were put into place, and it is expected that the industry will grow as regional e-commerce trade keeps growing. For instance, the data integration platform supplier Boomi, LP. expanded its cloud data integration services in Japan in July 2022. To satisfy the rising demand for business automation and data integration solutions that would scale the company's business for clients throughout the area, the company made an investment in the Japanese market.
Recent Developments
In August 2022, Bullhorn, Inc., a provider of cloud-based customer relationship management (CRM) software and cloud computing services that aid in staffing and advertising, conducted a poll of hiring companies that benefited from data integration. According to the study, data integration caused 55% of the businesses to increase their income in 2021 and 64% of them to increase their employment fill rate.
In January 2022, oxylabs.io, a proxy service provider and business that develops cutting-edge data collection solutions and makes investments in technological developments, questioned retailers who are benefiting from data integration. According to the study, 43% of retailers used data integration to predict market patterns, 39% did the same for consumer demand forecasting and rival benchmarking, and the remaining retailers used it to improve customer policy, improve pricing policies, and create new products.
Key Market Players:
Informatica Inc.
International Business Machines Corporation
Microsoft
SAP
Oracle
Talend
SAS Institute Inc.
TIBCO Software Inc.
Denodo Technologies
QlikTech International ABs
Segments Covered in the Report:
(Note*: We offer report based on sub segments as well. Kindly, let us know if you are interested)
By Component
By Deployment
By Organization Size
Large Enterprises
Small & Mid-Size Enterprises
By Business Application
Marketing
Sales
Operations & Supply Chain
Finance
HR
By End-user
IT & Telecom
BFSI
Healthcare
Manufacturing
Retail & E-commerce
Government & Defense
Others
By Geography
North America
Europe
Asia-Pacific
Latin America
The Middle East and Africa