The global data science platforms market size reached USD 112.12 billion in 2022 and it is expected to be worth around USD 501.03 billion by 2032, poised to grow at a CAGR of 16.2% during the forecast period from 2023 to 2032.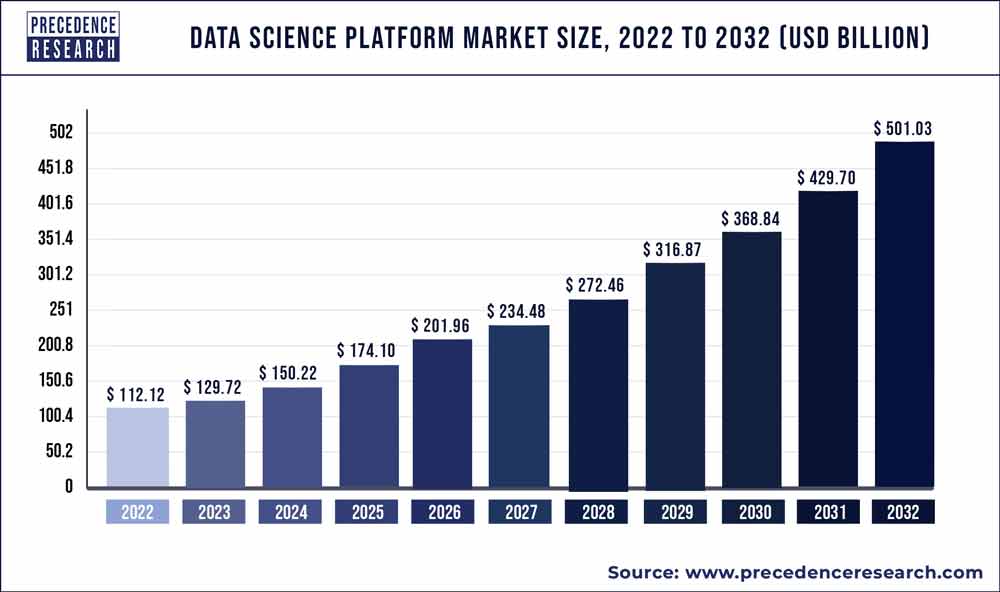 Technological advancements are happening quickly because to increased investment in research and development. The need for technology that can boost businesses' productivity and efficiency is increasing as they expand. Technologies like artificial intelligence (AI), machine learning (ML), and the internet of things (IoT) are everywhere, and their acceptance is accelerating the use of platforms and software. Modern data handling systems and solutions play a significant role in the expansion of businesses as data volumes increase daily. One such piece of software that is currently being used extensively by industries is the data science platform. This programme is made up of a number of different technologies for machine learning and advanced analytics. It gives data scientists the ability to create methods, draw conclusions from data, and share those experiences throughout a project in a solitary setting. Various tools created for each stage of the data modelling process are used in data science initiatives.
Data science platforms are currently being used more and more. The programme offers open-source tools significant flexibility and scalability of computing resources. Additionally, it is simple to align with different data architectures. In addition, the platform supports version control, enabling the data science team to collaborate on projects without losing recently completed work. Such advantages significantly aid market expansion. The assumptions established by the businesses throughout the data analysis are being revised. New cycles are developing. Current market developments include the replacement of data, changes in traffic, and an emphasis on supply chains connected to healthcare. The healthcare industry has been most negatively impacted by the epidemic. Healthcare industry experts are concentrating on using data from nations that were previously affected by the epidemic to make more accurate conclusions.
Growth factors
Data science platforms that support the development, training, scaling, and deployment of machine learning (ML) models are required as the use of machine learning increases. Data science advancements are made possible by the right platforms and technology. Innovations in data science and data management are also being driven by machine learning and artificial intelligence.
Data science platform industry expansion is projected to be fueled by the development of big data technologies and the significance of gathering and utilising data for decision-making during the forecast period. Additionally, throughout the projection period, the market is anticipated to have strong growth due to the use of cloud-based solutions and services and the targeting of growing and unexplored markets for data science platforms.
Data science is no longer an optional expenditure for the firms going through digital transformation; rather, it is now a must as the operational environment of many enterprises is being evaluated to be employing the data-driven strategy. For instance, during the previous ten years, businesses have been seen using predictive models every three months to distribute marketing offers to around 10% of their client base and be happy with the operational results. But in the present market environment, businesses are required to provide real-time advice to not just 10% but 100% of their clients. Additionally, the firms are openly expressing their desire to run model-driven campaigns on a regular basis across a number of their functional divisions, including sales, operations, manufacturing, and human resources.
Report Scope of the Enterprise Application Market
| | |
| --- | --- |
| Report Coverage | Details |
| Market Size in 2023 | USD 129.72 Billion |
| Market Size by 2032 | USD 501.03 Billion |
| Growth Rate from 2023 to 2032 | CAGR of 16.2% |
| Base Year | 2022 |
| Forecast Period | 2023 to 2032 |
| Segments Covered | Component, Application, Industry Vertical, Organization Size, Deployment Mode, Geography |
| Companies Mentioned | ALTERYX INC., CLOUDERA INC., DATAROBOT INC., DOMINO DATA LAB INC., Databricks, IBM CORPORATION, Rexer Analytics, RAPIDMINER INC., RAPID INSIGHT, WOLFRAM |

Component Insights
According to component, the platform segment led the market with market share of 83% in 2022 and is anticipated to continue dominating the market throughout the projected period. This is because more small and medium-sized businesses are utilising data science platforms (SMEs). Businesses are moving toward automation and digitalization, which accelerates large data and results in more intricate business procedures. Companies require cutting-edge technology that allow them to acquire instantaneous insights across enormous data pools in order to deal with these challenges. They are able to obtain new clients and optimise business operations thanks to the data science platform. However, throughout the projected period, the services category is anticipated to increase at the fastest rate.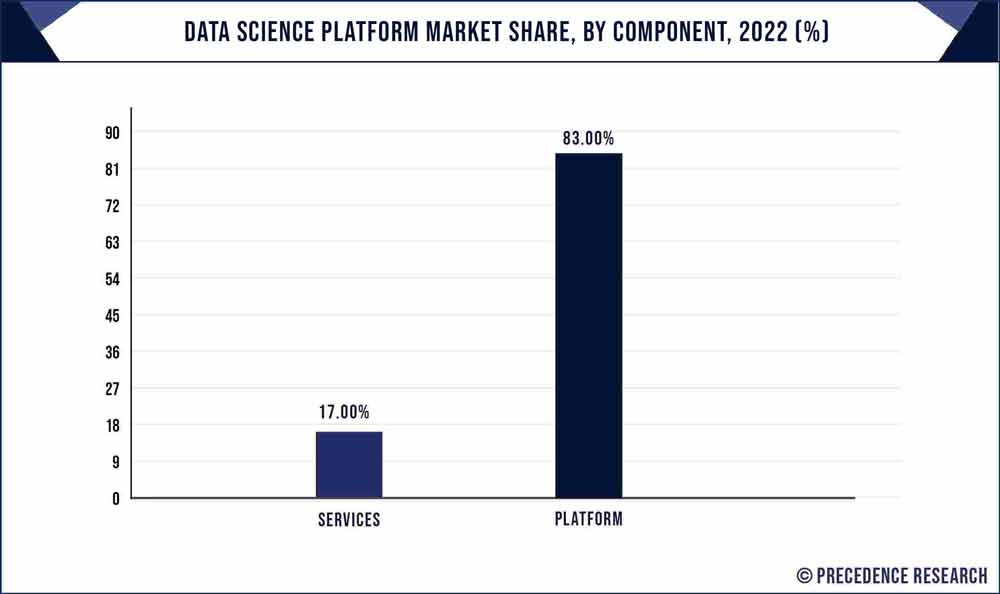 In the near future, it is projected that the services industry will grow. A few of the services offered by well-known businesses in the industry are training, consultation, deployment, integration, maintenance, and support. More businesses are seeking for methods to incorporate data science platforms into their working environments in order to benefit from increased productivity and efficiency since these platforms provide significant growth prospects. As a result, these services are extensively used to successfully incorporate technology into their current environments.
Application Insights
The segment that generated the most income in 2022 more than 35% was marketing and sales. The marketing and sales department's ability to use data science to get deeper insights into the buyer's persona and allocate the marketing budget accordingly, for example, has led to the segment's greatest revenue share and increased return on investment (ROI). Along with this, aspects like lower financial risk brought on by accurate expenditure calculations, more predictable income production, and improved customer experience all help the platform become more popular in the market.
The platform is being used by the logistics industry to streamline the supply chain procedure. It assists in drawing conclusions from information gathered about transport, stock inventory, and everything else, and then assists in spotting trends that have an influence on the whole supply chain. The platform is also being used by the financial and accounting industries to get more value out of data. Technology is being used by CFOs, accounting firms, and others to improve their analytics and data governance skills.
Verticals Insights
With nearly 20% of total sales in 2022, the BFSI category had the greatest revenue share. Based on verticals, the market is divided into segments for IT and telecommunication, healthcare, BFSI, manufacturing, retail and e-commerce, energy and utilities, government, and others. During the projected period, it is predicted that the healthcare category would expand. Medical imaging is one of the platform's most popular uses. The segment's quick adoption of the technology might be attributed to a strong emphasis on improving healthcare services.
The platform is also being used by the IT and telecom industries to boost productivity and efficiency. The platform assists in removing tedious operational activities and offers more in-depth analyses of data gathered from various sources. The fast adoption of technology in the retail and e-commerce sector is facilitated by model-driven choices made by utilising machine learning technologies. The increased usage of the platform to improve work and operational efficiency is expected to lead to growth in the manufacturing industry in the near future.
Deployment Mode Insights
On-premises segment is separated based on deployment mode to account for a greater market size over the projection period. Cloud computing is the practise of managing, processing, and storing data over networks of remote computers that are often accessed online. Enterprises use the on-premises deployment strategy of the Data Science Platform primarily in highly regulated sector verticals including BFSI, healthcare and life sciences, and manufacturing. Furthermore, the on-premises deployment approach is anticipated to be chosen by big businesses with adequate IT resources. The most dependable deployment method, which a company can rely on for a high level of security and control, is on-premises. To use cloud-based technologies, businesses must buy a licence or a copy.
Organization Size Insights
Large enterprises will account for a bigger market size over the projection period based on organisation size. Most Organizations having more than or equal to 1,000 employees are considered large companies in the study. Due to the growing popularity of the cloud, a lot of major businesses are using the data science platform, and the trend is anticipated to continue over the projection period. Large businesses gather enormous amounts of data from their diverse customer base. Data is crucial for assessing an organization's overall performance in large businesses. The data science platform is being used by large businesses to analyse data from a variety of sources, such as social media feeds, sensors, and webcams. Each record must be processed while maintaining its relationship to other data and its order in time.
Data Science Platform Market Share, By Region, 2022 (%)
| | |
| --- | --- |
| Regions | Revenue Share in 2022 (%) |
| North America | 36% |
| Asia Pacific | 25% |
| Europe | 29% |
| Latin America | 6% |
| MEA | 4% |

Geography Insights
In 2022, 36% of global income came from North America. This is because major regional market participants are increasingly concentrating on the continued development of these platforms. For instance, the introduction of a cloud-based data science platform was announced by the technology corporation Oracle in February 2020. The new platform's features include shared projects, team security policies, auditability, reproducibility, and model catalogues.
In 2022, the European market had the second-highest share. As the use of data-driven digital transformation grows, more businesses in the area are implementing the technology to spur development. With a noticeable growth in Data Science Platform throughout its developed and growing economies, Asia Pacific (APAC) has consistently provided attractive market prospects for suppliers of Data Science Platform solutions and services. There are several potential prospects in the market for data science platforms in Japan, China, and India. APAC is anticipated to become the area with the fastest-growing demand for Data Science Platform software and services over the course of the forecast period due to a quickly expanding technology-based economic structure.
Key Market Developments
MathWorks releases version 2021b of the MATLAB and Simulink product families in September 2021. Release 2021b (R2021b) of MATLAB and Simulink includes hundreds of new and updated features and functions, significant enhancements, Code rewriting and block editing, as well as the ability to run Python commands and scripts from MATLAB. Simulink updates now allow users to perform many simulations for various scenarios from the Simulink Editor and make custom tabs for the Simulink Toolstrip.
Google Vertex AI, a new managed ML platform from Google Cloud, will be updated in May 2021. It is intended to make it simpler for developers to deploy and maintain AI models. The fact that Google chose today to introduce Vertex demonstrates how important the company believes this new service is for a variety of developers. It is an unusual announcement at Google I/O, which typically concentrates on mobile and web developers and does not typically include much Google Cloud news.
Key market players
ALTERYX INC.
CLOUDERA INC.
DATAROBOT INC.
DOMINO DATA LAB INC.
Databricks
IBM CORPORATION
Rexer Analytics
RAPIDMINER INC.
RAPID INSIGHT
OLFRAM
Segments covered in the report
(Note*: We offer report based on sub segments as well. Kindly, let us know if you are interested)
By Component
By Application
Marketing & Sales
Logistics
Finance and Accounting
Customer Support
Others
By Industry Vertical
BFSI
Retail and E-Commerce
IT and Telecom
Transportation
Healthcare
Manufacturing
Others
By Organization Size
Small and Medium-Sized Enterprises
Large Enterprises
By Deployment Mode
By Geography
North America
Europe
Asia-Pacific

China
India
Japan
South Korea
Malaysia
Philippines

Latin America

Brazil
Rest of Latin America

Middle East & Africa (MEA)