The global dental anesthesia market size was estimated at USD 2.09 billion in 2022 and it is expected to surpass around USD 3.41 billion by 2032, growing at a CAGR of 5.02% over the forecast period 2023 to 2032.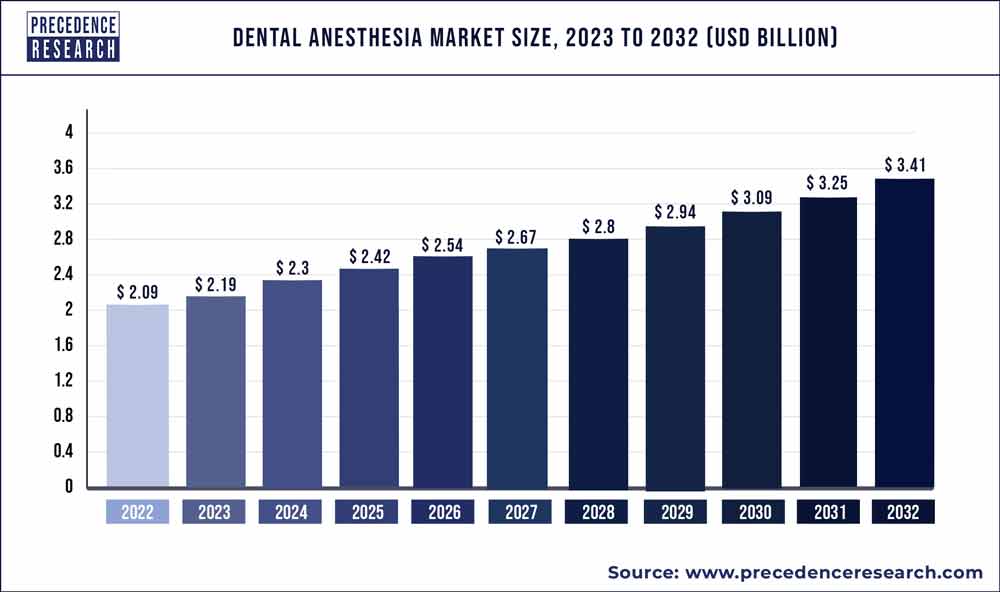 Access our Premium Real Time Data Intelligence Tool, Visit: Precedence Statistics


Key Takeaways:
Asia Pacific led market and captured more than 39% of the revenue share in 2022.
By type, the local segment generated more than 53% of revenue share in 2022.
By end-use, the dental clinics segment captured more than 54% of revenue share in 2022.
Market Overview
Drugs that cause reversible loss of sensation is called anaesthetics. Usually, they are administered to assist with the operation. Epinephrine and levonordefrin are the two vasoconstrictors utilised in the US. Dental anaesthesia is the term for the use of anaesthetic in dentistry. Prilocaine, bupivacaine, lidocaine, and articaine are epinephrine-containing dental anaesthetics. Dental is injected into the inside of the cheek or gum before any dental surgery is performed.
Local anaesthetics, sedation, and general anaesthesia are all comprised. The most used local anaesthetic in dentistry is lidocaine. In the body, lidocaine has a half-life of 1.5 to 2 hours. Lidocaine is most frequently used to numb the area around a tooth during dental operations. For instance, root canal therapy requires more lidocaine than cosmetic dentistry.
Modern sedation and anaesthetic techniques have simplified and improved dental operations. By injecting an anaesthetic solution close to the nerves that supply feeling to the area of the mouth cavity being treated, local anaesthesia is created. Dentistry frequently performs tooth extractions under anaesthesia.
The market for dental anaesthesia is expanding primarily due to two factors such as the rising need for dental examinations and the rising occurrence of dental issues. Dental caries, also referred to as tooth decay, is one of the most prevalent chronic diseases in both children and adults. Moreover, it is anticipated that during the projected period, rising technological developments and rising oral health awareness in developing areas will drive the market for dental anaesthesia.
Tooth decay is the most common dental problem in both children and adults, according to the National Institute of Dental Research. Moreover, approximately 92% of adults between the ages of 20 and 64 have dental caries. Poor food and bad lifestyle choices, particularly among teenagers, which increase dental decay, also contribute to the market's expansion. The demand for treatment and treatments increases as dental cases increase.
According to the CDC, 86.9% of children in the United States between the ages of 2 and 17 visited a dentist in 2019. The population's willingness to pay for expensive aesthetic dental procedures, particularly among the older population, is also growing as disposable incomes in emerging economies have increased.
Leading players in the dental anaesthetics market are focusing their strategic efforts on expanding their manufacturing capabilities and collaborating with numerous end users in order to solidify their global presence. In addition to smart mergers and acquisitions involving area leaders, they are also giving priority to R&D.
Nonetheless, many smaller businesses that account for a bigger share of the revenues from the global market continue to prioritize regional growth, new product launches, and product commercialization. The dental supply chain is comprised of a number of aspects and opportunities, from the point of manufacture to the point of sale. Dental anaesthetic producers are putting more and more emphasis on safeguarding brand reputation and the integrity of the supply chain.
In order to fulfil their requirements for managing products and help guarantee dentists obtain genuine, compliant dental items that perform as promised, various manufacturers are concentrating on partnerships with approved distributors. Manufacturers are focusing on increasing production while assuring cost effectiveness due to rising healthcare access, particularly in emerging nations, and the desire for individualized care.
Report Scope of the Dental Anesthesia Market
| | |
| --- | --- |
| Report Coverage | Details |
| Market Size in 2023 | USD 2.19 Billion |
| Market Size by 2032 | USD 3.41 Billion |
| Growth Rate from 2023 to 2032 | CAGR of 5.02% |
| Largest Market | Asia Pacific |
| Base Year | 2022 |
| Forecast Period | 2023 to 2032 |
| Segments Covered | By Product, By Alcoholic Content and By Distribution Channel |
| Regions Covered | North America, Europe, Asia-Pacific, Latin America and Middle East & Africa |

Market Dynamics:
The market for dental anaesthetics has grown quickly due to a number of factors, including an ageing population, an increase in tooth decay and other dental issues, and ongoing innovation by the top businesses in the sector. The availability of qualified anesthesiologists and strict regulatory criteria from various areas are also limiting the market growth for dental anaesthesia. New product introductions offer enterprises in the dental anaesthetic sector promising new business opportunities. In order to treat patients better and make dentists' tasks easier, modern dental equipment is used.
New drug designs are developed during the research and development stage to enhance product quality and make it easier to combine complex mixtures. Because there are so many options on the market, many companies are investing in research and development to create successful drugs. Research and development (R&D) require both technical know-how and creative ideas. Once the inputs are set and the R&D phase is over, dental anaesthetic production can start.
Ideation, design, development, and testing to ensure quality make up its four main steps. It may be possible to reduce the cost of this procedure by either locating more affordable raw material substitutes or by optimizing the current production process. Individuals in underdeveloped and developing countries have the least access to specialised medical treatment. The lack of anesthesiologists has an impact on dental screening and treatment globally. Because of this, there are not enough trained anesthesiologists to meet the growing need for dental anaesthesia on a global scale.
Nonetheless, a developing dental tourism industry has had an impact on the need for dental care, which has in turn increased the adoption of dental surgical treatments. This is further projected to bode well for the future of the dental anaesthetics market.
The introduction of new dental technologies, stricter laws, less expensive dental operations, and financial advancements in developing technologies all contribute to the sector's expansion. Individuals are becoming more knowledgeable about dental injuries and the methods required to treat them. The promotion of this information has been made possible through dental tourism. As a result, the global market for dental anaesthetics is projected to grow as dental tourism increases.
The market for dental care as a whole is seeing a significant tailwind due to expanding Medicaid and commercial insurance coverage. An individual health insurance plan lowers out-of-pocket expenses by more than 80%.
The Patient Protection and Affordable Care Act of 2010 is expected to increase the number of people who have access to dental benefits by giving them more information about their alternatives. The various options and options of plans that are available to consumers would also create a more organized and competitive market for health insurance by creating universal guidelines for the availability and cost of insurance.
COVID-19 Impact:
The pandemic's quick spread has had a negative influence on the dental anaesthetic sector. Also, several countries have stopped providing dental operations and other non-essential medical services. Various countries and industries were attempting to overcome the challenges that the novel coronavirus had brought forth (COVID-19).
One industry that was unsure of how COVID-19 will affect them was the dental industry. Dentists were at the greatest danger of acquiring and spreading the coronavirus, along with paramedics, nurses, and other medical personnel. These circumstances necessitated the lengthy closure of dental practices all around the world. In several countries, non-emergency surgical procedures including dental procedures were postponed so that medical professionals could concentrate on COVID-19 patients. These factors all had an adverse effect on market growth, earnings, and consumer spending.
Segments Insight:
Type Insights
Based on the type segment, sedation, general, and local anaesthetic make up the dental anaesthesia market segments. With a market share of 53% in 2022, local dental anaesthetic is anticipated to rule the dental anaesthesia industry in terms of revenue. A local anaesthetic is the most common type of anaesthesia. A local anaesthetic is used to treat simpler procedures that take less time to complete and are often easier, such filling cavities.
It is generally the most recommended option because it is the safest and has the fewest drawbacks. Clinical dentists have used local anaesthetics to lessen or completely eliminate the discomfort connected with invasive treatments since the eighteenth century. Moreover, local anaesthetics are frequently used during oral and maxillofacial surgery.
Local anaesthetics are most frequently used by dental professionals (LAs). These are safer pharmaceuticals. More than 40% of dental emergencies are uncomfortable and call for a LA injection.
Distribution Channel Insights
Pharmacies operate within drugstores all around the world to better serve their consumers. Rising consumer demand, an increase in customers, and the development of pharmacies and medicine stores all help to drive up sales of dental anaesthetics. As dermatologists, neurologists, cancer experts, and hospitals are all conveniently located nearby, pharmacies and drug stores are expected to account for a large share of the market.
End-Use Insights
Based on end use, Dental hospitals, dental clinics, and other entities make up the dental anaesthesia market segments. In 2022, the dental clinics segment generated more than 54% of the revenue share.
The major factors driving the expansion of the dental clinics segment are the expanding number of dental offices around the world and the widespread use of sophisticated dentistry by both large and small dental practices. Additionally, it is anticipated that the rise of dental clinics, particularly in developed nations, will hasten the market's progress. In industrialized countries, public healthcare offers dentists appropriate compensation for their procedures and services, depending on the region.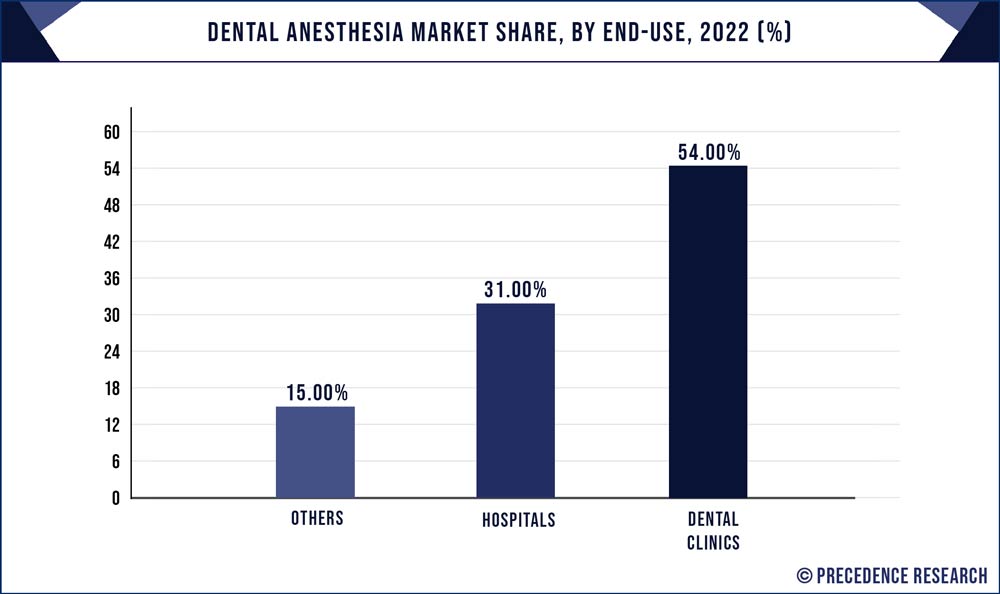 There may be a chance for dental clinics to prosper given the increased popularity of the dental franchise concept. The benefits of a dental franchise model include better negotiation position and cost reductions due to economies of scale. For instance, in September 2018, the Indian dental practise chain Clove Dental invested INR 171 crore ($25 million) to expand its franchise network to 600 clinics in India during the ensuing five years. This franchise model helps to reduce total treatment and service costs, which will boost the market for dental clinics by increasing the number of customers who use dental services.
Regional Insights
In 2022, the Asia Pacific led the market, with generated more than 39% of the revenue share and is predicted to grow significantly throughout the projected period.
This is brought on by the rising incidence of dental issues in both children and adults, as well as rising oral health awareness. Due to its favourable government initiative, sizable population, and accessibility to advanced healthcare facilities. Doctors are increasingly recommending dental implants to replace missing natural teeth in densely populated countries like China and India.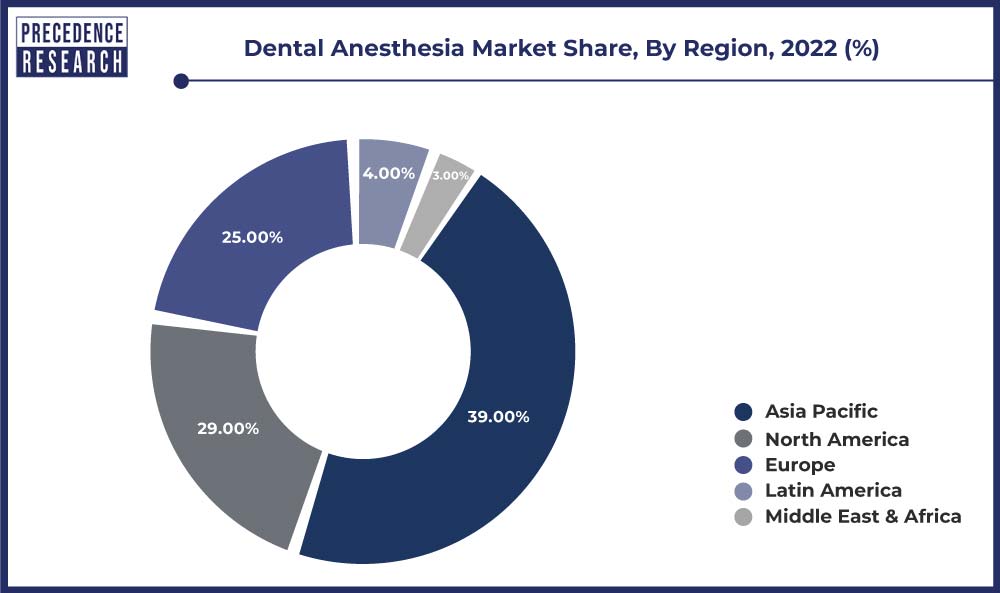 These countries experience a heavy burden of dental and oral conditions as well, which is driving greater need for routine dental checks and visits. Moreover, China and India are currently the largest tobacco producers and consumers with the lowest levels of understanding of the dangers of smoking. These factors are likely to propel the local market for dental anaesthesia.
Key Developments:
Milestone Scientific and Keystone Dental Group, a global commercial stage medical technology company with a wide range of tooth replacement solutions including implants, prosthetic solutions, biomaterial alternatives, and digital dentistry capabilities developed the STA Single Tooth Anesthesia System in April 2022.
Zimbis announced a new cooperation with Southern Anesthesia & Surgical Inc. in November 2021.
In conjunction with the announcement, an order integration with SAS that simplifies the challenging and lengthy process that oral surgeons and other professionals go normally to place orders and restock stock.
Key Companies
In the fiercely competitive global market for dental anaesthetic, there are both small and large businesses. These firms have put important business strategies including joint ventures, strategic alliances & collaborations, product innovation, new product launches, and contracts into place in order to strengthen their market position and expand their market share.
One of the key factors driving competitiveness among market players is the quick development of technology in the area of advanced dentistry. A number of companies are also collaborating to develop cutting-edge technology in order to promote their products more quickly. The market for dental anaesthesia is expected to continue to grow as a result of the efforts of industry players in Europe like DENTSPLY and Septodont to address the growing demand for higher-quality services and goods. Some key players in the dental anesthesia market are
Dentsply Sirona
Laboratorios Inibsa
Pierre Pharma
Septodont
Laboratorios Normon
Primex Pharmaceuticals
Aspen Group
Dentalhitec
Zeyco
3M
Segments Covered in the Report:
(Note*: We offer report based on sub segments as well. Kindly, let us know if you are interested)
By Type
By End-Use
Hospitals
Dental Clinics
Others
By Distribution Channel
Pharmacies And Drug Stores
E-Commerce
Other
By Geography
North America
Europe
Asia-Pacific
Latin America
The Middle East and Africa