The US dental services market size was worth USD 109.28 billion in 2020 and is expected to reach USD 196.18 billion by 2027, growing at a CAGR of 6.24% between 2021 and 2027. The growing pool of aging population is the key factor driving market growth.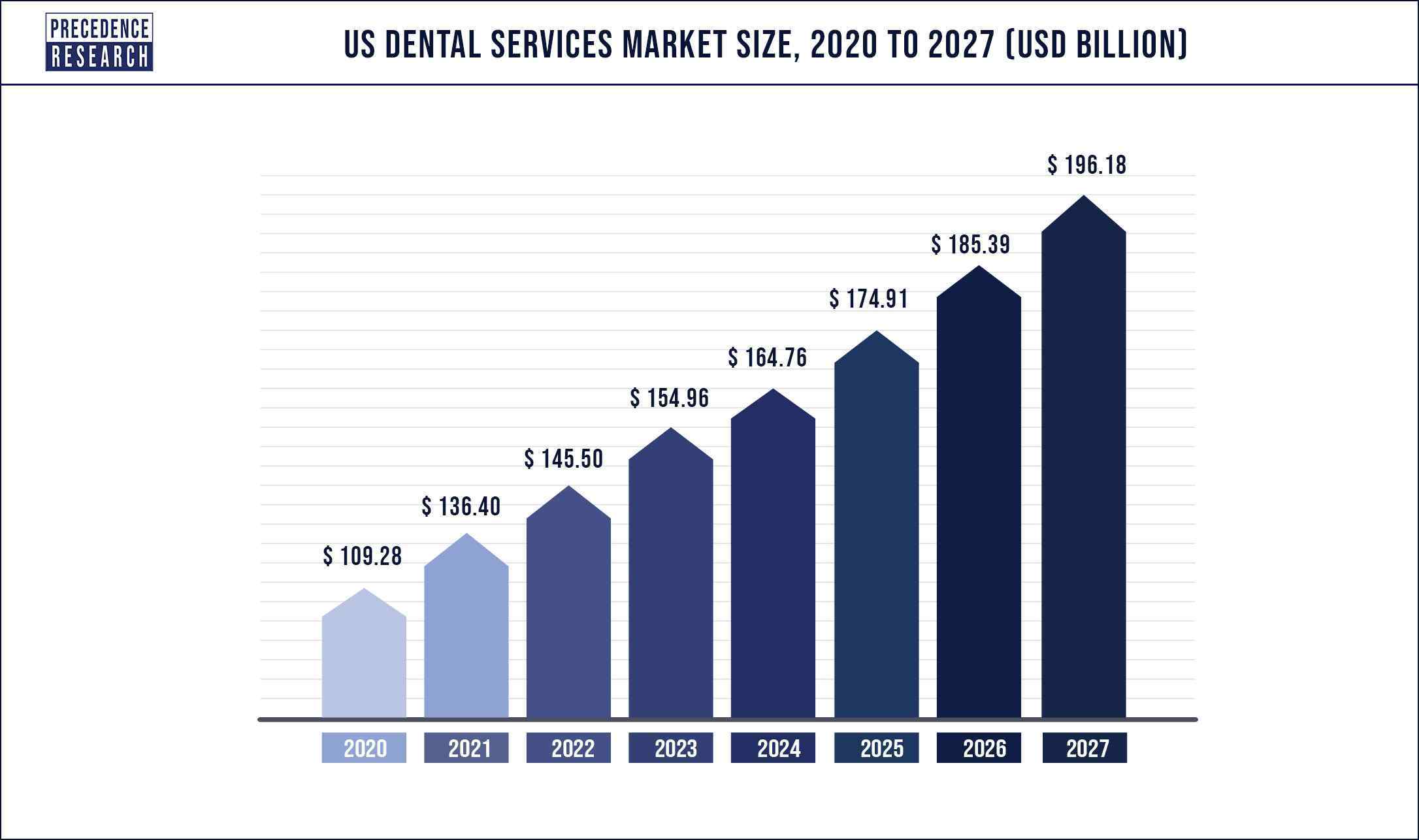 Market Drivers, Restraint, and Opportunity
According to statistics, the senior population in the United States increased by 15% between 2000 and 2010. By the year 2060, there are predicted to be 92 million senior people as people become older, their mouths shrink causing issues such as loose dentures, edentulism, dry mouth cavities, periodontal disease, and even oral cancer. In reality, most patients diagnosed with oral cancer are 62 years old on average.
Dentist demand will rise in the future as the population grows, along with the possibility that people will keep their teeth and require more care later in life. Aside from population growth, population demographics will shift, with baby boomers retiring and the population skewing younger. The younger population, which has benefited from water fluoridation, preventive dental education, and improved dental insurance coverage, suggests that the number of dental visits per person will decrease in the future, as will the efficiency of appointments.
On the other hand, reducing insurance payouts are expected to hamper the growth of the US dental service market. Most dentists face three challenges: insurance companies, insurance-driven patients, and anabsence of alliance from MDs. Every year, insurance providers reduce the fees that are paidto dentists for procedures or remove services entirely from their policy.
Insurance-driven patients pose an additional issue for dentists since they base their dental treatment selections exclusively on what their insurance will pay, rather than what they genuinely require. Most insurance companies only pay two cleanings per year, and some even require the cleanings to be six months apart from the day.
The digital transformation in dental medicine, which is based on electronic health data, is widely regarded as one of the most significant game-changers of the twenty-first century in terms of addressing current and future difficulties in dentistry and oral healthcare. The estimated top five trends and innovations of this new digital era with the potential to decisively influence the direction of dental research include
Rapid prototyping (RP)
Augmented and virtual reality (AR/VR)
Artificial intelligence (AI) and machine learning (ML)
Personalized (dental) medicine
Telehealthcare
Report Scope of the U.S. Dental Services Market
| | |
| --- | --- |
| Report Coverage | Details |
| Market Size in 2020 | USD 109.28 Billion |
| Growth Rate | CAGR of 6.24% From 2021 and 2027 |
| Revenue Projection By 2027 | USD 196.18 Billion |
| Base Year | 2021 |
| Forecast Period | 2021 to 2027 |
| Segments Covered | Services, Application |
| Companies Mentioned | Smile Brands Inc., Aspen Dental, InterDent (Gentle Dental), Coast Dental, Pacific Dental Services, Heartland Dental, Affordable Care, Great Expressions Dental Centers, Western Dental, Dental Care Alliance |
Dental Service Organization (DSO) Market Trends
DSOs provide a model for dentists to focus on their dental practice and provide the greatest and most up-to-date care for their patients while not having to worry about the practice's management and operations. DSOs have not only simplified dentistry for dentists, but they have also proven to be tremendously profitable for all parties involved.
As DSOs have grown in popularity, a variety of other models and sizes have emerged that can be derived from the fundamental DSO framework, allowing nearly any dentist or investor to join a DSO and invest in the ever-growing and dynamic dentistry market.
Even though the many DSO models have grown and altered, the DSO is still here to stay. With a present market penetration of 20% to 23% of DSOs in the United States, the consolidation of solo practices is on the rise. The DSO model has spread throughout the United States, as well as to other countries like Canada. In the future years, an estimated 6,000 to 8,000 fragmented and unaffiliated practices in the marketplace will shift from solo practices to DSO affiliated practices. Because of all of its excellent features, DSOs have remained and continue to flourish. They provide dentists, investors, and patients with numerous perks and advantages.
By Service Insights
Diagnostic & preventive services segment is expected to be the fastest growing market in the US dental service industry between 2021 and 2027. Rising consumer awareness regarding oral health is augmenting the growth of the market. Furthermore, the Centers for Illness Control and Prevention (CDC) encourages states to use proven interventions to minimize oral disease and enhance oral health. The Centers for Disease Control and Prevention (CDC) provides money, guidance, and technical help to state and territory health departments to monitor oral disease across populations and to develop and evaluate oral health programs.
By Application Insights
The US corrective dental service market was the largest revenue generating segment as of 2020. According to a survey, over 40% of individuals had oral pain in the last year, and over 80% people are expected to have minimum one cavity by 34 years of age. Each year, the US governmentexpends over USD 124 billion on dental treatments. Furthermore, dental crises necessitate unscheduled care, resulting in a loss of approximately 34 million school hours and over USD 45 billion in productivity each year.
Preventive dental service
Oral diseases are more common among populations disproportionately affected by coronavirus disease 2019 (COVID-19), and dental health and oral health care inequities are more common. COVID-19 has resulted in the closure of dental practices and a reduction in their hours of operation, except emergency and urgent treatments, limiting routine care and preventive. Aerosol-generating procedures used in dentistry can promote viral transmission. The pandemic presents a chance for the dentistry profession to transition away from surgical procedures and toward nonaerosolizing, prevention-focused methods to care.If regulatory barriers to oral health care access were removed during the pandemic, it could have a positive impact in the future.
The American Dental Association (ADA), the country's biggest dental organization, suggested that dental clinics postpone elective dental operations until April 6, 2020, and provide emergency-only dental services to avoid overcrowding in hospital emergency rooms on March 16, 2020. Due to an increase in infections, the ADA modified their guideline on April 1, 2020, advising offices to close all but urgent and emergency procedures until April 30 at the earliest.As a result, dental treatment became much more difficult to obtain. According to an ADA Health Policy Institute poll conducted during the week of March 23, 2020, 76% of dental offices were closed but treating emergency patients exclusively, 19% were fully closed, and 5% were open but seeing a decreased volume of patients.
Corrective dental services
Dental anomalies that affect the position or alignment of teeth can have a significant impact on a smile's appearance and usefulness. Orthodontic treatment, which includes braces, retainers, and clear aligners, corrects crowded or crooked teeth, overbite (when top teeth extend beyond bottom teeth), underbite (when bottom teeth are too far forward or upper teeth are too far back), inappropriate jaw posture, and jaw-joint abnormalities.
When the upper and lower jaws do not connect properly, resulting in an unequal bite, orthodontic treatment may be required (malocclusion). Uneven bites can lead to a temporomandibular joint problem if they aren't treated properly (TMJ).
Teeth that protrude, are crowded or are unevenly spaced, and jaw disorders may be inherited. Accidents (dental damage), not using protective gear like mouth guards during physical activity, and premature tooth loss, as well as thumb sucking and tongue pushing, may all contribute to orthodontic issues requiring treatment.
Braces can cost anything from $2,500 to $7,000. Many dental insurance policies cover orthodontic treatments, which are typically considered restorative. Transparent aligners (e.g., Invisalign and ClearCorrect) and other types of orthodontic treatment may be covered by dental insurance; the cost of clear aligners is comparable to or higher than the cost of braces.
More than 40% of individuals say they've had oral pain in the recent year, and more than 80% of people will have had at least one cavity by the age of 34. Each year, the United States spends more than $124 billion on dental treatment. Each year, dental crises necessitate unscheduled care, resulting in the loss of nearly 34 million school hours and more than $45 billion in productivity.
Therapeutic dental services
Minnesota became the first state to license dental therapists in 2009, to improve dental health for underprivileged people. A dental therapist is a trained oral health practitioner who works as part of a dental team to provide patients with educational, clinical, and therapeutic services. Under the guidance of a dentist, dental therapists perform the basic preventive and restorative treatment to children and adults, as well as extractions of primary (baby) teeth. Dental therapists primarily operate in settings that assist low-income, uninsured, and underserved populations, or in areas where there is a shortage of dental health professionals.
A licensed Dental Therapist (DT) and a certified Advanced Dental Therapist (ADT) were formed by Minnesota legislation (ADT). These two sorts of providers have relatively similar scopes; the main variation is the level of supervision.
"Reforming America's Healthcare System Through Choice and Competition" was released in 2018 by the US Departments of Health and Human Services (HHS), Treasury, and Labor, in partnership with the US Federal Trade Commission and White House Presidential Departments. The paper includes policy recommendations for state and federal governments to promote healthcare choice and competition. "Emerging healthcare occupations, such as dental therapy, can enhance access and bring down prices for consumers while still providing safe care," according to the paper.Unnecessary statutory and regulatory barriers to the creation of such new occupations should be avoided at all costs." "States should review growing healthcare occupations, such as dental treatment, and identify ways in which their licensure and scope of practice can enhance access and lower consumer prices while still assuring safe, effective care," the research suggests.
Dental therapy is currently legal in the following states: Minnesota, Maine, Vermont, Arizona, Michigan, New Mexico, Nevada, and Connecticut. Dental therapists are also permitted to practice on tribal grounds in Washington, Idaho, and Montana. In Alaska, dental therapists also provide services on indigenous grounds. The state of Oregon has established a pilot program to allow dental therapists, and the legislature is anticipated to approve permanent authorization in 2021.
As we look ahead to the state legislative sessions of 2021, we expect nine states to consider dental therapy legislation. Florida, Kansas, Massachusetts, New York, North Dakota, Oregon (for permanent authorization), Washington (for the entire state), and Wisconsin are among these states.
Competitive Landscape Analysis
Heartland Dental, Aspen Dental, Pacific Dental Services, and Smile Brands are the leading providers of the dental services market in the US. These companies have been focusing on expansions and partnerships over the past few years.
Strategies adopted by key players, 2019-2021 (YTD)
| | | | |
| --- | --- | --- | --- |
| | Joint Venture/ Collaboration/ Partnership/ Agreement | Merger & acquisition/ Expansion/ Investment | Merger & acquisition/ Expansion/ Investment |
| 2019 | 13 | 57 | |
| 2020 | 3 | 19 | 1 |
| 2021 | 9 | 36 | |
| Total | 25 | 112 | 1 |
Smile Brands Inc.
Aspen Dental
InterDent (Gentle Dental)
Coast Dental
Pacific Dental Services
Heartland Dental
Affordable Care
Great Expressions Dental Centers
Western Dental
Dental Care Alliance
Market Segmentation
By Services
Cosmetic Dentistry
Endodontic Procedures
Periodontal Dentistry
Orthodontic and Periodontic Services
Diagnostic and Preventive Services
Oral and Maxillofacial Surgery
By Application
Preventive
Corrective
Therapeutic