The US dental services market size was estimated at USD 136.40 billion in 2021 and is expected to reach over USD 196.18 billion by 2027, growing at a CAGR of 6.24% between 2021 and 2027. The growing pool of the aging population is the key factor driving market growth.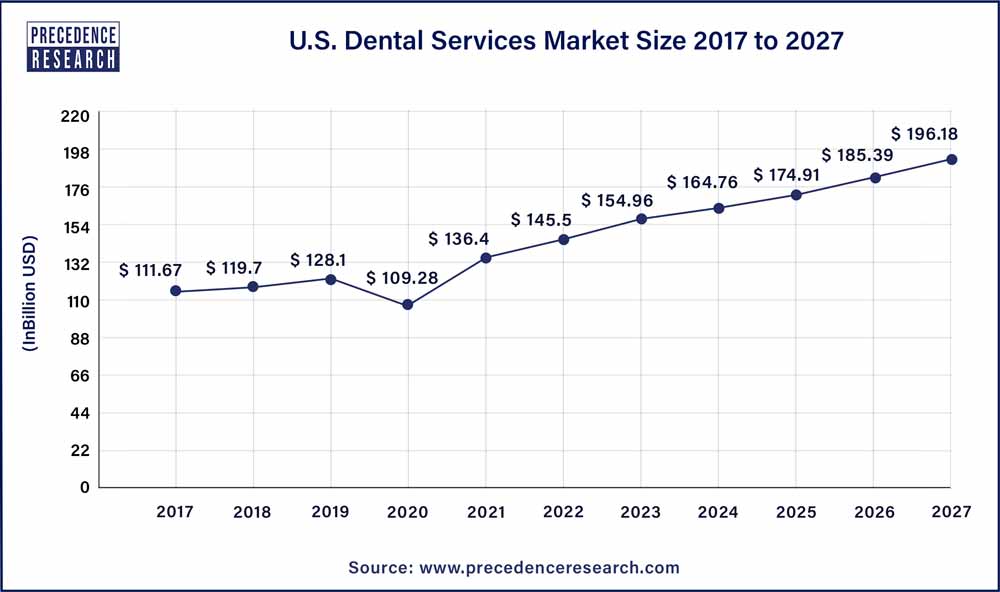 Access our Premium Real Time Data Intelligence Tool, Visit: Precedence Statistics
Market Drivers
The aging population drives the demand for dental services
According to statistics, the senior population in the United States increased by 15% between 2000 and 2010. By the year 2060, there are predicted to be 92 million senior people as people become older, their mouths shrink causing issues such as loose dentures, edentulism, dry mouth cavities, periodontal disease, and even oral cancer. In reality, most patients diagnosed with oral cancer are 62 years old on average.
Population changes influencing the future workforce
Dentist demand will rise in the future as the population grows, along with the possibility that people will keep their teeth and require more care later in life. Aside from population growth, population demographics will shift, with baby boomers retiring and the population skewing younger. The younger population, which has benefited from water fluoridation, preventive dental education, and improved dental insurance coverage, suggests that the number of dental visits per person will decrease in the future, as will the efficiency of appointments.
Aside from population growth, population demographics will shift, with baby boomers retiring and the population skewing younger. The younger population, which has benefited from water fluoridation, preventive dental education, and improved dental insurance coverage, suggests that the number of dental visits per person will decrease in the future, as will the efficiency of appointments.
Preventive interventions that have been widely available for decades, such as fluoride, combined with rising standards for oral health have had a significant impact on oral health advancements during the last 50 years and will help shape the field's future. These gains in oral health are essential variables in reducing the amount of time it takes to maintain the average patient's oral health.
Between 2015 and 2040, large aggregate differences will result from different dental health experiences among birth cohorts. The variation in the size of the birth cohorts will accentuate these discrepancies. The baby-boom generation, those born between the end of WWII and 1964, suffered considerably higher levels of deterioration as children than any other birth group since.
The dental industry has faced enormous challenges in maintaining and repairing these massive numbers of highly repaired teeth during the last several decades. Since then, the birth groups have had significantly less damage to their dentitions as children and young adults, and as a result, they require less intense treatment per capita and in aggregate. By 2040, each dentist will be able to maintain the dental health of a greater number of these healthier people in less time.Dentists will need to spend less time per patient on the average American adult in 2040 as younger, healthier cohorts replace older cohorts with more demanding care demands.
Mandatory pediatric dental coverage in private health insurance plans is another trend affecting the future of the dentistry workforce. Although expanding pediatric dental coverage has fueled current demand for pediatric providers, that need will level off as more children are covered. Opportunities for pediatric dentists to care for at-risk and underserved groups will continue to exist, but it is unclear if an updated payer model will be beneficial in better supporting these patients.
Report Scope of the U.S. Dental Services Market
| | |
| --- | --- |
| Report Coverage | Details |
| Market Size in 2022 | USD 145.5 Billion |
| Market Size by 2027 | USD 196.18 Billion |
| Growth Rate from 2021 to 2027 | CAGR of 6.24% |
| Base Year | 2021 |
| Forecast Period | 2021 to 2027 |
| Segments Covered | Services, Application |
| Companies Mentioned | Smile Brands Inc., Aspen Dental, InterDent (Gentle Dental), Coast Dental, Pacific Dental Services, Heartland Dental, Affordable Care, Great Expressions Dental Centers, Western Dental, Dental Care Alliance |
Dental Service Organization (DSO) Market Trends
DSOs provide a model for dentists to focus on their dental practice and provide the greatest and most up-to-date care for their patients while not having to worry about the practice's management and operations. DSOs have not only simplified dentistry for dentists, but they have also proven to be tremendously profitable for all parties involved.
As DSOs have grown in popularity, a variety of other models and sizes have emerged that can be derived from the fundamental DSO framework, allowing nearly any dentist or investor to join a DSO and invest in the ever-growing and dynamic dentistry market.
Even though the many DSO models have grown and altered, the DSO is still here to stay. With a present market penetration of 20% to 23% of DSOs in the United States, the consolidation of solo practices is on the rise. The DSO model has spread throughout the United States, as well as to other countries like Canada. In the future years, an estimated 6,000 to 8,000 fragmented and unaffiliated practices in the marketplace will shift from solo practices to DSO affiliated practices. Because of all of its excellent features, DSOs have remained and continue to flourish. They provide dentists, investors, and patients with numerous perks and advantages.
Non-dentist investors who desire to invest in the dentistry business can also own DSOs. Non-dental investors are sometimes able to provide more profitable options than licensed dentists, resulting in higher rates of return. DSOs also enable succession planning if the owner dentists pass away, become disabled, or lose their license.
When a group of successful orthodontists decided to manage the business aspect of dentistry in the 1990s, the DSO model was born. The concept was to separate dentist management from dental practice to make things easier for dentists and patients while still being financially profitable.
Focus on clinical practice
Separating the nonclinical from the clinical minimizes overhead and boosts reimbursement rates in general. Instead of dealing with all of the management and operations of the dental office, which may become detailed and time demanding, the dentist can focus on treating patients, which enhances the grade of treatment. Dentists might also practice dentistry as they see fit and concentrate completely on their practice.
Furthermore, DSOs have superior management skills to dentists who attended dental school rather than business or management school. By entrusting the management and nonclinical aspects of the dental practice to a DSO, the dentist is delegating authority to an expert in that sector.
Allowing business specialists who specialize in hiring and maintaining staff, negotiating leases with landlords, and handling reimbursement rates and insurance contracts, for example, to do their jobs will help the practice grow. Professional nonclinical components of a dental practice can be handled by these business management experts, allowing dentists to focus on and build their expertise and practice.
DSOs also give its dentists and doctors more opportunities to network. DSOs help dentists learn and explore new things while also introducing them to new technology. Small dental practicesthat join DSOs gain access to cutting-edge technology that allows them to deliver better care to their patients. A DSO's first goal is proper patient care, and many DSOs support continuing education programs for its dentists as well as good mentoring opportunities.
DSOs do not want to be associated with practices that do not give their patients the best possible care and safety. As a result, DSOs will ensure that their dentists are well-cared for and receive the most up-to-date information and educational opportunities, including mentorships. Dentists can connect with more dentists by joining a DSO. Young dentists who are members of a DSO are frequently able to seek mentorship and guidance from other, more experienced dentists in the DSO.
Additionally, DSOs allow dentists to achieve a better work-life balance. Dentists can attain a better work-life balance than solo practitioners since they no longer have to control the managerial and nonclinical components of their practice. Dentists that work with DSOs have more time to focus on other things while still being able to practice dentistry without having to worry about the ins and outs of the dental office's operations.
Efficiency and legal compliance
Third, DSOs make dental practices more efficient and comply with the law. DSOs establish a consistent and standardized approach throughout all of their dental clinics. Regardless of the location, the patient is aware of the level of care and expectations that can be expected when visiting one of the DSO's facilities. This standardization also includes standardized regulatory compliance and the potential for practitioners to discover best practice procedures.
Regulations must be followed by all dental practices, and they must have a corporate structure that prioritizes regulatory compliance. Small practices, especially those looking to grow across state lines, may find this difficult. If a dental practice is trying to establish distinct practices across the country, a DSO can help ease some of the stress of having various laws in each state.
COVID-19 landscape
Patient Safety Challenges:
Infection control and prevention in the dental office setting
Dental practitioners are well-versed in occupational health issues and risk assessments to mitigate risk, as well as the use of Standard Precautions to prevent infection spread directly or by cross-contamination. SARS-CoV-2 prevention necessitates new management tactics that may differ from those used to combat other illnesses. COVID-19 has a 2-14-day incubation period (median 4 days), and while the virus is known to be particularly transmissible when individuals are sickest, transmission can happen before symptoms appear.Furthermore, the majority of persons infected with SARS-CoV-2 may show no symptoms or symptoms that are similar to seasonal allergies or influenza, leading to an undetected incidence rate of up to 50%. As a result, even asymptomatic dental patients should be considered potential carriers, and a routine screening process for both patients and staff should be implemented to ensure that both symptomatic and recently exposed individuals stay at home for the safety of all patients and dental team members.
Elective dental care for patients with confirmed or suspected COVID-19 should be postponed until the patient meets the criteria for home isolation cessation, according to current guidelines (as of May 29, 2020). To prevent the spread of infection, the Centers for Disease Control and Prevention (CDC), the American Dental Association (ADA), the Occupational Safety and Health Administration (OSHA), and others have developed various treatment guidelines for patients with confirmed or suspected COVID-19 who require emergency or urgent dental care. Providers of dental treatment are urged to:
If possible, perform aerosol-generating dental treatments in a negative pressure environment (airborne infection isolation room or AIIR).
Hand hygiene should be practiced in addition to conventional, contact, and airborne precautions.
To avoid gag reaction, extraoral radiographs (e.g. panoramic radiography) should be used instead of intraoral radiographs.
Only have those dental healthcare providers (DHCP) present during the operation who are necessary for patient care and procedure support.The number of visitors should be kept to a minimum.
To reduce droplet splatter and aerosol creation, use a dental handpiece with an anti-retraction mechanism, four-handed dentistry, high evacuation suction, and rubber dams.
Use ultrasonic equipment, high-speed hand pieces, and 3-way syringes sparingly.
To extend supplies without affecting outcomes, do endodontic treatments with dilute (1%) sodium hypochlorite solutions.
To avoid the need for a follow-up session, use resorbable sutures (those that last 3 to 5 days in the oral cavity).
Maintain a dry environment by disinfecting surfaces using EPA-approved chemicals.
Wear an N95 or higher-level respirator (e.g., disposable filtering facepiece respirator, powered air-purifying respirator, or elastomeric respirator); eye protection (e.g., goggles, reusable face shields); gloves; and a gown.
As most, if not all, private practice dental offices lack AIIRs, and bigger dental organizations may have dental operatories packed in open spaces with no physical boundaries, using a negative pressure room may provide issues. While the patient is actively undergoing, and soon following, a potentially aerosol-generating procedure, the CDC presently recommends positioning a portable HEPA air filtration unit near the patient's chair (but not behind the DHCP).
Access for patients needing oral healthcare
Dental care is delayed for a variety of reasons, including dental office closures, a fear of seeking care during a pandemic, the loss of employer-sponsored dental insurance coverage, and other considerations. Routine dental appointments provide an opportunity to deliver preventive oral health care (such as fluoride therapy and sealants) as well as discover oral signs of systemic disease that could otherwise go unnoticed. Untreated tooth decay or other infections can result from a lack of access to basic dental care, leaving patients with no other option except to visit a hospital emergency department, where treatment is expensive and can disrupt more pressing requirements, especially during a pandemic.Furthermore, many emergency rooms lack the personnel and equipment necessary to give permanent dental care and instead supply patients with temporary solutions such as prescriptions for pain and/or infection relief until definitive care can be delivered elsewhere.
FQHCs play a critical role in delivering dental services to marginalized populations who are at high risk of unmet oral health care needs; in 2018, about 6.4 million US individuals got dental care at an FQHC. 39 Some FQHC dental programs have responded to COVID-19 by redeploying dental workers to frontline COVID-19 testing or triage responsibilities or furloughing staff, significantly reducing access to care.Furthermore, when state Medicaid programs face financial difficulties, dental coverage is frequently among the first items to be reduced. During the Great Recession of 2008, 19 states cut adult dental services from their Medicaid programs or curtailed them. Loss of dental coverage among low-income individuals resulted in less dental care and more visits to the emergency room for dental problems. Reduced Medicaid coverage for dental treatment reduces FQHCs' ability to provide dental services because they are often heavily reliant on Medicaid funding.
Re-configuring dental practice
New obstacles may delay the restoration to routine delivery of non-emergent care as a result of the COVID-19 pandemic. To restart safe patient care, current recommendations for communications, protocols, and physical precautions must be in place. Interim guidance from the ADA, for example, includes:
Reassurance letters to patients;
Using a text, phone, or email pre-appointment screening process to guarantee that patients with symptoms compatible with COVID-19 – or recent exposure to infected individuals – do not visit the dentist;
Expanding the in-office registration process to screen outpatients who have symptoms consistent with COVID-19, or who have been exposed to or recently tested for SARS-CoV-2; providing and requiring proper use of a face mask; checking patients' temperature (>100.4°F) with a thermometer; and providing wipes or materials to clean pens, clipboards, counters, phones, keyboards, light switches, and other "high touch" surfaces
Extending the time between patients as needed to provide for adequate cleaning and disinfecting of exam rooms;
To limit the danger of SARS-CoV-2 transmission, extensive preparation techniques for the physical office and personnel were implemented to prepare the environment and educate the staff with new policies and procedures;
To prepare operatories, use a chairside checklist;
Staff protection strategies may include in-office clothing recommendations (emphasizing that clinical attire should only be worn in the dental practice and not back to staff members' homes or other community settings to prevent SARS-Cov-2 cross-contamination), special guidance for staff who are pregnant or have other factors that increase their risk of severe COVID-19 disease, and a COVID-19 daily screening log for dental team members to use before entering the practice;
As part of physical distance, limiting the number of patients in the waiting room at the same time; and
Using teledentistry to determine if a patient's oral health needs can be handled remotely, such as real-time video consultations.
Some dentists have set up telemedicine services to provide virtual care to their patients during the shutdown. Tele-dentistry is "a combination of telecommunications and dentistry, involving the exchange of clinical information and images over long distances for dental consultation and treatment planning", and it includes the use of phone, photos, and videos to make oral healthcare and oral health education services more accessible. The patient must have a smartphone and Internet connectivity to participate in teledentistry.A cloud-based tele-dental platform can allow both real-time video streaming and "save and forward" of clinical data acquired, such as data from the electronic health record (EHR) and pictures received from the patient, for the dentist. A technology like this can collect all data, allowing the dentist to examine the patient remotely and provide recommendations. Problem-focused and urgent care evaluations (e.g., acute swelling/pain) with pharmacologic therapy; follow-up care after emergency visits; and virtually triaging of patients for COVID-19 symptoms are all possible services delivered as part of a teledentistry appointment.
Due to payment limitations, state constraints, and the notion that dental care requires in-person visits, teledentistry has not been widely adopted by the dental profession in the past. Current teledentistry research focuses on how it can be used in public health, in diverse contexts, for specific conditions, training, addressing access concerns, and costs. Two short oral medicine trials show how dental practitioners can successfully use teledentistry. There are several models for teledentistry, one of which involves a dental hygienist setting up a temporary dental clinic, such as in a school or senior center.Dentists, on the other hand, have turned to a model that does not require an in-person mediator during the pandemic. The American Dental Association (ADA) released interim billing and coding standards for teledentistry visits on April 14, 2020, to make teledentistry more accessible during the pandemic. While the epidemic has required its usage, additional research is needed to understand the technology requirements, reimbursement criteria, and the types of oral health issues that may be properly addressed with teledentistry.
Providing safe dental care during the COVID-19 pandemic may need dentists to adjust their workflow patterns or re-configure their clinic layouts, in addition to guaranteeing appropriate additional personal protective equipment (PPE) supplies, which is not specifically stipulated in the revised standards. The Centers for Disease Control and Prevention (CDC) provides clear information about personal protective equipment (PPE) and related acquisition difficulties. These changes may result in higher expenses (for information on possible reimbursement, see the section "Federal Guidance and Resources for the Dental Community"). Furthermore, wearing PPE can be uncomfortable, and performing certain procedures while wearing PPE can be physically demanding.Providers may also face a difficult balancing act between a large backlog of patients who were in the middle of treatment when state or local directives forced closure and patients with new, unmet urgent requirements, prompting them to explore extending their practice hours. These situations can lead to several issues, including a desire to restrict patient exposure, exhaustion, burnout, and pressure to shorten process times, all of which can lead to an increase in dental practice errors.Patient safety and quality of treatment can be jeopardized by knowledge-based active errors (e.g., misdiagnosis), rule-based active errors (e.g., forgetting instructions), or skill-based active errors (e.g., leaving cement in the sulcus). Managing essential modifications from well-practiced procedures while under additional budgetary, stress, and time restrictions may raise the likelihood of patient safety failures during dental care.
Future considerations
The COVID-19 pandemic has had an immediate influence on how dental care can be administered safely, and it is likely to prompt long-term changes in how dental care is delivered. There will be a lot of unsolved problems for the dentistry profession to consider, such as whether the workflow and layout of dental clinics should be permanently rearranged, and whether extended PPE is warranted for all dental patients as part of Standard Precautions. Patients' dental insurance benefits may have altered as a result of the pandemic, and dental care professionals should be prepared to help them comprehend them.The COVID-19 pandemic may hasten the adoption of innovative dental workforce models, such as dental therapists who complete at least 3 years of academic training and work in collaboration with a dentist to provide a limited scope of treatment, such as prevention, fillings, and periodontal disease treatment. In rural and tribal regions, dental therapists have been found to lower total dental expenditures and increase access. The lower cost of dental therapists may encourage their adoption or a more independent scope of practice in a rebounding economy.
By Service Insights
Diagnostic & preventive services segment is expected to be the fastest growing market in the US dental service industry at a CAGR of 8.91% between 2021 and 2027. Rising consumer awareness regarding oral health is augmenting the growth of the market. Furthermore, the Centers for Illness Control and Prevention (CDC) encourages states to use proven interventions to minimize oral disease and enhance oral health. The Centers for Disease Control and Prevention (CDC) provides money, guidance, and technical help to state and territory health departments to monitor oral disease across populations and to develop and evaluate oral health programs.
U.S. Dental Services Market, By Services, 2021-2027 (USD Billion)
| | | | | |
| --- | --- | --- | --- | --- |
| By Services | 2021 | 2022 | 2025 | 2027 |
| Cosmetic Dentistry | 13.61 | 14.71 | 18.39 | 21.15 |
| Endodontic Procedures | 37.66 | 39.38 | 44.48 | 47.75 |
| Periodontal Dentistry | 15.21 | 16.07 | 18.77 | 20.64 |
| Orthodontic and Periodontic Services | 18.77 | 19.77 | 22.90 | 25.03 |
| Diagnostic and Preventive Services | 24.56 | 26.89 | 34.86 | 40.98 |
| Oral and Maxillofacial Surgery | 19.28 | 20.80 | 25.83 | 29.58 |
By Application Insights
The US corrective dental service market was the largest revenue generating segment as of 2020. According to a survey, over 40% of individuals had oral pain in the last year, and over 80% people are expected to have minimum one cavity by 34 years of age. Each year, the US governmentexpends over USD 124 billion on dental treatments. Furthermore, dental crises necessitate unscheduled care, resulting in a loss of approximately 34 million school hours and over USD 45 billion in productivity each year.
Preventive dental service
Oral diseases are more common among populations disproportionately affected by coronavirus disease 2019 (COVID-19), and dental health and oral health care inequities are more common. COVID-19 has resulted in the closure of dental practices and a reduction in their hours of operation, except emergency and urgent treatments, limiting routine care and preventive. Aerosol-generating procedures used in dentistry can promote viral transmission. The pandemic presents a chance for the dentistry profession to transition away from surgical procedures and toward nonaerosolizing, prevention-focused methods to care.If regulatory barriers to oral health care access were removed during the pandemic, it could have a positive impact in the future.
The American Dental Association (ADA), the country's biggest dental organization, suggested that dental clinics postpone elective dental operations until April 6, 2020, and provide emergency-only dental services to avoid overcrowding in hospital emergency rooms on March 16, 2020. Due to an increase in infections, the ADA modified their guideline on April 1, 2020, advising offices to close all but urgent and emergency procedures until April 30 at the earliest.As a result, dental treatment became much more difficult to obtain. According to an ADA Health Policy Institute poll conducted during the week of March 23, 2020, 76% of dental offices were closed but treating emergency patients exclusively, 19% were fully closed, and 5% were open but seeing a decreased volume of patients.
Corrective dental services
Dental anomalies that affect the position or alignment of teeth can have a significant impact on a smile's appearance and usefulness. Orthodontic treatment, which includes braces, retainers, and clear aligners, corrects crowded or crooked teeth, overbite (when top teeth extend beyond bottom teeth), underbite (when bottom teeth are too far forward or upper teeth are too far back), inappropriate jaw posture, and jaw-joint abnormalities.
When the upper and lower jaws do not connect properly, resulting in an unequal bite, orthodontic treatment may be required (malocclusion). Uneven bites can lead to a temporomandibular joint problem if they aren't treated properly (TMJ).
Teeth that protrude, are crowded or are unevenly spaced, and jaw disorders may be inherited. Accidents (dental damage), not using protective gear like mouth guards during physical activity, and premature tooth loss, as well as thumb sucking and tongue pushing, may all contribute to orthodontic issues requiring treatment.
Braces can cost anything from $2,500 to $7,000. Many dental insurance policies cover orthodontic treatments, which are typically considered restorative. Transparent aligners (e.g., Invisalign and ClearCorrect) and other types of orthodontic treatment may be covered by dental insurance; the cost of clear aligners is comparable to or higher than the cost of braces.
More than 40% of individuals say they've had oral pain in the recent year, and more than 80% of people will have had at least one cavity by the age of 34. Each year, the United States spends more than $124 billion on dental treatment. Each year, dental crises necessitate unscheduled care, resulting in the loss of nearly 34 million school hours and more than $45 billion in productivity.
U.S. Dental Services Market, By Services, 2021-2027 (USD Billion)
| | | | | |
| --- | --- | --- | --- | --- |
| By Services | 2021 | 2022 | 2025 | 2027 |
| Preventive | 31.88 | 34.77 | 44.55 | 52.03 |
| Corrective | 75.71 | 79.95 | 93.21 | 102.37 |
| Therapeutic | 28.82 | 30.78 | 37.16 | 41.79 |
Therapeutic dental services
Minnesota became the first state to license dental therapists in 2009, to improve dental health for underprivileged people. A dental therapist is a trained oral health practitioner who works as part of a dental team to provide patients with educational, clinical, and therapeutic services. Under the guidance of a dentist, dental therapists perform the basic preventive and restorative treatment to children and adults, as well as extractions of primary (baby) teeth. Dental therapists primarily operate in settings that assist low-income, uninsured, and underserved populations, or in areas where there is a shortage of dental health professionals.
A licensed Dental Therapist (DT) and a certified Advanced Dental Therapist (ADT) were formed by Minnesota legislation (ADT). These two sorts of providers have relatively similar scopes; the main variation is the level of supervision.
"Reforming America's Healthcare System Through Choice and Competition" was released in 2018 by the US Departments of Health and Human Services (HHS), Treasury, and Labor, in partnership with the US Federal Trade Commission and White House Presidential Departments. The paper includes policy recommendations for state and federal governments to promote healthcare choice and competition. "Emerging healthcare occupations, such as dental therapy, can enhance access and bring down prices for consumers while still providing safe care," according to the paper.Unnecessary statutory and regulatory barriers to the creation of such new occupations should be avoided at all costs." "States should review growing healthcare occupations, such as dental treatment, and identify ways in which their licensure and scope of practice can enhance access and lower consumer prices while still assuring safe, effective care," the research suggests.
Dental therapy is currently legal in the following states: Minnesota, Maine, Vermont, Arizona, Michigan, New Mexico, Nevada, and Connecticut. Dental therapists are also permitted to practice on tribal grounds in Washington, Idaho, and Montana. In Alaska, dental therapists also provide services on indigenous grounds. The state of Oregon has established a pilot program to allow dental therapists, and the legislature is anticipated to approve permanent authorization in 2021.
As we look ahead to the state legislative sessions of 2021, we expect nine states to consider dental therapy legislation. Florida, Kansas, Massachusetts, New York, North Dakota, Oregon (for permanent authorization), Washington (for the entire state), and Wisconsin are among these states.
Competitive Landscape Analysis
Heartland Dental, Aspen Dental, Pacific Dental Services, and Smile Brands are the leading providers of the dental services market in the US. These companies have been focusing on expansions and partnerships over the past few years.
Smile Brands Inc.
Aspen Dental
InterDent (Gentle Dental)
Coast Dental
Pacific Dental Services
Heartland Dental
Affordable Care
Great Expressions Dental Centers
Western Dental
Dental Care Alliance
Market Segmentation
By Services
Cosmetic Dentistry
Endodontic Procedures
Periodontal Dentistry
Orthodontic and Periodontic Services
Diagnostic and Preventive Services
Oral and Maxillofacial Surgery
By Application
Preventive
Corrective
Therapeutic