The U.S. imaging services market size was reached at USD 133.76 billion in 2022 and it is expected to hit around USD 216.84 billion by 2032, poised to grow at a CAGR of 5% during the forecast period from 2023 to 2032.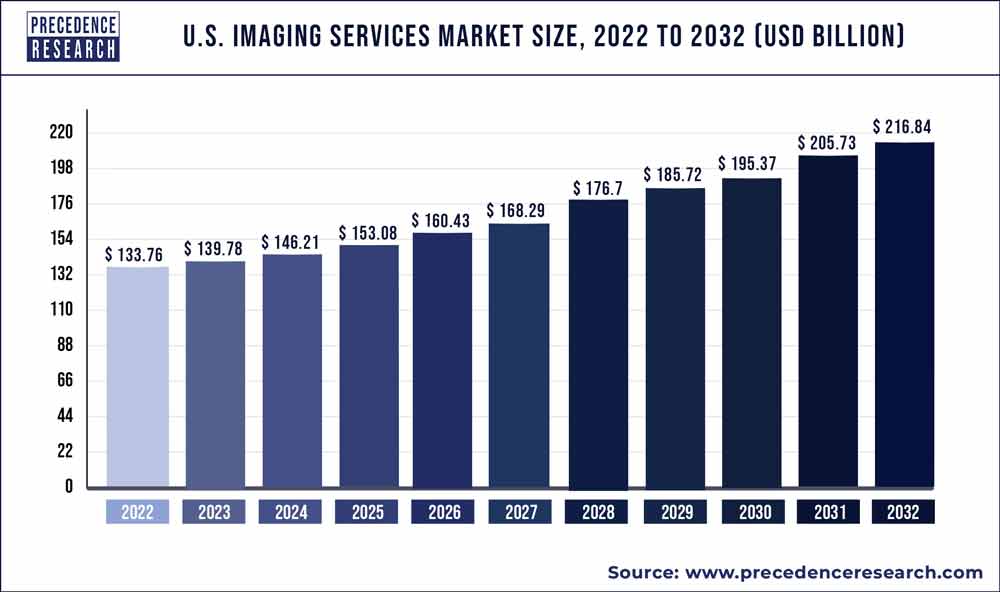 Access our Premium Real Time Data Intelligence Tool, Visit: Precedence Statistics
Market Overview
The Medical imaging is the diagnostic technique that provides crucial information with speed, safety, and accuracy. There are different imaging modalities included such as x-ray, ultrasound, MRI Scans, CT scans, and nuclear medicines scans which are the congenital techniques used for the diagnosis of multiple diseases. Moreover, imaging services benefit in early diagnosis of the disease, which helps in positive treatment. Imaging services market growth is attributed to factors including the increasing prevalence of cancer and cardiac disorders with growing awareness about medical imaging technology. For instance, in 2020, a research study of the international agency for cancer research stated that around 2,281,658 new cancer cases were diagnosed in the U.S with 612,390 deaths in the same year. Moreover, the market is estimated to boost owing to the development of various technologies enhancement in medical imaging services.
Report Scope of the US Imaging Services Market
Report Coverage
Details
Market Size in 2023
USD 139.78 Billion
Market Size by 2032
USD 216.84 Billion
Growth Rate from 2023 to 2032
CAGR of 5%
Base Year
2022
Forecast Period
2023 to 2032
By Modality

X-rays
CT scans
Nuclear medicine scans
Ultrasound
Mammography

By End-user

Hospitals
Diagnostic Imaging Centers
Others

Market Dynamics
Technology advancement in imaging services is estimated to drive the market
The advancement of multiple technologies for improving medical imaging services is estimated to drive market growth. Furthermore, the rising aging population and high prevalence of cancer are the factors that are fueling market growth. The overall growth is projected by factors such as growing funding to support ongoing research activities and increasing private-public initiatives related to medical imaging.
Contrast-enhanced ultrasound and lung CT scans have been extensively utilized in assessing COVID-19 patients during the first and second waves of the pandemic. These modalities were also used with magnetic resonance imaging for the clinical trials of COVID-19 vaccines. However, the overall procedural volume declined due to the cancellation and delay of planned hospital visits.
The lack of skilled technicians is the key factor hampering the growth of the market
The lack of skilled radiologists for non-COVID operations was one of the major factors restraining the market growth. The restrictions in hospital visits and imaging centers drastically reduced the regular imaging procedures including scheduled mammography screenings. The market is expected to witness growth with the adoption of ambulatory imaging centers and teleradiology services.
The rise in the adoption of imaging services in the US is anticipated to drive the market
The use of imaging services is progressively expanding in the U. S. to promote early disease detection, which enhances the disease's treatment possibilities. Additionally, the market is anticipated to grow as non-invasive and affordable procedures are adopted. Medical imaging services take less time than other invasive procedures which shortens hospital stays and thus helps in reducing the cost expenses. Technologies are being developed to improve the image quality that is collected by medical imaging systems. These clear, detailed images aid in early disease diagnosis, which enhances the effectiveness of treatment. Therefore, many medical professionals are adopting medical imaging technologies in imaging services before performing surgeries in order to manage the rising disease burden. To visualize and determine the margins of tumors during surgeries, medical professionals rely on preoperative MRI and CT scans in imaging services.
Medical imaging systems are used by healthcare professionals in interventional radiology to direct minimally invasive surgical operations to treat, detect, and cure multiple illnesses. CT, fluoroscopy, ultrasound, and MRI are types of imaging modalities. When compared to open surgery techniques, minimally invasive surgeries have many advantages, including shorter hospital stays, quicker recovery times, smaller incisions, less discomfort, and reduced scarring. These advantages are anticipated to drive the expansion of the U.S. imaging services market.
COVID-19 Impact
The United States has experienced a significant decline in the volume of imaging tests such as CT, X-Ray, MRI, and Ultrasound during the pandemic. During the pandemic, the need for diagnosis had increased which the imaging sector has taken a hit owing to the fact that medical imaging devices are priced exorbitantly and so the higher prices for respective medical imaging tests as well. In addition to this, the market has experienced instability which led to delayed manufacturing, shipment, and payment, which has hindered the processing of past purchases. Despite this, the demand and utilization of POC device has increased. As a result, manufacturers are focused on POC equipment and digital solutions that can enable imaging in patient areas. However, service providers were severely impacted in terms of revenue due to the restricted movement enabled during the execution of the lockdown while dealing with covid-19.
Segments Insight
Modality Insights
Based on modality, the U.S Imaging services market is segmented into X-rays, CT scans, nuclear medicine scans, ultrasound, MRI scans, and mammography. The X-ray segment holds the largest market share during the forecast period. X-ray is a common primary medical imaging modality for multiple tests and procedures.
This service provides non-invasive disease diagnosis and monitoring, as well as assistance in optimal surgical treatment planning. However, the adoption of this service decreases during the projected period. Since more effective techniques with less related adverse effects are available. Ionizing radiation used in X-ray imaging is toxic and can trigger DNA damage, which can lead to cancer and other diseases.
Additionally, the contrast chemicals used in X-ray imaging may cause different reactions in the body. CT scan, on the other hand, is predicted to expand at the fastest rate during the forecast period. The imaging modality's key advantage is that it allows for detailed imaging of bone, blood vessels, and soft tissues all at once. Furthermore, this service is less expensive and takes less time than other modalities.
End-Use Insights
Based on end-use, the U.S Imaging services market is segmented into hospitals, diagnostic imaging centers, and others. In 2022, the hospitals segment held the largest market share of around 40%. owing to the rise in the prevalence of various conditions such as cancer and cardiac disorders. Furthermore, the availability of several imaging modalities at a single facility and imaging procedure reimbursement policies, are expected to have an impact on overall market growth.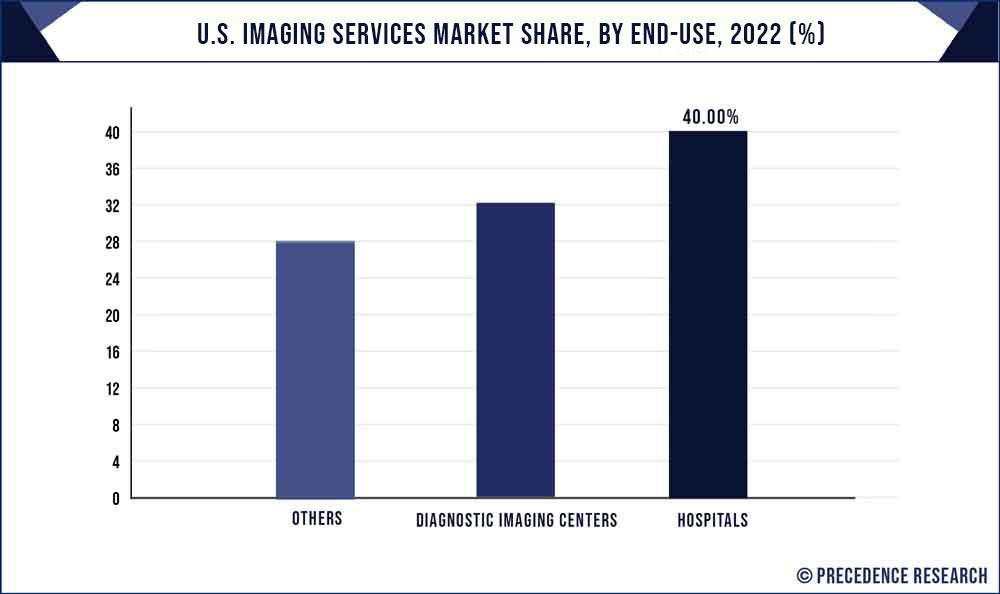 Policies impacting sophisticated diagnostic imaging services such as CT, MRI, PET/CT, and nuclear treatments have been developed by Congress and the Centers for Medicare & Medicaid Services (CMS). Imaging services are covered by Medicare through multiple payment systems, including the Hospital Outpatient Prospective Payment System (HOPPS), the Physician Fee Schedule (PFS), and the Inpatient Prospective Payment System.
Recent Developments
In July 2022, Canon medical systems USA Inc. announced its competition of acquisition of NXC Imaging which is a medical imaging equipment distributor and service provider. This partnership broadened and enhanced the sales of U.S. and outreach in the Upper Midwest region.
In October 2021, RadNet announced a joint venture with Dignity Health in Arizona. This contributed to Dignity Health and RadNet's current commitment to providing high-quality imaging services to patients and targeted medical communities.
In December 2020, U.S Radiology announced its acquisition with ImageSouth which is the largest outpatient imaging service provider in Birmingham, Alabama. This acquisition accelerates the growth of the U.S Radiology by expanding its presence in the southeast serving more patients and referring physicians throughout the state.
Key Market Players
Alliance Medical Limited
RadNet, Inc
InHealth Group
Sonic Healthcare Limited
Concordmedical®
RAYUS Radiology
Medica Trading LLC
UNILABS
Novant Health
Dignity Health
SimonMed
Segments Covered in the Report
(Note*: We offer reports based on sub-segments as well. Kindly, let us know if you are interested)
By Modality
X-rays
CT scans
Nuclear medicine scans
Ultrasound
Mammography
By End-user
Hospitals
Diagnostic Imaging Centers
Others