The U.S. behavioral health market accounted for USD 87.3 billion in 2022 and is expected to reach USD 136.6 billion by 2032 poised to grow at a noteworthy CAGR of 5.10% during the forecast period 2023 to 2032.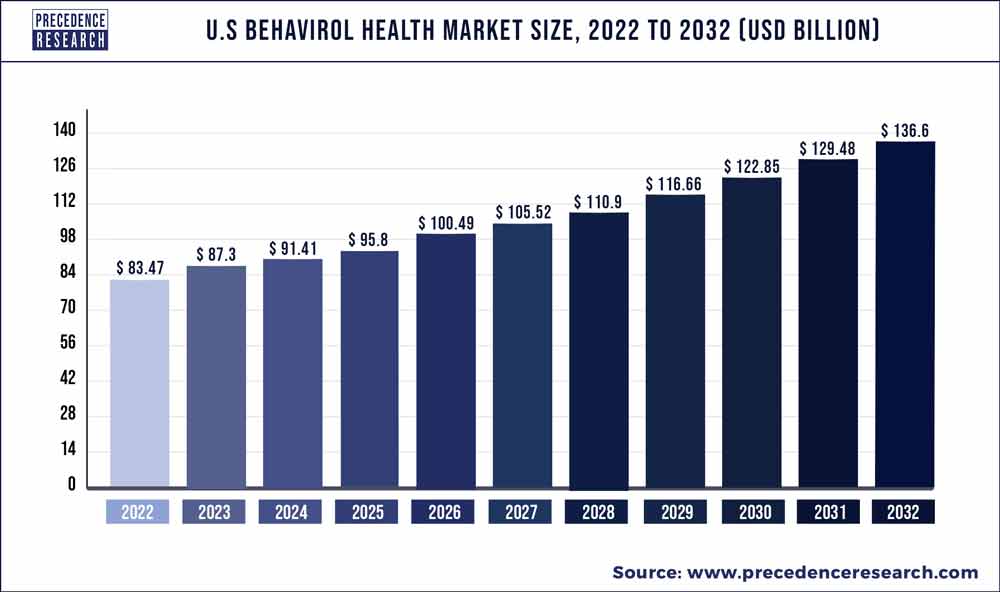 Access our Premium Real Time Data Intelligence Tool, Visit: Precedence Statistics
Key Takeaways
By service, the outpatient counseling segment has held the maximum revenue share in 2020.
By Disorder, the anxiety & depression segment has held the largest revenue share in 2020.
By End User, the outpatient clinics segment held the major market share in 2020.
U.S. Behavioral Health Market Overview
Behavioral health is characterized by the wellbeing of mind, body and spirit. The behavioral symptoms include low mood, lack of positive emotion and other range of associated physical, emotional and cognitive issuessuch assubstance abuse disorders, personality disorders, depression, or other addictive behaviors. It is the most common health condition affecting 1 in every 5 individuals in the US as stated by National Institute of Mental Health in 2019. Additionally, it has been found that 1 in 4 Americansexperience mental disorder yearly as per Substance Abuse and Mental Health Services Administration (SAMHSA). Therefore, the uprising prevalence of mental disorders is anticipated to drive the US Behavioral Health Market.
The rise in adoption of digital behavioral health services during the COVID-19 has opened new avenues for the key participants of the market. Moreover, detrimental impact on many people's mental health during the COVID 19 pandemic hasleveraged the adoption of various technologies to combat the situation. Therefore, improved access to behavioral health care in the US with growing prevalence of mental disorders is fueling the market growth. In addition, remarkable funding for managing the behavioral health issues has fuelled the market for the US behavioral health having a positive impact during the pandemic period. However, dearth of Medicare coverage and inadequate reimbursement to mental care services is impeding the market growth.
Mental disease and drug abuse disorders are both examples of behavioral health illnesses. Mental illnesses are diagnosable conditions marked by persistent and severe changes in thought, emotion, and/or behavior. Substance use disorders are illnesses caused by the misuse of alcohol or other drugs, including prescriptions. People who require behavioral health care may have one or both of these illnesses, as well as physical co-morbidities.
Mental health is a crucial part of a person's total health. The public commonly thinks of a "healthy individual" as someone free of medical diseases, but a perfectly healthy person is someone who is in a state of complete bodily, mental, and social well-being. Furthermore, excellent mental health entails much more than the absence of mental illnesses or disabilities. A wide range of social, biological, and psychological elements all have a role in determining an individual's mental health. External variables, such as stress, socioeconomic situations, prejudice, and violence, are frequently a component of the equation. Individuals with good mental health are more likely to be able to work efficiently, cope with the regular demands of daily life, and contribute to their families and communities.
The global behavioral health market size was valued at USD 140.01 billion in 2019 and to reach over US$ 242 billion by the end of 2027 with a growing CAGR of 5.02% during forecast period 2021 to 2027.
U.S. Behavioral Health Market Scope
| | |
| --- | --- |
| Report Coverage | Details |
| Market Size in 2023 | USD 87.3 Billion |
| Market Size by 2032 | USD 136.6 Billion |
| Growth Rate from 2023 to 2032 | CAGR of 5.10% |
| Base Year | Base Year |
| Forecast Period | 2023 to 2032 |
| Segments Covered | By Service, By Disorder, and By End User |
As per the National Alliance of Mental Illness (NAMI), where the evidences about the US mental illness conducted by the US Department of Justice, Centers for Disease Control and Prevention (CDC) and Substance Abuse and Mental Health Services Administration (SAMHSA) is highlighted below:
Prevalence of Mental Illness in the US
1 in 5 US adults suffers from mental illness every year
1 in 20 US adults go through serious mental illness every year
1 in 6 US youth aged between 6-17 years experience some king of mental disorder yearly
Approximately, 50% of lifetime mental illness arises start from age 17, and about 75% by age 24
Suicide is the second leading cause of death amongst people aged 10-34
As per the Kaiser Family Foundation (KFF) Health Tracking Poll from July 2020, there are numerous adults that were reported with specific negative effects on their mental health and well-being, such as difficulty sleeping (36%) or eating (32%) due to worry and stress over the coronavirus, increases in alcohol consumption or substance use (12%), and worsening chronic conditions.
US Behavioral Health Market Share, By End User, 2022 (%)
| | |
| --- | --- |
| End User Segment | 2022 (%) |
| Outpatient Clinics | 37% |
| Hospitals | 26% |
| Rehabilitation Centers | 23% |
| Homecare Setting | 14% |
Covid Impact
The COVID-19 pandemic has resulted in prolonged lockdowns with limited access to health facilities and limited provisions by clinics and hospitals for non-emergency care. This has paved way for digital technologies such as telehealth in this space, resulting in a large number of start-ups introducing innovation to combat and address mental health issues. Increasing funding for start-ups catering to different disorders, demographics, and income groups is expected to drive the growth of the US behavioral health market over the next few years.
Market Dynamics
Market Drivers
Rise of digital behavioral health to drive the market
Many people around the world are experiencing increased worry as a result of the outbreak. A behavioral health crisis has been driven by social, political, and economic upheaval, as well as a protracted-time of physical separation. According to a recent poll conducted by Mental Health America, about 100,000 Americans have experienced anxiety or sadness as a result of the COVID-19 disruptions. According to research published in April 2020, 13.6 % of US people showed signs of severe psychological discomfort, up from 3.9 % in 2018.
As people looked for alternatives to in-person behavioral health treatments, Google searches for "virtual mental health" surged at the end of Q1 2020. Within three months of testing positive for COVID-19, roughly one in five individuals are diagnosed with a psychiatric condition such as anxiety, depression, or insomnia, according to a study conducted by the University of Oxford and the NIHR Oxford Health Biomedical Research Centre. It's no wonder, then, that digital behavioral health firms garnered over USD 1.6 billion in funding in 2020, the most in any year.
When compared to the same period the previous year, funding for digital behavioral health firms was much greater in 2020. We found that funding increased by 47 % in Q4 2020 compared to the previous quarter. Despite the constraints posed by COVID-19, this consistent increase in investment suggests that businesses in this industry are still growing.
Trends in digital behavioral health marketspace
1. Employer-focused startups
Employers are the focus of seven of the top 10 funded digital behavioral health firms. Some of the more well-known startups on this list include Lyra Health, Spring Health, Omada, and Ginger.io. Employer benefit programs are specifically geared to fulfill the demands of working professionals at these companies. These services include behavioral coaching and advice on how to maintain a healthy work-life balance. Individuals use these programs, but they also assist employers in providing mental health treatment options for their employees.
Behavioral health data and insights are provided by startups in this industry to their employers. They also contain a variety of activities and lifestyle change advice, as well as treatment. Ginger, for example, provides behavioral health coaching services in addition to a behavioral health analytics platform that translates mobile data into health insights.
2. Telehealth platforms lead the pack
Before the pandemic, telehealth adoption in psychiatry and therapy was at 80%, according to an Amwell survey. Following the start of the pandemic, this number jumped to 96 % in 2020. And, post-COVID-19, 100 % of those in psychiatry said they would be willing to employ telemedicine in 2020.
Telehealth platforms account for about 55 % of all digital behavioral health businesses that have received funding in 2020 as of December 10th. During the pandemic, platforms specializing in teletherapy and mental care, such as Mindstrong, MDLive, and SonderMind, acquired the most traction. These businesses aim to bridge the gap between patients and behavioral health professionals such as psychiatrists, psychologists, and counselors. Whether through chats, video conversations, or phone calls, they provide counseling electronically.
3. Meditation and sleep-tracking platforms take the spotlight
By the end of July 2020, Ginger.io had noticed a 20% rise in night-time talks with behavioral health counselors, indicating sleep disruption caused by stress and anxiety. According to a Teladoc survey, anxiety is becoming more prevalent among Gen Z and Millennials. In 2020, 58 % of patients with all mental health diagnoses covered in the survey were found to have anxiety and adjustment anxiety disorders, compared to 53 % in 2019. Platforms that allow for meditation and sleep tracking have been particularly popular. These apps aid in the treatment of stress, sadness, and insomnia, among other mental illnesses.
Calm, a meditation and anxiety management software that became a unicorn in February 2019, has just upped its valuation to USD 2 billion following the receipt of USD 75 million in investment. It reported that daily downloads have increased in 2020 compared to the previous year and that customers have listened to more than 1 billion minutes of their material this year, representing a 100 % increase over 2019.
4. The intersection of behavioral health and chronic disease management
According to data conducted by the North Country Health Consortium, 68 % of persons with mental illness had one or more chronic health issues. According to the Centers for Disease Control and Prevention (CDC), six out of every ten adults in the United States have a chronic illness. It is one of the top causes of mortality and disability, as well as a major contributor to the country's yearly healthcare costs of USD 3.5 trillion. An aging population and cultural changes are both contributing to a steady rise in these frequent long-term health issues.
Chronic disease patients have been unable to travel frequently to receive care and control their symptoms, both physical and mental, as a result of COVID-19. Digital behavioral health firms that specialize in treating chronic disease patients have grown in prominence as a result of this. In 2020, chronic disease-related behavior management systems received approximately USD 120 million in investment. Omada and Vida Health have been the market leaders in this space, with funding totaling USD 57 million and USD 25 million, respectively.
Market Opportunity
1. Payer-based strategy to provide opportunities for market growth
In the United States, the personal and societal costs of behavioral health disorders, such as mental health and substance abuse, are widely established, large, and growing. The epidemic of coronavirus is worsening the problem. Even before the pandemic, the consequences were dire: increased suicide rates, a sharp increase in drug overdose mortality, and a much shorter life expectancy among persons with serious mental illness. These sobering figures create a picture of a mental health care system in disarray, one that is woefully unprepared to satisfy the national demand that is only expected to rise in the aftermath of COVID-19.
Several system-level barriers hinder access to behavioral health care. There is a nationwide deficit of behavioral health providers, which is unlikely to improve in the next ten years. Because of the low compensation, many established providers do not join insurance networks, and patients typically refuse treatment when faced with high out-of-pocket costs. There are several evidence-based therapies available in behavioral health, but only a few practitioners consistently administer these interventions.
Despite a national need for measurement-based behavioral health care, the use of outcome measures is limited due to a lack of provider adoption and technology infrastructure to measure and report results on a large scale. As a result, only around half of Americans with mental illnesses receive treatment. Even when they do, quality isn't measured, and there's reason to believe it's low.
New solutions are needed to address these issues during and after the pandemic, and not simply from policymakers and healthcare providers. Payers, whose influence on behavioral health care access has been questioned or condemned, now have a chance to improve the future. Payers have always been primarily focused on cutting behavioral health costs, frequently in collaboration with carve-out corporations, contributing to the current inaccessible and fragmented system. However, there is a rising awareness of the harmful impact of behavioral health problems on overall health and costs, which is especially important for accountable care organizations (ACOs) and other risk-bearing entities now that COVID-19 has been implemented.
As a result, Blue Cross and Blue Shield of North Carolina (Blue Cross NC), a not-for-profit health insurer serving over four million people, is in the second year of a long-term plan to improve behavioral health access, quality, and efficiency. Eliminating the carve-out, integrating care, raising payment through value-based reimbursement, deploying point solutions at scale, and quantifying effect are the five actions outlined in this essay. While this plan was implemented before COVID-19, it offered a solid foundation for us to pivot rapidly and adapt to the pandemic's new behavioral health features. This model exemplifies how payment reform can spur the establishment of a flexible and responsive behavioral health system, particularly during times of high demand.
Service Insights
On the basis of service the market is segmented into home-based treatment services, outpatient counselling, emergency mental health services, inpatient hospital treatment and intensive care management.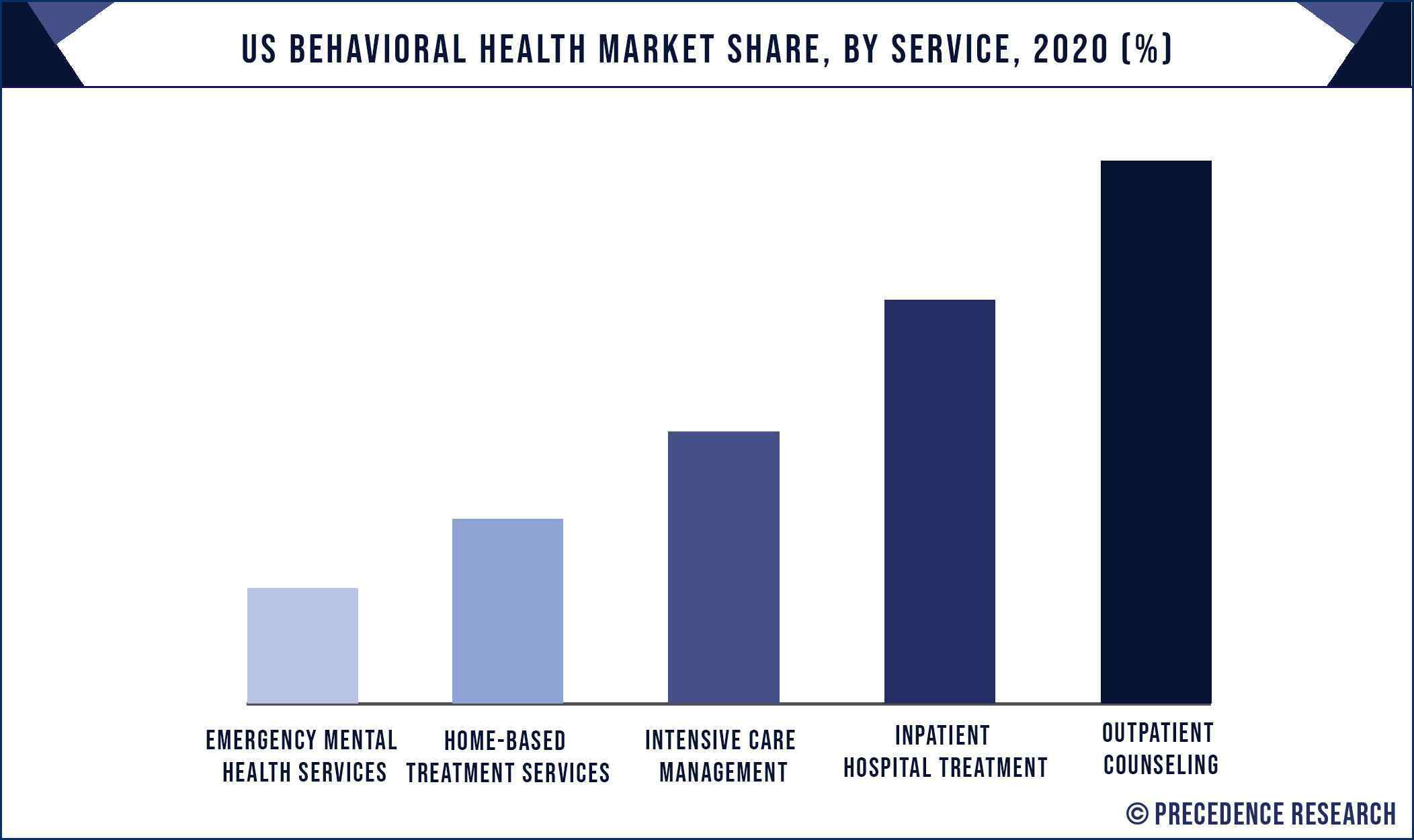 In the service category, outpatient counseling segment dominated by generating one third market shares in the year 2020 and expected to retain the same trend during the forecast period. Whereas, home-based treatment services are expected to witness maximum gains over the forecast period due to patient preference for a more comfortable environment, reduced access to hospitals due to the prevalence of COVID-19, and increasing penetration of telehealth solutions.
Disorder Insights
Based on disorder, the market is bifurcated into bipolar disorder, anxiety disorder, depression, post-traumatic stress disorder, eating disorder, substance abuse disorder and others.
Anxiety & depression disorder accounted for the largest market share in 2020 due to the prevalence of COVID-19 resulting in social distancing and lockdowns. Substance abuse disorder was the second-most prevalent problem in the US behavioral health market in 2020. Moreover, the economic fallout and systemic inequity emerged in the year 2020 has exacerbated the behavioral healthcatastrophe in the US. For instance, as per the recent study in the US, it was obtained that people associated with negative behavioral health were badly affected by the COVID-19 and there share augmented from 32% to 53%from March to July of the same year 2020.
End User Insights
The end user segment is categorized into outpatient clinics, hospitals, rehabilitation centers and homecare setting.
In the End User category outpatient clinics accounted for the largest market share in 2020 and the segment is expected to continue to remain the largest as the majority of patients are diagnosed with mild to moderate symptoms and do not necessarily need to be admitted to hospitals.The demand for homecare settings is expected to grow significantly during the forecast period due to patient preference considering the outbreak of COVID-19. Furthermore, the increasing penetration of telehealth solutions in this medical field by doctors and patients alike is expected to augment the growth of the homecare settings segment during the forecast period.
U.S. Behavioral Health Market Players
The report provides a comprehensive analysis of the key players operating in the USBehavioral Health market. These include Acadia Healthcare, Promises Behavioral Health (Elements Behavioral Health), Epic Health Services (Aveanna Healthcare), Universal Health Services, Behavioral Health Group, Inc., IBH Population Health Solutions, CuraLinc Healthcare, North Range Behavioral Health, Ardent Health Services and CRC Health Group. The other players operating in the value chain are Lyra Health, Pear Therapeutics, Ginger, Neuronetics, Modern Health and Quartet Health.
Challenges to Implementation of Telehealth
Level
Additional Challenges
Individual client and provider
Increasing access to and comfort using telehealth
Interpersonal client-provider relationships

Preparing clients to use telehealth
Building a therapeutic relationship

Organizational

Assessing organizational needs
Increasing organizational readiness and workforce capacity to participate in telehealth
Ensuring security and confidentiality

Regulatory and reimbursement environments
Complying with federal, state, and local regulations
KEY BENEFITS FOR PATRONS
The study provides an in-depth analysis along with the current trends and future estimations of the U.S. Behavioral Health market to elucidate the imminent investment pockets.
A comprehensive analysis of the factors that drive and restrict the market growth is provided.
The quantitative analysis of the industry from 2016 to 2027 is provided to enable the stakeholders to capitalize on the prevailing market opportunities.
An extensive analysis of the key segments of the industry is provided to understand the profitability of the various types of products.
The key players and their strategies are analyzed to understand the competitive outlook of the market.
KEY MARKET SEGMENTS
By Service
Home-Based Treatment Services
Outpatient counseling
Emergency mental health services
Inpatient hospital treatment
Intensive care management
By Disorder
Bipolar Disorder
Anxiety Disorder
Depression
Post-Traumatic Stress Disorder
Eating Disorder
Substance Abuse Disorder
Others
By End User
Outpatient Clinics
Hospitals
Rehabilitation Centers
Homecare Setting