The U.S. corporate wellness market size was estimated at USD 18.49 billion in 2021 and is expanding to around USD 32.07 billion by 2030, poised to grow at a CAGR of 5.67% during the forecast period 2021 to 2030.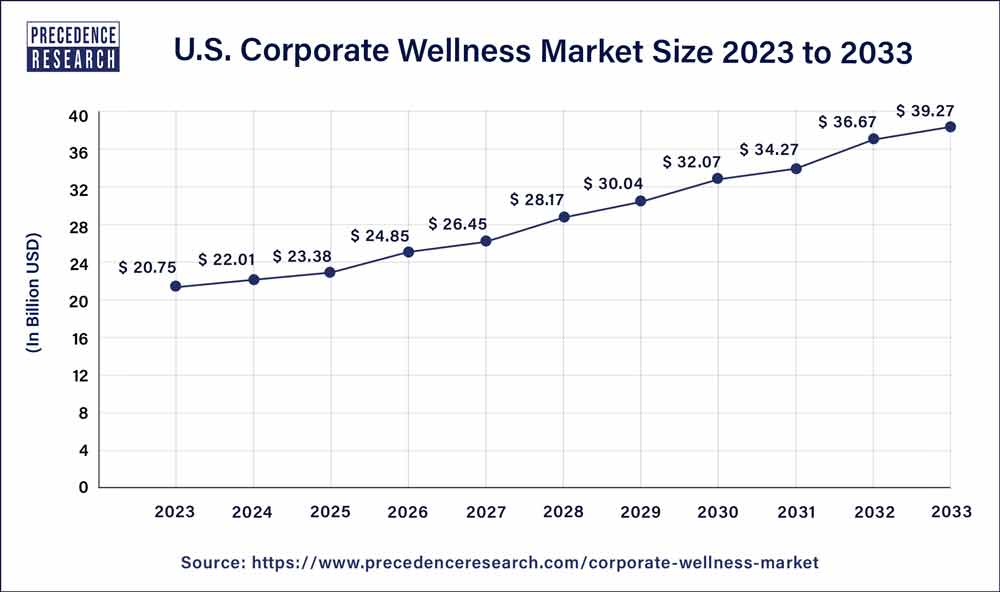 Access our Premium Real Time Data Intelligence Tool, Visit: Precedence Statistics
Key Takeaways:
Based on the service, the health risk assessment segment is dominating the U.S. corporate wellness market with a market share of around 21% in 2022.
Based on the end user, the large-scale organizations segments hold the largest market share of around 53% in 2022.
Based on the category, Organizations/Employers segment holds the largest market share of around 50% in 2022.
Based on the delivery model, the onsite segment holds the largest market share of around 57% in 2022.
Market Overview
Corporate wellness is the implementation of various programs by the organization to promote the health and well-being of its employees. It includes health promotion strategies, policies, and other benefits to improve health and maximize production output. The employees of the organization offer services such as stress management, weight management, fitness services, nutrition, and dietary facilities, smoking cessation sessions, and health screening. The large and small-scale organizations are also providing nap rooms, wearable health trackers, mindful workshops, gym services, and yoga sessions. These initiatives help to improve employee retention, recruitment, corporate culture, and the work environment.
Report Scope of the U.S. Corporate Wellness Market
Report Coverage
Details
Market Size in 2022
USD 19.58 Billion
Market Size by 2030
USD 32.07 Billion
Growth Rate from 2022 to 2030
CAGR of 5.67%
Base Year
2021
Forecast Period
2022 to 2030
Segments Covered

By Service
By End Use
By Category
By Delivery Model

Market Dynamics
Rising adoption of corporate wellness programs
The rising adoption of corporate wellness programs by employees is estimated to drive the market. Organizations are establishing corporate wellness programs to boost employee productivity and health, minimize healthcare expenses, and reduce the chance of having a health issue. Companies are becoming more aware of the value of having a physically and psychologically fit workforce. Employee wellness programs are becoming an increasingly significant tool for improving the overall quality of life at their workplace. This helps the growth of corporate wellness services, and the market allows firms to maximize the return on their lucrative employee health program investment. Employee well-being and health have clearly risen as a result of this massive investment. Furthermore, these variable elements point to an increasing tendency in the implementation of corporate wellness programs during the projected period.
Focus on the growing incidence of chronic illnesses
The goal of a wellness program is to achieve weight loss while gaining access to white-collar employment opportunities. Physical and emotional effects such as heart attacks, hypertension, and a sense of insecurity among employees relate to a high prevalence of excessive workloads, work-related anxieties, and longer working hours at the workplace. Due to the rising competitiveness employees face increased stress and pressure, as a result, stress reduces employees' capacity to do their tasks efficiently.
Restraint
Scarcity of qualified and certified specialists to assist corporate wellness programs
According to the Health Resources and Services Administration, there will be a 20% decline in the number of adult psychiatrists in the United States by 2030. This deficit is primarily due to a decline in the number of new professionals entering these sectors.
Opportunities
Focus on workforce health
Workplace stress is prevalent among individuals in the United States and has been steadily growing over the last several years. According to the American Institute of Stress data in September 2019, over 85% of employees in the U.S. suffer from work-related stress. They found that it costs organizations approximately USD 300 Mn. The incorporation of anti-stress programs such as meditation, yoga therapy, childcare initiatives, flexible working hours, mindfulness training, time management, work from home, and on-site amenities such as sick rooms and free massages is driving growth in the corporate wellness services market in the United States.
Segments Insight
Service Insights
Based on the service, the U.S. Corporate Wellness Market is segmented into Health Risk Assessment, Fitness, Health Screening, Nutrition & Weight Management, Smoking Cessation, Stress Management, and Others. The health risk assessment segment is dominating the U.S. corporate wellness market with a market share of more than 21%. This is due to the growing trend to adopt health risk assessment as a service while offering employee wellness services in the U.S. The analysis of health risk assessment analyzes height, weight, level of physical activity, smoking habits, and stress level of the employees to identify the risk factors affecting employees' health. The importance of this service in terms of early detection of health problems in employees reduced absence due to health concerns, and lower healthcare costs cannot be emphasized.
The stress management segment is anticipated to grow owing to the rising prevalence of stress in the workplace. The health screening segment is estimated to develop due to increased emphasis on health prevention. Wellness programs consist of screening activities to identify potential health hazards and implementation of intervention techniques that are required in order to promote a healthy lifestyle.
Fitness programs are essential components of any workplace health program. In the past, several corporations gave their employees health wristbands like Fitbit to track their daily physical activity. Employers urge their employees to be more active, and those who meet their daily goals receive particular recognition. The fitness category is predicted to rise due to the increasing implementation of remote patient monitoring equipment. The growing smoking population and more awareness about the dangers of smoking are important reasons driving the growth of the smoking cessation segment.
End Use Insights
Based on the End-use, the market is segmented into Large Scale Organizations, Medium Scale Organizations, and Small-Scale Organizations. The large-scale organizations hold the largest market share more than 53% in 2022 owing to the availability of capital for investing and providing onsite health services for employees. Large scale organization provides services like physicians, therapists, and chiropractors which eventually saves the employees time and leads to productivity.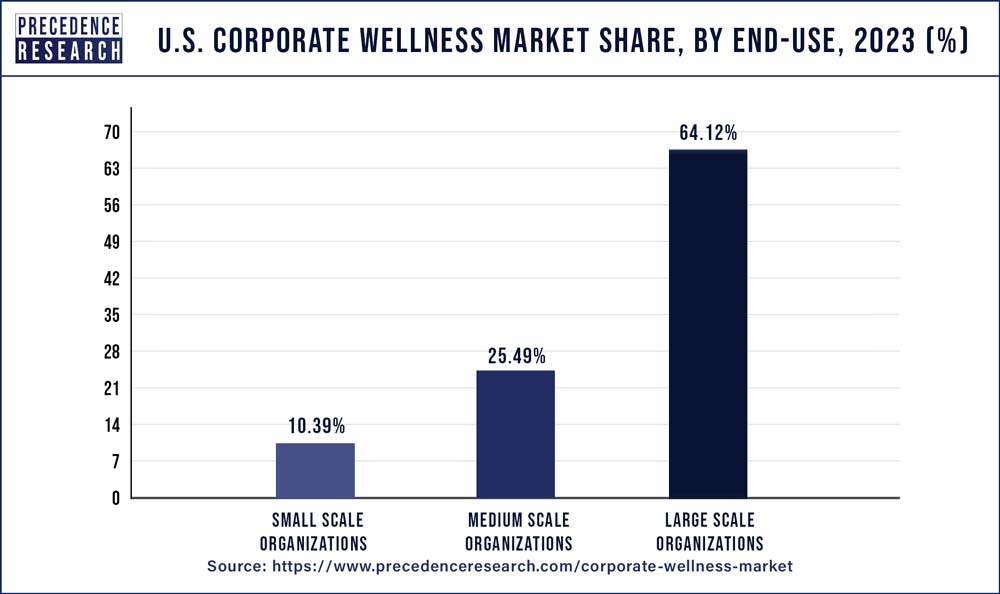 Implementing corporate wellness programs improves the tracking of multiple diseases. Health screening programs are held on a regular basis to keep people healthy, encourage preventative care, and minimize treatment expenses. The emphasis on such conditions has the potential to lower disease burden as well as the total cost of healthcare premiums paid by the employer to any insurance provider.
Category Insights
Based on category, the market is segmented into Fitness & Nutrition Consultants, Psychological Therapists, and Organizations/Employers. The Organizations/Employers segment holds the largest market share more than 50% in 2022. The service providers provide both in-house and outsourced health management services to both large and small organizations.
The fitness and nutrition segment is expected to grow during the forecast period owing to the trend of on-site fitness such as meditation and yoga. Employers are making considerable investments in ensuring healthy diets for their employees by providing food alternatives on campus and by hiring fitness trainers.
Employers frequently give stress-relieving meditation and yoga classes to their staff. Employees that are stressed are more likely to become furious, which has a negative influence on the firm. As a result, organizations provide art therapy, a unique strategy for stress relief. It is a type of expressive psychotherapy in which art is used to promote a person's emotional, physical, and mental well-being. This treatment is also used by professionals on persons who suffer from emotional and mental conditions. The growing need for such therapy is fueling the psychological therapist segment's rise.
Delivery Model Insights
Based on the delivery model, the market is segmented into On-site, and Offsite. The Onsite segment holds the largest market share more than 57% in 2022. Onsite programs add a personal touch to employee well-being, as well as the opportunity to exercise under the supervision of fitness advisors and coaches to address their individual health needs.
Offsite programs feature one-on-one interactions with employees in various settings to promote employee health. The use of new technologies is continually improving healthcare services. For instance, Virgin Pulse intends to use its Diabetes Prevention Program in January 2020, following the purchase of a digital therapeutics' provider Blue Mesa Health, Inc. This is propelling the offsite segment forward.
COVID-19 impact
Many activities which rely on in-person attendance like a gym membership, health screening, fitness classes, and educational classes were shifted to virtual mode. Most corporate wellness programs reimburse for gym memberships. Businesses may need to give alternatives to their employees because many people may not feel secure going to gyms until COVID-19 cases are reduced. Access to online fitness sessions easily replaces gym memberships. People's propensity to spend on well-being has been influenced by the financial strain of the crisis. Employees who acquire yoga mats, resistance bands, and other basic gym equipment for at-home exercises benefit from corporate wellness programs, which provide reimbursements.
Recent Developments
In April 2021, Workplace Options will introduce a new program to assist employees who are suffering or are at risk of burnout through coaching sessions and live therapy
In Feb 2021, LifeWorks Inc. finalized the acquisition of SMG Health PVT.LTD's LifeWorks expanding the company's service offerings in Australia.
In January 2021, United Health Group will launch virtual primary care for employees to manage chronic conditions.
Key Market Players
ComPsych Corporation
Virgin Pulse
Marino Wellness
Kinema Fitness
Fitbit
Privia Health
Wellsource, Inc
Practo
Sol Wellness
EXOS
Segments Covered in the Report
(Note*: We offer reports based on sub-segments as well. Kindly, let us know if you are interested)
By Service
Health Risk Assessment
Fitness
Smoking Cessation
Health Screening
Nutrition & Weight Management
Stress management
Others
By End Use
Small Scale Organizations
Medium Scale Organizations
Large Scale Organizations
By Category
Fitness & Nutrition Consultants
Psychological Therapists
Organizations/Employers
By Delivery Model