The global corporate wellness market was valued at USD 52.59 billion in 2021 and is expected to reach USD 96.15 billion by 2030, poised to grow at a CAGR of 6.9% during over forecast period 2021 to 2030.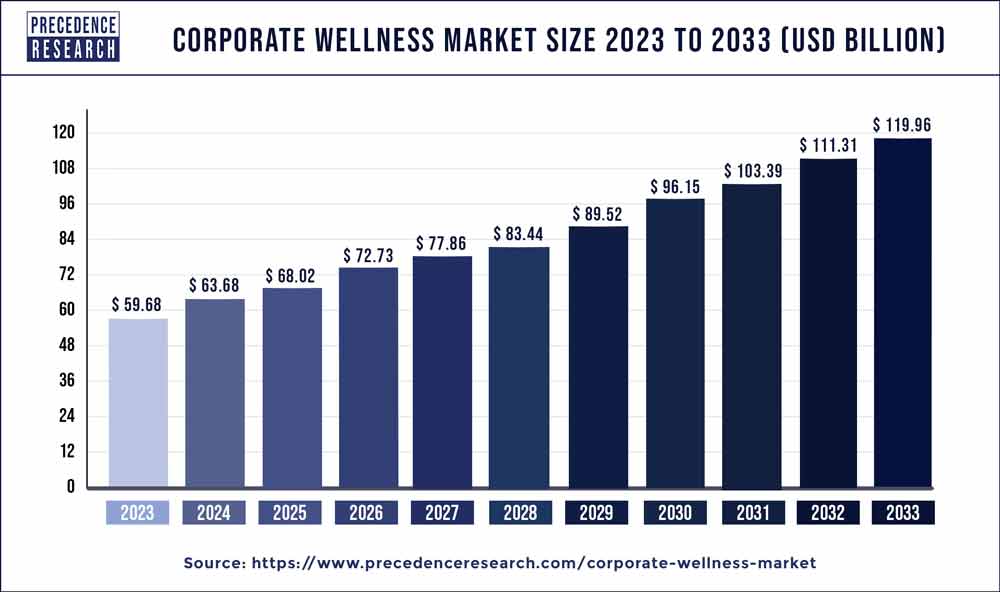 Several industries and companies have started heath programs for their employees that are expected to boost the market growth of corporate wellness in the coming years. These programs help companies to augment their productivity by reducing the overall operational cost. Further, rising awareness for the health benefits and wellness of the employees also projected to drive the market growth significantly over the forecast period.
Through wellness programs both employee and employer can gain high benefits. As presently, people prefer those workplaces that have good work culture as well as health improvement plans expect of daily task. Health awareness or improvement programs impact positively on the organizational environment and culture. In addition, employees also prefer to adopt incentive-based wellness activities as they play a significant role in employee's motivation.
Market Drivers
Longer working hours and a longer life expectancy
There are various crucial factors which affect the market and lead to upward movement of corporate wellness sector. They are significant for holistic approach that means for employees and employers to bring out the optimum output and maintain the well-being of the work culture. With the growing competition and to withstand in the business world, the employees have to devote longer working hours which demands healthy and longer life expectancy of them. In order to maintain the efficiency and well-being of the employees, the organisation opts for various wellness programs and policies which ultimately bolster the corporate wellness market.
Growing awareness about stress and prevalence of chronic diseases
The working-class population has become workaholic and occupied that they tend to take stress and fails to manage things in life which adversely affects the physical and mental health. The increased depression and stress have created the need for behavioral and mental health management of the employees which resulted in demand for wellness programs by the organisations for its employees. Therefore, this propels the market growth and serves as the key purpose for the demand of the health products and services.
A Big Change in Well-Being Attitudes
A modern sense of belonging linked to fitness which is deeply prized in contemporary society is opening new doors. As a result of digitalization, which is pushing global market expansion, customers are looking for ways to detox from their digital frenzy and regain their time for personal advancement, harmony, and fitness. Various practices are followed namely meditation, yoga, stress relieving programs, detoxifying challenges to boost the immunity by the target audience for the fitness and health concerns. Therefore, the growing concern for health and changing attitude towards health is driving the market.
Rising dominance of Artificial Intelligence
The global corporate wellness market will be transformed by the arrival of a new age of personalized education and solutions that cater to each employee's individualized well-being through AI. Several companies are turning to artificial intelligence to maintain employee interaction between human touch points, create a more detailed profile of their workers in real time and help them scale up their wellness plans without relying heavily on human resources. AI-enabled services recognize patterns, predict how real health problems or statistics will play out in the future, and devise a strategy to keep illnesses and other health and well-being issues. Hence, it is significant factor for the market growth.
Market Restraints
Dearth of qualified and skilled professionals
According to the Health Resources and Services Administration, the number of adult psychiatrists in the United States is expected to drop by 20% by 2030. The shrinking number of fresh experts entering these professions is the key reason for the shortage of qualified and skilled professionals. In emerging countries, the shortage of mental health experts and other professionals suitable for corporate wellness programs is much more apparent. For instance, In India, there are just 0.75 psychiatrists per 100,000 inhabitants. This scarcity of appropriately skilled personnel obstructs the ability to launch and manage effective, holistic corporate wellness programs, thus limiting the market's growth especially in the developing economies.
The occupational health policies involve huge cost for the various health and wellness programs. Sometimes, companies set up gyms which require regular maintenance of Equipment and high payment to the professionals and trainers, which add to the operational cost of the organization. This leads to the overall cost of the organization and mostly the huge workplace cost has to be borne by the organization which are the key factor hindering the market growth of corporate wellness programs. This is even more common in medium and small scale organizations.
According to a research, nearly half of employers believe that cost assumptions regarding workplace wellness programs are the most significant barriers to employee happiness. It requires money to buy plants to improve the workplace environment or to organize an event for employee well-being. Despite the fact that studies show that investing in employee health programs can yield a return of $3 to $4 for every dollar spent, many businesses may not have the financial resources to make the first commitment.
Low awareness regarding the corporate wellness programs
According to numerous studies, a communication gap is the primary reason why many employees are unaware of their company's health programs. Even if they are aware that such programs exist at their place of business, many are unaware of the benefits or other aspects, and hence have little interest in participating or engaging in them. While some employees may lack the necessary drive to make beneficial changes, others may just be unwilling to change. Employers must provide employees with all of the specifics and pertinent information about corporate wellness programs in order to ensure that they step outside of their comfort zone. Employees must be informed about the purpose, aims, and potential rewards, and they must be encouraged to participate. Offering incentives and awards can help entice people to participate. Employees are very likely to continue after they observe the good changes and benefits. Therefore, lack of awareness regarding the corporate wellness programs restricts the market growth to certain extent.
The occupational health policies involve huge cost for the various health policies and wellness programs. Sometimes, companies set up gyms which requires regular maintenance of Equipments and needs to handful of fees to the trainers which adds to the operational cost of the organisation. This leads to the overall cost of the organisation and mostly the huge workplace cost has to be borne by the organisation which are the key factor hindering the market growth of corporate wellness programs.
Stringent regulatory requirements
The regulatory authorities of several nations have jotted stringent regulations for the commercialization of services. There are chances of different regulation by Government and Organizations towards employee having multiple business locations. This will affect standardization of the services. Also, the operational hurdles posed by the service industry and large number of employees decelerates the growth of the market.
Market opportunities
The focus on workforce health is becoming more prominent globally.
Companies now days are focusing towards employee's health and make sure their employees are healthy. According to the CDC, six out of ten persons in the US have a chronic disease (e.g., stress, lung disease, stroke, Alzheimer's, diabetes, renal disease), and four out of ten have two or more disorders.
The figures on health-care costs are staggering:
Stress accounts for 37% of all work-related illness and 45% of sick days (Towers Watson).
Heart disease and stroke cost $126 billion in lost productivity each year (American Heart Association).
One in seven dollars of healthcare is spent on diabetes (American Diabetes Association).
Alzheimer's alone costs U.S. businesses $61 billion per year (Alzheimer's Association).
More than 11 million Australians have at least one of eight chronic diseases.
Healthcare costs in the European Union currently make up between 7% and 11% of overall GDP expenditure
Cardiovascular disease contributes to one out of three deaths in Singapore.
In Europe, 28% of adults smoke.
These expenditures can be drastically lowered if employees are encouraged to focus on developing better daily routines and lives. Taking the stairs, drinking less soda, getting more sleep, and minimizing stress at work are all habits we can develop, and the behavioral changes that occur can have a good impact on our job.
For instance, Virgin Pulse's daily engagement platform can motivate customers to do things like meditate every morning, take the stairs, drink more water, eat healthier meals, and save money. By applying these tools, thousands of firms using Virgin Pulse's program have witnessed a 16 percent reduction in healthcare claim costs per member, on an average. Therefore, to determine where the population's problems and opportunities are, as well as the financial and health benefits that may be achieved by addressing them through corporate wellness programs offer lucrative opportunities for the market growth.
COVID-19 related variables have temporarily shifted worker health & safety spending
Many activities that rely on in-person attendance (e.g., health fairs and screenings, gym memberships and fitness classes, educational classes, etc.) were curtailed or shifted to lower-cost online platforms during the pandemic, whether due to workplace closures or company cost-cutting measures.
The "gig economy," temporary employment, and contract labor are all on the rise around the world, which indicates that a rising segment of the workforce is working jobs with little job security, unpredictable hours, insecure pay, and other concerns. As per the estimates, the number of global employees in "permanent contract" occupations has decreased from 1.226 billion in 2017 to 1.223 billion in 2019, and 1.220 billion in 2020, despite the fact that overall worldwide employment has increased. This means that the number of workers in positions where they would have access to workplace wellness programs and benefits (or any benefits at all) has decreased during pandemic. However, as more people become aware of the benefits of corporate wellness, the market will develop at a faster rate in the coming years.
Market Trends and Corporate Wellness Opportunities in the COVID-19 Landscape
The on-going pandemic has been the root cause in flourishing the corporate wellness market to keep the spirits up of the employees and the organization in the negative environment and manage the stress of their staff. Several companies have framed different wellness policies to withstand together in this battle and efficiently work without compromising the output. However, in the initial stage of the pandemic, the companies had undergone several challenges and took a time to adapt to the changing environment and also the work from home model required different wellness schemes and programs which added to the additional cost.Overall,COVID-19 has driven the market of corporate wellness not only for the stipulated time period but also for the years to come and the companies make it mandatory to avoid the absenteeism and sustaining the healthy working environment in the companies.
Service Insights
The health risk assessment segment led the global corporate wellness market in terms of revenue share of over 21.29% in the year 2020. The Health Risk Assessments (HRAs) segment is estimated to reach USD 20.84 billion by 2030, growing at a CAGR of 7.1% during the forecast period (2021-2030).
Screening efforts to detect health concerns and the implementation of appropriate interventional techniques to promote a healthy lifestyle among employees are the mainstays of corporate wellness programs. Around 80% of firms who provide corporate wellness services choose to examine their employees' health risks. In the corporate wellness solutions market, the health risk assessment sector has the largest market share by service offering. The utility of this service for early detection and mitigation of health risks in employees, as well as reduced absence owing to health concerns and decreased healthcare expenditures, accounts for a substantial portion of this market.
The corporate wellness programs under health risk assessment segment include screening activities to identify risks and adopt proper interventional strategies to encourage a healthy lifestyle among employees. Nearly, 80% of the employers provide health risk assessment program and other well-being services for their employees. In today's era, the work culture has changed drastically that may leads to the body pain, and other various risk to health as the employees have to sit for long hours in the office. In addition, their daily food habits along with the increasing pollution level also impact the daily lives of employees. Therefore, these wellness programs impact significantly in improving lifestyle into a healthier one.
Moreover, stress management segment is growing at the fastest CAGR of 7.8% during the forecast period owing to increasing work stress and other daily life stress among the employees. These stress management programs helps employees to properly manage their office along with their personal life. As said, a healthy mind resides in a healthy body, so for proper an effective functioning of brain stress relieving programs or management skills are very important.
Global Corporate Wellness Market, By Service, 2020 (%)
| | |
| --- | --- |
| Service Segment | 2020 (%) |
| Fitness | 14.33% |
| Health Risk Assessment | 21.29% |
| Health Screening | 6.98% |
| Smoking Cessation | 16.05% |
| Stress Management | 12.86% |
| Nutrition & Weight Management | 18.04% |
| Others | 10.56% |
Category Insights
The Organizations/Employers segments encountered the largest revenue share of 58.5% in the global corporate wellness market in 2020 with the cagr of 7.42%. Organizations/Employers used to focus on health benefits when talking about employee wellbeing. These days, employee wellbeing is more than just absence of illness among employees. Employee wellbeing is tied in with advancing the strength of all employees. With the ongoing COVID-19 flare-up, numerous businesses saw the effect worker prosperity has on their performance, and thus on the business results.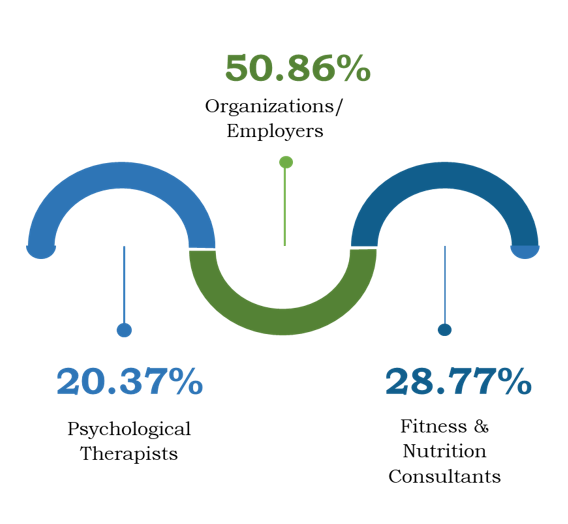 The Fitness & Nutrition Consultants segment accounted 25.5% revenue share in 2020. Fitness consultants satisfy the task of figuring and facilitating customized exercise programs that will help a diverse group of people feel better and easily thinking about themselves. The nutrition consultant reviews a client's current eating habits and prosperity goals and puts together a meal plan and educates the client on proper nutrition and choosing foods that help treat and prevent certain diseases and conditions the client may have.
The Psychological Therapists contributed 15.9% revenue share in the the global market in 2020. A psychological therapist's treat individuals who have emotional issues and mental illnesses/problems by utilizing the talk treatment and try to manage the general emotion unrest and illness. Sometimes daily life trouble/issues like anxiety disorder, mood disorder, personality disorders, addictions etc. are very big challenges for an individual. A psychological therapist diagnoses and treat these issues.
Delivery Model Insights
Onsite delivery model encountered the highest revenue share in the global corporate wellness market in 2019 and projected to witness the fastest growth over the forecast period. Onsite wellness programs offer a personal touch to the employee's well being along with the facility to exercise under the guidance of trained coaches and fitness consultants to meet their personal health requirements.
End-use Insights
Large scale organization contribute prominent revenue share in the global corporate wellness market in 2019. As per RAND, nearly 70% of the organizations had invested in the health screening services or programs in the year 2013. As per a detailed study over the corporate wellness programs indicate that a successfully implemented wellness program can yield around 3:1 return on investment.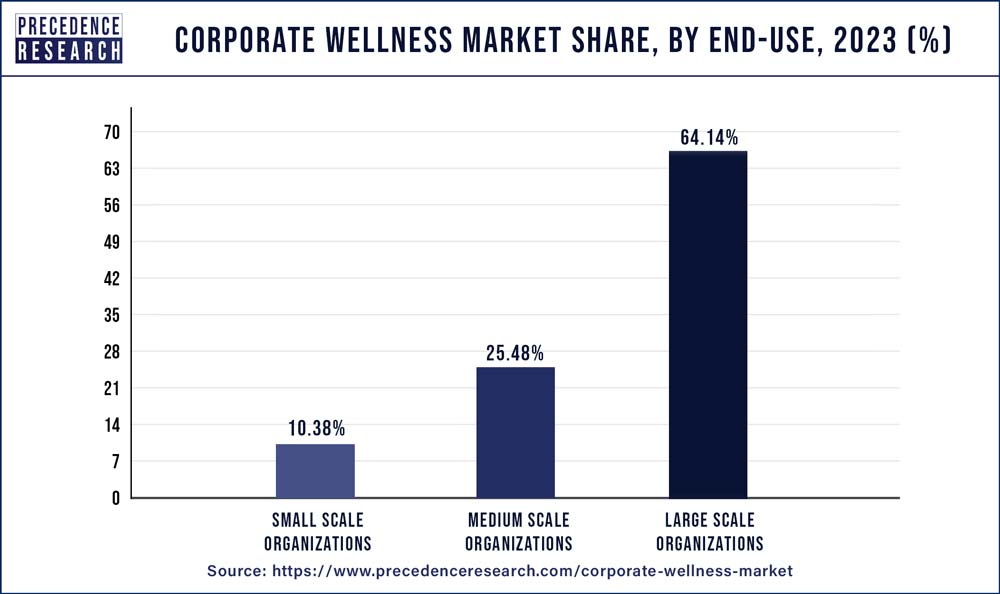 In addition, awareness among the corporate owners for investing on their employee's health improvement program that in return will boost their services and enhance their company's performance per year. Similarly, small scale organizations also implement corporate wellness programs by outsourcing them from different service providers.
Regional Insights
North America emerged as the global leader in the corporate wellness market in terms of revenue share in the year 2019. As per RAND employer survey, nearly 50% of the corporate owners in the U.S. provide wellness programs to their employees inside their organization. In addition, significant dominance of the office culture in the North America influence the corporate owners in the region to implement such services or programs to benefit their employees with good health.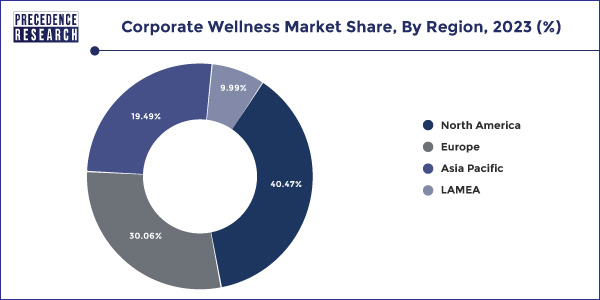 However, the Asia Pacific witness flourishing growth at a CAGR of 7.9% over the forecast period owing to prominent rise in the working population along with increasing awareness regarding health management of employees. A large workforce in a growing economy has a better chance of attracting wellness market growth in the coming years. The market is rapidly gaining traction in the region, and many businesses have begun to invest in it because of its value to employees. The potential for further adoption in the region is enormous thereby contributing to the market growth.
Asia-Pacific Corporate Wellness market is expected to grow strongly in the forecast period as it involves high government initiatives that encourage human resources development. In addition, increase in number of cases of chronic diseases such as cancer and stress disorder is driving the market growth. Moreover, rising aging working-class population in Asia-Pacific region is going to be beneficial for market whereas corporates are spending huge amount on healthcare infrastructure and act as a key opportunity for meeting unmet corporate wellness needs in the region.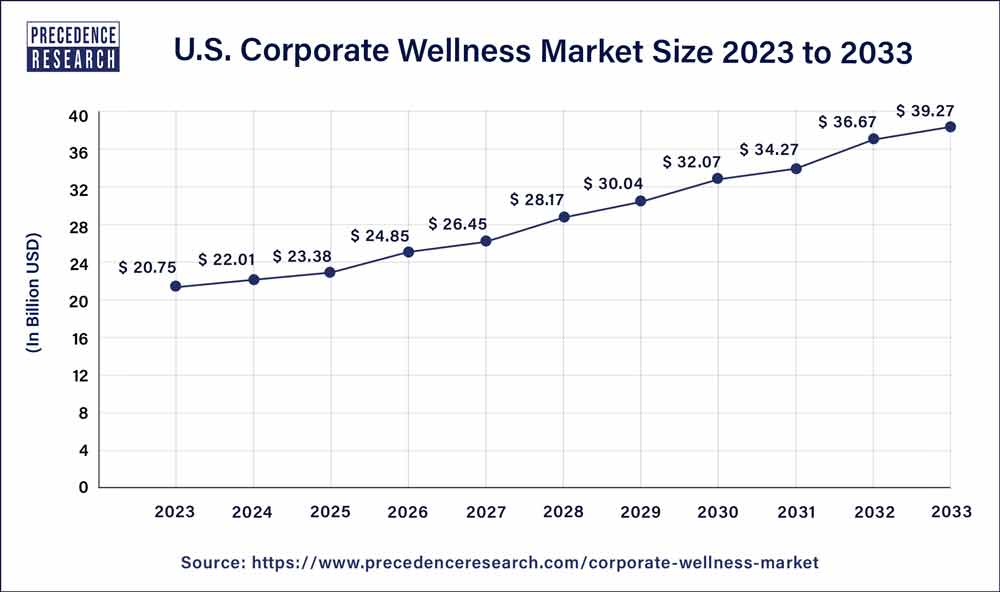 In addition, the region offers prominent scope for the western companies to expand their portfolio in the Asian countries, this trend also promote the jobs in the region in turn fuelling the demand for corporate wellness programs significantly.
Key Companies & Market Share Insights
The global corporate wellness market is characterized by the rising number of corporations focusing to expand for including in-house employee wellness services. In the U.S. more than 550 corporate owners are offering employee wellness programs in their organizations. Some of the industry participants are focusing on expansion in order to cater and to accommodate to larger employee's group. For instance, in August 2016, Wellness Corporate Solutions, a U.S. based company, redesigned its facilities and offerings in response to the increasing demand for biometric screening services in the region.
Some of the prominent players in the corporate wellness market include:
Wellness Corporate Solutions
ComPsych
Provant Health Solutions
Beacon Health Options
Virgin Pulse
Marino Wellness
EXOS
Vitality Group
Privia Health
Central Corporate Wellness
Wellsource, Inc.
SOL Wellness
Truworth Wellness
ADURO, INC.
Well Nation
Fitbit, Inc.
Scope of the Corporate Wellness Market Report
| | |
| --- | --- |
| Report Highlights | Details |
| Market Size | USD 96.15 Billion by 2030 |
| Growth Rate | CAGR of 6.9% From 2021 to 2030 |
| Base Year | 2021 |
| Historic Data | 2017 to 2020 |
| Forecast Period | 2021 to 2030 |
| Segments Covered | Service, Category, Delivery Model, End-use |
| Regional Scope | North America, Europe, Asia Pacific, Rest of the World |
| Companies Mentioned | Wellness Corporate Solutions, ComPsych, Provant Health Solutions, Beacon Health Options, Virgin Pulse, Marino Wellness, EXOS, Vitality Group, Privia Health, Central Corporate Wellness, Wellsource, Inc. |
Segments Covered in the Report
This research report estimates revenue growth at global, regional, and country levels and offers an analysis of present industry trends in every sub-segment from 2019 to 2030. This research study analyzes market thoroughly by classifying global corporate wellness market report on the basis of multiple factors including service, category, delivery model, end-use, and region:
By Service
Fitness
Health Risk Assessment
Health Screening
Smoking Cessation
Stress Management
Nutrition & Weight Management
Others
By Category
Psychological Therapists
Fitness & Nutrition Consultants
Organizations/Employers
By Delivery Model
By End-use
Large Scale Organizations
Medium Scale Organizations
Small Scale Organizations
By Regional Outlook
North America
Europe
Asia Pacific

China
India
Japan
South Korea

Latin America
MEA
Rest of the World