The US medical affairs outsourcing market size was exhibited at USD 525.92 million in 2022 and is projected to touch USD 1,288.2 million by 2030, registering a CAGR of 11.85% from 2022 to 2030.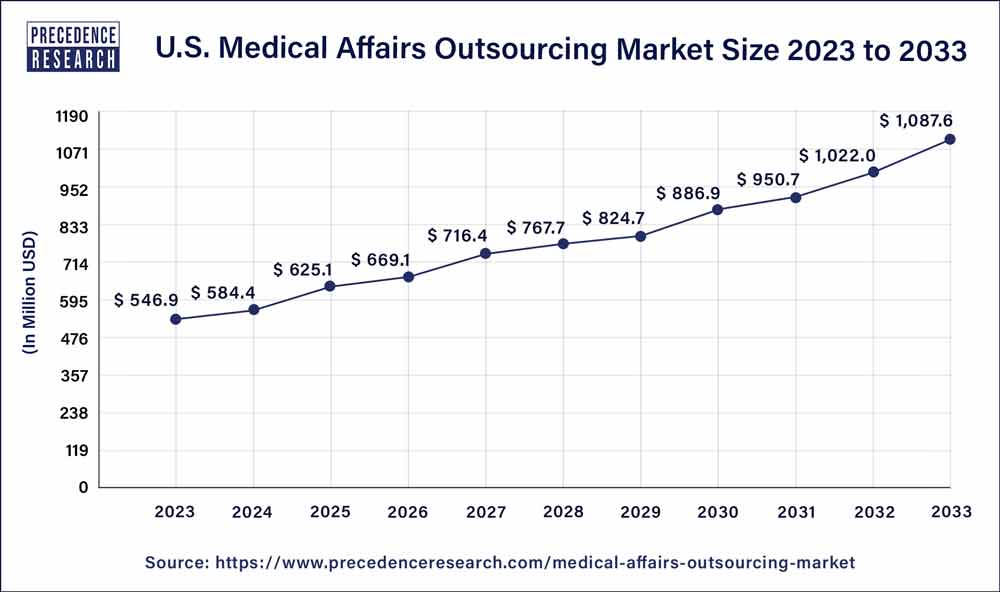 Market Overview
Medical affairs is the department inside a pharmaceutical or medical device organization that informs healthcare professionals with reliable information. By using a technique called medical affairs outsourcing, patients, healthcare providers (HCPs), and governmental organizations may get deep knowledge of patient data as well as healthcare regulations and practices. The process of discovering and developing new drugs requires both money and time. It can take more than 10 to 15 years to complete the process from early discovery or design to development and regulatory approval. To ensure the quality and effectiveness of a drug substance, several testing services are needed. In order to cut costs and time, pharmaceutical and biotechnology companies choose to outsource their services to contract research organizations (CROs), which is predicted to accelerate the market's growth. The World Health Organization published statistics in 2019 showing an increase in the yearly number of clinical trials registered, from 3,344 in 2004 to 54,894 in 2018. The product's efficiency and safety for human consumption is monitored by the outsourcing companies.
Report Scope of the US Medical Affairs Outsourcing Market
| | |
| --- | --- |
| Report Coverage | Details |
| Market Size in 2022 | USD 525.92 million |
| Market Size by 2030 | USD 1,288.2 million |
| Growth Rate from 2022 to 2030 | CAGR of 11.85% |
| Base Year | 2021 |
| Forecast Period | 2022 to 2030 |
| Segments Covered | |

Market Dynamics
Driver:
Increase in the number of clinical trials
Pharmaceutical and medical device companies outsource medical affairs services to Contract Research Organizations (CROs) to reduce operational costs, reduce regulatory compliance risk, and avoid process delays. The major factors that have driven the growth of the medical affairs outsourcing market are an increase in the number of clinical trials, a surge in the need for medical affairs services to be outsourced, and an increase in R&D expenditures.
Increased prevalence of both communicable and non-communicable disorders
The increase in the number of communicable and non-communicable diseases has risked the number of clinical trials being undertaken, which is boosting the demand for novel pharmaceutical and medical equipment, which further enhances the demand for medical affairs outsourcing services on a larger scale
Technological advancement
Along with this, an increase in healthcare expenditure and technological advancement also helps to enhances the market growth of medical affairs outsourcing. Due to a chronic shortage of medical affairs specialists, North American biopharmaceutical and medical device companies have outsourced some responsibilities to individuals with considerable expertise in the industry.
Restraints:
An expensive investment in clinical trials and drug development
In contrast, the rising expense of clinical trials and drug development hinders the growth of the market. According to a recent report by Cutting Edge Information in the US, outsourcing regulatory and medical affairs has increased. The top 50 pharmaceutical firms have also boosted their expenditures on regulatory and medical affairs. The market is expanding as more end-to-end service providers approach the medical affair service industry to take advantage of possibilities driven by the increased need for low-cost medication research and manufacture. Additionally, new product introductions and innovative medication delivery systems are expected to fuel a global need for pharmaceutical medical affairs outsourcing.
Opportunities:
Decreased access to healthcare professionals & institutions
Medical Scientific Liaisons (MSLs) and other medical affairs professionals no longer visit HCPs and institutions. Face-to-face communication, including the sharing of scientific knowledge and the collecting of insights, which are two of the main duties of MSLs, deteriorated as a result of COVID-19. As a result, the medical affairs outsourcing market enhanced.
Advancement in R&D
Due to the numerous small and large pharmaceutical and biotechnology companies in the U.S. in addition to the strong healthcare industry, the country is anticipated to become a lucrative market. In the forthcoming years, increased research and development in the U.S. for innovative medications, vaccines, and medical devices will continue to encourage market growth.
Data Breach and Security Risks are some of the challenges faced by outsourcing companies.
COVID-19 Impact
Nearly every industry has been negatively impacted by the worldwide pandemic, and it is expected that industrial growth would be affected over the projected period. Many regulatory and outsourcing teams are under pressure as a result of COVID-19. It has, however, also had a favorable effect on the bio/pharmaceutical outsourcing sector, as rising R&D activity demand is simultaneously driving up the need for medical affairs services. Due to the increasing demand, many CROs are concentrating on their outsourcing as well as other business operations. Medical IoT devices that reside with patients at home are increasingly used to enhance outpatient therapy, lower the number of follow-up visits, and even use these devices in an emergency. The expansion of the medical affairs outsourcing market is anticipated to be accelerated by the introduction of competitive pricing and value-based pricing models.
Segments Insight
Services Insights
Based on Services, the US Medical Affairs Outsourcing market is segmented into medical science liaisons, medical writing & publishing, medical information, and medical monitoring. The medical science liaisons (MSLs) market is estimated to grow at the fastest pace throughout the projected period due to the growing demand for professional medical writing, publication, and service supply from small, mid-sized, and major healthcare organizations.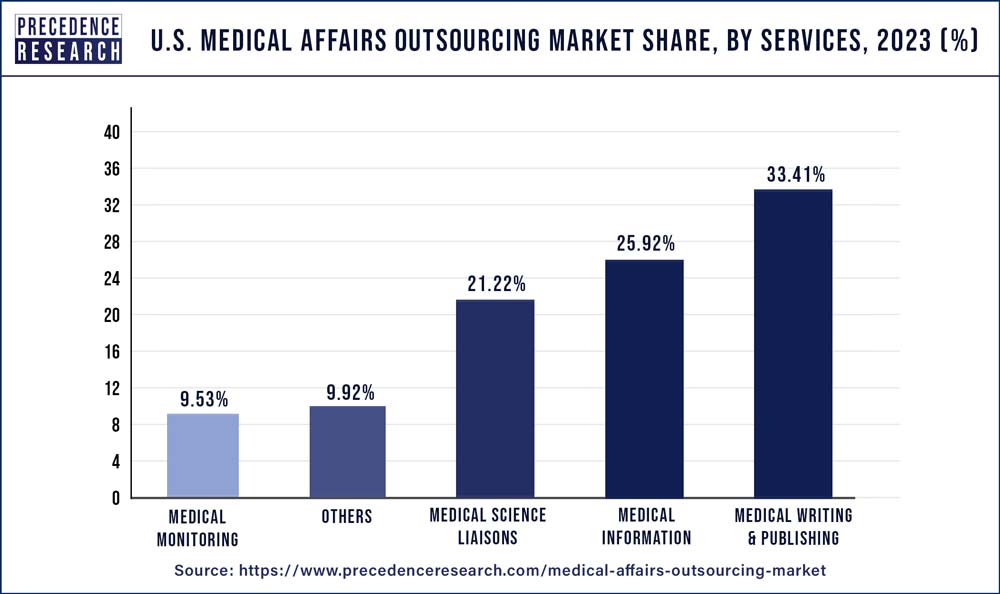 Medical Science Liaisons are doctorate- and advanced-degree-holding healthcare professionals who act as regional extensions of medical affairs departments. They connect with stakeholders and healthcare experts and respond to their clinical queries about drugs, technologies, and the disorders they treat.
Industry Insights
Based on Industry, the US Medical Affairs Outsourcing market is segmented into pharmaceutical, biopharmaceutical, and medical devices. The medical devices are further segmented into therapeutic medical devices and diagnostic medical devices Therapeutic medical devices include any equipment, apparatus, appliance, or other items that are meant to be used by humans for a therapeutic purpose. A reagent, calibrator, control material, kit, specimen receptacle, software, instrument, apparatus, equipment, or system that is used alone or in combination with other diagnostic items for in vitro application is known as an in vitro diagnostic medical device (IVD). In 2022, the pharmaceutical industry held the larger market share. The demand for medical affairs providers has risen as a result of numerous patent expirations, for the development of new patent drafts in the US. The requirement for medical affairs outsourcing services in the market is anticipated to increase as a result of the biopharma industry's increased focus on the basic operations associated with drug development. The pandemic is expected to have a long-term impact on the pharmaceutical business, which has been facing poor growth, delayed medication approvals, and insufficient pharma manufacturing supply chain.
Recent Developments
In September 2022, Penumbra Security, Inc. was acquired by SGS to expand its footprints and cybersecurity capabilities in US.
In June 2022, Pharmaceutical Product Development, LLC established a customary practice for Positioning the Patient in Drug Trials.
In April 2022, Hawaii the most recent US state regulate the presence of PFAS in some consumer goods. On December 31, 2024, the use of PFAS in particular types of food packaging will be banned.
In December 2019, Celegence Holdings LLC has made a substantial strategic investment in Soterius, Inc., a supplier of outsourced services, collaboration tools, and data assets in the drug safety and medical affairs area, as part of Soterius' Series A funding round.
In November 2019, Soterius has introduced virtual means of Medical Science Liaisons (MSLs) to facilitate the exchange of information which has been proven to be an effective way to reach a wider audience and enhance the optimum use of limited valuable MSL resources.
Key Market Players
Pharmaceutical Product Development, LLC
IQVIA Holdings Inc
SGS SA
ZEINCRO Group
Pfizer Inc
The Medical Affairs Company
ICON plc
Ashfield Healthcare Communications
Syneos Health Inc
Wuxi Clinical Development, Inc
Segments Covered in the Report
(Note*: We offer reports based on sub-segments as well. Kindly, let us know if you are interested)
By Services
Medical Science Liaisons (MSLs)
Medical Writing & Publishing
Medical Monitoring
Medical Information
Others
By Industry
Pharmaceutical
Biopharmaceutical
Medical Devices
Therapeutic Medical devices
Diagnostic medical devices