The global medical affairs outsourcing market size is projected to reach over US$ 3.51 billion by 2030 from at US$ 1.45 billion in 2020 and poised to grow at a compound annual growth rate (CAGR) of around 12.5% over the during period 2021 to 2030.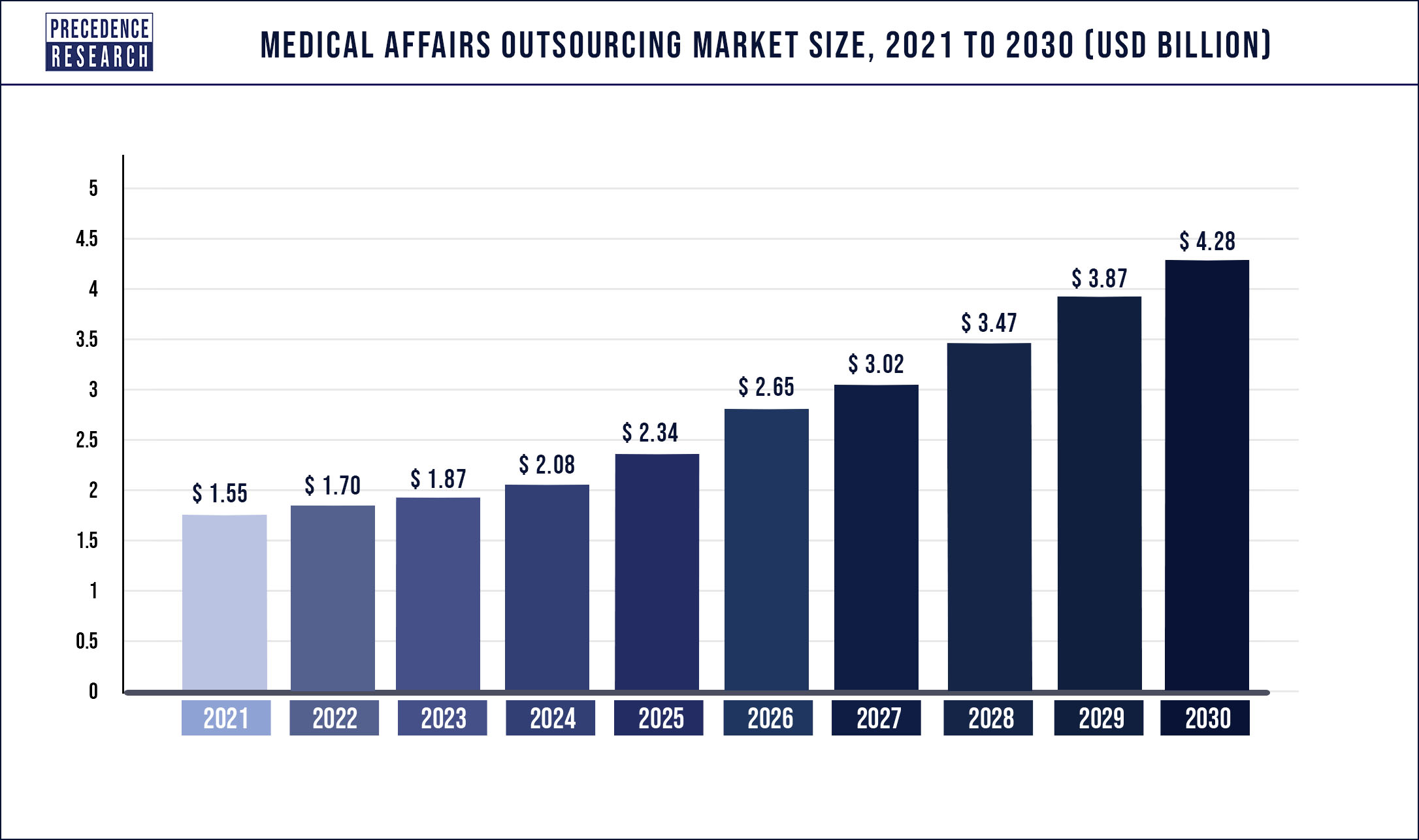 Growth Factors
Current trends display an upsurge in subcontracting vital functional accomplishments predominantly in medical affairs including medical material, field-based medical teams and medical publications. Outsourcing medical affairs provides corporations cost-effective and flexible solution to address the budding issues and demands faced by the business. The regulatory setting is becoming rough due to amplified association among global regulatory bodies. As an outcome, compensations and drug approval need companies' medical affairs to gather snowballing amounts of complicated, real-life patient outcomes data to establish product value.
Several countries are progressively intensifying their R&D expenditure that has prompted expansion of innovative products in the market. With the cumulative stringency by the particular regulatory authorities globally, a rising partnership among clinical research organizations, the drug developers and contract manufacturing organizations has been perceived to alleviate risks. As CMOs and CROs assist the corporations into reduce risks, companies are able to emphasis on their fundamental dealings. Hence, escalating research and development activities plus patent expirations are considered to be major growth influencers driving the global medical affairs outsourcing market.
Services Insights
Different medical services analyzed in this research report include medical monitoring, medical writing & publishing, medical information, medical science liaisons and others. Out of all these services, medical writing & publishing appeared as most promising segment and garnered maximum revenue share in 2020. Currently, plentiful of the big pharma corporations are subcontracting their clinical data management to specialized medical writing & publishing service suppliers. Demand for professional medical writers is projected to grow considerably due to escalating introduction of assorted pharma products in the market. As a result, augmented need for professional medical writers is projected as the crucial influencers for growth of medical writing & publishing market segment.
The Medical Science Liaisons (MSLs) services segment projected to record fastest developing growth rate during assessment period.These are medical specialists with cutting-edge scientific training and are experts in cooperating intricate medical data to a diversity of stakeholders. The biopharma business sector is concentrating on the core undertakings associated to drug development than non-core actions including medical affairs. In order to decreases pending and profit from professional medical affairs services, biopharmafrims are subcontracting these services to the CROs or contract research organizations. Biotechnology businesses are further continuing at a great pace and are anticipated to offer a resilient competition to mid-size pharma firms during next few years.
Industry Insights
Global medical affairs outsourcing market report assessed different end-use industries making most of these outsourcing services in this research report including biopharmaceutical, pharmaceutical, and medical devices among others.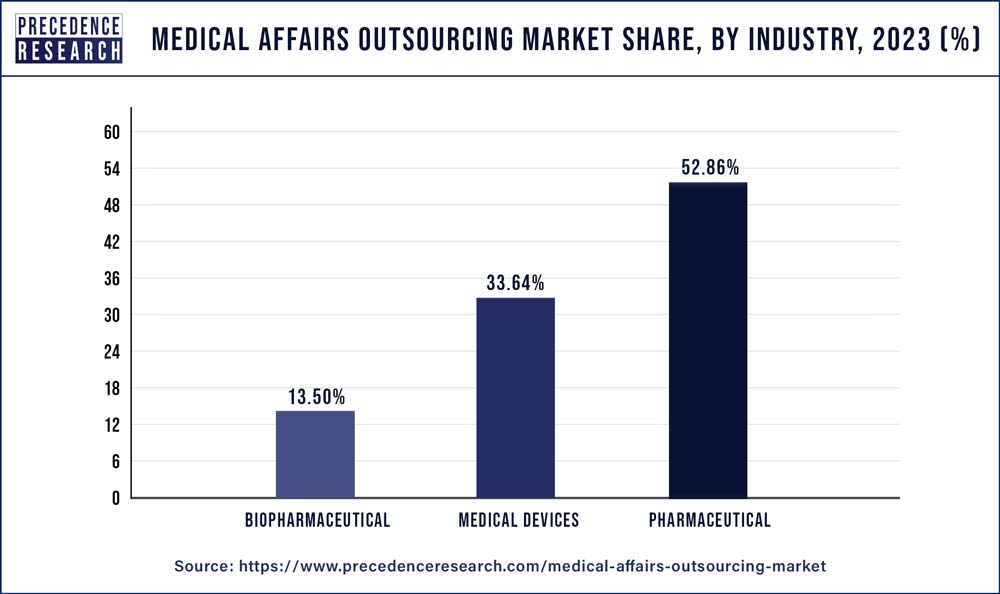 Among these, pharmaceutical segment dominated the global market by accounting prominent share more than 50% of the total revenue generated by market in 2020. This growth is attributed to the growing demand of medical affairs service for the groundwork of drafts of fresh patents due to expiration of different existing patents.
Regional Insights
North America region emerged as most dominating market place for the medical affairs outsourcing business in 2020 an estimated to mirror this predominance the period. Reasons such as vigorous FDA supervisors, existence of international life sciences and pharmaceutical giants and availability of talent pool are prospering the growth of the market in this region. The mounting figures of patent expirations along with escalating spending of research and development undertakings are some of the crucial factors persuading the event of the global medical affairs outsourcing market.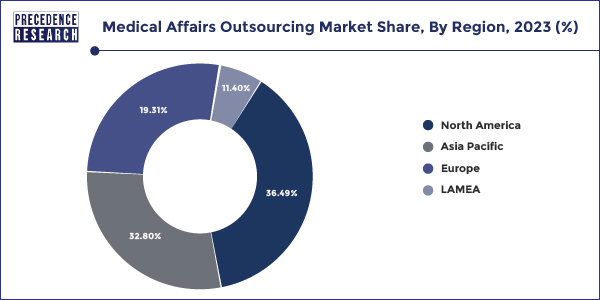 As rivalry in the international medical device market exaggerates, the U.S. medical businesses are progressively looking for means to decrease costs in manufacturing, clinical trials, research and development, and other medical services. Numerous Asian nationsbid a lower charge of labor such as China and India and skillful labor force. Merging this with the region's fast-growing markets and growing mature populations propose encouraging openings for the U.S. medical device corporations outsourcing their affairs to Asia Pacific. For instance, at present elderly population in Japan is around 20% against 12% aged population in the U.S.
Key Companies & Market Share Insights
The arrival of freely accessible medical data has stemmed in the development of the stakeholder landscape where newfangled and varied participants like advocacy groups and patients are now becoming crucial decision-makers.Besides, requirements for transparency and escalating public scrutiny augments suggestively to the compliance pressures already sensed by medical affairs to escalate integrity and advance stakeholder commitment. Corporations engaged in the medical affairs outsourcing business are anticipated to gather noteworthy return-on-investment (ROI) during forecast period due to the collective acceptance of business growth approaches like collaboration, acquisition and partnership among others.
Some of the significant players in the medical affairs outsourcing market include:
ICON plc
Wuxi Clinical Development, Inc
Pharmaceutical Product Development, LLC
Ashfield Healthcare Communications
Indegene Inc.
IQVIA Holdings Inc
The Medical Affairs Company (TMAC)
SGS SA
Syneos Health Inc
ZEINCRO Group
Scope of the Medical Affairs Outsourcing Market Report
| | |
| --- | --- |
| Report Highlights | Details |
| Market Size | US$ 3.51 billion by 2030 |
| Growth Rate | CAGR of 12.5% From 2021 and 2030 |
| Base Year | 2020 |
| Historic Data | 2017 to 2020 |
| Forecast Period | 2021 to 2030 |
| Segments Covered | By Services, By Industry and Regional |
| Regional Scope | North America, APAC, Europe, Latin America, MEAN, Rest of the World |
| Companies Mentioned | ICON plc, Wuxi Clinical Development, Inc, Pharmaceutical Product Development, LLC, Ashfield Healthcare Communications, Indegene Inc., IQVIA Holdings Inc, The Medical Affairs Company (TMAC), SGS SA, Syneos Health Inc, ZEINCRO Group |
Segments Covered in the Report
This research study comprises complete valuation of the market revenue with the help of widespread quantitative and qualitative insights, and prognoses of the market. This report presents breakdown of market into forthcoming and niche segments. Additionally, this research study gauges market revenue growth and its drift at global, regional, and country from 2017 to 2030. This report includes market division and its revenue assessment by categorizing it depending on services, industry and region as follows:
By Services
Medical Monitoring
Medical Writing & Publishing
Medical Information
Medical Science Liaisons
Others
By Industry
Medical Devices
Pharmaceutical
Biopharmaceutical
By Regional Outlook
North America
Europe
Asia Pacific

China
India
Japan
South Korea

Middle East & Africa
Latin America