The global medical disposables market size is expected to hit over USD 844 billion by 2027 with a noteworthy CAGR of 16.2 % during the forecast period 2020 to 2027. The medical disposables market size was accounted at US$ 245.26 billion in 2019.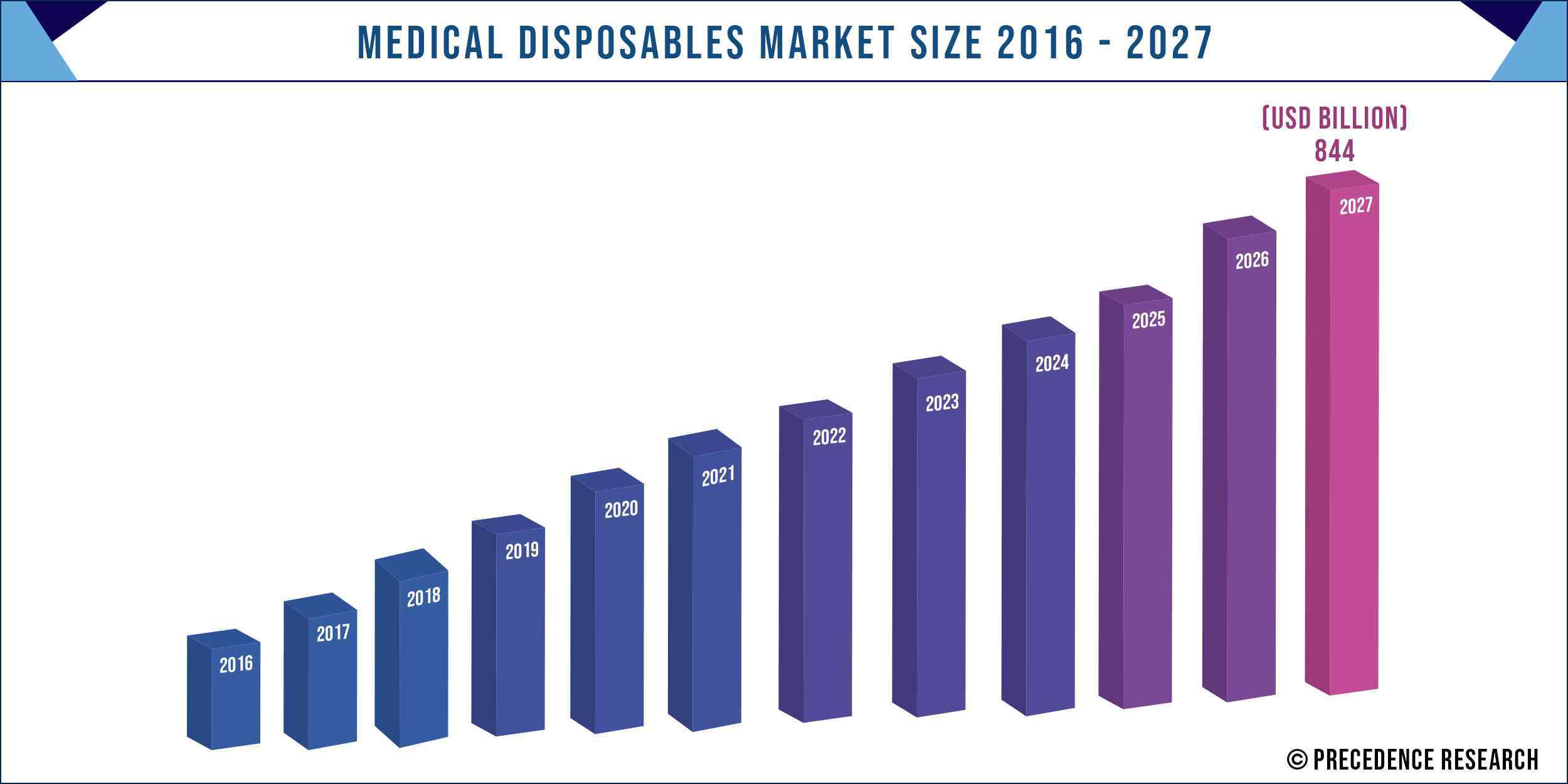 Growing incidence of Hospital Acquired Infections (HAIs), an increasing number of chronic patients rising number of surgical procedures, and adverse impact of COVID-19 are major factors responsible for medical disposables market growth. According to WHO, geriatric population was around 84 million in 2014 and is expected to reach 2 billion by 2050 across the globe. Therefore, the growing geriatric population across the globe is estimated to fuel market growth during the forecast period. Moreover, the recent outbreak of virus SARS-CoV-2 has increased the demand for emergency supplies, hospital equipment, and medical disposable products.
Product Insights
On the basis of products, the medical disposable market is fragmented into drug delivery products, wound management products, dialysis disposables, diagnostic & laboratory disposables, disposable gloves, respiratory supplies, incontinence products, disposable masks, non-woven disposables, disposable eye gear, sterilization supplies, and others. In 2019, disposable mask accounted for the largest market share of 12.0% in terms of revenue. Disposable masks play an important role to protect from harmful viruses that spread rapidly from one person to another person. Based on the American Society for Testing and Materials (ASTM) levels, the masks are further fragmented into high, medium, and low fluid resistance. Due to the current outbreak of COVID-19, the disposable mask is expected to gain traction across the globe. Growing awareness regarding the usage of disposable masks among people is projected to augment the segment growth.
The hand sanitizer segment is anticipated to grow with the fastest CAGR during the forecast period. Hand sanitizers are generally produced with alcohol-free and alcohol-based in order to protect from harmful pathogens. The hand sanitizer segment is further subdivided into gel, foam, liquid, and others. Due to the rapid spread of COVID-19 across the globe, the demand for hand sanitizers is surging tremendously, thereby expected to drive the market for hand sanitizers.
Raw Material Insight
Based on raw material, the market is classified into nonwoven material, rubber, plastic resins, paper and paperboard, glass, metals, and others. In 2019, plastic resins accounted for the largest market share of over 56.0%, as it is widely used for manufacturing medical devices like containers, disposable syringes, and other medical items. Growing cases of infections and rises in the usage of disposable items to protect from COVID-19 are expected to boost the segment growth in the near future.
On the other hand, the nonwoven material segment is projected to have the fastest growth from 2020 to 2027. This material is widely used in clinics and hospitals, as it helps to protect from surgical site infections and borne infections. The nonwoven material is used for manufacturing sanitary napkins, masks, drapes, and surgical gowns. Thus, several applications of nonwoven material are anticipated to drive segment growth.
End-use Insight
By end-use, the market is segmented into outpatient/primary care facilities, hospitals, home healthcare, and others. In 2019, hospital segment dominated the global market and accounted for the largest market share of over 48% in terms of revenue. Growing number of patients for COVID-19 treatment and surgeries is expected to witness highest growth of this segment. In addition, increasing usage of medical disposables in the hospitals across the globe will boost the segment growth over the forecast period.
Home healthcare segment is projected to have significant growth over the forecast period. In home healthcare, medical disposable comprise syringes,lancets, gloves, disposable sheets, and needles. Factors such as growing geriatric population and government regulations for reducing hospital readmissions are expected to boost the segment growth extensively in the near future.
Regional Insights
In 2019, North America accounted for the largest market share of more than 46.0% due to the presence of a large number of market players and a growing number of surgeries in hospitals. On 20th April 2020, the report published by WHO, over 3,39,09 COVID-19 active patients are reported and in Canada, around 1,509 cases are detected. Thus, the growing number of COVID-19 patients rapidly in this region is expected to boost regional market growth.
Asia Pacific is projected to expand with the fastest growth rate from 2020 to 2027 due to the increasing geriatric population and rising incidence of cardiovascular diseases. Asia Pacific is one of the worst regions hit by COVID-19. A high number of COVID-19 cases reported in China, South Korea, and India. Additionally, a densely populated area in these countries is highly responsible for spreading virus's infections.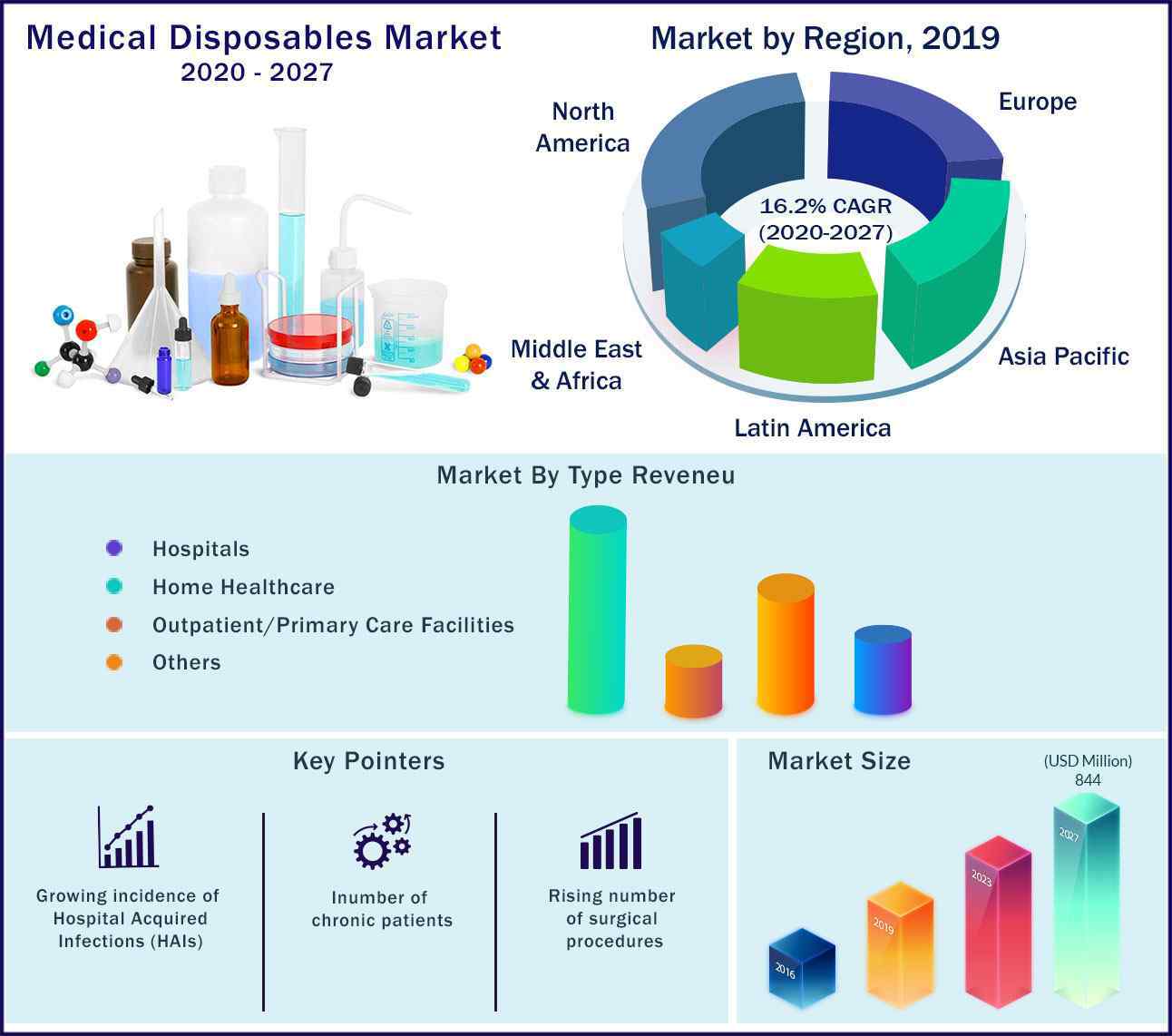 Key Companies & Market Share Insights
Market players are engaged in adopting marketing strategies like product launch, product development, agreements, partnerships, merger, and acquisitions to strengthen their footprint in the competitive market. For example, in 2016, Medline completed an agreement with Premier, Inc. This agreement will help to reduce cost of surgical gloves. This initiative aims to unite with around 3,750 hospitals in the U.S. and 130,000 other providers.
Some of the prominent players in the medical disposables market include:
Bayer AG
BD
Smith & Nephew PLC
Cardinal Health
Medline Industries, Inc.
3M
Segments Covered in the Report
This research report estimates revenue growth at global, regional, and country levels and offers an analysis of present industry trends in every sub-segment from 2016 to 2027. This research study analyzes market thoroughly by classifying global medical disposable market report on the basis of different parameters including product, raw material, end use, and region as follows:
By Product
Wound Management Products
Drug Delivery Products
Diagnostic and Laboratory Disposables
Dialysis Disposables
Incontinence Products
Respiratory Supplies
Sterilization Supplies
Non-woven Disposables
Disposable Masks
Disposable Eye Gear
Disposable Gloves
Hand Sanitizers
Gel Sanitizers
Foam Sanitizers
Liquid Sanitizers
Other Sanitizers
Others
By Raw Material
Plastic Resins
Nonwoven Material
Rubber
Paper and Paperboard
Metals
Glass
Others
By End-use
Hospitals
Home Healthcare
Outpatient/Primary Care Facilities
Others
By Geography
North America
Europe
Asia Pacific
Latin America
Middle East & Africa

South Africa
Saudi Arabia