According to Precedence Research, the global medical disposables market size was estimated at US$ 356.1 billion in 2020 and is expected to reach over USD 844 billion by 2027, growing at a noteworthy CAGR of 13.4% during the forecast period 2021 to 2027.
The US medical disposable market was valued at USD 62,706.6 million in 2016 and estimated to reach USD 269,829.8 million by 2028, growing at a CAGR of 12.6% during the forecast period (2021-2028).
The Mexico medical disposable market was valued at USD 4,562.8 million in 2016 and estimated to reach USD 25,318.0 million by 2028, growing at a CAGR of 15.0% during the forecast period (2021-2028).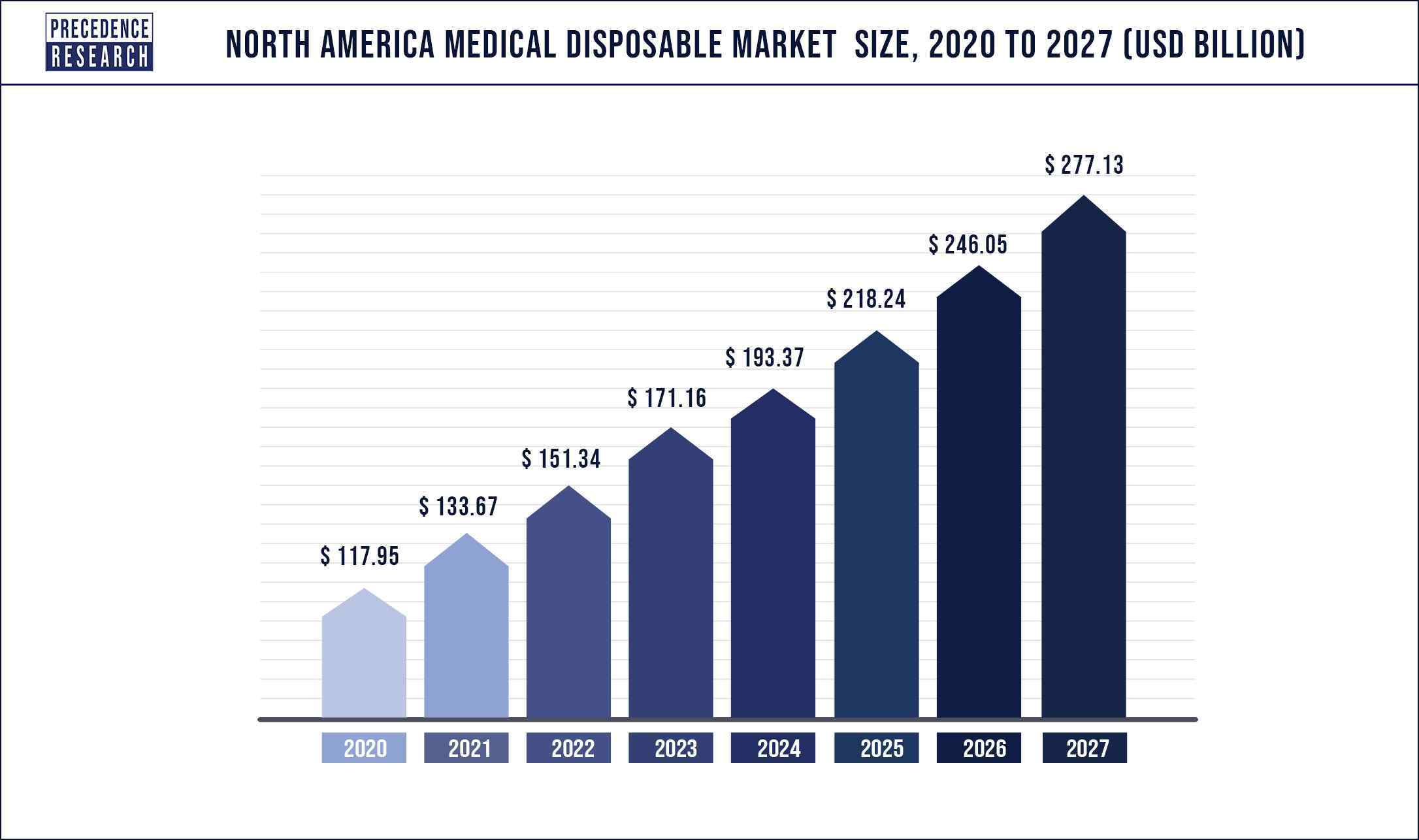 Growing incidence of Hospital Acquired Infections (HAIs), an increasing number of chronic patients rising number of surgical procedures, and adverse impact of COVID-19 are major factors responsible for medical disposables market growth. According to WHO, geriatric population was around 84 million in 2014 and is expected to reach 2 billion by 2050 across the globe. Therefore, the growing geriatric population across the globe is estimated to fuel market growth during the forecast period. Moreover, the recent outbreak of virus SARS-CoV-2 has increased the demand for emergency supplies, hospital equipment, and medical disposable products.
COVID-19 Impact
The COVID-19 epidemic is still wreaking havoc on communities and economies around the world, claiming lives and causing instability and change. The COVID-19 pandemic had depicted the inadequacy of the U.S. healthcare system especially in terms of resilient and timely delivery of healthcare services. As per the American Hospital Association, COVID-19 pandemic has created a huge loss of about $202 billion across the healthcare industry that led to substantial lay off workers and scramble to reduce supply chain costs across healthcare systems.
At the beginning of early 2020, the country faced a daunting challenge due to the highly contagious virus SARS-CoV-2 (COVID-19), spread rapidly around the region. The outbreak at the beginning of 2020 triggered an exponential increase in demand for goods used in response to the pandemic, which resulted in severe supply chain challenges and constraints for certain vital COVID-19 related products. As, about 13 million Americans had been infected by the virus and over 250,000 Americans had died due to COVID-19 reported in November 2020.
Immediate outbreak response
Although there was a speedy response to the shortfalls across several key industries during the first half of 2020, it was not enough to meet the needs at the start of the pandemic. Four main contributing factors for shortage of PPE in 2020:
Dysfunctional budgeting model in hospital operating systems
A major demand shock triggered by healthcare system needs as well as panicked marketplace behavior depleted PPE inventories.
The federal government failed to maintain and distribute domestic inventories
Major disruptions to the PPE global supply chain caused a sharp reduction in PPE exported to the US, which was already highly dependent on globally-sourced PPE
However, as the pandemic continues, medical disposable constraints remain high, and for certain COVID-19 related medical disposables, supply constraints are not expected to wane until 2022.
Impact mitigation
People with treatable health concerns suffered disproportionately more during previous outbreaks because the healthcare system was strained too tight to function properly. The COVID-19 pandemic is no exception, and it could have had considerably more severe consequences.
Growth opportunities
COVID-19 has undoubtedly influenced several developments in 2020, as the Medical Disposables community tries to figure out how to effectively support traditional public health policies. Many of US's medical disposables responses are built on a public-private partnership model, with innovative technology firms pioneering technological innovation within a national enabling policy and technological infrastructure. Many have taken advantage of the chance to show that they can meet the practical demands of healthcare practitioners, patients, and the general public, either by integrating into the official healthcare grid or by developing separate platforms.
Product Insights
On the basis of products, the medical disposable market is fragmented into drug delivery products, wound management products, dialysis disposables, diagnostic & laboratory disposables, disposable gloves, respiratory supplies, incontinence products, disposable masks, non-woven disposables, disposable eye gear, sterilization supplies, and others. In 2019, disposable mask accounted for the largest market share of 12.0% in terms of revenue. Disposable masks play an important role to protect from harmful viruses that spread rapidly from one person to another person. Based on the American Society for Testing and Materials (ASTM) levels, the masks are further fragmented into high, medium, and low fluid resistance. Due to the current outbreak of COVID-19, the disposable mask is expected to gain traction across the globe. Growing awareness regarding the usage of disposable masks among people is projected to augment the segment growth.
The hand sanitizer segment is anticipated to grow with the fastest CAGR during the forecast period. Hand sanitizers are generally produced with alcohol-free and alcohol-based in order to protect from harmful pathogens. The hand sanitizer segment is further subdivided into gel, foam, liquid, and others. Due to the rapid spread of COVID-19 across the globe, the demand for hand sanitizers is surging tremendously, thereby expected to drive the market for hand sanitizers.
Raw Material Insight
Based on raw material, the market is classified into nonwoven material, rubber, plastic resins, paper and paperboard, glass, metals, and others. In 2019, plastic resins accounted for the largest market share of over 56.0%, as it is widely used for manufacturing medical devices like containers, disposable syringes, and other medical items. Growing cases of infections and rises in the usage of disposable items to protect from COVID-19 are expected to boost the segment growth in the near future.
North America Medical Disposables Market Share, By Raw Material, 2020 (%)
| | |
| --- | --- |
| Raw Material Segment | 2020 (%) |
| Plastic Resins | 61.8% |
| Nonwoven Material | 15.1% |
| Rubber | 9.4% |
| Paper and Paperboard | 5.4% |
| Metals | 4.1% |
| Glass | 2.8% |
| Others | 1.4% |
On the other hand, the nonwoven material segment is projected to have the fastest growth from 2020 to 2027. This material is widely used in clinics and hospitals, as it helps to protect from surgical site infections and borne infections. The nonwoven material is used for manufacturing sanitary napkins, masks, drapes, and surgical gowns. Thus, several applications of nonwoven material are anticipated to drive segment growth.
End-use Insight
By end-use, the market is segmented into outpatient/primary care facilities, hospitals, home healthcare, and others. In 2019, hospital segment dominated the global market and accounted for the largest market share of over 48% in terms of revenue. Growing number of patients for COVID-19 treatment and surgeries is expected to witness highest growth of this segment. In addition, increasing usage of medical disposables in the hospitals across the globe will boost the segment growth over the forecast period.
Home healthcare segment is projected to have significant growth over the forecast period. In home healthcare, medical disposable comprise syringes,lancets, gloves, disposable sheets, and needles. Factors such as growing geriatric population and government regulations for reducing hospital readmissions are expected to boost the segment growth extensively in the near future.
Regional Insights
In 2019, North America accounted for the largest market share of more than 46.0% due to the presence of a large number of market players and a growing number of surgeries in hospitals. On 20th April 2020, the report published by WHO, over 3,39,09 COVID-19 active patients are reported and in Canada, around 1,509 cases are detected. Thus, the growing number of COVID-19 patients rapidly in this region is expected to boost regional market growth.
Asia Pacific is projected to expand with the fastest growth rate from 2020 to 2027 due to the increasing geriatric population and rising incidence of cardiovascular diseases. Asia Pacific is one of the worst regions hit by COVID-19. A high number of COVID-19 cases reported in China, South Korea, and India. Additionally, a densely populated area in these countries is highly responsible for spreading virus's infections.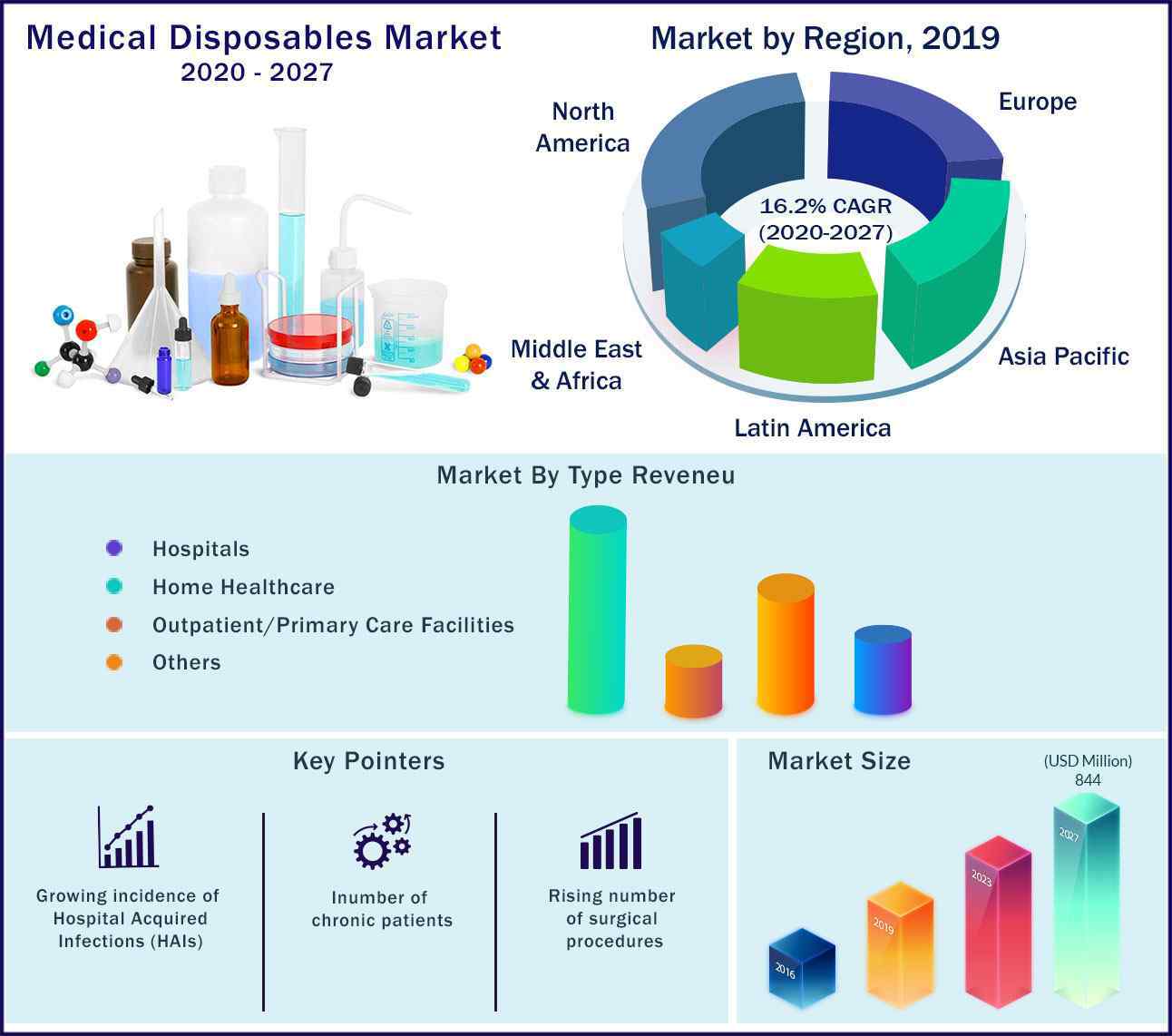 Key Companies & Market Share Insights
Market players are engaged in adopting marketing strategies like product launch, product development, agreements, partnerships, merger, and acquisitions to strengthen their footprint in the competitive market. For example, in 2016, Medline completed an agreement with Premier, Inc. This agreement will help to reduce cost of surgical gloves. This initiative aims to unite with around 3,750 hospitals in the U.S. and 130,000 other providers.
Some of the prominent players in the medical disposables market include:
Bayer AG
BD
Smith & Nephew PLC
Cardinal Health
Medline Industries, Inc.
3M
Report Scope of the Medical Disposables Market
| | |
| --- | --- |
| Report Coverage | Details |
| Market Size in 2020 | USD 356.1 Billion |
| Growth Rate From 2021 to 2027 | CAGR of 16.2% |
| Largest Market | North America |
| Fastest Growing Market | Asia Pacific |
| Base Year | 2021 |
| Forecast Period | 2021 to 2027 |
| Segments Covered | Product, End User, Raw Material, Region |
| Companies Mentioned | Bayer AG, BD, Smith & Nephew PLC, Cardinal Health, Medline Industries, Inc. and 3M |
Segments Covered in the Report
This research report estimates revenue growth at global, regional, and country levels and offers an analysis of present industry trends in every sub-segment from 2016 to 2027. This research study analyzes market thoroughly by classifying global medical disposable market report on the basis of different parameters including product, raw material, end use, and region as follows:
By Product
Wound Management Products
Drug Delivery Products
Diagnostic and Laboratory Disposables
Dialysis Disposables
Incontinence Products
Respiratory Supplies
Sterilization Supplies
Non-woven Disposables
Disposable Masks
Disposable Eye Gear
Disposable Gloves
Hand Sanitizers
Gel Sanitizers
Foam Sanitizers
Liquid Sanitizers
Other Sanitizers
Others
By Raw Material
Plastic Resins
Nonwoven Material
Rubber
Paper and Paperboard
Metals
Glass
Others
By End-use
Hospitals
Home Healthcare
Outpatient/Primary Care Facilities
Others
By Geography
North America
Europe
Asia Pacific
Latin America
Middle East & Africa

South Africa
Saudi Arabia