The global N95 medical protective masks market size is projected to surpass USD 6.94 billion by 2032 and is expanding growth at a compound annual growth rate (CAGR) of around 8.8% during the period 2023 to 2032.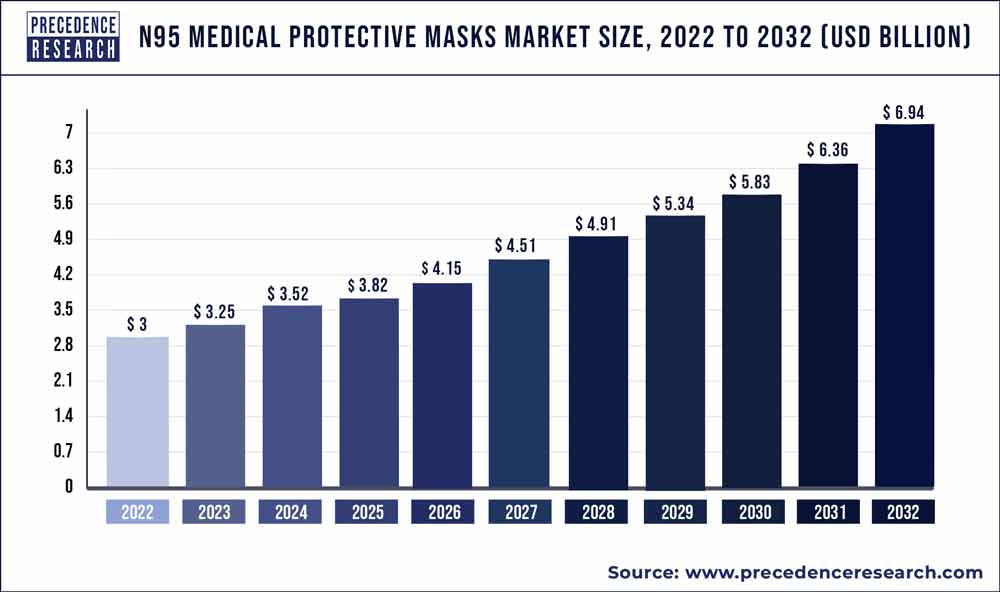 Access our Premium Real Time Data Intelligence Tool, Visit: Precedence Statistics
Growth Factors
Global N95 grade medical protective masks market is showing enormous growth in demand on account of heightening health responsiveness amid elderly population to make use of masks for escaping the viral infection. Intensifying consumer alertness for airborne contaminations has been generating a vigorous demand for these masks, most remarkably for personal usage. In this respect, a rise in epidemics of coronavirus in the recent past has been subsidizing suggestively to the need for disposable masks amid the overall public. A drift that has been absorbing the market is the accumulative use of surgical masks for individual use. The worldwide upsurge in the occurrence of air-borne diseases and contamination levels has been inspiring a substantial number of buyers to opt for disposable face masks. With consumers searching for options to retain themselves safe from viral pandemics, noticeable manufacturers are concentrating on growing their scale of operation in respects to the development of N95 grade medical protective masks for personal use.
Masks can inhibit the droplets produced through sneezing and coughing from interacting with the contiguous individual. These droplets are sufficient to spread the airborne illnesses and other contaminations. Currently, practice of mask has been augmented on account of outbreak of the Covid-19 across the globe. It has made essential to put mask every time an individual is interacting with the others. Mask averts the contaminations that can be transmitted via coughing sneezing or even speaking or approaching close in communication. Such influences are estimated to substantially fuel the demand for N95 grade medical protective masks all over the world.
Report Scope of the N95 Medical Protective Masks Market
| | |
| --- | --- |
| Report Highlights | Details |
| Market Size by 2032 | USD 6.94 Billion |
| Growth Rate from 2023 to 2032 | CAGR of 8.8% |
| Largest Market | North America |
| Fastest Growing Market | Asia Pacific |
| Base Year | 2022 |
| Forecast Period | 2023 to 2032 |
| Segments Covered | Product Type, Application Type, End User, Region Type |
| Companies Mentioned | Honeywell International Inc., 3M, Kowa Company Ltd., Kimberly-Clark Worldwide, Inc., Prestige Ameritech, ANSELL LTD., Cardinal Health. |
Covid-19 Impact
The Covid-19 outbreak has unraveled the global supply chain for medical masks as companies such as Honeywell International and 3M are working in record time to strengthen production at home. Even with all of the augmented production, there are still not adequate N95 respirators being manufactured to house all of the medical staff and healthcare workers who require them as crucial personal protective equipment across the world. This has led to numerous concerns such as hospitals having to share N95 respirators and deliberate situations where healthcare works may want to reject emergency cure for patients affected with Covid-19 if the essential private protective equipment is not accessible. Further, demand for N95 respirators far surpassing existing manufacturing competences and continuing supply chain problems are also subsidizing to shortages. The government organizations across all nations are imposing an obligatory act of utilizing the face mask for the fortification from the communicable coronavirus. The travelers and tourists coming into the metropolises and roaming across the nations are constrained and Covid-19 testing is made mandatory for them.
Product Insights
On the basis of product type, global N95 grade medical protective masks market is bifurcated as mask without exhalation valve and mask with exhalation valve. The masks lacking exhalation valves only have the coatings of strap and filter which make them cost-effective. Nonetheless, they are less favored than the masks having exhalation valves, as they cause breathing trouble to the users.
Regional Insights
North America is estimated to occupy majority of the global N95 mask market revenue throughout the prediction period. The market in the region is foreseen to cultivate at a prompt pace as the citizens living in the U.S. and other regions favor wearing face masks, due to the fear of contaminations instigated by possible viruses, influenza and pollution. Europe is anticipated appear as second prevalent market through the prognosis period on account of epidemic of the Covid-19. There has been an unexpected growth in the sale for these masks, particularly in the U.S. and European nations such as Spain, Italy, and France, where the numbers COVID-19 patient have skyrocketed.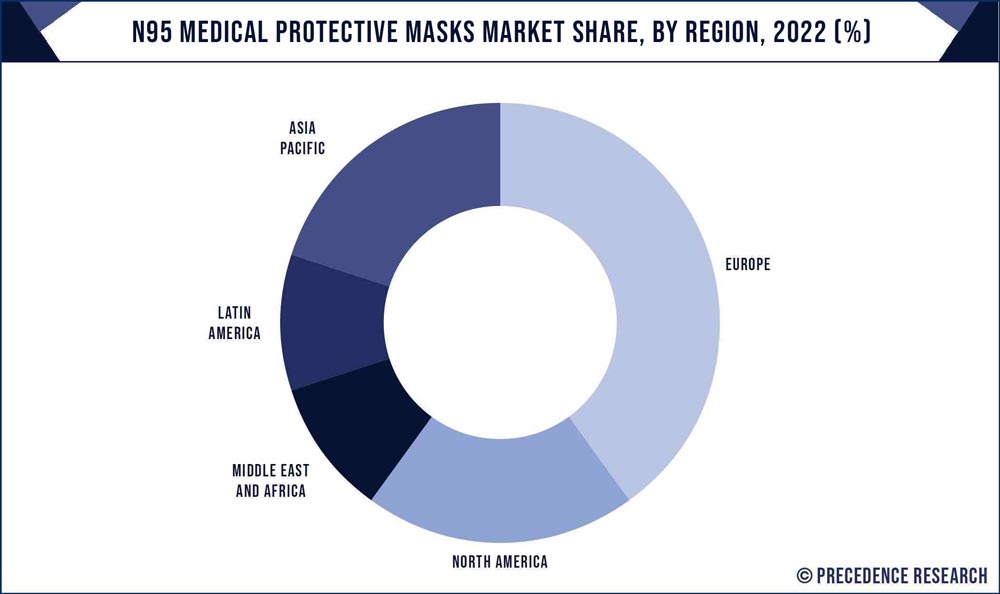 At present, biggest surgical mask producer in the U.S., Prestige Ameritech, has received a requirement of above 1.4 billion masks. CDC has commended that general public should not buy the N95 mask as it confines the supply compulsory to be deliver to healthcare personnel and to remain indoors in its place. However, the public appear to pay no attention to the directions provided by CDC and WHO which has augmented the demand for such type of masks.
Key Companies & Market Share Insights
N95 face mask manufacturers ramps up fabrication to address the elevated Covid-19 demand in the U.S. American corporations including Honeywell, 3M, and Prestige Ameritech are capitalizing in domestic production of masks. Other companies of N95 respirators like Owens & Minor Inc. are also struggling to upsurge their manufacturing capability as they strive to keep up with the novel, unprecedented demand.
Some of the noteworthy market participants competing in the N95 medical protective masks arena include:
Honeywell International Inc.
3M
Kowa Company Ltd.
Kimberly-Clark Worldwide, Inc.
Prestige Ameritech
ANSELL LTD.
Cardinal Health
JIANGSU TEYIN IMP. & EXP. CO., LTD.
The Gerson Company
Ohlone Press LLC
Cambridge Mask Co
Segments Covered in the Report
This research study comprises complete valuation of the market revenue with the help of widespread quantitative and qualitative insights, and prognoses of the market. This report presents breakdown of market into forthcoming and niche segments. Additionally, this research study gauges market revenue growth and its drift at global, regional, and country from 2020 to 2032. This report includes market division and its revenue assessment by categorizing it depending on application, type, end-user and region as follows:
By Application
By Product
Mask without Exhalation Valve
Mask with Exhalation Valve
By End-use
Drug Stores
Hospitals
Online Stores
By Regional Outlook
North America
Europe
Asia Pacific

China
India
Japan
South Korea

Middle East & Africa
Latin America