According to Precedence Research, the global medical device outsourcing market size was valued at USD 102.3 billion in 2019 and predicted to reach USD 231.0 billion by 2027 with register a compound annual growth rate (CAGR) of around 9.98% during period 2020 to 2027.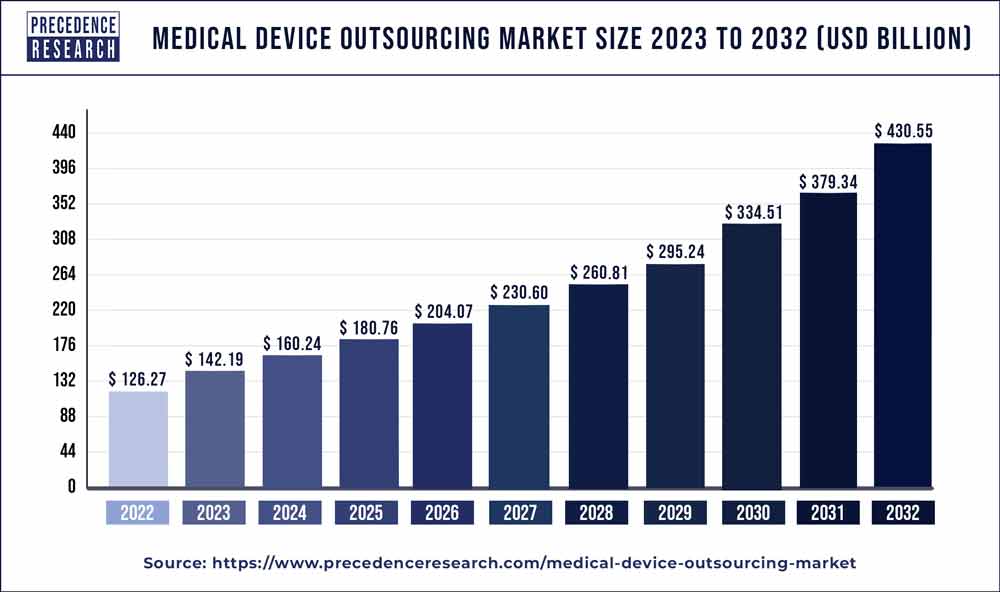 Growth Factors
Escalating trend toward outsourcing manufacturing operations has become essential as it helps to decrease direct expenses and modernize supply chains where as balancing rising operating expenses. At present,variety of influences is motivating growth in the contract manufacturing segment. Extreme competition has enforced device producers to emphasis on their core proficiencies of research and development, marketing, clinical education, and sales. Medical device outsourcing bids cost savings and better-quality service delivery. According to a present-day KPMG survey, out of 94 respondents in the medical service and device supplier industries, upgraded service delivery and cost drop are two of the primary influencers for outsourcing. IT outsourcing was recognized by 38% of respondents as a topmost ways for cost reduction, whereas 26% of respondents observed it as a good technique to recover service delivery. In contrast, business process outsourcing (BPO) was regarded by 30% of respondents as a uppermost means for cost drop, whereas 19% of respondents thought it was a good method to develop service delivery.
The significance of regulatory compliance is anticipated to lift the growth of consulting services including quality management systems, remediation, and compliance thus backing to the market growth. However, pricing pressure, the budget scrutiny in established countries, and changes in repayment schemes are certain major features expected to upsurge the implementation of cost suppression procedures by the original equipment manufacturers (OEM). These factors are also anticipated to lift medical device outsourcing to emergent nations including India and China.
Application Insights
Based on application the market is segmented into drug delivery, dental, diabetes care, cardiology, endoscopy, IVD, ophthalmic, diagnostic imaging, orthopedic, general and plastic surgery, and others.
Among different application segments, cardiology is estimated to be record fastest growth during forthcoming years. This growth is credited to growing occurrences of chronic diseases and growing pervasiveness of associated conditions. The IVD division is also anticipated to grow considerably over the estimate period.
Services Insights
In 2019, contract manufacturing embraced the major revenue share of the market and is anticipated to lead the market for medical device outsourcing throughout the forecast duration. While cumulative focus on plummeting the cost of medical devices is also improving segment growth. On the other hand, the quality assurance service segment is expected to record the firmest CAGR duringthe forthcoming years.
Regional Insights
The crucial driver for growth of medical device outsourcing market is the profitable and speedy manufacturing of produces. Producers outsource the production of their products to cut down price and time. Furthermore, in its place of conveying in equipment to manufacture medical devices, it is better for the manufacturers to subcontract the production maneuvers totally to contract manufacturing organizations founded in South Korea, Taiwan, China, and numerous other nations to proficiently manage quality and maintenance.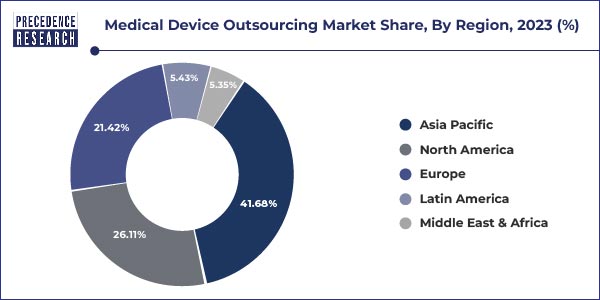 Asia Pacific bids profitable prospects for the medical device outsourcing market growth. This growth is credited to the existence of great pool of patients suffering from illnesses including neurological and cardiac disorders. Additionally, most of the medical device corporations opt to produce their devices in Asia Pacific which is predominantly accredited to the less labor costs, upgrading in technical knowledge, and small overhead costs. Consequently, all these factors cumulatively have augmented the medical device outsourcing market in this region.
Though the total medical device industry in the U.S. is estimated to continue growing at a robust rate, the outsourced manufacturing market is anticipated to perceive even faster growth. As medical device producers attempt to recover margins and time to market, outsourced manufacturing will endure to grow in approval.
Key Companies & Market Share Insights
Outsourcing gives OEMs the prospect to take benefit of resources such as labor, machinery or materials. It proves cost-efficient to outsource production particularly if maneuvers and expertise of machinery can be handled from outside than to fetch an expert in the headquarters and then train individuals. Due to outsourcing despite of escalating operating expenses, the medical device manufacturing has exhibited significant growth during the last few years. For example, Medtech company have accomplished to sustain industry productivity by supporting an extremely high level of assurance to product innovation and by implementing a variety of creative cutbacks measures such as progressively popular approach of outsourced manufacturing.
Some of the noteworthy players in the medical device outsourcing market include:
Intertek Group PLC
TüvSüd AG
Wuxi Apptec
SGS SA
Toxikon, INC.
Eurofins Scientific
American Preclinical Services
Sterigenics International LLC
Pace Analytical Services LLC.
North American Science Associates, Inc.
Charles River Laboratories International, Inc.
Report Scope of the Medical Device Outsourcing Market
| | |
| --- | --- |
| Report Highlights | Details |
| Market Size | USD 231 Billion by 2027 |
| Growth Rate | CAGR of 9.98% from 2021 to 2027 |
| Largest Market | Asia Pacific |
| Fastest Growing Market | North America |
| Base Year | 2021 |
| Forecast Period | 2021 to 2027 |
| Segments Covered | Service Type, Application Type, Region Type |
| Companies Mentioned | Intertek Group PLC, TüvSüd AG, Wuxi Apptec, SGS SA, Toxikon, INC., Eurofins Scientific, American Preclinical Services, Sterigenics International LLC, Pace Analytical Services LLC. |
Segments Covered in the Report
This research report includes complete assessment of the market with the help of extensive qualitative and quantitative insights, and projections regarding the market. This report offers breakdown of market into prospective and niche sectors. Further, this research study calculates market revenue and its growth trend at global, regional, and country from 2016 to 2027. This report includes market segmentation and its revenue estimation by classifying it on the basis of service, application and region as follows:
By Service
Product Upgrade Services
Regulatory Affairs Services

Legal representation
Clinical trials applications
Regulatory writing and publishing

Quality Assurance
Product Maintenance Services
Product Testing & Sterilization Services
Product Design and Development Services

Molding
Designing & engineering
Machining
Packaging

Product Implementation Services
Contract Manufacturing

Accessories manufacturing
Component manufacturing
Device manufacturing
Assembly manufacturing
By Application
Drug delivery
Dental
Diabetes care
Cardiology
Endoscopy
IVD
Ophthalmic
Diagnostic imaging
Orthopedic
General and plastic surgery
Others
By Regional
North America
Europe
Asia Pacific

China
India
Japan
South Korea

Middle East & Africa
Latin America