The U.S. medical billing outsourcing market size was exhibited at USD 5.8 billion in 2022 and is projected to hit around USD 13.9 billion by 2030, registering a CAGR of 11.54% from 2022 to 2030.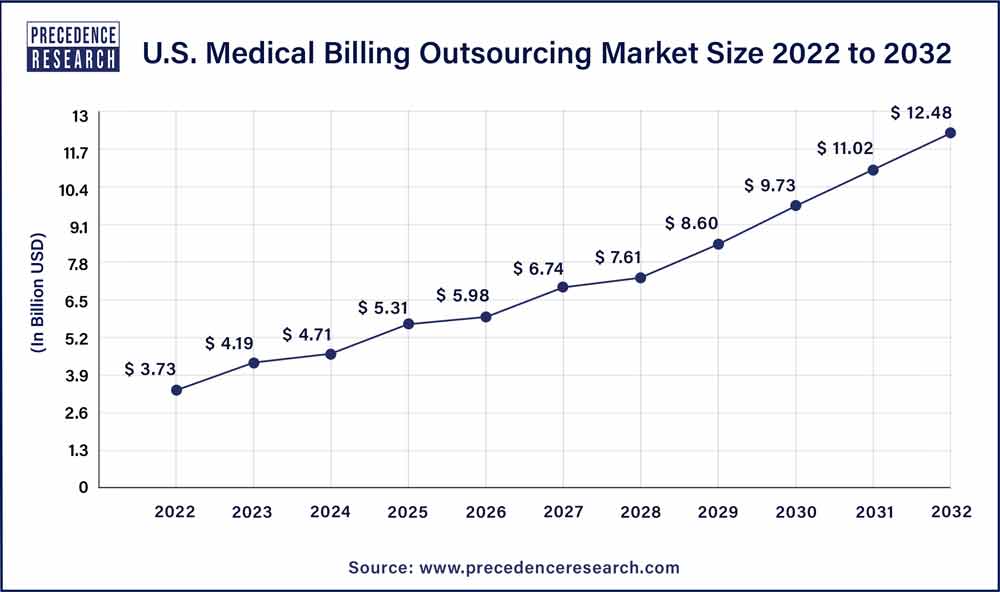 Key Points
On the basic of components, the outsourced segment captures more market share.
On the basic of service, the front-end segment captures more market share.
On the basic of end users, the hospitals' segment captures more market share.
Market Overview:
A medical claim is a process of creating health insurance. A hospital or other healthcare facility may outsource its billing and financial operations through a process known as medical billing outsourcing or revenue cycle management (RCM). It entails using a third-party software program to generate invoices, submit and track medical insurance claims, and get proper payments for the services provided. This helps reduce administrative workload, increase operational efficiencies, improve income production, and streamline complex collection processes. It can help to manage hospital employees and other operations more efficiently than internal billing systems because it is more affordable, transparent, and consistent.
Report Scope of the U.S. Medical Billing Outsourcing Market
Report Coverage
Details
Market Size in 2022
USD 5.8 Billion
Market Size by 2030
USD 13.9 Billion
Growth Rate from 2022 to 2030
CAGR of 11.54%
Base Year
2021
Forecast Period
2022 to 2030
Segments Covered

By Component
By Service
By End User

Market Dynamics:
Rising online billing platforms and government support drive the growth of the market
Increasing government funding and increasing government programs are driving the growth of the market. Increasing the use of billing and medical coding techniques in revenue cycle management helps drive the market. With the increase in patient numbers in the current scenario, hospitals appear to be having issues with billing processes, which poses problems for point-of-care delivery as well. Therefore, medical billing process outsourcing assists doctors not only in the billing process but also in patient management. The government provides hospitals with funding and advanced billing systems to facilitate the billing process and grow the market significantly. For example, in 2021, Epic Systems is a US-based software company that offers cloud-based medical software that can be used across practices and scales. Integrating electronic medical records, medical billing and coding, patient management capabilities, and more, the platform provides complete Revenue Cycle Management (RCM) capabilities.
Drivers
An increase in automation technology helps drive the market
New technology is coming day by day and the company is more focused on quick and accurate work. Nowadays companies are focusing on automation RPA tool as it saves time and gives more accurate results, most U.S. hospital use automation services for processing medical billing data and providing future opportunities.
Restrain
The lack of trained healthcare professional restrain the growth of the market
The unavailability of trained professionals will act as a constraint, further challenging the growth of the medical billing outsourcing market during the forecast period. Unless a doctor or clinic uses the services of an experienced billing provider.
Opportunity
Innovative and new techniques are providing future opportunity in to drive the market
Research and Development are rapidly growing as increasing investment in R&D and due to this new technology and advanced resources available in the healthcare system. The medical cost is increasing in developing countries that led to advancements in new technology such as outsourcing medical bills. In the United States, patients are referred to the insurance methods for paying their medical bills, moreover, they visit hospitals, and through electronic health record (EHR) systems the medical representative easily maintains data and easily Assis the billing helps drives the market in the forecast period.
Covid 19 Impact
The Covid-19 epidemic had a positive impact on the growth of the medical billing outsourcing industry. This is due to the growing influence of technology in healthcare and which has traditionally relied on localized healthcare systems. The pandemic has accelerated market growth by accelerating digital development in various industries including healthcare. Moreover, the digital development accelerated by the COVID-19 pandemic is expected to have a significant positive impact on the market under study. This pandemic situation has made it clear that we need to take action and build an effective digital health infrastructure. As a result, many healthcare industries are creating new roadmaps. Adoption of digitization and outsourcing of non-core aspects of business expected to drive market growth such as billing and accounts. In addition to this digital invoice has been observed during this period, which is expected to further drive the market growth. Additionally, consumer interest in online bill payments has increased significantly since the start of the pandemic, which is not a core business for most healthcare organizations, thus increasing the demand for medical billing outsourcing.
Segments Insight
Component Insights
In-house billing has more control over the billing process, monitoring, and controlling abilities and also helps in maintaining confidentiality. The clinic's in-house staff is responsible for both patient care and administrative duties. After that, the problem persists. Due to many practices, money leaks were discovered in the claims process. This includes under-trained and under-trained staff, which repeatedly cause problems with billing and filing claims. Error when checking health insurance coverage. Coding errors; backlog of massive files due to lack of staff. Unpaid receivables due to low cash income. Issues with provider certification and premature renewal of certifications and licenses. Billing process management issues.
Service Insights
Based on services the United States healthcare market is segmented into front-end and back-end service providers. The front-end services consist of processes such as planning, pre-registration, registration, eligibility, insurance verification, and pre-approval. Managing front-end services is key to reducing repetitive tasks and improving the patient experience through faster service. Therefore, the demand for outsourcing these services is high. Mid-range services are expected to witness the largest growth in the coming years owing to the entry of new market entrants, rising awareness among healthcare professionals, and increasing acceptance of services.
Increased claim denials due to inefficient billing management and increased burden on front-end service providers can increase demand for back-end services. Backend services minimize the load from frontend services. For example, according to a Rev Cycle Intelligence Advisory Board report, approximately 90% of rejected claims can be prevented and corrected for payment, but are unlikely to be resent to payers due to lack of focus.
End User Insights
The hospitals segment contributed the largest revenue share of around 45.50% in 2021. Medical claims are used in hospitals, physician offices, and other places also. People have mostly visited hospitals for their health-related issues which is why hospitals are the first users of medical billing outsourcing services due to more claim volume. As there is more increase in complexity in billing and reimbursement procedures the healthcare system and hospitals are shifting towards RCM services to minimize errors and find out the cost-effective solution.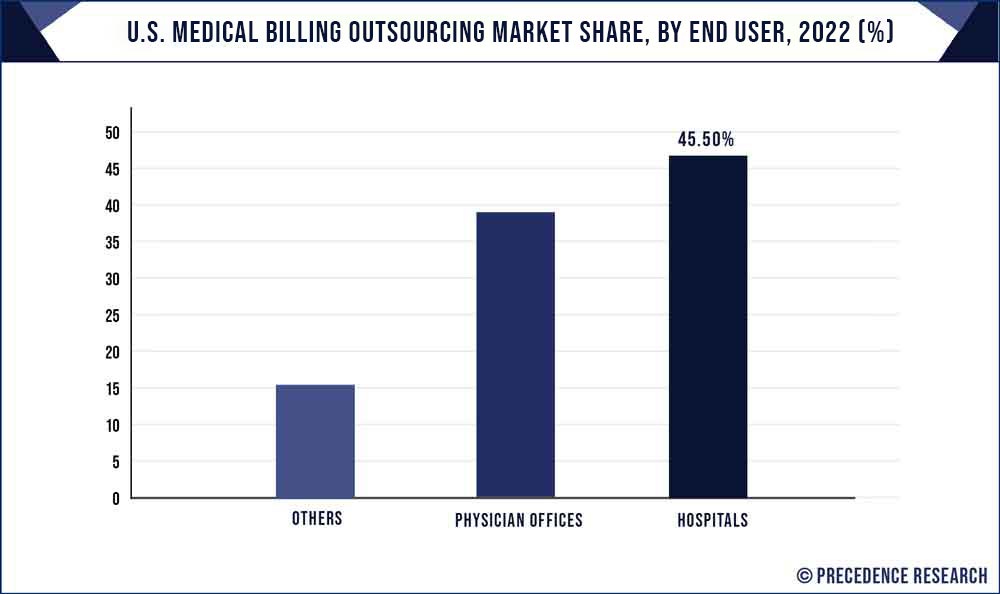 For instance, the growing need for more cost-effective and efficient processes and the growing importance of regulatory compliance and risk management complement the growth of this segment. For patient maintenance services and medical billing. The clinic segment is expected to witness significant growth during the forecast period. In December 2021, Allied Digestive Health, a Northeast-based gastroenterology care provider, selected Athenahealth Inc. for patient retention services and medical billing. The clinic segment is expected to highly grow in the future period.
Recent Developments:
In July 2021, R1 RCM Inc., a provider of technology-driven solutions that improve the patient experience and the financial performance of healthcare providers, announced that it has completed the acquisition of VisitPay, a provider of digital payment solutions. The acquisition brings together VisitPay's customer payment infrastructure and R1's leading patient access technology, enabling providers to offer patients a seamless financial journey
In March 2022, Omega Healthcare, a leading healthcare management services, and solutions company acquired Reventics, a developer of revenue cycle management solutions that provide provider engagement solutions to improve physician reimbursement and compliance.
Market Key Players
Allscripts Healthcare, LLC
R1RCM Inc.
eClinicalWorks
Cerner Corporation
Kareo Inc.
McKesson Corporation
Advanced MD, Inc.
Quest Diagnostics Incorporated
Promantra Inc.
Care Cloud
Segments Covered in the Report
(Note*: We offer reports based on sub-segments as well. Kindly, let us know if you are interested)
By Component
By Service
Front end
Middle End
Back End
By End User
Hospitals
Physician Offices
Others