The U.S. virtual care market size was evaluated at USD 5.6 billion in 2022 and is expected to hit around USD 76.31 billion by 2032, growing at a CAGR of 29.9% from 2023 to 2032.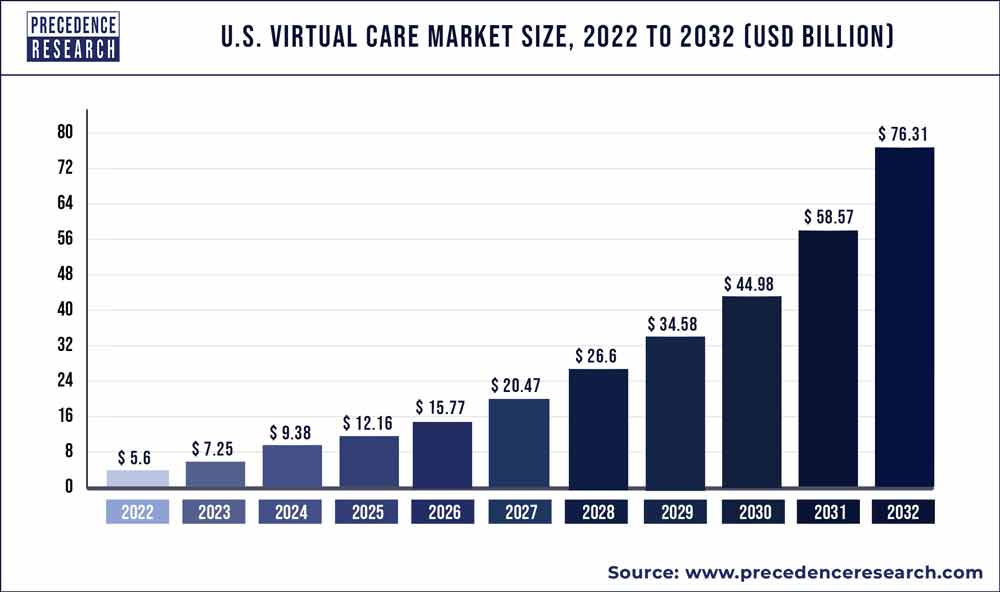 Access our Premium Real Time Data Intelligence Tool, Visit: Precedence Statistics
Key Insights:
In 2022, On the basis of application, the family medicine segment has contributed a market revenue share of around 30%.
In 2022, On the basis of application, the internal medicine segment held a large share of the market.
In 2022, On the basis of consultation mode, the audio segment will hold the biggest market share of around 45.9%.
Market Overview:
Virtual care is a method of treating patients with everyday health problems using video, audio, or written communication. This is also called a virtual visit using a communication device that both the patient and the doctor hold at different locations. Virtual care methods are mainly used for meetings, routine health consultations, etc. Virtual visits consist of "virtual visits" conducted between a patient and a healthcare provider using telecommunication technology. The term "virtual" refers to the real-time virtual meeting of patients and physicians from anywhere.
Report Scope of the US Virtual Care Market
Report Coverage
Details
Market Size in 2023
USD 7.25 Billion
Market Size by 2032
USD 76.31 Billion
Growth Rate from 2023 to 2032
CAGR of 29.9%
Base Year
2022
Forecast Period
2023 to 2032
Segments Covered

By Application
By Consultation Mode

Market Dynamics:
Drivers:
Increasing prevalence of chronic diseases
The growing elderly population in the United States is creating a highly favourable environment for chronic diseases. For instance, the CDC stated that chronic diseases like cardiovascular diseases, cancer, diabetes, and respiratory diseases increase approximately 70% of deaths every year in the united states. Moreover, the WHO report also found that the global population aged 60 and over will double from 12% to 22% between 2015 and 2022.
A growing number of smartphone users
The smartphone users are increasing continuously as the availability of the internet. The total smartphone users in Unite State are 298 million. The smartphone is the easiest way for using and connecting virtually. The US smartphone market is one of the largest in the world with approximately 298 million smartphone users (as of 2021). In line with the overall growth of the global smartphone market, US smartphone penetration has increased steadily in recent years, reaching 85% in February 2021.
Restraints:
Security concerns might restrict the US virtual care market progression
Security concerns related to sensitive patient data may limit its value to the industry. Telemedicine solutions require platform integration for electronic prescriptions, electronic patient files, and medical or fitness apps, among others. Data breaches can lead to unauthorized access to sensitive information such as medical records, medical records, prescriptions, insurance cards, personal ID cards, social security numbers, and addresses. Data breaches therefore negatively affect the overall reputation of telemedicine providers.
Opportunities:
Rising demand for tele-consulting to showcase significant market growth
The rapid change in the acceptance of virtual consultations has improved access to medical services, even in remote areas. It was also observed that the user adoption rate jumped from 11% to 46% within one year. Additionally, telemedicine maximizes patient reach at minimal cost, making it cost-effective. The need for remote patient monitoring is driving increased demand for tele-hospital services. The growing need to provide efficient, high-quality healthcare services at affordable prices is also a major contributor to industry sales. In addition, growing public awareness of the-hospital services such as daytime patient visits, emergency room visits, night-time calls and hospitalizations is projected to increase industry demand for telemedicine. 84 percent of physicians were offering virtual visits and 57 per cent would prefer to continue offering virtual care.
Covid 19 Impact
The 2019 novel coronavirus (COVID-19) pandemic has forced healthcare systems to balance the risk of COVID infection with the potential negative consequences of delayed treatment. This has led to the significant adoption of virtual care services around the world, allowing patients to continue to be seen while minimizing contact costs. Given the unprecedented use of virtual care, policymakers and payers are concerned about the quality of care delivered virtually and the potential cost increases from increased healthcare utilization. The COVID-19 pandemic also poses challenges for chronically ill patient care. US study reports a 90% reduction in screening and prevention services.
For example, Teladoc Health Inc.'s overall revenue increased by 97.7% in 2020 compared to 2019. In 2020, visits increased by 156% to about 10.6 million. Similarly, American Well Corporation saw revenue increase from 83.4% in 2020. Online platforms, travel restrictions, and measures to reduce patient numbers in hospitals have had a positive impact on the market.
Segments Insight
US Virtual Care Market Share, By Application, 2022 (%)
| | |
| --- | --- |
| Revenue | 2022 |
| Family Medicine | 30% |
| Internal Medicine | 28.5% |
| Cardiology | 13.5% |
| Paediatrics | 5% |
| Endocrinology | 5% |
| Rheumatology | 4% |
| Pulmonology | 3% |
| Others | 11% |
Application Insights
Based on Application, the virtual care market is segmented into family medicine, internal medicine, cardiology, paediatrics, endocrinology, rheumatology, and pulmonology. The family medicine segment has captured a market revenue share of around 30% in 2022. The internal medicine segment held a large share of the market in 2022.
A survey by the American College of Physicians (ACP) found that physicians and professionals in internal medicine want to use virtual health technology more than ever before. The survey found that more than half of the respondents would like to learn more about connected care technology.
Consultation Mode Insights
Based on type United States virtual care market is segmented into Audio, Video and Messaging consultation. The Audio segment will hold the largest market share at 45.9% in 2022. Ease of access to phones and high preference are the factors driving the growth of the market. Additionally, many live on the side of the digital divide with limited access to technology and high-speed Internet services. More than 21 million Americans live in the "digital desert," according to the 2020 Broadband Deployment Report. Both rural and urban residents are affected by this problem.
The video segment is likely to witness impressive growth during the forecast period. This increase is related to his COVID-19. As of April 2020, 43.5% of all Medicare GP visits were conducted via telemedicine. Before the pandemic, that percentage was just 0.1%. Virtual care also includes phone and text consultations, but the frequency of appointments made via video has increased dramatically. For example, video bookings through the Department of Veterans Affairs Video Connect system increased from 10,000 per week in February 2020 to 120,000 per week in May 2020.
Messaging consultations are trending nowadays because people already book their appointment through messaging and ask about their health-related issues via message. it is an easy and cheap method of consultation.
Recent Developments
In January 2020, Teladoc Health Inc. entered into an agreement to acquire InTouch Health, expanding its telemedicine offering and expanding its reach to hospitals and healthcare facilities.
American Well Corporation raised USD 194 million in May 2020 to address the soaring demand for remote healthcare services.
The Key Market Players
AMD Global Telemedicine
CHI Health
ATandT
Koninklijke Philips N.V.
GENERAL ELECTRIC COMPANY
Cerner Corporation
MDLIVE Inc
Siemens Healthcare GmbH
United HealthCare Services, Inc
American Well
Segments Covered in the Report
(Note*: We offer reports based on sub-segments as well. Kindly, let us know if you are interested)
By Application
Family Medicine
Internal Medicine
Cardiology
Paediatrics
Endocrinology
Rheumatology
Pulmonology
Others
By Consultation Mode