The global diagnostic enzymes market size was exhibited at USD 4.8 billion in 2022 and is projected to hit around USD 7.63 billion by 2032, growing at a CAGR of 4.74% during the forecast period 2023 to 2032.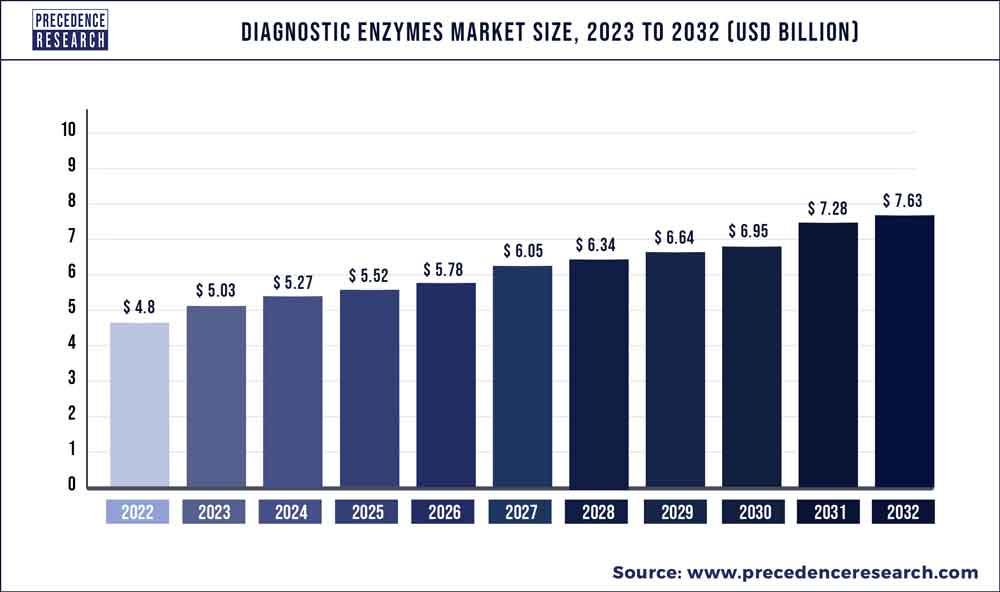 Kay Insights:
By type, the glucose oxidase/glucose dehydrogenase segment had a major revenue share of 10.7% in 2022.
By application, the infectious diseases segment had the biggest market share in 2022.
By product type, the clinical segment captured a significant revenue share of more than 62% in 2022.
By geography, North America will likely experience significant growth in the market under study and hold a substantial share in 2022.
Market Overview
Due to factors such as the rising frequency of infectious diseases, the high demand for enzymes, the growing inclination for novel treatments, and the growing patient awareness, the market for diagnostic enzymes is expanding.
The detection and measurement of diverse compounds frequently employ diagnostic enzymes. Various aberrant metabolic processes, infections, infectious and non-infectious disorders, and inflammatory states can all be detected by changes in biomolecule concentration. Rapid & severe accurate disease diagnosis and appropriate treatment support ideal clinical outcomes and general public health.
Enzymes are frequently used to diagnose numerous diseases due to their excellent bio-catalytic properties. The metabolic activity of all living things, including plants, microbes, animals, and people, depends on enzymes, and multiple metabolic problems can result from aberrant enzyme activity. As a result, parts of the enzyme metabolism systems have been used as unique markers to diagnose diseases.
The prompt control of the transmission of infectious illness and the reduction of the dangers to public health depends on adopting proper diagnostic techniques. Significant efforts and breakthroughs have been made to achieve the WHO ASSURED criteria for assays in developing viral diagnostic technologies.
However, due to worries about healthcare spending and an increase in the usage of diagnostic enzyme testing, the financial pressure on these tests has increased during the past ten years. For product approvals, the diagnostic industry is likewise subject to strict rules. At first, the only prerequisite for the registration of diagnostic tests in the EU was CE mark approval. Regulating bodies, however, also need evidence of significant test benefits and affordable costs due to financial constraints.
Report Scope of the Diagnostic Enzymes Market
| | |
| --- | --- |
| Report Coverage | Details |
| Market Size in 2023 | USD 5.03 Billion |
| Market Size by 2032 | USD 7.63 Billion |
| Growth Rate from 2023 to 2032 | CAGR of 4.74% |
| Base Year | 2022 |
| Forecast Period | 2023 to 2032 |
| Segments Covered | By Type, By Application, and By Product Type |
| Regions Covered | North America, Europe, Asia-Pacific, Latin America and Middle East & Africa |

Market Dynamics
Market Drivers:
Growing Demand in Pharmaceuticals and Diagnostics for Non-Harmful Biological Catalysts
Growing Clinical in the Industry of Vitro Diagnostics
Increasing Use of Pharmaceutical Drug Formulations Based on Enzymes to Treat Chronic Disease - The increase in the elderly population, which expands the patient pool for the diagnosis of chronic diseases, has led to the expansion of the market for diagnostic enzymes. Globally, the percentage of adults over 65 rose, along with the prevalence of age-related chronic illnesses. For instance, it is anticipated that in Japan, the rate of seniors will increase from 28% in 2019 to 38% in 2050. The number of people with several chronic conditions, including rheumatoid arthritis, hypertension, diabetes, and cancer, has increased as the population ages. For instance, according to the World Population Ageing research, there were 727 million people over the age of 65, or 9.3% of the world's population, as of 2020; by 2050, the percentage is expected to increase to nearly 16.0%. Around 10 million people died from cancer in 2020, according to a World Health Organization report from 2021. The rise in patients seeking the diagnosis of chronic diseases brought on by the aging population drives the market for diagnostic enzymes.
Market Restraints
Inconsistency in the Regulatory Framework
High Adoption Costs for Small and Medium-Sized Businesses
Market Opportunities
The market for enzymes features numerous industries and technological advancements
Considerable Investments in Biotechnology and Growing Momentum in Molecular Diagnostics
Market Challenges
Concern over the quality of enzymes used in diagnostics and pharmaceuticals
Impact of Covid-19
Although the COVID-19 lockdown scenario had a short-term negative impact on the pharmaceutical and biotechnology industries, it ultimately assisted them by providing a chance to develop and market new medications or vaccinations against COVID-19. As COVID-19 posed a severe threat to the world, numerous businesses scrambled to quickly create vaccines and adjuvants for the disease. The same is true for the manufacturers of diagnostic enzymes, who were preoccupied with various COVID-19-related tasks, including creating a COVID-19 diagnostic kit, the identification.
Segments Insight
Type Insights
The sector for glucose oxidase/glucose dehydrogenase had the highest revenue share of 10.7% in 2022. Glucose oxidase is a common endogenous oxidoreductase in all living things (GOx). The biomedical sector has recently shown interest in it because of its inherent biocompatibility, lack of toxicity, and distinct catalysis against -d-glucose.
To efficiently speed up glucose oxidation into hydrogen peroxide (H2O2) and gluconic acid, which can be used to detect cancer biomarkers, a variety of biosensors can use GOx. Demand for glucose oxidase is expected to increase due to the enzyme's critical involvement in the diagnosis of diabetes.
Throughout the forecast period, the lactate oxidase sector is anticipated to increase faster as more people are using molecular devices to manage their diabetes. In the cells of various living systems, lactate dehydrogenase (LDH) is widely distributed and catalyzes the interconversion of pyruvate and lactate using the NAD+/NADH coenzyme system.
Human and animal blood plasma and serum include LDH enzymes directly derived from tissues and cells with a unique profile. This profile depends on the quantity of all tissue's intracellular isoenzymes, which create a pool of LDH in serum and plasma due to typical cell deterioration. Certain forms of cancer can be diagnosed using LDH. Additionally, it can be used for the diagnosis and follow-up of illnesses that result in cell destruction, to gauge the seriousness of some cancers, and keep tabs on patients. At the same time, they get therapy and examine aberrant fluid collections in the body.
Application Insights:
In 2022, the segment dealing with infectious diseases had the largest market share. The widespread use of PCR technology has made it possible to identify and treat infectious diseases early. Now, it is possible to identify organisms with greater accuracy and sensitivity that were previously difficult to find. When diagnosing infectious disorders, PCR can identify common pneumonia, streptococcal pharyngitis, TB, ulcerative urogenital infections, and several chronic conditions. The polymerase DNA gene expression in Thermusthermophilus Escherichia coli permits effective activity, reverse transcriptase, for one-step identification of cellular mRNA expression.
The oncology category will likely increase fastest during the forecast period. The use of diagnostic enzymes in this market is driven by the widespread adoption of ISH techniques and the development of high-throughput technologies for diagnosing human tumors, such as comparative genomic hybridization and next-generation DNA sequencing.
The US government launched the COVID-19 pandemic-related Cancer Moonshot in February 2022 to increase cancer screening rates and locate instances that had gone undiagnosed. The government intends to cut cancer-related fatalities by 50% over the next 25 years through early detection and treatment, which will propel the demand for cancer diagnostic enzyme testing.
Product Type Insights
Due to the growing usage of enzymes in clinical chemistry, which is connected to examining body fluids for diagnostic and therapeutic purposes, the clinical segment accounted for the most significant revenue share of over 62% in 2022. Slight variations in the concentrations of body fluids like blood, plasma, or serum may signal the beginning of an illness that could be fatal. As a result, the analytical methods used in clinical chemistry should be quick, focused, and extremely sensitive.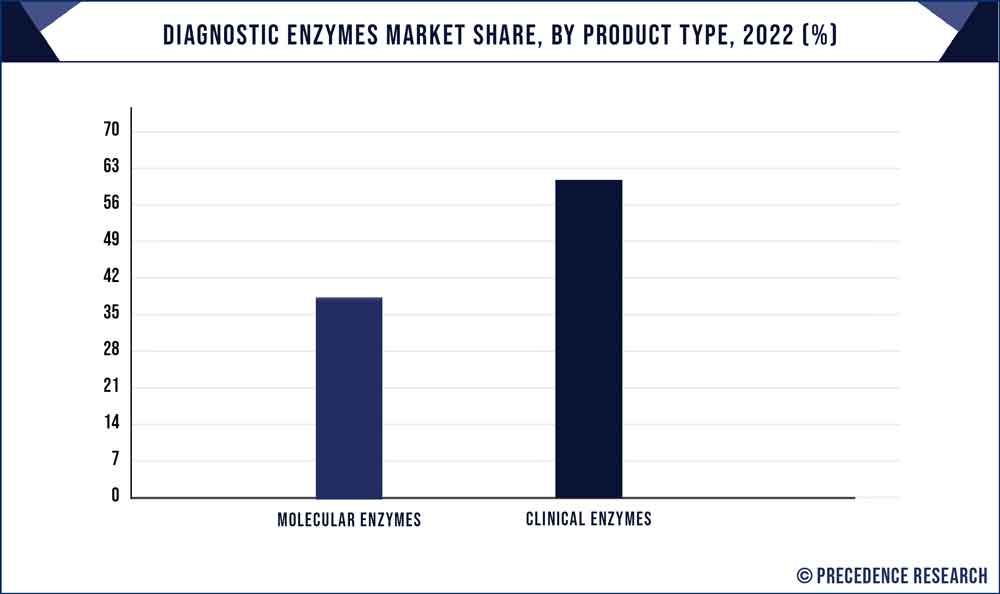 The selectivity and speed of the enzymes make them an essential component of clinical chemistry diagnostic processes. The substrate in an assay can be evaluated using enzyme specificity, or interferences can be eliminated from another function. Enzymes are additionally used to measure inhibitors, co-factors, and activators. Enzymes are also ideal for use as labels in immunoassay processes because of their catalytic activity.
The molecular market will likely grow at a profitable rate. Different enzymes are mostly used in molecular diagnostics through PCR tests, NGS assays, and others. One of the most used molecular biology methods is PCR. The technology is widely used in various industries, such as cloning, sequencing, forensic investigation, and diagnostic testing.
Transcription-Mediated Amplification (TMA) and Isothermal Nucleic Acid Amplification Technology (INAAT) are other molecular biology tests that use enzymes (TMA). A target nucleic acid sequence can be found more quickly and exponentially with INAAT. This gets around the problems with thermal cycling.
Regional Insights
North America will likely experience significant growth in the market under study and hold a substantial share in the market for diagnostics enzymes during the forecast period due to significant funding for R&D from the government and private players, as well as the presence of key market players there.
Due to its technological superiority over the rest of the globe and significant R&D expenditure, the United States is predicted to have the most significant growth in North America. In 2018, the United States spent around USD 606.1 billion on R&D, according to the National Center for Science and Engineering Statistics. Additionally, it was predicted that the overall capital investment in R&D will be close to USD 656 billion in 2019, based on performance statistics. The existence of prominent market participants who are developing and introducing new products, top-notch research facilities led by some of the most renowned scientists (including Nobel laureates), technologically cutting-edge biotechnology firms, and public awareness are the other factors contributing to the United States' significant market share. For instance, San Diego-based Mesa Biotech Inc., a provider of molecular diagnostics, was acquired by Thermo Fisher Scientific in January 2021.
Canada and Mexico may hold the second and third-largest shares of the North American market for diagnostic enzymes after the United States. In addition to enhancing its health infrastructure and public awareness, Canada is following the United States' lead and investing extensively in R&D in the biotechnology and pharmaceutical sectors.
Competitive Analysis
The large multinational enzyme firms, emerging biotechnology companies, and their cutting-edge and essential research and innovations are expected to make the market for diagnostic enzymes very competitive.
Sanofi Genzyme
Codexis Inc.
Aldevron
F Hoffmann-La Roche Ltd
Biocatalysts Ltd
Amano Enzymes
Kaneka Eurogentec
Others
Recent Development
In June 2020, a collaboration agreement was struck by Codexis Inc. and Alphazyme LLC for the manufacturing and joint marketing of the enzymes utilized in the diagnostics and life sciences industries.
In May 2020, a nuclease-based testing kit called Logix Smart developed by Co-Diagnostics was successfully used to find COVID-19 in cancer cells in people.
Segmentation of the Report
(Note*: We offer reports based on sub-segments as well. Kindly, let us know if you are interested)
By Type
MMLV RT
Taq Polymerase
Hot Start Taq Polymerase
HIV RT
RNase Inhibitors
UNG
PCR Master Mix
Bst Polymerase
T7 RNA Polymerase
Lyophilized Polymerase
Acid Phosphatase
Cas9 Enzyme
Amylase
Alanine Aminotransferase
Aspartate Aminotransferase
Angiotensin Converting Enzyme
Creatinine Kinase
Cholinesterase
Lactate Dehydrogenase
Gamma GlutamylTransferase
Glucose Oxidase/Glucose Dehydrogenase
Renin
Lactate Oxidase
Urease
Glutamate Oxidase
Horseradish Peroxide
Others
By Application
Oncology
Diabetes
Infectious Diseases
Cardiology
Autoimmune Diseases
Nephrology
Others
By Product Type
Clinical Enzymes
Molecular Enzymes
By Geography
North America
Europe
Asia-Pacific
Latin America
Middle East & Africa (MEA)