The global direct-to-consumer genetic testing market size was estimated at USD 1.72 billion in 2022 and it is projected to surpass around USD 7.6 billion by 2032, poised to grow at a CAGR of 16.1% over the forecast period 2023 to 2032. North America generated more than 61% of revenue share in 2022.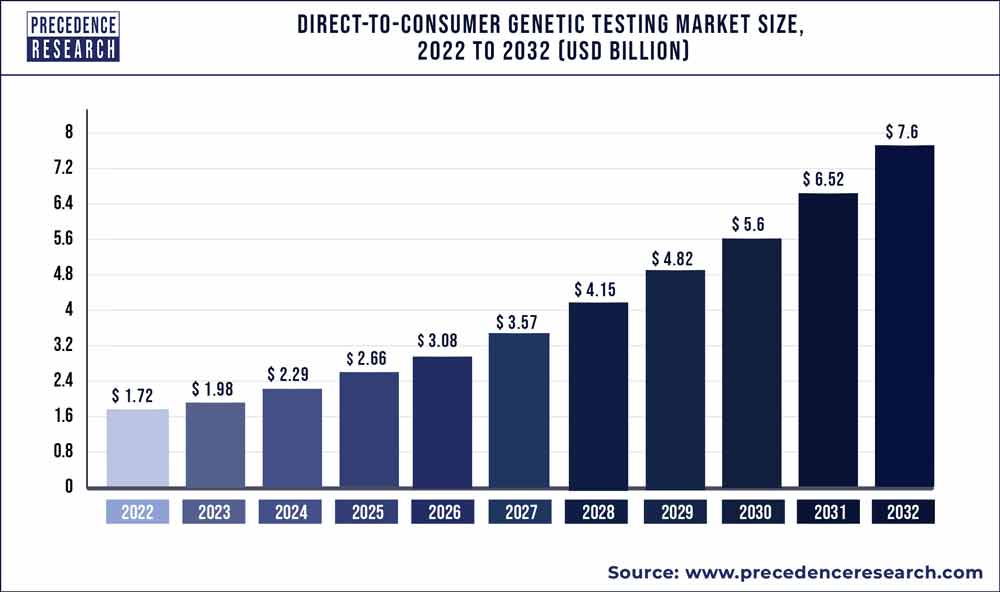 Access our Premium Real Time Data Intelligence Tool, Visit: Precedence Statistics
Key Takeaways:
Europe has generated a revenue share of 17% in 2022.
By Test Type, predictive testing has held a 19.5% revenue share in 2022.
By Technology, the whole genome sequencing segment dominated the market and captured more than 40% of the revenue share in 2022.
The global direct-to-consumer genetic testing market is expanding, driven by increased consumer awareness, an emerging culture of consumer empowerment, and a desire for more personalized services. However, companies that provide these services are increasingly concerned about data privacy and scientific validity. If existing and potential players want to thrive in this market, we advise them to focus on building consumer trust, tailoring services to maximize consumer satisfaction, and collaborating with regulatory bodies.
Raising public awareness regarding genetic testing results in rising market growth. According to MIT's Technology study, approximately 8% - 26% of million people in the United States have already taken DNA tests and that figure is expected to rise to more than 100 million in the coming years. Key players have focused on creating high-quality DTC genetic testing products, and this novel test ensured accurate and effective hereditary test results.
The market is moderately fragmented, with many medium and large-sized businesses accounting for most of the market revenue. These organizations are launching several strategic initiatives to increase their market presence. For example, Ancestry announced in August 2021 that it had acquired Geneanet, a leading French genealogy company. Geneanet is present in over 25 countries. Furthermore, 23andMe announced in January 2022 that the FDA had approved its DTC Genetic Test on a hereditary prostate cancer marker. This was the third cancer risk report clearance for the company. In the coming years, such initiatives are expected to boost market growth.
The current trend in the genetic testing market is Switching from using the Illumina OmniExpress chip to a customized Illumina global screening array (GSA) microarray.
Covid 19 Impact:
During the COVID-19 pandemic, widespread diagnostic and serological (immunity) testing is critical in containing the disease, easing stay-at-home measures, and informing policies for economic recovery. Most diagnostic and serological tests are provided by healthcare providers who interface with the healthcare system.
However, several companies have begun to offer COVID-19 testing on a direct-to-consumer (DTC) basis, which means that the test is initiated by a consumer rather than a healthcare professional, typically through the company's website. While a healthcare professional may be involved at some stage of the process, that involvement may be as minimal as a brief review of a questionnaire the consumer completed as part of the purchasing process. As a result, the consumer might need more contact with a healthcare professional (although some companies offer the option of post-test consultations in the case of positive results). Furthermore, because the companies providing such tests operate independently of the healthcare system, the results of DTC tests only sometimes become part of patients' health records.
Report Scope of the Direct-to-Consumer Genetic Testing Market:
| | |
| --- | --- |
| Report Coverage | Details |
| Market Size in 2023 | USD 1.98 Billion |
| Market Size by 2032 | USD 7.6 Billion |
| Growth Rate from 2023 to 2032 | CAGR of 16.1% |
| Largest Market | North America |
| Base Year | 2022 |
| Forecast Period | 2023 to 2032 |
| Segments Covered | By Test Type, By Technology Type, and By Distribution Channel |
| Regions Covered | North America, Europe, Asia-Pacific, Latin America and Middle East & Africa |

Market Dynamics:
Drivers: Increase trend toward direct-to-consumer genetic testing boosting the market growth
The public understanding and acceptance of genetic testing are steadily increasing. A national survey found that awareness has increased dramatically in the United States, and a social media survey found that 47% of users are familiar with the direct-to-consumer concept. Across many sectors, there is an apparent rise in customers seeking customized products & experiences, with a rising willingness to pay for the identification & addressing of unique needs.
Customers are trying to express willingness to undergo testing & pay for genetic testing services. According to a recent survey conducted in the United States with a sample size of 2,000 people, 33% said they would be willing to pay for and use the advice provided by a direct-to-consumer genetic testing company.
Restrains: Privacy corns restrain the market growth
More than 65% of individuals are willing to use home direct-to-consumer genetic testing services. Privacy is one of the main concerns, especially the potential sharing of data with third parties, including pharmaceutical and insurance companies and consumer health. Almost all the respondents willing to use the service have concerns about a company owning their DNA profiles.
In submitting a sample for processing, individuals provide sensitive information about themselves and family members with whom they share a genetic link. Leakage of such data could negatively impact these individuals across various areas, including employment prospects, relationships, and insurance premiums. Cyber security breaches, database password & service hacking, Human error, or oversight by data custodians pose a risk.
Opportunities: Rising pharmacogenetic research Provide lucrative opportunities
The growing interest in pharmacogenetics is expected to expand the DTC genetic testing industry. Since genetic variations determined in Pharmacogenetics are expected to boost the DTC genetic testing industry. Since genetic variations determine which medical treatment is most likely to succeed, Pharmacogenetics is a dogmatic example of gene based personalization. In addition, the Interpretation and regulation of personalized tests depend on the knowledgeable user. Rising demand in business can be attributed to service providers' detailed description of test analytical and clinical validity.
Moreover, this individualized testing costs much lower than traditional genetic analysis. Furthermore, Direct to consumer genetic testing results are obtained rapidly with easy and noninvasive technologies. These variables will increase the market share worldwide.
Segments Insight:
Test Type Insights:
Based on test type, carrier testing dominated the market in 2022. The proliferation of genetic illnesses caused by chromosomal and gene mutations has rapidly expanded the carrier testing domain. Most cases of genetic mutation result from preexisting conditions, a miscarriage of family history, or congenital disabilities. As a result, it is common practice for pregnant women to undergo carrier screening to ascertain the potential danger of passing on a specific genetic illness to their offspring. All these factors stimulate growth, which drives the expansion of the worldwide direct-to-consumer genetic testing market. In addition, growing recognition of the value of early detection and diagnosis of gene illness allows market participants to implement strategies in different regions.
On the other hand, the ancestry & relationship segment accounted for a more share in 2022. Genetic ancestry testing allows persons concerned with a family background to learn more about ancestors than they might from family or historical documents. Individuals of similar origins frequently share DNA testing variants. Many corporations and organizations provide genetic ancestry testing. Most organizations offer an online forum and other services that enable test takers to exchange or discuss results with others facilitating the discovery of previously undisclosed relationships. On a broader scale, Scientists can utilize the combined genetic ancestry test results of many individuals to examine the history of communities as they migrated, emerged, and interbred.
Technology Insights:
Based on technology, whole genome sequencing dominated the director-to-consumer genetic testing market with a 40% market share. Whole genome sequencing is one of the best procedures for taking knowledge about special malignancies. It allows users to capture the complete range of variation through single base alterations to extensive chromosomal rearrangements. Demand for malignant tumor detection has increased with the market's growth.
Whole-genome sequencing (WGS) provides unprecedented insight into pathogenesis and cancer biology with implications for diagnostics, prognosis, and therapy selection. WGS can detect both sequence and structural variants, combining the central domains of cytogenetics and molecular genetics.
Regional Insights:
North American market dominated the global DTC genetic testing market with a 61% market share in 2022. Consumer attitudes toward genetic testing dominate the North American region. An increase in expenditure promotes the growth of the need to direct-to-consumer (DTC) genetic testing throughout the forecast period. According to studies, around 8% of the U.S. population, or 26 million people
In addition, rising demand for personalized genetic testing services in the region and an increase in the prevalence of chronic and genetic disorders boost the market growth. According to Globocon 2020, 2,281,658 new cancer cases will be diagnosed in the United States in 2020, with 612,390 deaths. Breast cancer had the highest incidence of all cancers, with 253,465 points, followed by lung (227,875), prostate (209,512), and colon cancer (101,809).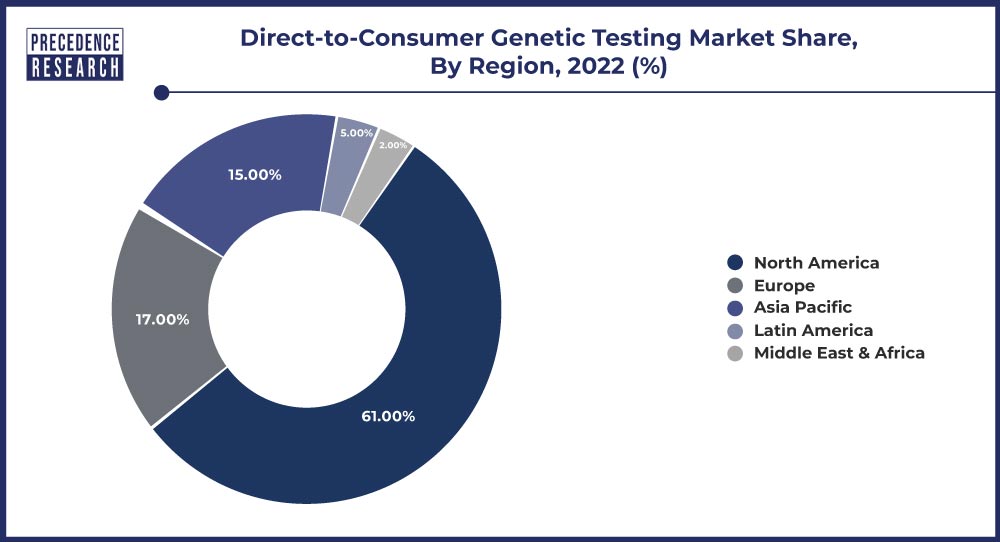 The increasing number of product approvals and subsequent launches by the U.S. Food and Drug Administration (FDA) and the high concentration of key players involved in research activities to innovate novel genetic testing products are expected to drive market growth in North America. For example, F. Hoffmann-La Roche Ltd launched the AVENIO Tumor Tissue CGP Kit in October 2021, a comprehensive genomic profiling kit designed to make tailored cancer research more accessible. This kit allows for the comprehensive genomic profiling of solid tumors derived from formalin-fixed paraffin-embedded (FFPE) tissue samples. Furthermore, one of the primary reasons for developing the carrier testing segment in Latin America is acquisition and expansion.
Eurofins, for instance, acquired DNA Diagnostics Center in June 2021 to expand its genetic testing capabilities and enter the consumer testing industry. Thus, the genetic testing market in North America is expected to grow significantly over the forecast period, owing to rising cancer incidence and proactive strategies implemented by key players in the region.
Recent Development:
In 2022, The FDA approved 23andMe's DTC Genetic Test on a hereditary prostate cancer marker. This was the third cancer risk report clearance for the company.
In 2021, 23andMe is merging with VG Acquisition Corp., a special purpose acquiring company founded by billionaire Richard Branson, to go public.
In 2021, Ancestry announced that it has agreed to acquire Geneanet, a French genealogy company. With over 30 billion records from more than 80 countries. Ancestry helps customers to discover new details about their family ancestors and family.
Key Market Players:
Ancestry
Color Health, Inc.
Easy DNA
FamilyTreeDNA
Full Genome Corporation
Helix OpCo LLC
Identigene
Karmagenes
Living DNA
Mapmygenome
MyHeritage
Pathway genomics
Genesis Healthcare
23andMe
Segments Covered in the Report:
(Note*: We offer report based on sub segments as well. Kindly, let us know if you are interested)
By Test Type
Nutrigenomics Testing
Predictive Testing
Carrier Testing
Skincare testing
Ancestry & Relationship testing
By Technology Type
Target Analysis
Single Nucleotide Polymorphism (SNP) chips
Whole Genome Sequencing (WGS)
By Distribution Channel
Online Platforms
Over The Counter
By Geography
North America
Europe
Asia-Pacific
Latin America
Middle East and Africa